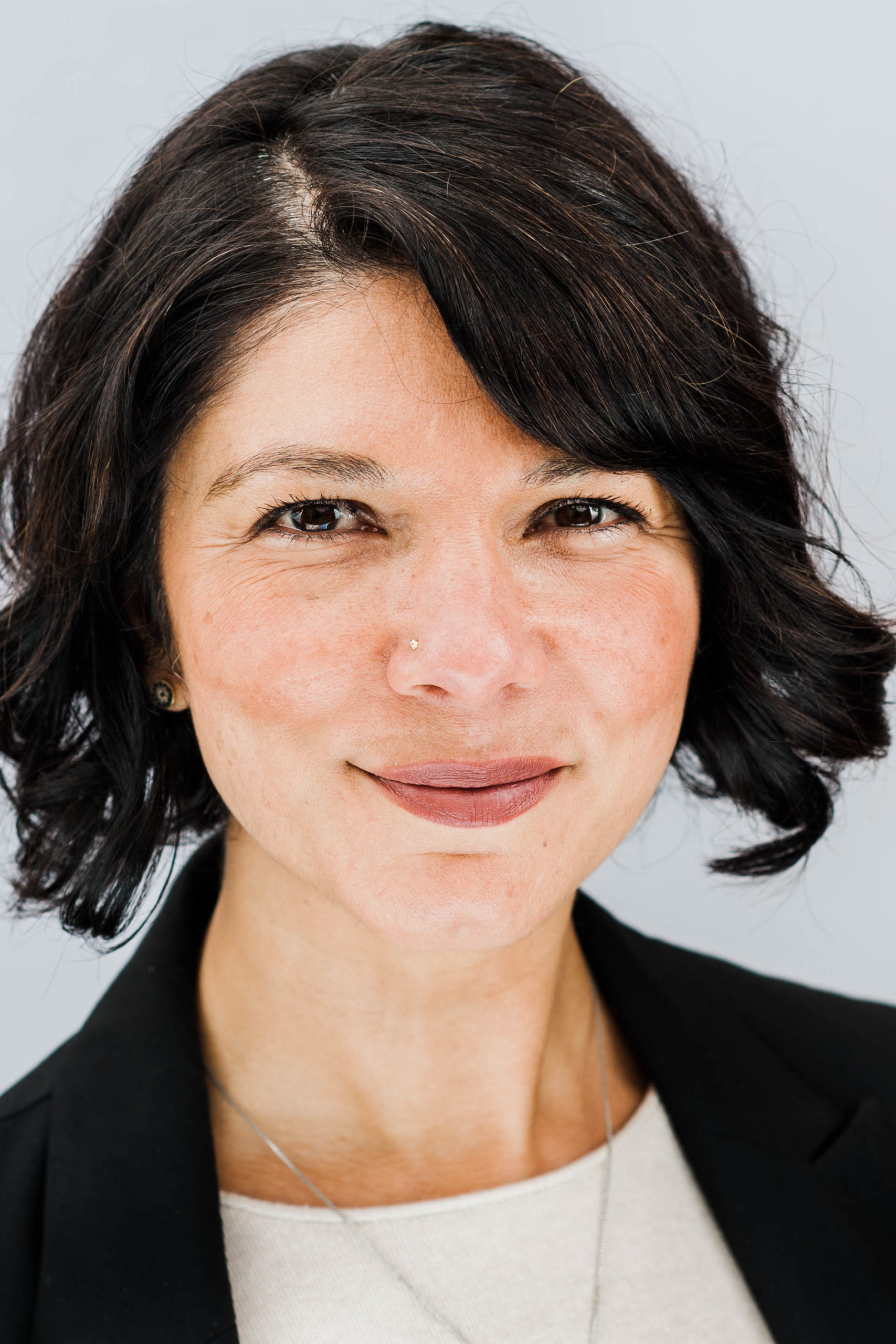 Shebreh Kalantari-Johnson (Photo by J. Guevara)
Meet Shebreh Kalantari-Johnson
Age: 44
Residence: Lower Westside of Santa Cruz
Occupation: Kalantari-Johnson is a co-founder of Impact Launch. It's a local company that provides project design, planning and coaching for social service teams. She also runs an independent consulting business in project management and grant writing.
Local government experience: Kalantari-Johnson is in her second year on the Santa Cruz City Council. Her term ends in December 2024. She's a city representative on several boards, including the Santa Cruz Metropolitan Transit District.
Other connections:

 

Board member of the Community Health Trust of Pajaro Valley, a nonprofit health care foundation that provides grants and wellness services.

Board member of the Central California Alliance for Health, a nonprofit health insurance agency that administers Medi-Cal locally.
Kalantari-Johnson wants to build housing throughout Santa Cruz County. "I think the City of Santa Cruz and the City of Watsonville really have taken the load of building housing and affordable housing," she said. Kalantari-Johnson wants to streamline building of accessory dwelling units, also known as in-law units. She also mentioned tiny homes as part of her plan.
Kalantari-Johnson said she wants to reform the county's planning department. "There is a bit of an entrenched culture that is very outdated. I think we need to think about shifting how we approach things in our planning department so that we're not putting roadblocks up, but that we're making building the right kinds of projects in our community easier," Kalantari-Johnson said. She said she wants to change the county's zoning to make it easier to build housing.
Kalantari-Johnson said she wants to push state leaders to deliver state COVID-19 rent relief money faster. The program has been the county's largest source of rent assistance during the pandemic. The problem is, the state has been slow to process applications. About 3,400 households in our county applied. Less than two-thirds have received money as of April 26. The application closed March 31.
Kalantari-Johnson said she would also prioritize county funding for local rent assistance programs.
SHEBREH KALANTARI-JOHNSON: Well, first of all, I think we've passed a really solid three-year strategic plan at the county. And we have our homeless action response plan at the city. So diving into those plans and making sure we have the resources to implement them. And one of the first things is to take the load off the city. I mean, again, the city's really done a lot to address this. Well, the city's done a lot in the last year, I'd say.

It's unreasonable to expect that the city puts up all the sheltering sites, and all of the safe sleeping sites, like we've got to look across our county. And I'm actually already doing this work. I don't sit on the board of supervisors, but I'm working with my supervisor colleagues, to see how we can spread the love of homeless services throughout our county. So I think there's a lot of opportunity there that some of my colleagues on the board of supervisors are open to that. So that's one of the first things I would do is looking at where these sheltering and services can be accommodated in other parts of the county.
And then the other thing is, which I've already started to do, is work very closely with our behavioral health department and our housing for health department to make sure that we bring in the resources that there's a lot of money coming down, and if the human infrastructure bill passes, there will be a lot more coming down. So making sure we're sort of shovel ready, quote, unquote.
Kalantari-Johnson said the ultimate aim is to get people housed. "What it's ultimately about is moving people off the street, moving people out of unhealthy conditions, getting them some stable support, and then getting them into housing," she said. 
"These partnerships with all these departments of the county is what's going to make it successful because moving folks from an encampment to a transitional shelter is only one step. But those transitional shelters are just that — they're transitional," Kalantari-Johnson said. "They're not meant for permanent housing and permanent living, and they don't address the many needs that these community members have. We as a city don't have the capacity, don't have the expertise, and don't have the resources to accommodate those needs. It's the county."
Kalantari-Johnson said that growing the county's housing stock will help attract and retain employers to create jobs that pay enough to live here.
Kalantari-Johnson also said she wants to look at ways to reduce the cost of living, including subsidized child care, after-school programs and accessible public transit.
Kalantari-Johnson said she has a strong relationship with the Sheriff's Office and she would "use those relationships to make sure that we have adequate coverage on the North Coast for all of the challenges that happen on the North Coast."
Kalantari-Johnson said she supports a county partnership with a local internet service provider to expand low-cost internet access. The program is underway. She also said she would support a cell tower in Bonny Doon "but we need to do it in a way that's respectful to the community needs and desires." Some Bonny Doon residents previously have opposed cell towers because of potential health concerns.
She also said she would seek state and federal money to repair roads on the North Coast.
Kalantari-Johnson said she supports mass transit on the Santa Cruz Branch Rail Line.
Kalantari-Johnson said she wants to invest in the Santa Cruz Metro bus system so that passenger bus service is more responsive to community needs.
She also wants to fund electric vehicle infrastructure in Santa Cruz County.
Kalantari-Johnson's voting record on the Santa Cruz City Council
In November 2021, the city council adopted a new law that limits overnight parking for many people who live in their RVs. The ordinance would require overnight parking permits for oversized vehicles at least 20 feet long or at least 8 feet tall and 7 feet wide in the city of Santa Cruz.
Kalantari-Johnson twice voted in favor of the law, and was one of the three council members to propose it.

Cummings voted against the law twice.
The new law came in response to many hundreds of Westside residents' concerns about trash, waste and crime related to people who live in their vehicles. The ordinance is not being enforced as of October. The law is under review by the California Coastal Commission.
A law was similar to the city's 2015 overnight parking ban, which also required a Coastal Commission permit to take effect. At a Coastal Commission hearing in 2016, several commissioners expressed concern about the law and called it "onerous," "drastic" and "draconian." The commission voted 11-1 to investigate the law in a public hearing. The hearing has not been scheduled.
Compared to the city's 2015 parking ban, Kalantari-Johnson said the 2021 ordinance had more quantitative data and a safe parking program in partnership with experts. "I think the framework is working, but the ordinance is needed because we're still continuing to see the impact in certain neighborhoods," Kalantari-Johnson said.
This project calls for 140 units. Fifty-five to 82 of those units would be affordable. That means they'd be rented at lower prices to people who earn 80% or less of the area median income. The project has two buildings, at four stories and five stories. This project remains controversial. Many neighbors opposed it because of concerns about traffic, parking, bike safety, building scale and other issues.
The Riverfront housing proposal is a seven-story project in Downtown Santa Cruz. Twenty of 175 units would be affordable. The council approved it in a 5-2 vote last year.
Kalantari-Johnson approved the project.
Justin Cummings voted against the project.
Last year, Kalantari-Johnson proposed a ballot measure with Councilmembers Martine Watkins and Renee Golder to earmark 20% of the city's marijuana tax money for children's programs. City voters approved that measure in November's special election.
That was the only question on the city ballot that November. The election cost the city $241,000. That cost is significantly more than what the measure would raise annually for the Children's Fund.
When asked about the proposal in March, Kalantari-Johnson stood by her vote and the timing of the proposal. She said the cost of the election was worth it to fund children's services.
Justin Cummings also voted in favor of the ballot measure.
SHEBREH KALANTARI-JOHNSON: Well, I have a 100% voting yes record in my time at city council. That's not to say that there isn't going to be a project that I don't think is a fit for our community. I think we need to think holistically. We need to think about how we make these land use decisions will affect the climate and culture of our community.

And in that, I mean, if we don't say yes now, again, we will be slapped by the state. And we will be looking at high-rise boxes. So that really influences my thinking.

There is a narrative out there that "she hasn't seen a project that she doesn't like." I know that that narrative's out there. That's not the reality. When I see a project, I take into consideration the needs of the entire community and our needs in the next 20 years. Right. I'll work with developers. I'll work with city staff, I'll work with community groups to see where we can make adjustments so that it is a fit for how we want to grow as a city of Santa Cruz and Santa Cruz County.

KMG:  Just to clarify, your 100% vote. You mean that except for that one vote on 831 Water, that initial vote, you've approved every project that you've that has come before [the council]?

SHEBREH KALANTARI-JOHNSON: And I'll say this to you, Kara, you know, by the time it comes to us at the city council, there has been a long process that's already taken place. Right? It goes to the planning commission, it goes to the city staff, it goes back and forth. Right. So I also have to do my homework. Absolutely. But also trust in the process that's taking place before it comes across my desk, so to speak.
—Kara Meyberg Guzman and Grace Stetson