Santa Cruz Local offers its news stories free as a public service.
We depend on people like you — we call them our Santa Cruz Local members — to chip in $9 a month or $99 a year to make sure vital information can be available to all. Can we count on your help?
SANTA CRUZ >> After a few weeks' delay, the Santa Cruz City Council on Tuesday approved a seven-story housing project downtown along the San Lorenzo River — with new concessions from the developer. Whether the project will be blocked by the Coastal Commission is unclear.
The Riverfront project calls for:
Three buildings on the east side of Front Street between Cathcart Street and Soquel Avenue. The buildings would have 175 condominiums, likely rentals, above commercial space that opens to Front Street and the San Lorenzo Riverwalk. Two pedestrian promenades would connect Front Street and the Riverwalk.
Twenty units would be affordable — meaning they would be required to be offered at lower rents for people with low incomes and very low incomes based on the area median income. The local developer, Owen Lawlor, applied for a density bonus under state law. That allows the project to build more stories and units than the zoning allows. In return, the developer must offer 15 of the 20 required affordable units to people with very low incomes.
(Riverfront project renderings: Humphreys & Partners Architects, L.P.)
The council approved the project in a 5-2 vote, with Mayor Donna Meyers, Vice Mayor Sonja Brunner and Councilmembers Renee Golder, Shebreh Kalantari-Johnson and Martine Watkins in favor. Councilmembers Justin Cummings and Sandy Brown wanted the council to delay a vote and direct city staff to negotiate with the developer to set aside some market-rate units for people with Housing Choice Section 8 vouchers.
Housing Choice Section 8 vouchers
Housing Choice is rental assistance for people with low incomes. Families pay about a third of their income to their landlord. The housing authority pays the remainder, to a limit. The Housing Choice wait list has been closed since 2018. There were more than 12,000 applicants on that wait list last year, according to county housing authority staff.
Asked by Cummings whether he'd be willing to reserve market-rate units for people with vouchers, Lawlor initially said, "I'm open to ideas, but I don't really have a thought of how to expand [Section 8 housing requirements] beyond what's really laid out in state law."
In 2020, state law SB 329 took effect, which states that landlords cannot reject a tenant solely on the basis of a tenant's intent to use a voucher. The law also prohibits "No Section 8" ads.
However, landlords can reject tenants based on credit history.
Lipscomb said that while the city council likely could not require it, the developer could agree that if a market-rate unit is vacant for longer than a month, it would be offered to someone with a Section 8 voucher.
Pressed by Brown, Lawlor said, "I don't have an answer. I want as many people to get a voucher as possible, and as many units to be available to those voucher holders as possible, and will comply with state law." Lawlor added that he believes a lack of housing supply has hurt tenants with vouchers. New housing downtown frees up older, less expensive housing as people move in, he said.
Coastal Commission unknowns
Since the project is along the lower San Lorenzo River which feeds into the ocean, the project is in the coastal appeal zone. That means that members of the public or Coastal Commission staff can appeal a city council approval to the Coastal Commission. Then the Coastal Commission has the final vote.
In November, the city council delayed a decision on the project due to a letter of opposition from the California Coastal Commission. Coastal Commission staff wrote that the project's mass and scale exceeds the limits allowed by the Coastal Commission in the Local Coastal Program. In recent weeks, city staff have met with Coastal Commission staff to discuss the Coastal Commission staff. At the end of December, Coastal Commission staff submitted an updated letter and reiterated that they do not believe that the project warrants exceptions to the Local Coastal Program.
Lawlor, the developer, also met with Coastal Commission and city staff in recent weeks. In an effort to avoid an appeal by Coastal Commission staff and a costly delay, Lawlor offered the following concessions, to which the city council agreed Tuesday:
A $50,000 contribution to the city, for San Lorenzo River management, maintenance and enhancement
A $400,000 contribution to the city's Affordable Housing Trust Fund, which helps subsidize affordable housing development
If city staff can find funding for part of a Front Street traffic signal improvement project next to the project, Lawlor offered a 50% matching gift, up to $100,000, to the city's Affordable Housing Trust Fund.
It is unclear whether these concessions are enough to avoid an appeal by the Coastal Commission staff or members of the public.
During public comment Tuesday, 11 residents spoke, seven of whom urged the council to approve the project.
How much will rent be?
Maximum rents for the 15 units for people with very low incomes would range from $963 to about $1,200 per month, depending on the number of bedrooms, said Economic Development Director Bonnie Lipscomb. The income limit to qualify for a "very low income" affordable unit is set each year. Last year, it was $66,200 for a family of four in Santa Cruz County.
Maximum rents for the five units for people with low incomes would be $1,700 to $2,300, Lipscomb said. The income limit last year in Santa Cruz County for a family of four was $106,200.
Rents for the 155 market-rate units are unknown.
---
Read Santa Cruz Local's previous stories on the Riverfront project
---
In other news
During open public comment, at least three city residents urged the city council to address the displacement of homeless people along the San Lorenzo River. On Dec. 17, City Manager Martin Bernal and Parks and Recreation Director Tony Elliott issued a memo and order to temporarily close San Lorenzo Park due to cost, fire safety, litter, vandalism and other issues related to an unmanaged homeless camp there. A federal judge has since temporarily prohibited the camp's closure.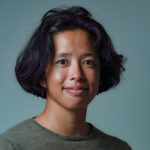 Kara Meyberg Guzman is the CEO and co-founder of Santa Cruz Local. ​Prior to Santa Cruz Local, she served as the Santa Cruz Sentinel's managing editor. She has a biology degree from Stanford University and lives in Santa Cruz.