New equipment is installed on top of a Pajaro Valley Unified School District building to help bring internet service to students and families. (Cameron Kennedy — Cruzio Internet)
WATSONVILLE >> A project to expand low-cost internet service to about 4,000 families in Santa Cruz County started in March with the installation of new equipment on top of three schools in the Pajaro Valley Unified School District. 
The antennas and other equipment aim to connect low-income families, students and teachers with high-speed internet for $15 a month. 
Equipment was installed at:
Calabasas Elementary School, 202 Calabasas Road, Corralitos.

Alianza Charter School, 115 Casserly Road, Watsonville.

Lakeview Middle School, 2350 E. Lake Ave., Watsonville.
In April, four more of the 20 sites are due for equipment installation, project leaders said.
Live Oak School District office, 984 Bostwick Lane, Live Oak.

Shoreline Middle School, 855 17th Ave., Live Oak.

Live Oak Elementary School, 1916 Capitola Road, Live Oak.

Jardines del Valle

, an 18-unit housing complex at 76 Murphy Road, Aromas.
The project is a part of the Equal Access Program, a collaboration between Santa Cruz-based Cruzio Internet and the Community Foundation Santa Cruz County. Each site can provide internet access to 200 to 250 subscribers, project leaders said. Four sites are expected to be built in each of the five county supervisor districts but they have not yet been finalized, Cruzio representatives said.
"We're looking at what sites are going to be the easiest to facilitate and will do the most good," said James Hackett, director of business operations and development at Cruzio. "We and the county are all committed to getting this project done by the end of the year," Hackett said.
Pajaro Valley Unified School District leaders are expected to notify families who qualify for the subsidized internet service with sign up information. Hackett said families should contact their school districts to learn more.
"The main benefit is going to be for our low-income families who will be able to apply for and will be approved for subsidized internet service," said Kris Cirillo, the director of information technology for the Live Oak School District. "They are also offering this service to many of our teachers and staff that are within the district as well." 
Once the infrastructure is installed, Cirillo said, the district will circulate flyers and documentation in both English and Spanish explaining how to sign up for the subsidized service.
The plan is a part of an ongoing effort to bridge the digital divide. Gaps in fast and reliable internet access became more noticeable when students shifted to online learning at the start of the pandemic in 2020. 
Since then, the Santa Cruz County Office of Education asked leaders at Cruzio to figure out how to help more students get adequate broadband internet at home. County education leaders initially sent Cruzio a list of about 200 families in need. "We suddenly realized, OK, this is a bigger job than we initially expected," said Hackett, the Cruzio business operations director.
A 2020 Central Coast Broadband Consortium report showed many areas in Santa Cruz County without "minimum standard" speeds of at least 100 megabits per second for downloads and 20 megabits per second for uploads.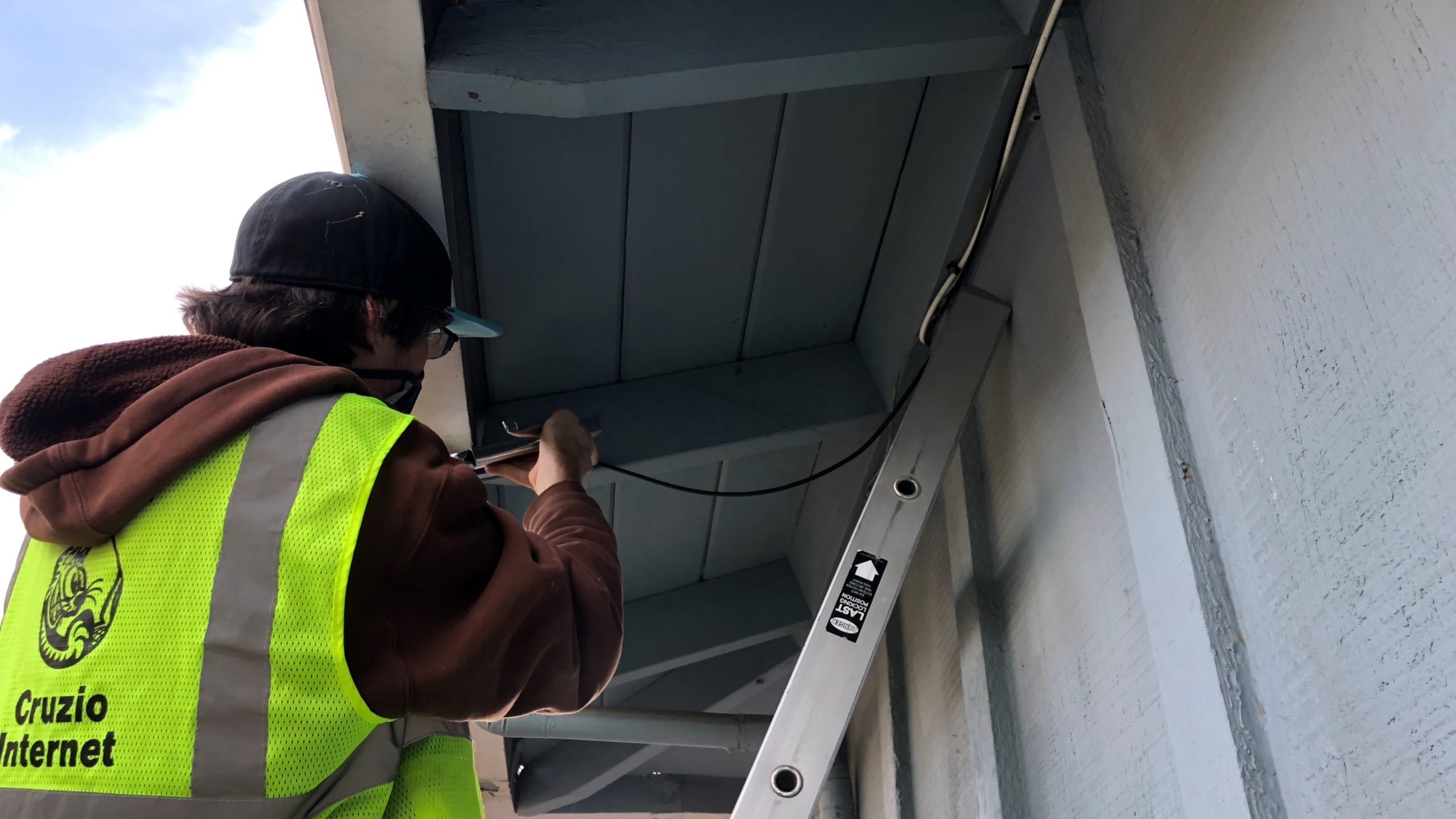 Cruzio Internet technician Jay Varens secures a cable to a home in Watsonville as a part of a program to provide lower-cost internet service in Santa Cruz County. (Alana Matthews — Cruzio Internet)
Funding internet access
On Feb. 1, Santa Cruz County supervisors voted 4-1 to allocate $500,000 from the federal American Rescue Plan Act to Cruzio to install equipment on 20 buildings. Each rooftop "point of presence" will have rooftop mounting equipment, antennas and network and power hardware, according to a Cruzio document. 
While Santa Cruz County Board Chairman Manu Koenig and Supervisors Ryan Coonerty, Bruce McPherson and Zach Friend lauded the program, Supervisor Greg Caput voted against it. 
"I think it's too much, too fast," Caput said during the meeting. "Down the line from now, there probably are some health issues and things like that are related to high-speed internet," Caput said.
The equipment in the program meets Federal Communications Commission standards for safe exposure to radiofrequency energy. Such low-powered and inaccessible equipment is not routinely evaluated by federal authorities because it is unlikely to cause unsafe exposure, according to the FCC.
Supervisor Coonerty said that a lack of internet access could have other consequences.
"This pandemic exposed huge divides — economic divides — in our community," Coonerty said at the Feb. 1 supervisors meeting. "What's been shown is that without reliable access to internet, kids fall behind. Workforce opportunities are lost. And particularly in South County, that's a critical issue. Providing access — affordable, accessible, high speed internet — is critical for low income families," Coonerty said. 
State money for internet access
Beyond the Equal Access program, Santa Cruz County residents also could see expanded internet service from $11 million in state money in the coming years. 
In July, California legislators adopted AB 156 to provide more than $5 billion for investment in broadband internet infrastructure. Santa Cruz County expects to receive an $11 million allocation from the bill, said Santa Cruz County Supervisor Zach Friend. 
In April, the California Public Utilities Commission is expected to discuss when the money will be available to the county and how it can be used, said Friend.
"Right here in the shadow of Silicon Valley, we suffer in areas that really aren't that rural but still don't get investment from providers," Friend said in an interview. "A lot of that should evaporate with this $11 million investment."  
Editor's note: Cruzio is a sponsor of Santa Cruz Local. Our newsroom is headquartered in Cruzio's Downtown Santa Cruz building. 
Santa Cruz Local's news is free. Our newsroom relies on locals like you for financial support. Our members make regular contributions, starting at $19 a month or $199 year.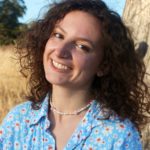 Allison Gasparini is a science writer and recent graduate of the UC Santa Cruz Science Communication master's program. She has written for the Monterey Herald, the Mercury News and Forbes' science section.