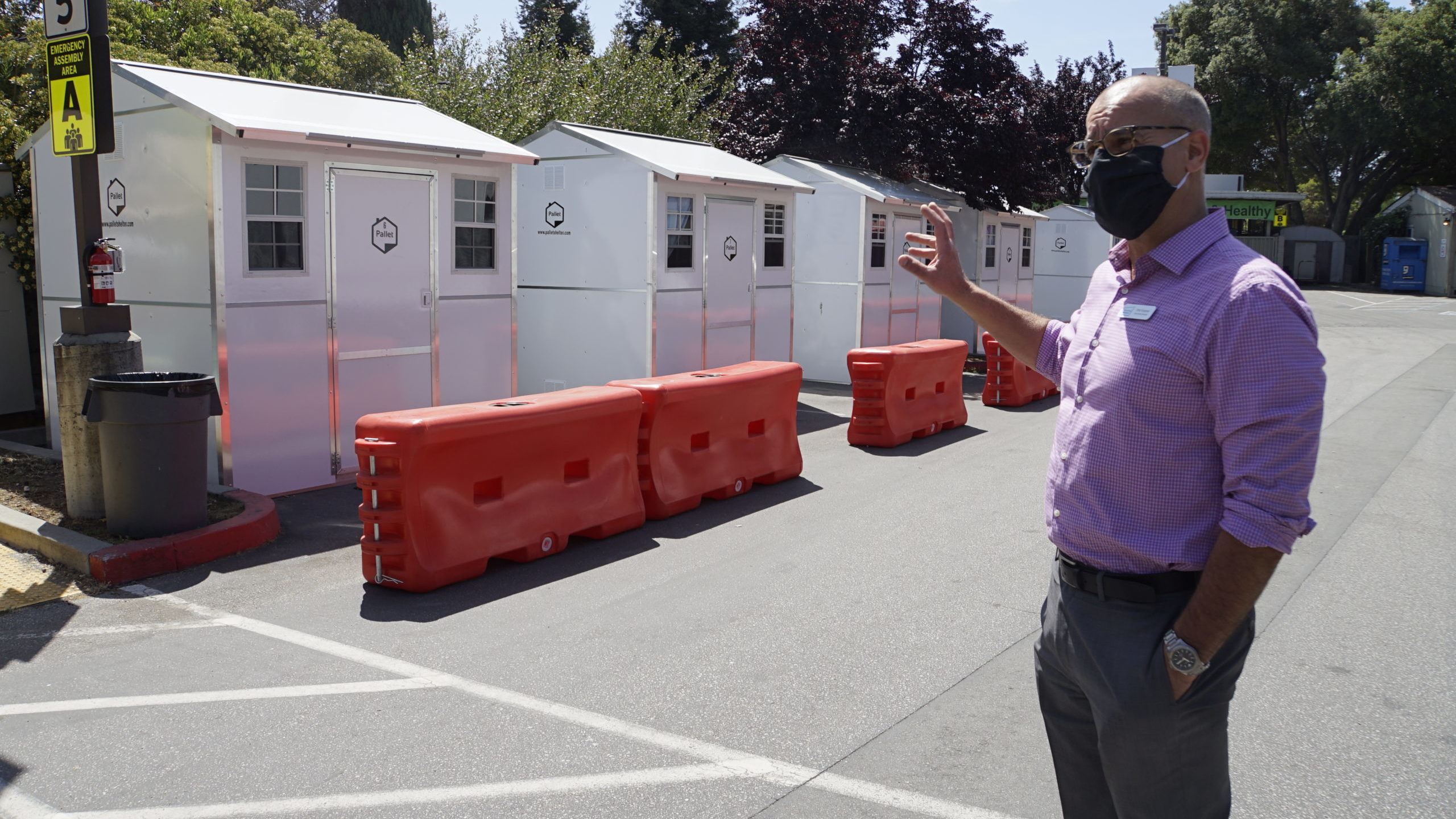 Housing Matters CEO Phil Kramer gives a tour of the Santa Cruz-based nonprofit group's Pallet Shelters in May 2020. The City of Santa Cruz's new Homelessness Response Action Plan calls for Pallet Shelters and an expansion of homeless shelter services at Housing Matters. (Kara Meyberg Guzman — Santa Cruz Local file)
SANTA CRUZ >> City leaders have adopted a homeless response plan that aims to eliminate unsanctioned camps and city-run temporary shelters and establish permanent shelters in the city and throughout the county.
The plan approval was one of several council actions Tuesday. Jump to a brief report:
Tuesday, the Santa Cruz City Council unanimously approved the Homelessness Response Action Plan proposed by city staff.
The plan lists five priorities:
Expansion of affordable permanent and supportive housing.

City leaders want to meet or exceed the

state's requirements for new housing production

for people with "low" or "very low" incomes, based on area median income.

Building capacity and partnerships.

The plan aims to improve the city staff's coordination and alignment of services.

Provide shelter, hygiene and storage services.

Leaders want to eliminate unsanctioned homeless camps and move people to managed shelters in the city and throughout the county. The plan calls for collaboration with leaders from the County of Santa Cruz, Watsonville, Scotts Valley and Capitola to identify 20 new locations for shelter across the county.

"Care and stewardship."

Leaders want to expand mental health and addiction treatment, outreach, shelter and job training for homeless people. They also want to prioritize environmental restoration and protection.

Law enforcement and public safety.

The plan calls for equitable law enforcement and an updated model for deployment of police to calls related to homelessness. 
"We collectively as a region are getting out of the business of temporary shelter," City Manager Matt Huffaker said in a news conference Monday. "So our focus as we move forward is to establish permanent shelter sites with a higher standard of service that can really focus on breaking the cycle of homelessness and put more sustainable solutions in place."
The estimated cost to implement the plan in its first year is $14.5 million, according to a report by city Homelessness Response Manager Larry Imwalle. Most of the first-year $14.5 million cost is expected to be covered by $14 million of one-time money from the state legislature. Federal grants and the city's General Fund are expected to cover the remainder. Funding has not been secured for subsequent years, according to the report.
About half that budget, roughly $7.2 million, is expected to be operational costs that include:
Safe parking programs ($1.04 million), two "transitional" sanctioned camps with case management and outreach services ($213,716), expanded shelter at Housing Matters on Coral Street ($1.3 million), a new safe sleeping site at the National Guard Armory in DeLaveaga Park with 75 spots ($2.4 million).

About eight new city staff positions, some part time ($1.2 million). Those positions include and outreach specialists, a homeless services coordinator and two community service officers. Community service officers are roles in the city's police department that would help enforce the city's camping law and respond to homelessness-related calls. The city's

new law

that limits camping is not in effect because the law requires city leaders to create a storage program before the law can be enforced, a city spokeswoman said Monday. 

A contract with the County of Santa Cruz to expand mental health response with Santa Cruz police ($188,000). The County of Santa Cruz now funds two mental health liaisons who respond to mental health crisis calls in daytime hours. The liaisons can respond to some calls independently, without police escort, Santa Cruz Police Chief Bernie Escalante said. 

A contract to hire a "planning and request-for-proposal specialist" ($336,000).

A contract to hire a legislative advocacy firm to push for greater support from county, state and federal levels ($216,000).
The remaining budget, about $7.3 million, is expected to be capital costs that include: 
Purchase of a Coral Street property for a navigation center ($3 million). City leaders are in negotiation to buy the Sea Berg Metal Fabricators, Inc. property at 125 Coral St. for a  navigation center. The center would have shelter beds and aim to connect people with housing and resources.

Purchase of "

Pallet Shelters

" or other shelter infrastructure ($1.07 million). City leaders plan to place 30 Pallet Shelters with 24/7 supportive services on Coral Street, Homelessness Response Manager Larry Imwalle said in a news conference Monday. Pallet Shelters are 64-square-foot single-room sheds that can temporarily shelter individuals or couples. 

Repair of a city-owned shower and toilet facility on the Housing Matters campus on Coral Street ($1.9 million).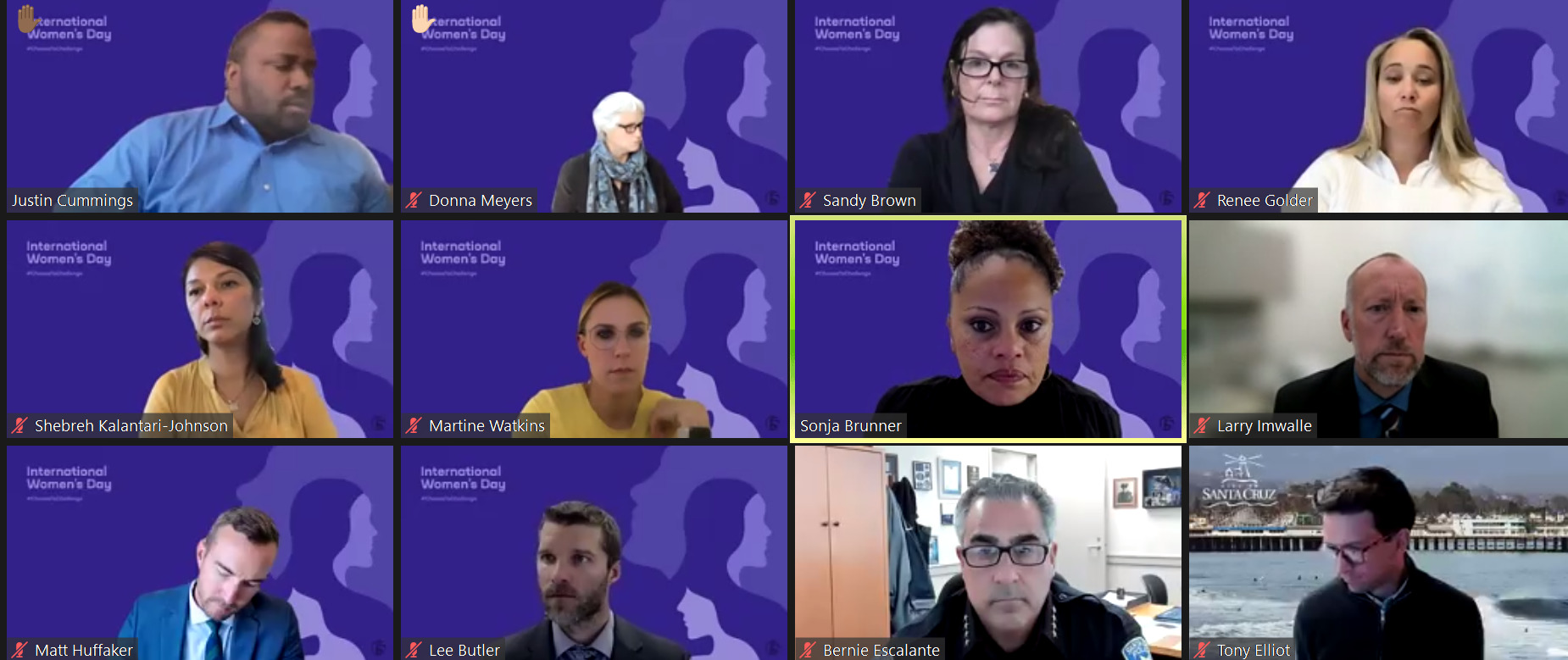 The Santa Cruz City Council's online meeting stretched for about 11 hours Tuesday. (Zoom screenshot)
Some council members and residents voiced concerns Tuesday about the plan's heavy investment of one-time money in new staff and contracts. Most of these costs are preliminary and could change, City Manager Matt Huffaker said. 
The only spending approved by the council Tuesday was about $870,000 for city staffing changes:
Three new homelessness response and outreach specialists.

One new homelessness services coordinator.

Two new community service officers.

Removal of an assistant to the city manager and a management analyst.

Addition of a planning and community development director. Deputy City Manager Lee Butler, who has led the city's planning department and the city's homelessness response in recent months, will have a reduced role.
Spurred by Councilmember Justin Cummings, the council also directed city staff to include a plan to work with county staff to support a 24-hour non-law enforcement alternative to mental health crisis response. The council wanted staff to explore federal and state funding opportunities. Read and listen to Santa Cruz Local's Police Reform Series on mental health crisis response. 
The council is expected to consider a more detailed version of the plan by May with:
Goals, metrics of success and timelines for the programs and services. Some goals presented Tuesday included fewer "large encampments," no camps in San Lorenzo Park, fewer RVs parked illegally and more people in permanent homes in coming years. 

Strategies to support subgroups of homeless people, such as families or veterans.

Details and costs for planned contracts and staff roles.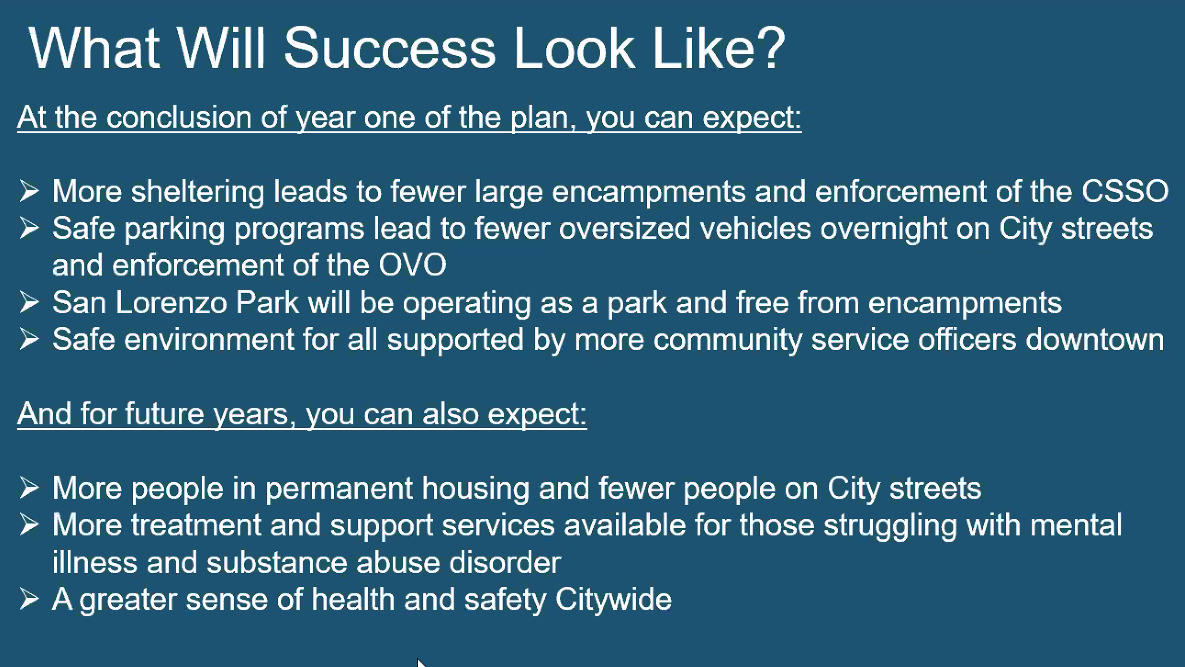 Santa Cruz Homelessness Response Manager Larry Imwalle shared goals of the city's homelessness response plan during a presentation at Tuesday's council meeting. (City of Santa Cruz)
Tuesday, the city staff also gave updates on city-run safe parking programs. A new city law that limits overnight RV parking requires city leaders to expand safe parking for people who live in their cars. In recent weeks, city staff have set up: 
Three spots at the Santa Cruz police lot at 155 Center St.

Three spots each at Lot 4 at 610 Cedar St. and the Calvary Church parking lot at 538 Center St. To register, call 831-420-5093.

More information

.
City staff plan to create a 24-hour safe parking program with services in the front parking lot of the National Guard Armory in DeLaveaga Park.  
Affordable housing creation and county collaboration
The city Homelessness Response Action Plan's preliminary first-year budget lists four items related to permanent housing creation:
Master plan development for the Coral Street area ($110,000): City leaders plan for a "Coral Street campus" with a navigation center, shelter and services that connect people to housing. At least two Coral Street properties may be available for acquisition, Imwalle said Monday.

Pre-development work for interim housing and permanent supportive housing projects ($500,000). This funding pool is meant to allow potential housing projects to be eligible for additional grant money.

Acquisition of 125 Coral St. for the navigation center ($3 million) and design and pre-development of the navigation center ($600,000).
Local leaders and service providers have said that a barrier to housing homeless people is the lack of affordable and permanent supportive housing. 
When pressed during a news conference Monday about why the plan's preliminary budget did not include more money for affordable housing creation, City Manager Huffaker mentioned the planned Pacific Station housing project that calls for up to 179 affordable housing units at the Pacific Avenue Downtown Santa Cruz bus depot.
"Those are 100% affordable projects. And we have over 2,000 housing units in the pipeline underway citywide," Huffaker said Monday.
"Since November of 2000, we've approved over 500 affordable housing units, and well over 200 of those are supportive housing units," Deputy City Manager Lee Butler added Monday. "And so we are moving projects forward. And we are also supporting and investing in that affordable housing directly." The Pacific Station project is on city property, for example, Butler said.
Randy Morris, the County of Santa Cruz's Human Services Department director, helps lead the county's homelessness response. Morris helped city staff design the city's Homelessness Response Action Plan approved Tuesday.
County staff lead an effort to connect people with housing vouchers to landlords, Morris said at Monday's news conference. Such efforts were intentionally left out of the city plan to not duplicate efforts, Morris said. That landlord recruitment effort, known as the "Rehousing Wave," has led to housing for more than 100 homeless people who were in shelters during the pandemic, Morris said Monday.
County supervisors also recently advanced state Project Homekey grant applications for four housing projects for homeless people. The projects are in Ben Lomond, Santa Cruz, Soquel and Watsonville. Project Homekey is a $1.45 billion state funding program for the development of permanent housing for unhoused people. 
"We shouldn't lose hope because we are having some modest success," Morris said Monday. "We've just got to keep moving the needle to create more affordable housing, permanent supportive housing units."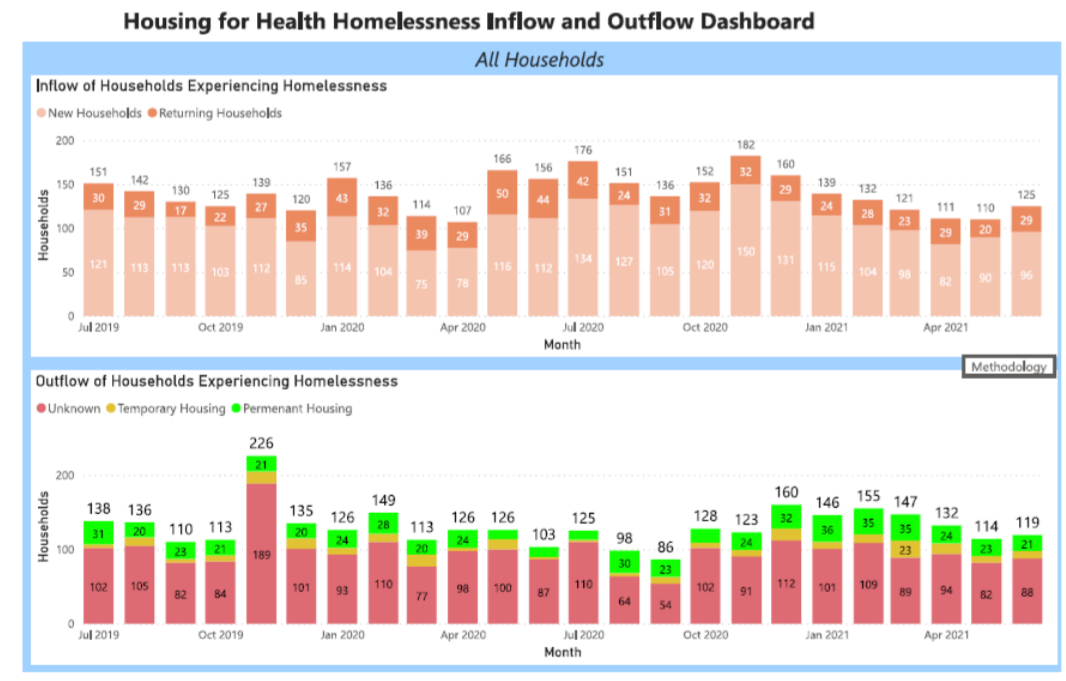 Dozens of people move in and out of homelessness each year in Santa Cruz County, according to county data. (County of Santa Cruz)
City leaders and Morris said in Tuesday's meeting that the plan represents collaboration between the city and county on homelessness.
"The relationship has been so unbelievably reset in the last year," Morris said. "I've been here two years and there is not a more vexing public policy issue that I've ever seen in trying to figure out how to deal with unsheltered (people). I just want to make sure that the spirit of what happened with the $14 million and the work we did together and just the whole effort underway is an unbelievable turnaround." 
City voters will decide on sales tax hike on June ballot
Separately on Tuesday, the Santa Cruz City Council approved a question on the June ballot about the city's sales tax. 
In the June 7 election, Santa Cruz city voters will decide whether to raise the city's sales tax by 0.5% to help address the city's structural deficits.
Late Tuesday night, the council unanimously approved a proposal for a ballot measure that would raise Santa Cruz's sales tax to the county's sales tax cap of 9.75%. 
The sales tax hike would not apply to groceries, prescription medicine, diapers and feminine hygiene products.
The city's structural deficits predate the pandemic and are partly caused by rising pension costs. The city faces a growing budget deficit of $6 million in 2024 to $7 million by 2027, city staff said. The sales tax proposal is expected to raise $6 million annually. A council committee of Mayor Sonja Brunner, Vice Mayor Martine Watkins and Councilmember Sandy Brown made the proposal.
The proposal required a unanimous council vote to declare a fiscal emergency for the city, according to state law. In June 2021, a similar proposal failed after Brown blocked it because she wanted a living wage for all city employees. A proposal by Brown and Brunner to raise wages for city employees died in July due to lack of support.
Brown said that despite her 'yes' vote Tuesday, she has concerns about the proposed sales tax and its effect on people with low incomes. Brown wanted the council committee to propose a real estate transfer tax, as several Bay Area cities and counties have.
Brunner, in response, said the committee's analysis of a real estate transfer tax showed a potential $300,000 raised annually, "nothing comparable to $6 million annually" from a sales tax hike.
In April, the council is expected to consider a "resolution of intent" that lists the council's funding priorities. It is not a commitment to how the sales tax money would be spent. 
Elimination of 'small ownership units'
Tuesday, the council also approved rule changes meant to spur development of housing complexes with small units for sale.
"Small ownership units" generally have smaller units and fewer requirements for parking and open space than traditional housing complexes. The advantage is lower cost to build and rent.
In the past 14 years, two small ownership unit developments have been built in Santa Cruz. 
Tuesday, the council voted 5-2 to approve changes to city rules on small ownership unit development that include:
Removal of a requirement that 50% or more of the units be sold and not rented.

Removal of a requirement that these developments contain only small units and not other types of residential units. Small ownership units are now called "flexible density units." These units are 220 to 650 square feet and can be rented or sold.
Brunner, Watkins and Councilmembers Renee Golder, Shebreh Kalantari-Johnson and Donna Meyers voted in favor. Cummings and Brown voted against. Cummings and Brown wanted to limit flexibility density units to standalone projects and prohibit them in developments with larger units. 
"There is not any affordability here that I can see here beyond what we already require," Brown said.
Watkins said the policy recommendation came after a city-led Housing Blueprint community listening tour in 2018 in which residents said they wanted more diversity of housing types.
Santa Cruz Local's news is free. Our newsroom relies on locals like you for financial support. Our members make regular contributions, starting at $19 a month or $199 year.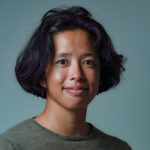 Kara Meyberg Guzman is the CEO and co-founder of Santa Cruz Local. ​Prior to Santa Cruz Local, she served as the Santa Cruz Sentinel's managing editor. She has a biology degree from Stanford University and lives in Santa Cruz.