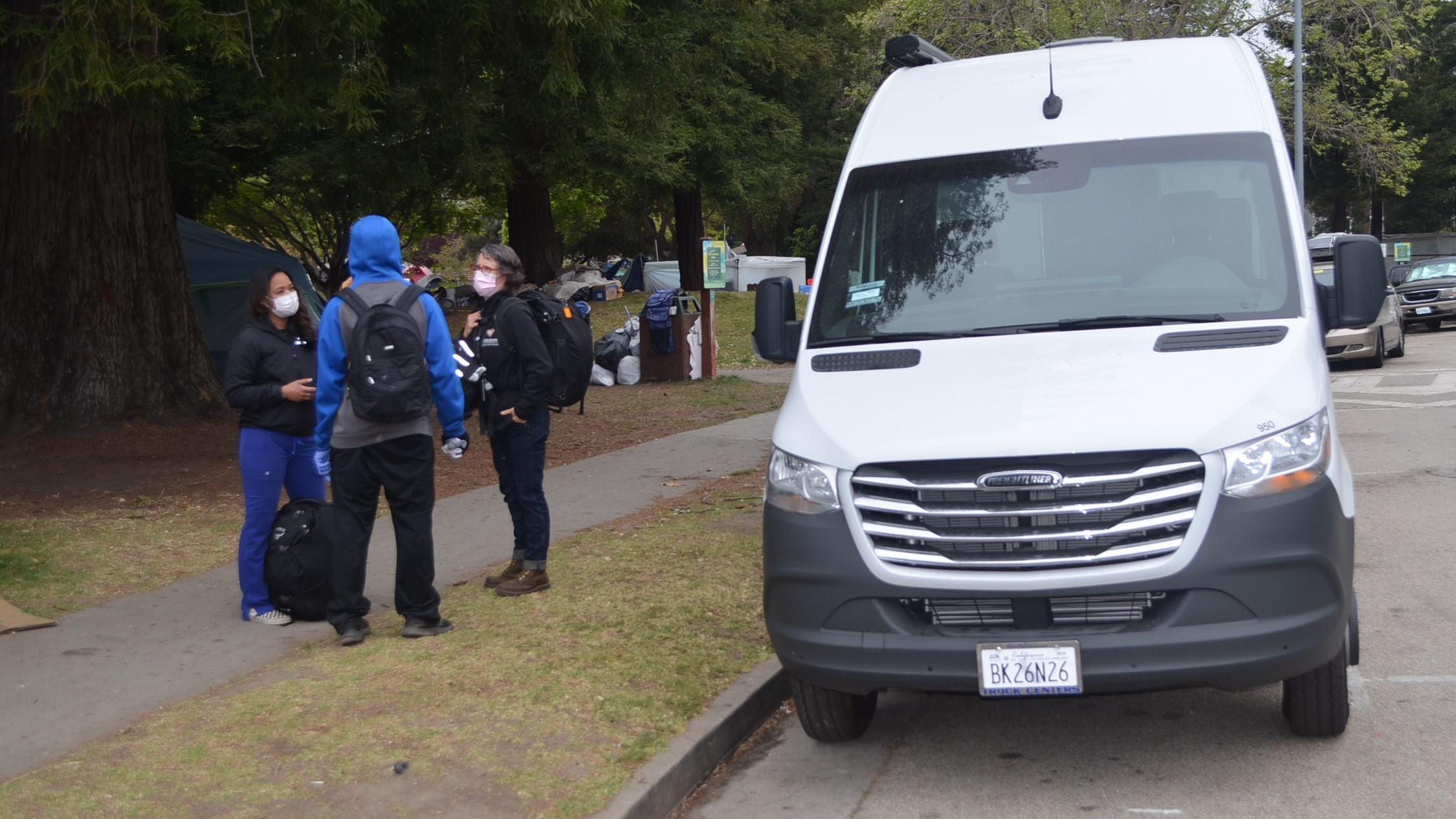 Public Health Nurses Marie DelRosario, left, and Suzanne Samson of the Homeless Persons' Health Project talk to a man during a visit to a homeless camp on Dakota Avenue in Santa Cruz in 2021. (Stephen Baxter — Santa Cruz Local file)
SANTA CRUZ >> The Santa Cruz County Board of Supervisors on Tuesday unanimously approved a new plan to overhaul the way mental health crises are handled in the county.
The new program, called Crisis Now, will make mobile crisis teams available 24 hours within the next three years.

The program will ensure more people in mental health crisis can access mobile crisis care and short-term stabilization programs instead of being directed to emergency departments.
The program is expected to cost $5.1 million over the next three years, paid for with state and federal money.
Crisis Now
The Crisis Now system emphasizes a "no wrong door" approach, where people in a mental health crisis can call any emergency number, or go to any crisis facility, and receive help. The approach also includes close cooperation between emergency dispatch, mobile crisis response teams and psychiatric care facilities.
Some residents have asked for more crisis solutions that don't include law enforcement since 2016. That year, two Santa Cruz County residents were killed by law enforcement officers during separate mental health crises. 
The Crisis Now program "will save lives and reduce suffering," said Jeffrey Arlt, whose son was shot and killed by a Santa Cruz police officer during a mental health crisis. But the approved program is "just a starting point," he said. "We've got 10 to 20 years ahead of us of dedicated, focused work on behavioral health services to get to that ideal crisis system."
In Arizona's Maricopa County, the Crisis Now system has decreased psychiatric hospitalizations, reduced mental health crisis visits in emergency departments and reduced law enforcement time on mental health-related calls, according to a report from Crisis Now Academy. Crisis Now is a program led by the National Association of State Mental Health Program Directors, the mental health program RI International and others.
Santa Cruz County leaders plan to partner with RI International as a consultant to develop a similar system. That plan includes upgrades to mental health crisis lines, mobile crisis response, and short-term crisis care facilities.
The plan also calls for increased staff for the county's mobile crisis response. Santa Cruz County now has two non-law enforcement teams that respond to mental health crises: The Mobile Emergency Response Team (MERT) and the Mobile Emergency Response Team for Youth (MERTY). Both teams respond to psychiatric crises with a licensed mental health worker such as a therapist or a social worker along with non-licensed crisis workers.
Both teams now respond to calls 8 a.m. to 5 p.m. Monday through Friday. Within three years, crisis response teams are expected to be available 24 hours.
County leaders plan to partner with a nonprofit group to staff the crisis response system. The nonprofit, which has not yet been chosen, is expected to hire and train 12 to 24 certified peer specialists and EMTs to work alongside licensed county mental health clinicians. The mobile crisis system is expected to include three levels of response: 
For lower level crises, teams include two peer specialists, or one peer specialist and one EMT.

For crises that may require an involuntary psychiatric hold, teams include a licensed mental health clinician with a peer specialist or EMT. If mental health workers determine a patient is a danger to themselves or others, the patient is held at a crisis stabilization facility for up to 72 hours.

For situations that include safety concerns, the crisis team co-responds with law enforcement. 
A new dispatch system is planned to simplify crisis response. Now, people in a mental health crisis can call:
The new system will enable dispatchers to send a mobile crisis team if needed, regardless of which number people call. The improved dispatch system will also involve more cooperation between dispatchers, mobile response teams, and psychiatric facilities, said James Russell, senior behavioral health manager for the county.
The Crisis Now plan is also expected to improve the organization and operation of the Crisis Stabilization Program. The program now has capacity for 12 clients in crisis for up to 24 hours. Santa Cruz County contracts with Telecare Corp. to operate the facility, which admits about 100 people a month. About half of admissions are people on involuntary psychiatric holds brought in by law enforcement. 
According to a report from Crisis Now Academy, the nonprofit will help make admission and discharge of patients more efficient so the facility can serve more people. It also plans to provide staff training on working with people who have experienced trauma and reducing suicide risk. 
Funding
Crisis Now will largely be funded by the Mental Health Services Act, a state tax on millionaires that makes up about 19% of the county's behavioral health budget. The county can spend 5% of that money on an "innovation project" to enhance mental health services. Crisis Now will be fully funded as an innovation project for three years, but long-term funding for the project has not been secured.
Recent expansions to Medi-Cal reimbursements could also help fund Crisis Now. A state program allows behavioral health programs like Crisis Now to bill Medi-Cal for mobile crisis response. In the future, the county may also be able to bill private insurance for crisis response, Russell said.
Mental health staff shortage
The new plan comes as the county's behavioral health department is "in very difficult circumstances," said Health Services Agency Director Mónica Morales.
As requests for mental health crisis response have risen, persistent staff shortages have limited the county's ability to support people in crisis, Morales said.
In 2019, the county served more than 7,000 people at mental health clinics, said Karen Kern, deputy director of Behavioral Health, during Tuesday's meeting. "Now we're down to about 5,500," she said.
A Santa Cruz County Civil Grand Jury report published this month detailed persistent staff shortages in both the County's Behavioral Health Division. As of March, 31% of county crisis response positions were vacant, according to the report.
Staff shortages have also impacted the Crisis Stabilization Program run by Telecare, according to a county staff report. The program is designed to hold individuals for up to 24 hours before they are released or transferred to another facility, but shortages have led to longer hold times, according to the report. From July to December 2022, about half of adults admitted to the Crisis Stabilization Program stayed longer than 24 hours. Seven percent stayed longer than 72 hours.
A graph shows the percentage of minors and adults turned away from the Crisis Stabilization Program in Santa Cruz County. People are often directed to emergency rooms when all spaces are full or the facility does not have enough staff. (County of Santa Cruz)
Shortages have also meant that people who seek help are often turned away from the Crisis Stabilization Program and sent to emergency rooms at Dominican Hospital or Watsonville Community Hospital. In May, the program turned away 19% of adults and 43% of youth younger than 18, according to the staff report.
The county has worked with Telecare to address staffing shortages, and staffing has improved over the last several months, said Kern. A new crisis facility for youth is planned to open in 2024.
The MERT and MERTY teams have also had trouble hiring and retaining staff, the report said. Therapist Kevin Cisneros is the only licensed clinician on the MERT team, Cisneros said during the meeting.
Cisneros and five other county staff urged county leaders to address the shortages and increase funding across county mental health programs.
Social worker Kirsten Juel said licensed mental health clinicians make significantly less than in surrounding counties. "If you really want to solve this problem of having so many openings in our county, we need to offer a competitive wage," she said. She also recommended offering more part-time positions for licensed clinicians.
Morales said the county is looking into raising salaries for some positions and identifying other possible incentives for applicants. But efforts to address the staffing issues could take up to five years, she said. 
"We cannot afford to hold this model until we're fully staffed," Morales said. "We have to chase both at the same time." 
The new program is expected to deal with the staff shortage by using more non-licensed crisis response staff, Morales said. While the Crisis Now program will require some new licensed clinicians, much of the new staff will be non-licensed peer responders. Those positions are much easier to recruit, she said. 
Solving the staffing programs should be one of the county's "top priorities," said Santa Cruz County Supervisor Justin Cummings. "There's a lot of great programs that we want to implement, but if we don't have the workers here to actually provide those services, then we're not going to be able to meet our goals."
Related Santa Cruz Local stories
Learn about membership
Santa Cruz Local's news is free. We believe that high-quality local news is crucial to democracy. We depend on locals like you to make a meaningful contribution so everyone can access our news.
Learn about membership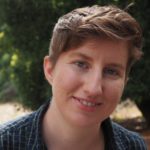 Jesse Kathan is an environmental journalist and a graduate of UC Santa Cruz's science communications program. Kathan has contributed to the Mercury News, Monterey County Weekly and KSQD-FM.