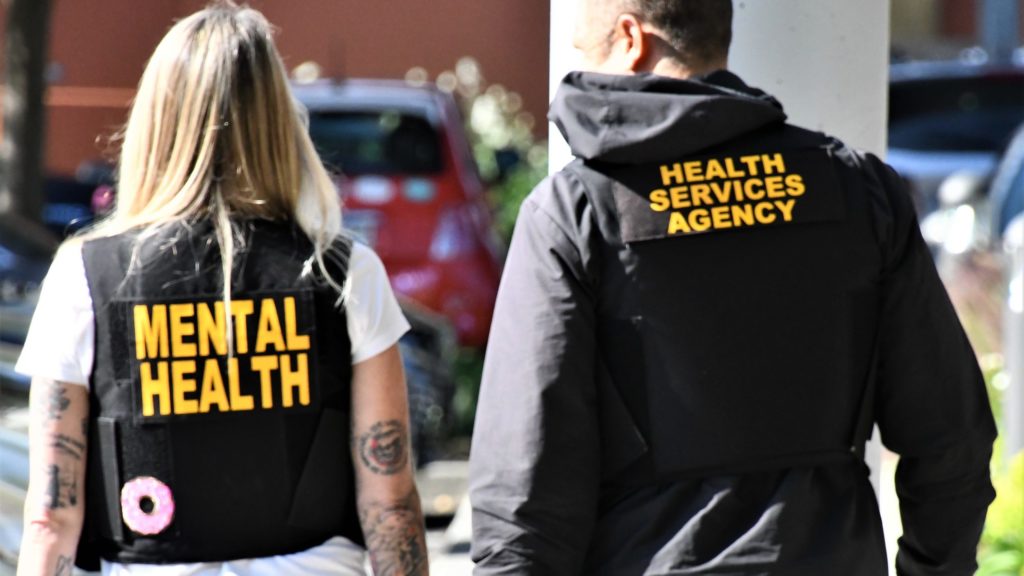 Mental health liaisons Shannon Dean and Kurt Churchill have worked with the Santa Cruz County Sheriff's Office. (Santa Cruz County Sheriff's Office)
SANTA CRUZ >> A '988' mental-health crisis hotline launched in July as an alternative to 911, but money for non-police responses for mental health emergencies in Santa Cruz County remains in limbo. 
If AB 988  is approved by the California legislature and signed by the governor, 988 call centers and a mobile, non-911 mental-health crisis response system would be funded through a monthly phone charge. Thursday, California's Senate Appropriation Committee approved AB 988  that would provide a permanent source of funding for the hotline. The state Senate is expected to vote on the bill before the legislative session ends Sept. 10. 
Some Santa Cruz County mental health advocates have been pushing for 24-hour non-law enforcement responses to mental health crises since 2016. That year, a 32-year-old man on the Westside of Santa Cruz and a 15-year-old boy in Corralitos were shot to death by law enforcement during separate mental health crises.
While advocates welcome the new hotline, some are eager for more wide-ranging changes to the mental health system.
"They hired more people to answer the phone, but they don't have any more services for you," said Serg Kagno, a member of Santa Cruz County's Mental Health Advisory Board. "There's nobody else going to your house if you're having a crisis," Kagno said. He said he was frustrated by a perceived lack of advertising for 988. 
Some advertisements for 988 have been played on Santa Cruz County radio stations recently.
National hotline
The 988 hotline is being introduced nationwide as an alternative to 911 for mental health emergencies. The 988 number replaced the old National Suicide Prevention Lifeline at 1-800-273-8255. 
Leaders launched the 988 hotline on July 16 in California. The National Suicide Prevention Lifeline manages 13 call centers across the state. Suicide Prevention Services, a program of Family Services Agency of the Central Coast, answers calls for the National Suicide Prevention Hotline in Santa Cruz, San Benito and Monterey counties. Ahead of the launch, the organization bolstered its volunteer staff with 14 employee operators.
Daily calls increased to 40 from about 30 or 35, said Andrea Tolaio, program director for Suicide Prevention Services. "Now we're hovering around 50 calls a day or so," Tolaio said. "It wasn't an avalanche of calls initially, but the numbers are starting to tick up."
A surcharge on telephone bills was planned to fund 988 call centers — the same way 911 dispatch centers are funded. But the bill that would allow the surcharge has been stalled in the state legislature for more than a year. 
A $20 million grant from the California Department of Health Care Services has temporarily supported the state's call centers. Call center leaders are still negotiating how much money will go to each center, Tolaio said.
The centers are expecting additional funding from the federal Substance Abuse and Mental Health Services Administration. That money would keep the hotline running into 2023 and may help Family Services Agency hire more operators, Tolaio said.
Santa Cruz County responses
Police chiefs in Santa Cruz, Capitola, Watsonville and Scotts Valley all support the creation of an independent agency to handle mental health emergencies, according to a 2021 report from the Santa Cruz County Criminal Justice Council. The Santa Cruz County Sheriff's Office is neutral, the report stated.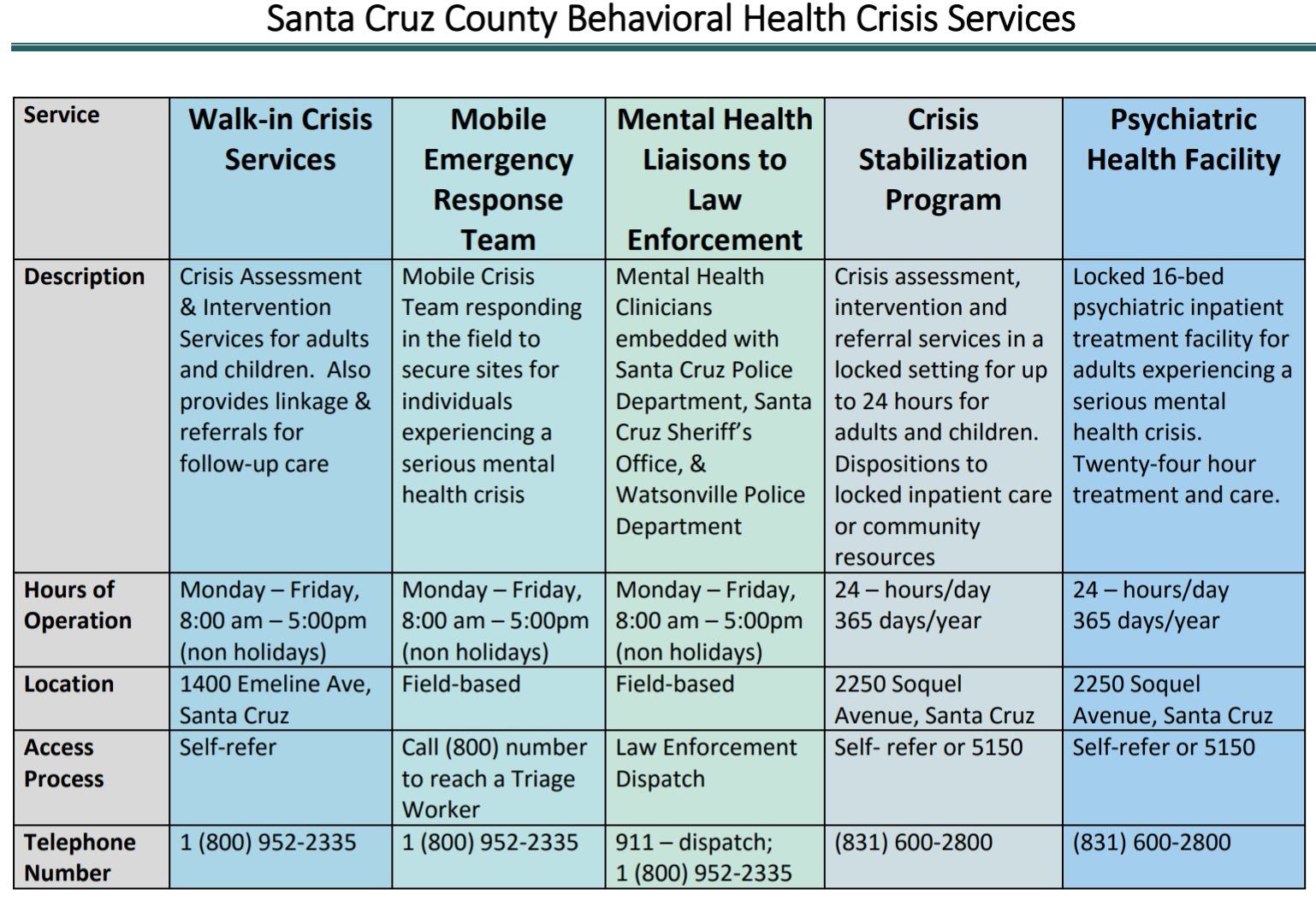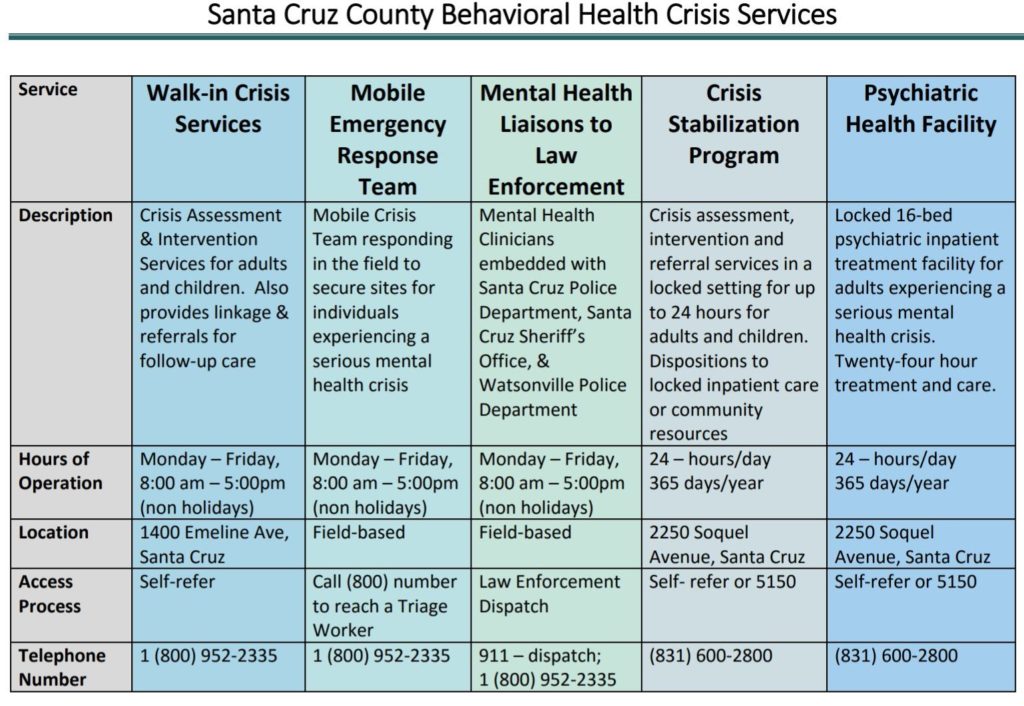 Options remain for mental health services in Santa Cruz County in addition to the 988 hotline. (County of Santa Cruz)
Hiring challenges and a UC Santa Cruz system
Santa Cruz County Behavioral Health Division leaders plan to design and implement a new mental health crisis system based in part on the recommendations of a 2021 report from the nonprofit National Council for Mental Wellbeing. Behavioral Health provides mental health services to county residents.
Right now, the county responds to psychiatric emergencies through the Mobile Emergency Response Team from 8 a.m. to 5 p.m. Monday through Friday. The only county psychiatric health facility for those in mental crisis is a 16-bed Telecare center in the city of Santa Cruz. 
The county's long-term goal is to have round-the-clock mental health response teams and additional psychiatric care centers. Hiring difficulties have hindered that plan, county staff said.
"Right now, we are in a hiring frenzy to try to fill the clinician roles that we've lost over this great resignation time, and also to fill some of the newer crisis roles that we've created," said Andrea Turnbull, behavioral health program manager for the County of Santa Cruz.
The rise of telehealth in the mental health field has made it more difficult to recruit clinicians for in-person roles, Turnbull said.
County of Santa Cruz leaders hired James Russell in January to head the new mental health crisis system. But Russell left in July to help design a separate mental health crisis response system for UC Santa Cruz.
Details about UCSC's crisis response effort are not yet available, a university spokesman said. The search for a new crisis system manager for Santa Cruz County is ongoing, Turnbull said.
"I do realize that people are anxious to make this happen," Turnbull said. "We're doing what we can at this time, and we'll continue to take direction from the state and engage the community in making a plan."
Santa Cruz advocacy
Jeffrey Arlt has been speaking out about the need for a changed mental health crisis system since his son, Sean, was killed by police during a mental health crisis in 2016. Arlt is also a member of the Santa Cruz County's Mental Health Advisory Board.
"The word stigma is used a lot," Arlt said. "I think we have to closely examine using the word discrimination. Why did someone who fainted get an ambulance and certified clinicians to come to their house, but someone who's lying on the floor in a mental health crisis gets police?" 
Arlt said he believes that creating a mental health support network in Santa Cruz County will require the county's health care providers and nonprofits to collaborate, including Kaiser Permanente, Dignity Health, Pajaro Valley Health Care District and other groups. He'd also like to see an overarching agency that oversees all the behavioral health systems in the county.
Though Arlt sees the new number as a victory, he anticipates a long road ahead towards a more effective mental health crisis system, he said. 
"We're looking at working for years on this, and I don't mean to say that we're not going to have near-term successes," Arlt said. "What I'm saying is that services for people with behavioral health, substance use and developmental disorders have been discriminated against and underfunded, and the staff have been underpaid and under compensated for decades. This is not anything new. But the good news is, it is getting more attention."
Clarification: Additional information has been added to clarify Jeffrey Arlt's position.
Related Santa Cruz Local stories
Correction: Mental health liaison Shannon Dean was misidentified in a photo caption in an earlier version of this story. 
Questions or comments? Email [email protected]. Santa Cruz Local is funded by members, major donors, sponsors and grants for the general support of our newsroom. News judgments are made independently and not on the basis of donor support. Learn more about Santa Cruz Local and how it is funded.
Santa Cruz Local's news is free. We believe that high-quality local news is crucial to democracy. We depend on locals like you to make a meaningful contribution so everyone can access our news. Learn about membership.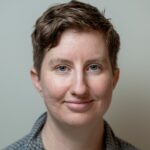 Jesse Kathan is a staff reporter for Santa Cruz Local through the California Local News Fellowship. Kathan holds a master's degree in science communications from UC Santa Cruz.