Recent storms prompted some water outages in the CZU Lightning Complex Fire zone, but Big Basin Water District leaders said this week that a generator upgrade should keep water running in that area during future power failures.
In the San Lorenzo Valley, scores of homes temporarily lost water on Jan. 27 as a power outage stopped some of Big Basin Water Co.'s distribution pumps. By Jan. 28, the company had installed a permanent generator, "so this will never happen again," said Jim Moore, manager of Big Basin Water.
Santa Cruz Local offers its news stories free as a public service.
We depend on people like you — we call them our Santa Cruz Local members — to chip in $9 a month or $99 a year to make sure vital information can be available to all. Can we count on your help?
Although there was little damage to water systems in the CZU Fire zone from last week's storms, scientists from many agencies are monitoring the area for potential landslides and water contamination.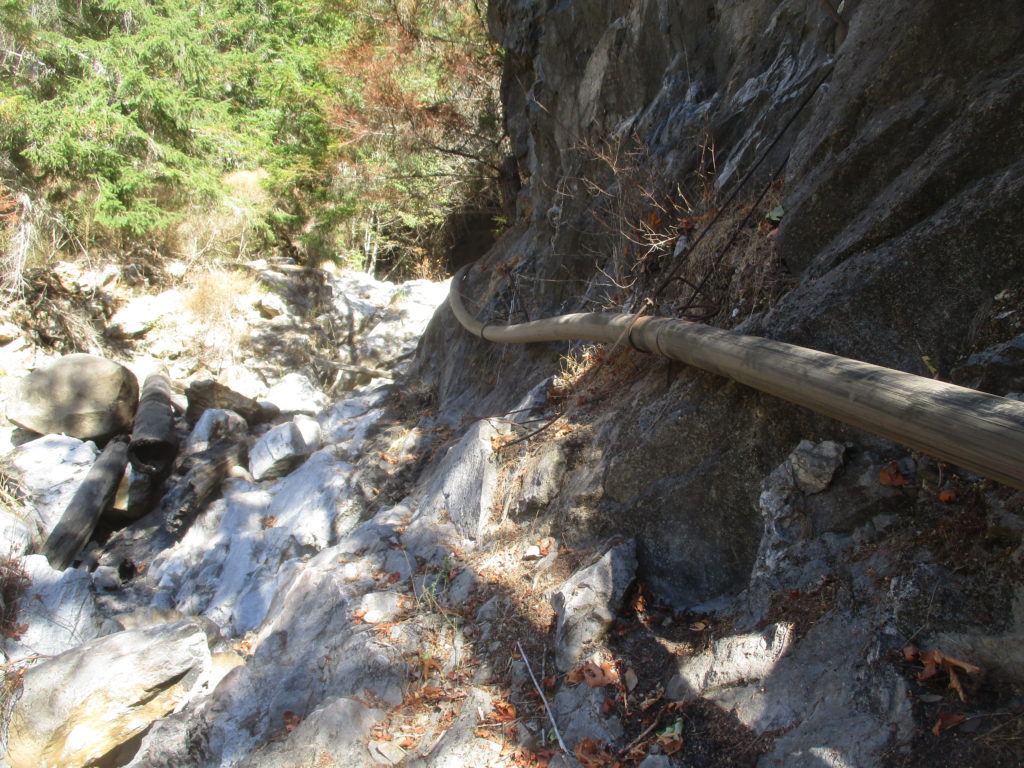 Separately this week, leaders from San Lorenzo Valley Water District and Scotts Valley Water District said they hope to consolidate the two agencies in the next few years in part to improve efficiency. A representative of the Santa Cruz Local Agency Formation Commission plans to discuss the potential merger at the San Lorenzo Valley Water board's meeting at 5:30 p.m. Feb. 4 and Scotts Valley Water board's meeting at 6 p.m. Feb. 11.
"This is a collaborative effort to consider what is best for our customers, our water supply and our environment now and into the future," said Rick Rogers, manager of San Lorenzo Valley Water District, in a statement. "It's a good time to consider our options and have a conversation with the community."
Piret Harmon, general manager of Scotts Valley Water District, said a merger "could mean economies of scale, improved levels of customer service and more opportunities for employees."
Landslide vulnerability
In the aftermath of the CZU Lightning Complex Fire, a group of scientists from Cal Fire and other agencies assessed the burn scar, identifying areas in danger of debris flow. A CZU watershed report in October identified water intake pipelines in the San Lorenzo Valley watershed that cross steep, severely burned hillsides, as particularly vulnerable to possible landslides.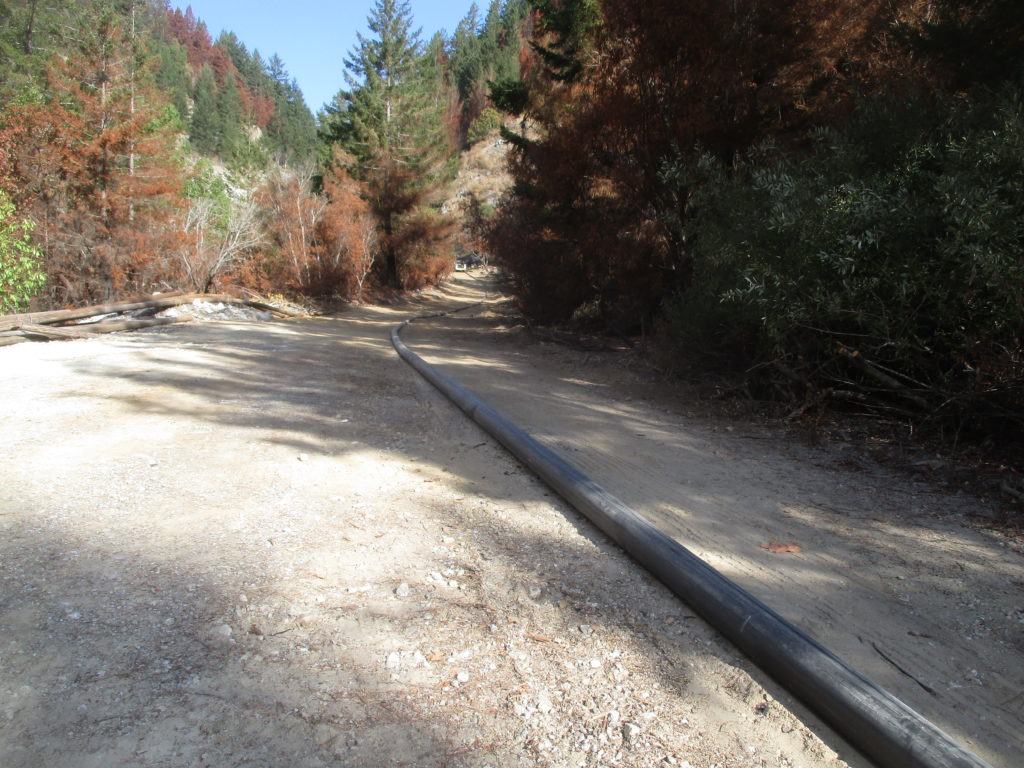 Dave Langstreth, an engineering geologist with the California Geological Survey who worked on the report, has been part of ongoing efforts to monitor flooding and erosion in the burned area.
Langstreth said last week's storms caused minor landslides in some creeks, but no major damage. He and Cal Fire hydrologists caution, however, that heavy rain can drive debris into creek beds, possibly priming more destructive landslides during future storms. Because the damp forests of Santa Cruz County don't usually burn so severely, "there's a little bit of uncertainty as to how his area is going to respond," said Drew Coe, a CAL FIRE hydrologist who also helped author the report.
Langstreth and Coe both urge homeowners in the burn area to closely follow extreme weather warnings and heed any calls for evacuation. "Just because nothing really large in magnitude happened this time, that doesn't mean it couldn't happen in the next storm," said Langstreth.
The San Lorenzo Valley Water District has notified customers that Ben Lomond, Felton, Lompico, and Scotts Valley may have low water pressure during the district's annual flushing of the main distribution system. The flushing Feb. 2 to April 16 removes mineral deposits from water pipes in separate areas of the system on specific dates. Though water discolored by the minerals may stain laundry, it remains safe to drink, according to the water district.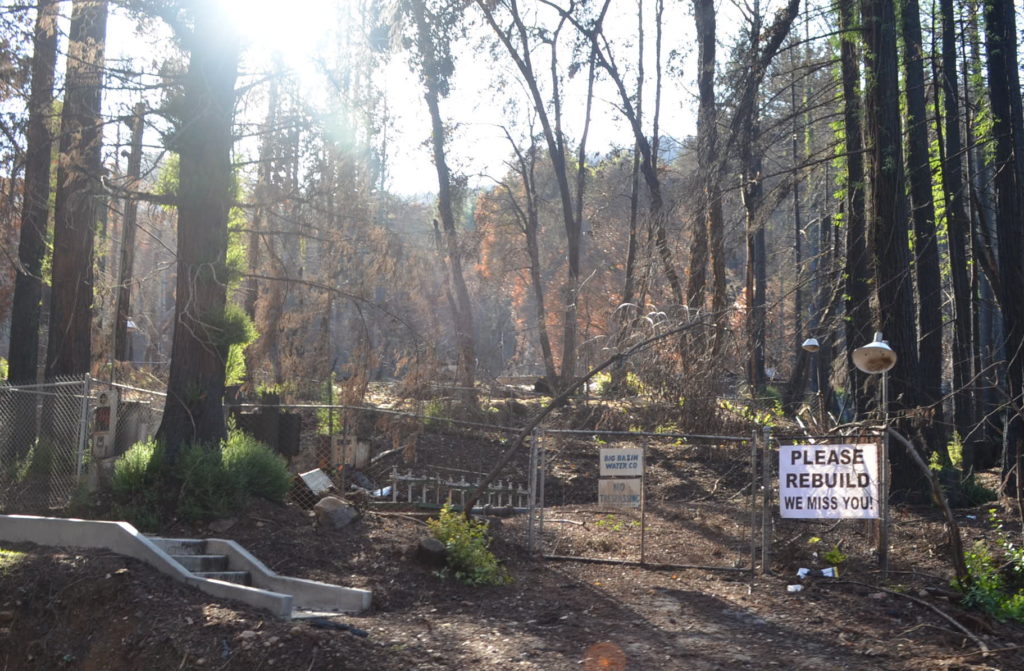 Santa Cruz water
Water district leaders in the city of Santa Cruz said last week's rain and high wind did little damage to the water system and helped refill it.
The rain was "a welcome addition to what had been a dry year so far, said Rosemary Menard, water director of the city of Santa Cruz's Water Department. Before last week, the region had received only 10% of its average winter rainfall, Menard said.
Normally in winter, the city of Santa Cruz sources its drinking water from the San Lorenzo River and coastal streams north of the city. Last week, the city switched its primary supply to Loch Lomond Reservoir. Menard says it's a common step taken during heavy storms that fill creeks with sediment and runoff.
This year, the city is also closely monitoring water quality, as runoff from burned areas can introduce ash and toxic chemicals into the water supply. Water quality results of samples collected during the storm will be available in two to three weeks.
Although city water was largely unaffected by the most recent storm, Menard says the city's water infrastructure remains vulnerable.
"The chickens have come home to roost," Menard said. "We just don't have resilient infrastructure for the kind of storms we're now experiencing."
Particularly at risk is the 10-mile Newell Creek pipeline, which connects Loch Lomond reservoir to Graham Hill Water Treatment Plant. The pipeline suffered major damage after heavy winter storms in 2017 and was offline for three days. If the pipe were to suffer damage, the city would be dependent on underground storage and water drawn from an emergency intertie with Soquel's system.
City plans to replace the pipe are currently under environmental review. Menard predicts the project's completion is several years away.
Davenport water
Like the city of Santa Cruz, Davenport also sometimes stops drawing water from turbid coastal streams during severe storms. Managers didn't take that step during last week's storm.
If water becomes too turbid for the treatment plant to process. "We have several days of supply in our tanks, so we can go without for up to five days waiting for the turbidity to go down," said Kent Edler, assistant director of public works for the City of Santa Cruz.
The city's water system did not experience any damage or any debris flows. Edler said potential landslides are "always a concern."
Davenport is only recently back on its own water system after months of relying on water trucked from the city of Santa Cruz.
In August, the CZU Fire severely damaged an intake pipeline connecting creeks to the water treatment plant. As of December, the pipe was fully repaired and operational. Cemex, a concrete company that owns the pipeline, paid for the repairs.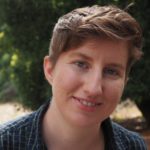 Jesse Kathan is an environmental journalist and a graduate of UC Santa Cruz's science communications program. Kathan has contributed to the Mercury News, Monterey County Weekly and KSQD-FM.