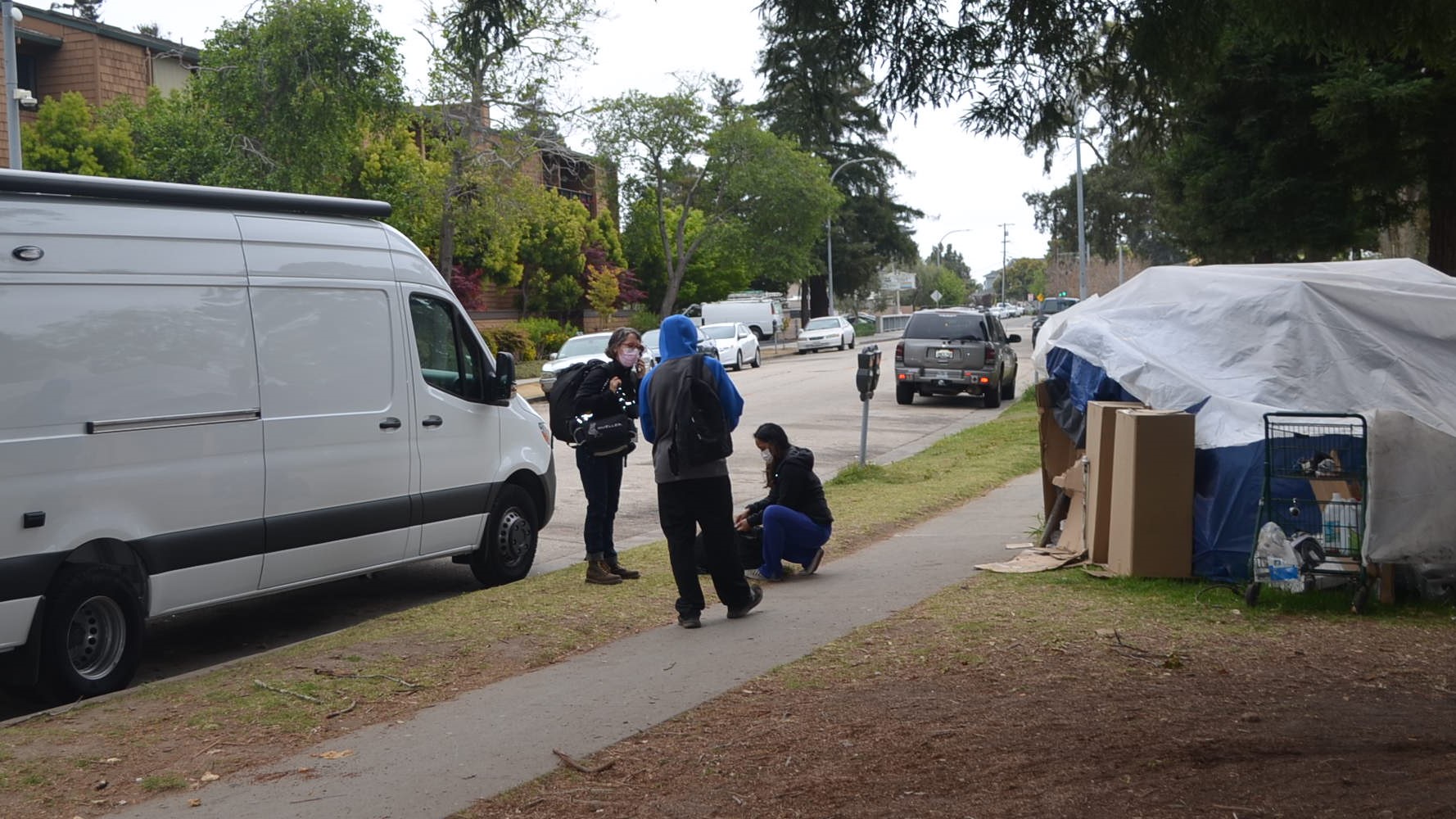 Public Health Nurses Suzanne Samson, at left, and Marie DelRosario respond to a man near Dakota Avenue as part of the Homeless Persons' Health Project. (Stephen Baxter — Santa Cruz Local file)
SANTA CRUZ COUNTY>> A new 988 phone number for emergency mental-health response is due to start in Santa Cruz County in July, but a lack of state money has delayed some of its intent to separate law enforcement from mental-health crisis response.
Nine-eight-eight is being introduced nationwide as an alternative to 911 for mental health emergencies. In California, its intent is to deploy mental health professionals as first responders rather than law enforcement officers who often aren't trained to resolve mental health crises.
But the state has funded only part of the 988 program. To bolster the call centers that will take 988 calls, a $20 million grant is being split among the state's 13 call centers of the National Suicide Prevention Lifeline. To fund the full non-police response system, the state legislature has yet to adopt a state bill proposed in 2021.
"The full vision of 988 is to have someone to call, someone to come and somewhere to go," said Tara Gamboa-Eastman, a representative of the Sacramento-based Steinberg Institute. The group has lobbied for the state bill. "We're going to start with the first piece of that, which is someone to call."
Some Santa Cruz County mental health advocates have been pushing for 24-hour non-law enforcement responses to mental health crises since 2016. That year, a 32-year-old man on the Westside of Santa Cruz and a 15-year-old boy in Corralitos were shot to death by law enforcement during separate mental health crises.
Santa Cruz County sheriff's deputies and Santa Cruz and Watsonville police have mental health liaisons who help respond to calls, but the liaisons do not work at night. Although most 911 calls related to mental health happen during the day, the two fatal shootings in 2016 were at night. 
"We want 24/7, 365 days a year, non-law enforcement mobile crisis response service available — easily available," Jeffrey Arlt of Santa Cruz has said. His son, Sean Arlt, was a 32-year-old Santa Cruz man killed by police during a mental health crisis in 2016.
Hotline changes
The 988 number is set to take over for the National Suicide Prevention Lifeline in July in Santa Cruz County.  When Santa Cruz County callers now dial the lifeline at 800-273-8255 and the caller poses an immediate danger to themselves or others, call takers transfer the call to 911. With more time and state money, the plan is to have 988 call takers who can dispatch mental-health providers to calls rather than law enforcement. 
Suicide Prevention Services of the Central Coast now operates a mental health crisis hotline and answers calls for the National Suicide Prevention Hotline in Santa Cruz, San Benito, and Monterey counties. From July 2020 to June 2021, Suicide Prevention Services fielded nearly 3,500 calls, its leaders said. About 80% of the calls were resolved on the phone, said Andrea Tolaio, Suicide Prevention Services' program director. 
Tolaio said there was an increase in calls to the lifeline in the past two years due to the stress of the COVID-19 pandemic. She said she expects a further increase of up to 35% after the 988 number's planned launch in July as more people become aware of the service. The number is supposed to be easier to remember and act as a first stop to guide mental health problems toward various services. 
Tolaio called the transition to 988 "a very, very big lift for our organization." Although the line is usually staffed by volunteers, the group is hiring 10 full-time staff to manage the expected increase in calls. Tolaio said hiring has been difficult in part because it has not yet been decided how the $20 million in state money will be divided among the 13 call centers. In March, the California Department of Health Care Services provided a $20 million grant to Los Angeles-based Didi Hirsch Mental Health Services to split the money amongst the state's 13 National Suicide Prevention Lifeline call centers.
The $20 million grant is "kind of a stopgap while we do a larger plan for the whole 988 system," said Gamboa-Eastman, the lobbyist. Gamboa-Eastman estimated that the grant fell about $8 million short of the money needed for the first year of the hotline's operation. She said she hoped that gap will be filled during the state's next fiscal year that starts July 1. 
County plans for more services
That hope is shared by Erik Riera, director of Santa Cruz County Behavioral Health. The county has not yet received state money to implement alternative emergency response efforts for 998, Riera said. But the department has received other state grants for programs to help people in mental health crises.
In 2021, county behavioral health launched the South County emergency response team for youth. It dispatches a van with mental health professionals to children and youth up to age 21 in a mental health crisis. It's an expansion of the Mobile Emergency Response Team, or MERT, which is for adults. MERT has mental health clinicians that can respond independently of law enforcement. Depending on the situation and risk, law enforcement also may respond. The program is based in North County but clinicians can respond anywhere in the county.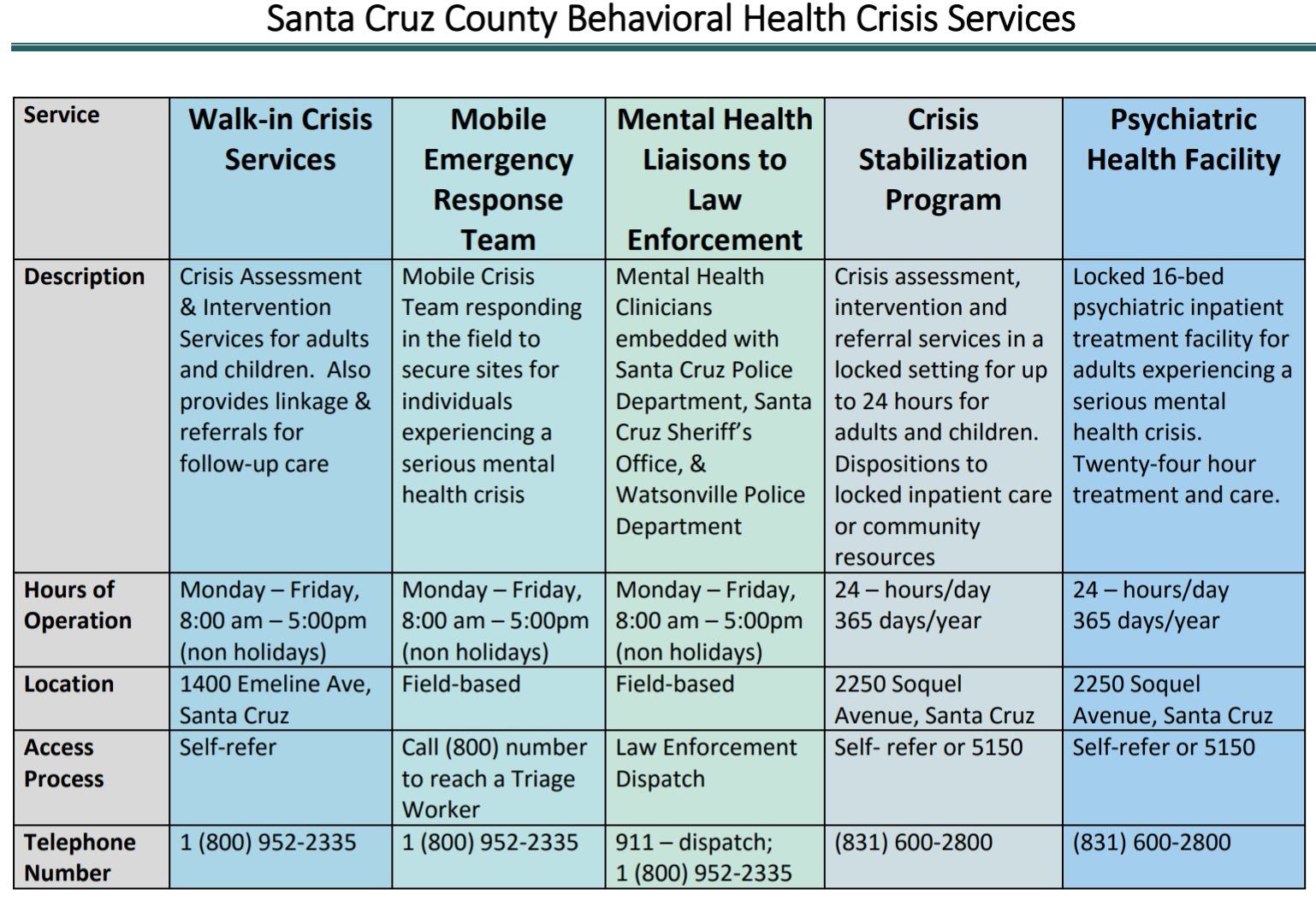 (Source: County of Santa Cruz)
Santa Cruz County sheriff's deputies and police in Watsonville and Santa Cruz also have county mental health liaisons available to respond with them during most days. Two liaisons assist Santa Cruz police and three liaisons assist sheriff's deputies. Watsonville police have one county mental health liaison and county leaders said they are hiring an additional full-time mental health liaison for that department.
A separate pilot program also is planned to have a county mental health liaison respond with ambulance and paramedic provider American Medical Response.
Many people in crisis don't just need someone to talk to, but somewhere to go, said Riera, the county behavioral health director.
Some services are provided at Telecare psychiatric health facility at 2250 Soquel Ave. in Santa Cruz, but more space is needed. County leaders are seeking grants for two new residential crisis stabilization centers, one for adults and another for children. The centers would give a short-term place to stay and receive treatment for people in a mental health crisis who don't yet need to be fully hospitalized. 
A 24-hour response
Some advocates said that despite all these additions to mental health care, the county does not have a critical piece of the puzzle: 24-hour crisis response that deploys clinicians without law enforcement. 
The hours for the Mobile Emergency Response Team are 8 a.m. to 5 p.m. Monday through Friday. The mental health liaisons who work with law enforcement usually do not accompany officers at night. Participants must dial 1-800-952-2335 rather than 911.
For mental health problems, "Santa Cruz has either a hands-off approach or criminal approach most of the time," said Serg Kagno, a member of Santa Cruz County's Mental Health Advisory Board. Kagno is also the executive director of Recovery Cafe Santa Cruz. It provides a "sober, social, support network in a healing community for individuals recovering from life's traumas," according to its website.
As county leaders continue to plan its crisis response system, Kagno said he hopes for lasting change in the county's approach to mental health. "I think 988 can be amazing and powerful, and it could also be just a cluster," he said. "I'm hoping that we get the legwork done so that we can actually make it be a really supportive thing for our community."
Kagno praised the idea of 988, but he said he worried that the new number won't come with a new attitude towards mental health care. "There are going to be more calls, but right now, it just seems like it will be business as usual unless Santa Cruz provides some more services," he said.
Many of those facing mental health crises are unhoused, Kagno said. Law enforcement officers are often unable to meet their needs. "There are some awfully cool policemen. There are some awfully cool deputies. But by and large they can't even name the shelters," said Kagno. "They're seen as somebody who has a gun on their hip and a book for citations in their hand."
County response
Erik Riera, the director of Santa Cruz County Behavioral Health, said that while he sees the value of an alternative to 911, the county doesn't yet have the money for round-the-clock crisis support. The state Department of Health Care Services "defines what our responsibilities are with the community," he said. "Over time, we expect those requirements to change, and with each of those changes, hopefully, comes additional funding," Riera said.
County leaders are interviewing candidates for a program coordinator to create a community planning process that will shape the future of the county's crisis response system, Riera said. 
"We hope to have as diverse representation as we can, because we know there's a lot of interest in building a strong system," Riera said.
Learn more
Santa Cruz Local's news is free. We believe that high-quality local news is crucial to democracy. We depend on locals like you to make a meaningful contribution so everyone can access our news. Learn about membership.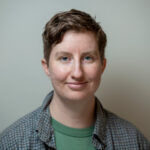 Jesse Kathan is a staff reporter for Santa Cruz Local through the California Local News Fellowship. Kathan holds a master's degree in science communications from UC Santa Cruz.