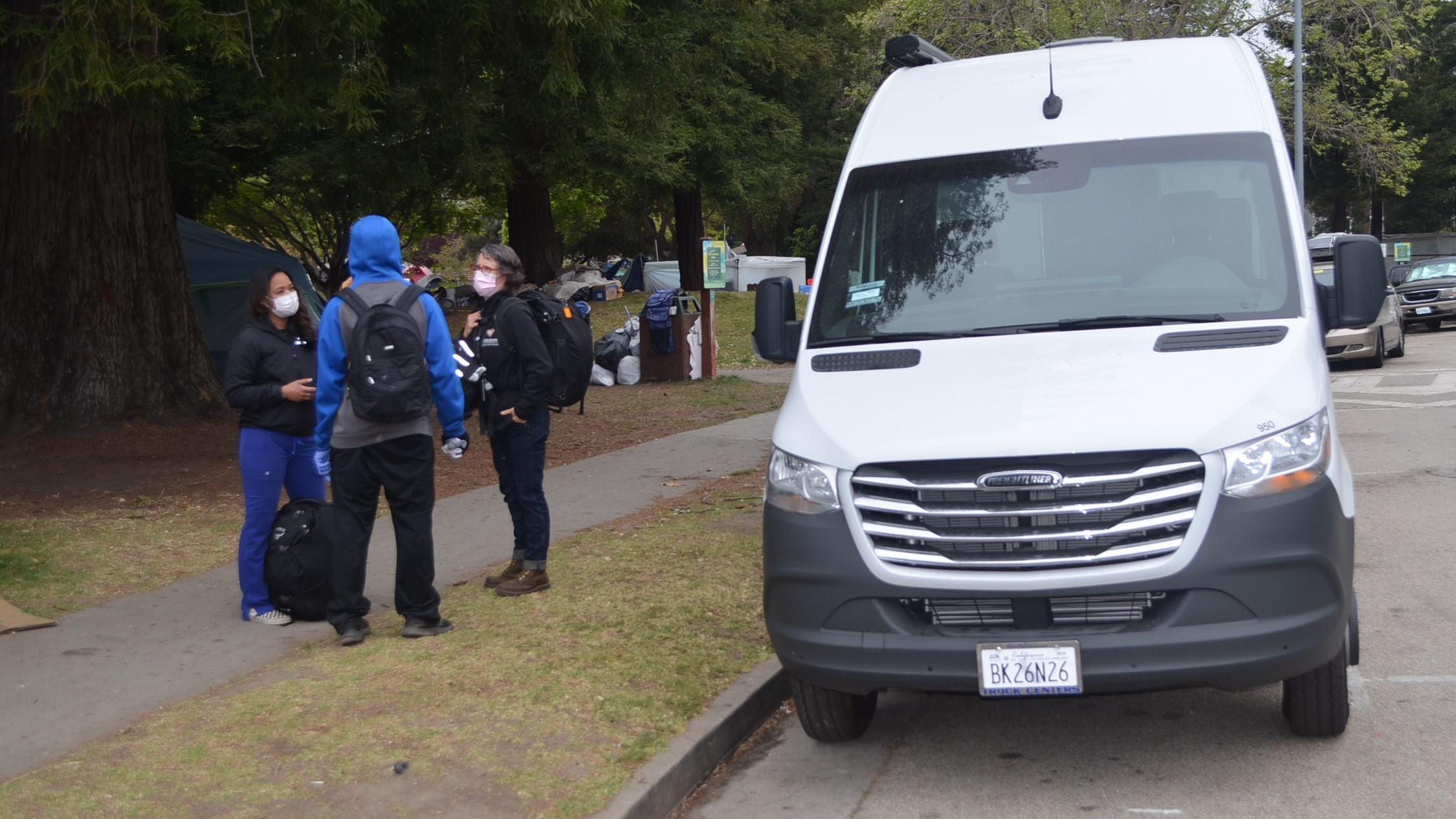 Public Health Nurses Marie DelRosario, left, and Suzanne Samson of the Homeless Persons' Health Project talk to a man during a visit to a homeless camp on Dakota Avenue in Santa Cruz in April. (Stephen Baxter — Santa Cruz Local)
SANTA CRUZ >> For Sarah Leonard, many problems with mental-health crisis response boil down to fear.
When a person is in crisis, sometimes that person or a loved one will avoid calling 911 because of a fear of mistreatment by police, injury or jail. Fear in a police officer's head, Leonard said, also helps explain why some have used force during mental health crises in Santa Cruz County in recent years.
"Sometimes the police act incredibly lovingly toward people with severe mental health issues, I mean truly," Leonard said. "And sometimes they are indifferent, callous, even harassing towards certain individuals that they have deemed not a public benefit — but who may be absolutely wonderful, redeemable individuals who actually might not have done anything wrong."
Leonard is executive director of Santa Cruz's Mental Health Client Action Network. Her group offers peer support and many other services by phone and on Cayuga Street in Santa Cruz. She's also one of the roughly 1 in 4 Americans who suffer from a mental health disorder.
Leonard said she has "taken knives away from people that were threatening people." She said, "I have talked down plenty of people, so have many other peer-support workers in situations which might have led to violence from the police," Leonard said. "The majority of the time, people don't call the police because they're afraid of them."
Because mental health services have not matched the need in California, and because 911 has become a catch-all for services beyond the original scope of fire, law enforcement and medical emergencies, officers and deputies in Santa Cruz County have become the default, 24-hour response to mental health crises. 
Law enforcement agencies have tried to address mental health crises with added officer training and mental health liaisons who accompany officers and deputies on some daytime calls. Mental health liaisons are unarmed mental health professionals who can help defuse crises and offer services. Yet "5150 holds," or temporary involuntary psychiatric holds, remain one of the few tools that officers have to handle crises. Mental health advocates say those holds of typically 72 hours are not a long-term solution and can traumatize patients.
"We're interested in having somebody other than the police handle all the calls that don't need police," said Peter Gelblum, chairman of the Santa Cruz County chapter of the American Civil Liberties Union of Northern California. "Some things just do not involve and should not involve law enforcement," Gelblum said. "I haven't heard any kind of ringing defense of 'Oh, no, we think the police should go out and respond to suicidal people or people with mental illness or homeless people."
Among the more than 400 people shot and killed annually by law enforcement officers nationwide in the past five years, 20% to 40% of them have suffered from a mental health problem, according to the FBI.
In Alameda County a few years ago, county leaders set out to reduce the number of 5150 holds, unnecessary hospital visits, ambulance rides and law enforcement time spent on non-criminal mental health crises. They started a program called the Community Assessment and Transport Team, or CATT. 
To understand how communities address problems with police response to mental health crises, Santa Cruz Local examined two current Santa Cruz County programs' advantages and disadvantages, as well as the new program in Alameda County.
Alameda County's response
State law allows police or mental health professionals to take people for an involuntary psychiatric hold or "5150 hold" if that person is a danger to themselves or others or is unable to care for themselves. Sometimes when police respond to mental health crises, police send the person to a locked psychiatric facility — sometimes against their will — for 72 hours. Those holds can save a person's life, mental health professionals said, but overuse of such holds can be counterproductive for the client and first responders.
In 2015, Alameda County in the East Bay had the highest rate of involuntary psychiatric holds in California, according to state records. Many of those holds came from law enforcement responses because the person met a 5150 criteria. It's one of the few tools that officers and deputies have to handle mental health crises. 
Alameda County leaders and residents found several problems with the high number of such holds. Many of those held did not need psychiatric care, county leaders found. And people who did not qualify for a hold then received no other care, according to Alameda county staff. 
"People who do not qualify for 5150 holds are not successfully linked to planned services and continue to over-use emergency services," Alameda County staff wrote in a 2018 report. "First responders spend many hours addressing behavioral-health related 911 calls that would be better served in a different manner."
In July 2020, Alameda County leaders launched a program called the Community Assessment and Transport Team, or CATT. Dispatched through 911, a clinician and emergency medical technician respond to crises related to mental health or drug use. The program is similar to a nationally recognized Oregon program called CAHOOTS — or Crisis Assistance Helping Out On The Streets — which has a non-licensed mental health counselor and an emergency medical technician in a van to treat and transport patients typically without law enforcement. Out of the 24,000 calls that CAHOOTS answered in 2019, about 17% of those calls otherwise would have gone to law enforcement, the group reported. 
"CATT provides mental health assessment, crisis intervention, medical assessment, information, referral, and transportation to a variety of voluntary settings. CATT hopes to divert individuals who are not in need of involuntary hospitalization or an emergency department whenever possible," according to Alameda County documents. Teams also can write 5150 holds if necessary.
CATT started with separate teams in Oakland, San Leandro and Hayward. They started in those three cities rather than the whole county to find problems and solutions, Alameda county leaders said. The teams' initial hours were 7 a.m. to 11 p.m. 
The pilot program now connects Alameda County Behavioral Health, Emergency Medical Services, the mental health group Bonita House Inc., Falck ambulance and Alameda County Care Connect. Crucial for consistent patient care, Care Connect tries to coordinate and facilitate services for mental health, substance use disorders and other services, especially for the unhoused. 
Some of the goals of the Community Assessment and Transport Team were: 
Reduce involuntary psychiatric holds, or 5150 holds, by at least 25%. 

Reduce repeat crisis stabilizations, or visits to locked care facilities, in the month following contact by 30% 

Reduce hospital emergency department visits in the month following the contact by 30%
In the first four months, there were an average of 53 calls each month, according to county records. They transported clients to a facility or "safe location" during about one-third of those calls. Other times, the patient in question could not be located by the team, the patient refused to be treated or transported by the team or was transported by another authority.
It's not yet clear how many 5150 holds were reduced by having the CATT team respond, Alameda county leaders said this month.
Santa Cruz County responses
The idea of expanding mobile mental-health crisis response in Santa Cruz County is not new. 
"I and other members of MHCAN have approached the county for years about a CAHOOTS-like effort," said Sarah Leonard said, executive director of the Mental Health Client Action Network in Santa Cruz. She said lack of funding is usually blamed, but a new state and funding structure with Assembly Bill 988 could change that. Similar to 911 dispatch funding, it's expected to tack on a fee to residents' phone bills to pay for emergency dispatch to non-police emergency response by dialing 988. The response team itself is expected to be funded 85% by the federal government. It could start in mid-2022 or 2023, leaders have said. 
Today, Santa Cruz County has at least two non-police teams that respond to mental health crises: The Mobile Emergency Response Team and the Mobile Emergency Response Team for Youth. 
The county's Mobile Emergency Response Team, or MERT, covers the whole county from 8 a.m. to 5 p.m. weekdays. A licensed clinician typically responds in a white county car, typically a Ford Fusion. 
The team responds to a hotline at 800-952-2335. It is not typically dispatched through 911.

Mobile Emergency Response Team clients have increased in recent years. It served about 28 people each month from July 2017 through June 2018, according to

county documents

. During that time, about 13% of clients were referred to treatment and attended treatment at least once, county records state. Recently, it has responded to about 150 calls each month.

For scale, the Santa Cruz County Sheriff's Office responds to about 260 to 400 calls for "emotionally distressed persons" each month, mainly through calls to 911, according to

Sheriff's Office data

. There are also typically 22 to 36 Sheriff's Office calls each month that result in involuntary psychiatric holds, also known as "5150" holds, records show.

The Sheriff's Office is just one of Santa Cruz County's five major law enforcement agencies. There are separate police departments in the cities of Santa Cruz, Watsonville, Capitola and Scotts Valley. Each department responds to 911 calls related to mental health crises.
"People typically call when they are experiencing mental distress or witnessing crisis episodes with friends, family or colleagues. This includes hearing from others that they are feeling suicidal," said Cassandra Eslami, who runs the Mobile Emergency Response Team. "Mental health crises can affect anyone," Eslami said. "People call for a variety of reasons from a variety of backgrounds and situations, including those stably housed and those experiencing homelessness."
From July 2018 through June 2019, more than half the calls to the Mobile Emergency Response Team were for clients age 25 or younger, according to county records. To respond better to that need, the Mobile Emergency Response Team for Youth started in 2021 with a van to cover South County only. 
A separate van is expected to launch for North County in July 2022. It often responds to schools and provides a safe and confidential space for students and a licensed clinician.
Advantages of the Mobile Emergency Response Team
The staff are seasoned clinicians, Eslami said. "They practice empathetic and compassionate communication techniques and see all people through a non-judgment lens. The staff operate on core values of connections — wanting to help people in mental health crisis," Eslami said. She said clinicians use their clinical expertise to determine whether a psychiatric hospitalization is necessary or beneficial.  

Clients and families who call can avoid potentially dangerous interactions with police. Referrals between law enforcement and the team are infrequent, but occasionally law enforcement can respond with MERT based on the situation and risk. 
Limitations of the Mobile Emergency Response Team
Awareness of the program is not as broad as it could be

, according to some mental health care advocates around the county. Families with mental health patients often are not aware of the hotline at

800

-952-2335

.

Hours are limited.

Mobile response is funded

8 a.m. to 5 p.m. weekdays. Although law enforcement, city and county leaders point out that most calls that involve mental health crises are during the day, two fatal shootings by police in 2016 happened at night. "Would you be happy with a police response only from eight to six because most of our crimes happen in this window?" asked Jeffrey Arlt. His son, Sean Arlt, was having a manic episode and carried a rake when he was shot to death by a Santa Cruz police officer, according to

police records

.

Clinician safety:

Calls are screened to try to ensure situations are safe without law enforcement. A clinician might have less safety risk with law enforcement. 

Common misperceptions of services.

Although many people think the team won't respond unless the person is an established county mental health patient, the team responds to non-established patients. Some people think the team does not respond to homes, but they do.

Clinicians respond to a variety of places that often includes homes, churches, homeless camps, sober living environments, shelters, hotels, community centers and streets, Eslami said. 
Sarah Leonard again, the leader of Mental Health Client Action Network, said she "really appreciates" MERT. "I think it's one of the best things the County of Santa Cruz mental health has ever done. However, there's a big disconnect between the police department and MERT," Leonard said. "There are times when Santa Cruz police will have an encounter with someone where they should themselves be activating MERT."
Law enforcement responses
Until non-police responses to mental health crises expand in Santa Cruz County, most crises will continue to be handled by law enforcement. 
Police chiefs in Santa Cruz and Watsonville have expressed interest in reducing law enforcement response to calls related to mental health where there is no apparent safety threat. A Watsonville Ad-Hoc Committee on Policing and Social Equity also has chosen mental health crisis response as an area of study for potential changes. 
In recent years, the Santa Cruz County Sheriff's Office, and the Santa Cruz and Watsonville police departments have attempted to address mental health crisis response with mental health liaisons, unarmed mental health professionals who accompany officers.
Mental health liaisons have helped reduce reliance on lesser trained officers to handle mental health problems. 
A mental health liaison may accompany sheriff's deputies and police in Santa Cruz and Watsonville 8 a.m. to 5 p.m. weekdays depending on availability. Watsonville police's mental health liaisons also can be dispatched through its non emergency line at 831-471-1151.

Scotts Valley and Capitola police do not have mental health liaisons.

Not all officers and deputies have the same level of mental health training to handle calls. Critics say officers and deputies also may be emotionally or physically drained from crime-related calls and may approach mental health crises with varied levels of patience and expertise.
Santa Cruz County data on 5150 holds is incomplete. During such holds, the person can be taken against their will to the county's contractor-run Crisis Stabilization Facility or Psychiatric Health Facility, both at 2250 Soquel Ave., Santa Cruz. Patients are often sedated with medications.
In 2017, Watsonville police performed more 5150 holds than police who had the department's mental health liaisons with them, according to police records. The liaisons accompany an officer to calls related to mental health.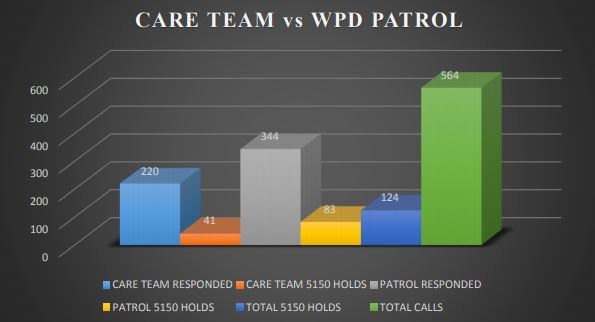 Watsonville police performed more involuntary psychiatric "5150" holds than when its mental health liaison "CARE Team" responded in 2017, according to Watsonville police data and a San Jose State University analysis.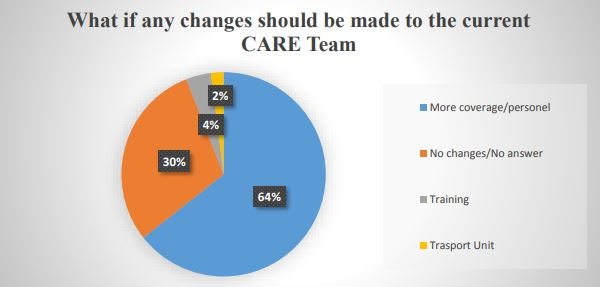 Nearly 2 out of 3 Watsonville police officers surveyed in 2017 said they wanted more coverage or staff on the police department's mental health liaison CARE team. (Joseph Perez, San Jose State University)
When Watsonville police officers were surveyed by a San Jose State University graduate student, more than 2 out of 3 officers said they wanted more coverage from the mental health liaisons. 
This story is part of Santa Cruz Local's Police Reform Series. Read related stories:
Become a member of Santa Cruz Local, an independent, community-supported newsroom that's owned and led by local journalists. Our stories are free and always will be, but we rely on your support. Already a member? Support Santa Cruz Local with a one-time gift.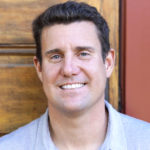 Stephen Baxter is a co-founder and editor of Santa Cruz Local. He covers Santa Cruz County government.