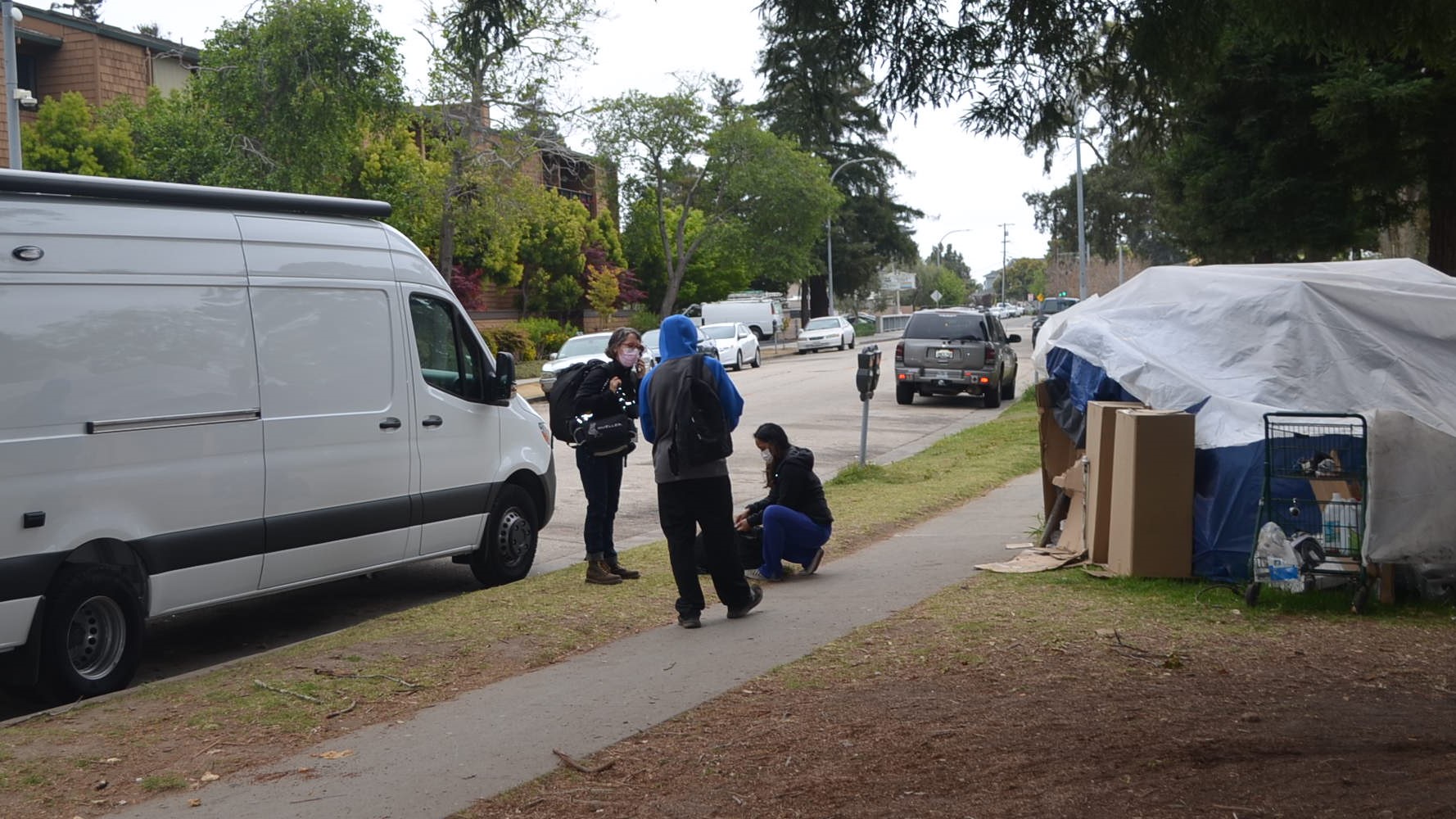 Public health nurses Suzanne Samson, at left, and Marie DelRosario respond to a man near Dakota Avenue as part of the Homeless Persons' Health Project in 2021. (Stephen Baxter — Santa Cruz Local file)
SANTA CRUZ >> After years of planning, Santa Cruz city and county leaders are closer to two programs that would provide 24-hour, mobile mental-health crisis care with less ties to law enforcement.
Santa Cruz County leaders are set to ramp up a mobile mental-health crisis system with expanded hours and licensed mental-health professionals.

Separately, Santa Cruz city leaders are exploring a program that would use crisis workers with emergency medical technicians or paramedics to respond to crises rather than police.

Long-term funding for both programs remains uncertain, but county staff have identified some potential money sources for the county program. County staff plan to present a plan to the Santa Cruz County Board of Supervisors at their June 27 meeting.
County crisis response
Santa Cruz County now has two non-law enforcement teams that respond to mental health crises: The Mobile Emergency Response Team and the Mobile Emergency Response Team for Youth.
Both teams respond to psychiatric crises with a licensed mental health worker such as a therapist or a social worker along with non-licensed crisis workers. A new program, in practice, would look like an expanded version of those services, said James Russell, senior behavioral health manager at the County of Santa Cruz.
The system's operations likely would change as it expands, Russell said. "We're going to have to be flexible and fluid in order to ramp this up," he said.
It would be part of Crisis Now, a partnership of national mental health groups and several California counties.
Hours also could be lengthened to 24 hours. The Mobile Emergency Response Team and the Mobile Emergency Response Team for Youth operate 8 a.m. to 5 p.m. Monday through Friday. It serves people 21 and younger. Both teams respond to a hotline at 800-952-2335 and are not typically dispatched through 911.
Both response teams are not available at night in part because there are fewer calls for crisis response then, its leaders have said. However, two people were shot to death by law enforcement officers in Santa Cruz County during mental health crises on separate nights in 2016. Since then, some mental health advocates have been pushing for 24-hour non-law enforcement responses to mental health crises.
In a February survey of 95 county residents, about half of participants felt it was "a little bit true" or "not at all true" that county behavioral health services meet the needs of people experiencing a crisis, according to a county report. In focus groups with 98 residents, many residents called for 24-hour mobile crisis response without law enforcement officers, the report stated. A 2021 online petition garnered over 300 signatures for expanded county mobile crisis services.
From April 2022 through March 2023, Santa Cruz County sheriff's deputies completed more than 300 involuntary psychiatric holds, according to county documents. If deputies determine a person is a danger to themselves or others, they are sent to a crisis stabilization facility for up to 72 hours.
The Sheriff's office has two mental health liaisons who respond with deputies on calls related to mental health. They do not work at night.
Approval and funding
County staff have identified three years of potential state funding to operate non-police, 24-hour mental health crisis response teams.
If Santa Cruz County supervisors approve the plan at their June 27 meeting, county staff plan to apply for a grant from the California Mental Health Services Oversight and Accountability Commission, Russell said. To expand services, the county likely would hire additional crisis workers directly and contract with a nonprofit group to provide the rest, he said.
Additional money may be available from AB 988, which funds mobile mental health crisis response teams and phone operators for the 988 mental health crisis hotline. California launched the new number in 2022 as part of a nationwide alternative to 911.
Recent expansions to Medi-Cal reimbursements could also help fund Crisis Now, Russell said. A state program allows behavioral health programs like Crisis Now to bill Medi-Cal for mobile crisis response.
For long-term funding, the program could turn to private insurance billing or money raised by the county, Russell said.
County leaders have intended to improve mental health services for years, but leadership changes in the county's behavioral health department and a lack of state funding has made expansion difficult, he said. Within the past year, "the stars have aligned" to make state money available for mobile crisis response, Russell said.
City of Santa Cruz plan
Santa Cruz city leaders are exploring a separate plan for mobile mental-health crisis response.
In October, members of the Santa Cruz City Council requested city staff to look into developing a 24-hour crisis response system based on a nationally recognized Oregon program called CAHOOTS — or Crisis Assistance Helping Out On The Streets. It pairs a non-licensed mental health crisis worker with a medical professional, such as an EMT or paramedic, in a van to treat and transport patients, typically without law enforcement.
Alameda County and other California cities and counties have launched programs similar to the CAHOOTS model.
Some local mental health advocates have long asked city leaders to look into the CAHOOTS model. Among those advocates is Jeffrey Arlt, whose son was shot and killed by a Santa Cruz police officer in 2016 during a mental health crisis.
Arlt connected Santa Cruz Vice Mayor Renee Golder with a program in several Sonoma County cities called Specialized Assistance for Everyone, or SAFE. After talking to program administrators, Golder thought a similar program could help Santa Cruz. After several years of county promises to expand services, Golder said she was "sick of waiting."
On May 9, consultant Ben Adam Climer presented the city council with a preliminary plan for a CAHOOTS-style program in the city of Santa Cruz. A former EMT and employee of CAHOOTS, Climer helped city leaders in Sonoma County launch SAFE and has created similar programs elsewhere. In November, he helped launch a campus mobile crisis team for UC Santa Cruz.
Climer's model is based on what he calls the "Integrative Health Response Team." It includes a non-licensed mental health crisis worker paired with a paramedic or EMT. These teams can respond to a wide variety of crises, Climer said.
If a team only has mental health workers, they might overlook potential medical causes of what appears to be a mental health crisis, Climer said.
"It could be kidney issues, it could be a urinary tract infection, it could be concussion, it could be fever," said Climer. If an integrated team determines a patient is having a medical issue, the EMT or paramedic can provide basic care or provide transport to a medical facility, Climer said. But if a team doesn't have a medical professional, potential medical emergencies would be referred back to the traditional emergency response system. Climer said that would negate a key purpose of non-911 crisis response, which is to reduce the strain on first responders.
Although the county Crisis Now program would not necessarily have an EMT or paramedic on every crisis response team, Russell says they could be included.
Unlike the county's Crisis Now plan, Climer's proposed plan would not include licensed mental health professionals. Instead, it would use unlicensed workers with experience in the mental health field. The workers would receive on-the-job training in de-escalation and crisis response, Climer said.
Relying on licensed professionals would make recruiting staff difficult and costly, and would be an inefficient use of highly-trained professionals, he said.
"We do not staff ambulances with medical doctors," he said. "So the model for responding shouldn't be taking the clinicians out of the clinics and putting them on the street. The model should be using well trained crisis workers and getting the people who need to talk to clinicians into the clinics."
But not using licensed mental health staff has a major drawback— it makes crisis response programs ineligible for Medi-Cal reimbursement and some AB 988 funds.
Similar programs have received one-time state grants, but many have turned to local funding for long-term operations. For Sonoma County cities involved with SAFE, a county sales tax is funding existing services as the cities look for more money.
City program funding
Climer hasn't determined the cost of a potential City of Santa Cruz program, he said. The SAFE program costs Petaluma about $1.25 million a year to administer, with about $300,000 in startup costs, he said. Although Petaluma and the city of Santa Cruz both have about 60,000 residents, a larger population of unhoused people in Santa Cruz could increase costs, Climer said.
Staff from the city manager's office and the police department proposed pursuing the program during budget hearings May 23 and 24. The budget is slated for adoption June 13.
If the city funds the program, staff would commission a more detailed plan from Climer and invite nonprofits who do mental health crisis counseling to apply to administer the program, she said.
Once approved and funded, the project could be up and running within four months, Climer said.
Although Climer and Russell are pursuing different models for crisis response, they both say city and county crisis response systems could work together to address local mental health needs.
During Climer's presentation to the city council, some council members expressed concern that building a city response system would be redundant with county efforts. Russell disagreed.
"It's not going to be duplicative by any means," he said. "Any response is better than no response."
Arlt said of the city and county programs, "It needs to be both." After years of advocating for expanded mental health services, he is "greatly encouraged" by recent progress. But even if the proposed programs launch, the city and the county still have a lot of work ahead, he said.
"We all know that this isn't enough," Arlt said. "This is just the beginning."
Editor's note: This story has been updated to correct the hours of operation for the Mobile Emergency Response Team.
Related Santa Cruz Local stories
Learn about membership
Santa Cruz Local's news is free. We believe that high-quality local news is crucial to democracy. We depend on locals like you to make a meaningful contribution so everyone can access our news.
Learn about membership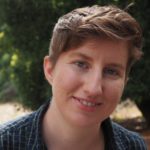 Jesse Kathan is an environmental journalist and a graduate of UC Santa Cruz's science communications program. Kathan has contributed to the Mercury News, Monterey County Weekly and KSQD-FM.