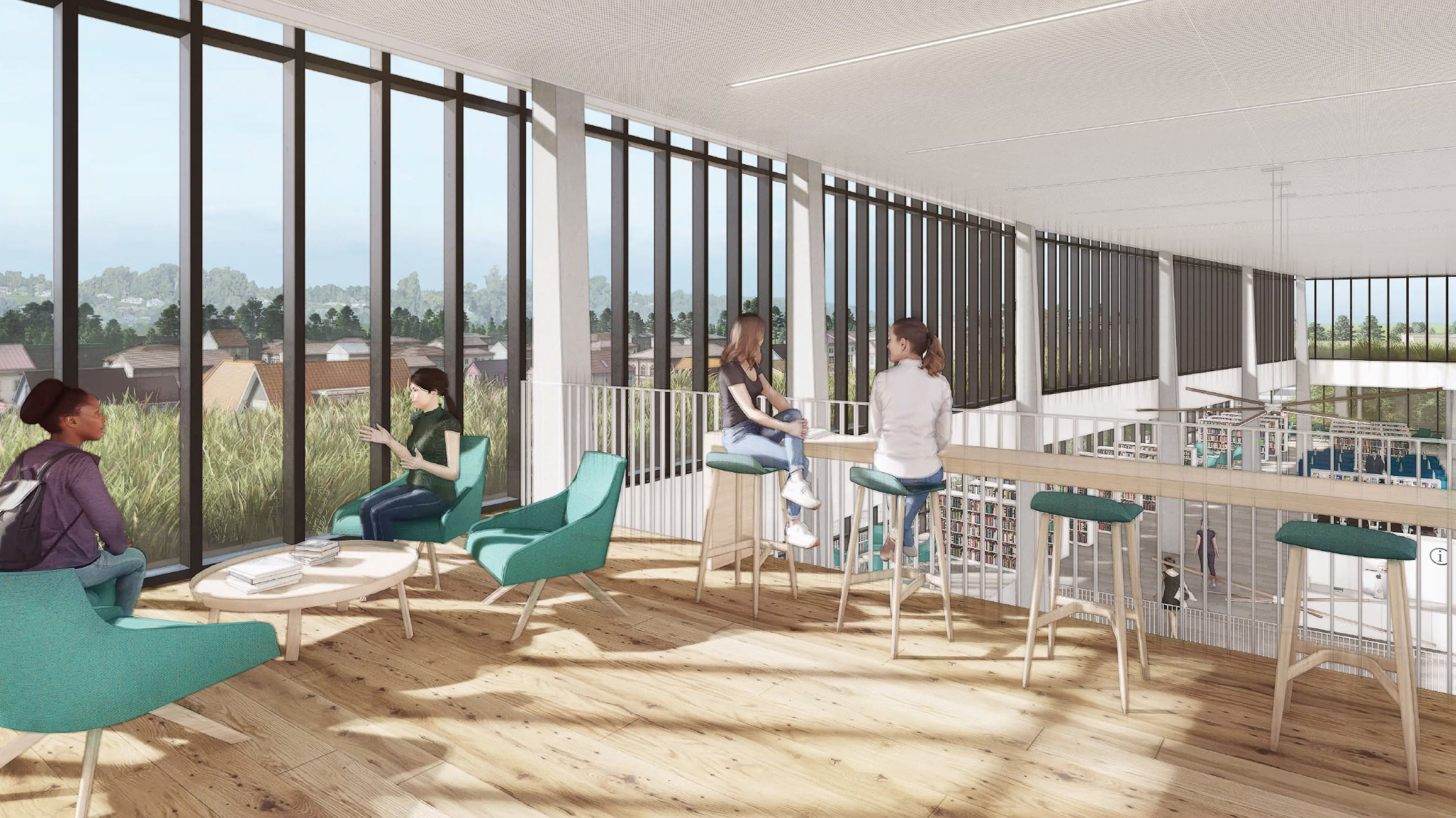 A rendering released Tuesday shows the mezzanine and views of the planned Downtown Santa Cruz Library. (Rendering: Jayson Architecture)
SANTA CRUZ >> The Santa Cruz City Council on Tuesday night received new floor plans and cost estimates for the proposed library at Cedar and Cathcart streets in Downtown Santa Cruz.
Jump to a brief report about the council's other actions Tuesday:
Plans and costs clarified for new Downtown Santa Cruz library
The library project includes 100 to 125 affordable housing units and a garage. Updated plans have expanded the library from 35,000 to 38,000 square feet, said Santa Cruz Economic Development Director Bonnie Lipscomb. The plans include:
A living roof planted with native grasses.

Rooftop solar panels that will generate as much energy as the building uses.

A children's section and daycare.

A roof deck for library patrons and events.
New renderings show the planned Downtown Santa Cruz Library at Cedar and Cathcart streets. (Jayson Architecture)
The library's price tag has also increased, from an estimated $33 million in December 2021 to $42 million. The new estimate reflects the additional space, but also includes costs like furniture and furnishings that were not included in the earlier number. The price estimate does not include the attached affordable housing project or parking garage. 
The building is being funded in part by the Measure S parcel tax approved by voters in 2016. City leaders also anticipate $10 million from a state fund for California libraries. 
The city's cost estimate is about $2.5 million higher than the funding it expects to secure, Lipscomb said. That gap may be filled by state and federal grants for low-income housing and energy efficient buildings as the project moves closer to construction, Lipscomb said.
The project's site is City Parking Lot 4 that is used by the Santa Cruz Farmers Market on Wednesdays.
Updated site plans were released Tuesday at the Santa Cruz City Council meeting. (Renderings by Jayson Architecture)
Though the council did not invite public comment on the presentation, a resident said earlier in Tuesday's meeting that he hoped a ballot measure in November will halt the council's work on the new library.  "A public vote is coming and I believe it's time for the council to take a pause on any further actions on lot 4," said Stephen Svete, an urban planner. 
The group Our Downtown Our Future is promoting a city ballot measure in November that would halt the library, garage and housing project. The group instead wants to renovate the current library on Church Street. The group has said the farmers market should not be displaced. Farmers market leaders have said they are not opposed to a new location. 
Opponents of the planned library complex envision a public square where the city parking lot stands at Cathcart and Cedar streets.
Homelessness plans updated
The council received an update on the homelessness response action plan adopted in March. 
Homeless Response Manager Larry Imwalle listed recent and planned increases in city shelters that include:
Sixty to 80 shelter beds in the Armory building in a shelter run by The Salvation Army starting in July. County leaders plan to use the building as a shelter through June 30.

Seventy-five people in tents on the south lawn of the Armory. The site is expected to start May 16 for 20 people.

Pallet-type "sleeping cabins" purchased by the city for use by Housing Matters.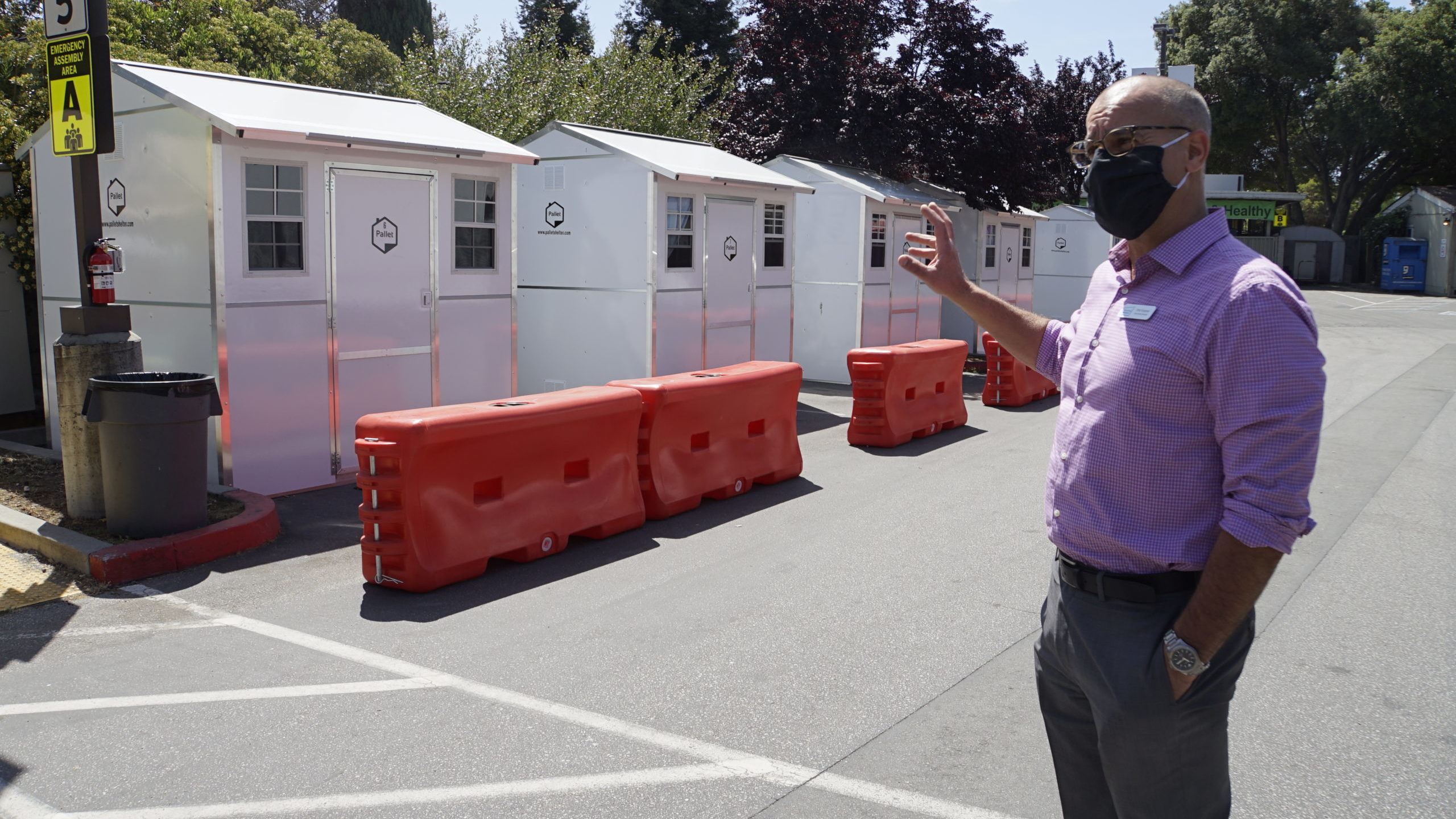 Housing Matters CEO Phil Kramer gives a tour of the organization's Pallet shelters in May 2020. (Kara Meyberg Guzman — Santa Cruz Local file)
Imwalle also updated the city's planned use of a $14 million grant from the state to combat homelessness. He asked the council to approve new staff positions and pursue potential consultant contracts with the funds that include:
A $188,000 contract with the County of Santa Cruz for two additional mental health liaisons to help law enforcement respond to mental health emergencies.

A $336,000 expenditure for a planning and proposal development consultant to help the city develop its homelessness response.

A $150,000 spend for a legislative advocacy consultant to work with the state to influence homelessness policy and help secure more money for the city.

A $111,836 cost for a community relations specialist who will conduct outreach with community members about homelessness projects.
Imwalle also gave an update on the city's safe parking program. It offers nine overnight parking spaces and has two participants. The program hasn't been used much because the city is not yet able to enforce the city's RV parking rules. The rules require overnight parking permits for oversized vehicles. Without a permit, RV parking is not allowed on streets, alleys or city lots 12-5 a.m. 
The RV law requires a Coastal Commission permit to take effect. The commission is expected to consider the city's RV law in mid-July, Imwalle said. 
"In the coastal zone, right now folks can park for 72 hours without citation. So an overnight parking space is not attractive," Imwalle said.
The oversized parking ordinance has been appealed by local advocacy group Santa Cruz Cares to the Coastal Commission.
As part of the RV law, a full-time safe parking site is expected to open in July and will accommodate up to 20 vehicles, Imwalle said.
Planned Benchlands camp closure
Imwalle repeated City Manager Matt Huffaker's announcement in April that the city will close its managed homeless camp at the Benchlands near the county government building in July. "Our goal is to work with everyone presently in Benchlands to create a re-sheltering plan," said Imwalle. "We do know that not everybody who is there right now is going to be interested in the shelter options that are going to be available, but our goal to the best of our ability is to be able to offer a space."
He estimated that the park currently hosts 270 to 290 tents, including a recent influx of people that Caltrans cleared from camps near Highways 1 and 9. 
Councilmember Justin Cummings expressed concern that people cleared from the Benchlands would resettle into wooded areas like Pogonip. "Fire season is approaching," he said. "I think there's a lot of concern about people living in the forest." 
During public comment, some residents admonished the council for planning to close the Benchlands and were skeptical that everyone would have a place to go. 
"There may be 160 beds for 1,000 or 1,500 people," said advocate Robert Norse. "The notion that you're helping 150 people and how wonderful that is — it's not wonderful given the resources you've been given over the past five to 10 years."
Executive Director of nonprofit support network Recovery Cafe Santa Cruz Serg Kagno said the new shelter spaces and parking spots may not feel safe for people, especially those with trauma or mental illness. "What I don't hear mentioned is trauma-informed care, designing care from the perspective and behavioral needs of the participant," he said. 
The city council voted unanimously to:
Approve the staffing proposals.

Approve staff to pursue hiring the recommended consultants. Specific spending proposals for consultants will return to the council for approval.

Send a letter to county leaders reiterating the need for transitional housing and safe parking programs across the county.
Cummings said he was "cautiously optimistic" that the new programs and staffing would lead to more funding from the state. 
Councilmember Shebreh Kalantari-Johnson said she hoped that the low-income housing projects in development will help alleviate homelessness in the coming years. "We're very slowly making progress towards what we can progress as a city," she said.
Vote delayed on district election maps
The council delayed a final vote to split the city into council districts. In April, the council advanced a six-district map and a seven-district map, but the selections are not final. A second vote is needed. The council is expected to vote on the maps at the next council meeting May 24. 
On the June 7 ballot, city voters will vote on Measure E, which would change the city's charter to allow six districts and a directly-elected mayor. 
If voters approve Measure E:

The city will be divided into six districts. Voters will also choose a mayor who would represent the entire city for a four-year term. The system will include

primary elections and new term limits

.

If voters reject Measure E

: The city will enact the seven-district map. The mayor will continue to be appointed annually by a council vote.
Editor's note: This story has been updated to correct the cost of a legislative analyst.
Santa Cruz Local's news is free. We believe that high-quality local news is crucial to democracy. We depend on locals like you to make a meaningful contribution so everyone can access our news. Learn about membership.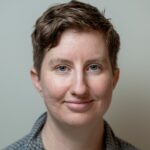 Jesse Kathan is a staff reporter for Santa Cruz Local through the California Local News Fellowship. Kathan holds a master's degree in science communications from UC Santa Cruz.