SANTA CRUZ >> City voters will decide in June whether the Santa Cruz City Council should create six geographical council districts and a directly-elected mayor.
Tuesday, the council voted 5-2 to place a measure on the June 7 ballot that would change the city's charter to allow a six-district system. The proposal by Vice Mayor Martine Watkins and councilmembers Renee Golder and Donna Meyers calls for:
Six districts established by a city law this spring.

The city would be divided into six geographical districts. Voters in each district would choose a council member who lives in their district. Santa Cruz now has at-large elections where residents from anywhere in the city can vote for any candidate.

An at-large, directly elected mayor.

Residents also would vote for a mayor who would represent the entire city for a four-year term. Mayors now serve for one year and are chosen by the city council traditionally based on vote totals. The mayor would have the same power to set meeting agendas. The proposal would allow the mayor to have "the primary but not exclusive" responsibility to interpret policies, programs and needs of city government. City Attorney Tony Condotti said Friday that the mayor's proposed new role is not an expansion of the mayor's powers.

Primary elections.

Starting in 2024, the mayor and council members would be elected in two rounds, similar to the Santa Cruz County Board of Supervisors. The first round would coincide with the state primary election, typically in June in even years. If a candidate gets more than 50% of the primary vote, the candidate wins. If not, then the top two candidates for each seat face off in the November election.  

New term limits.

Council members who have served for two consecutive four-year terms would still have to wait two years to become eligible to run again. However, the new rules would allow council members to run for mayor immediately after two terms as a council member. Mayors also would be allowed to run for a district seat immediately after two terms as mayor. The council members and mayor could not serve for more than 16 consecutive years.
If approved by city voters, six new districts and the new rules could start with the Nov. 8 election. If city voters do not approve it, seven districts are expected to be established by law before the Nov. 8 election.
If voters approve the measure June 7 but the results are not certified by July 6, then the new structure would start in 2024.
The changes come after threats of lawsuits in 2019 and 2020 that alleged a California Voting Rights Act violation and an underrepresentation of Latinos on the city council. In 2020, the council began a process to establish the boundaries of seven council districts. That process is separate and will continue at least until the June 7 election results are clear.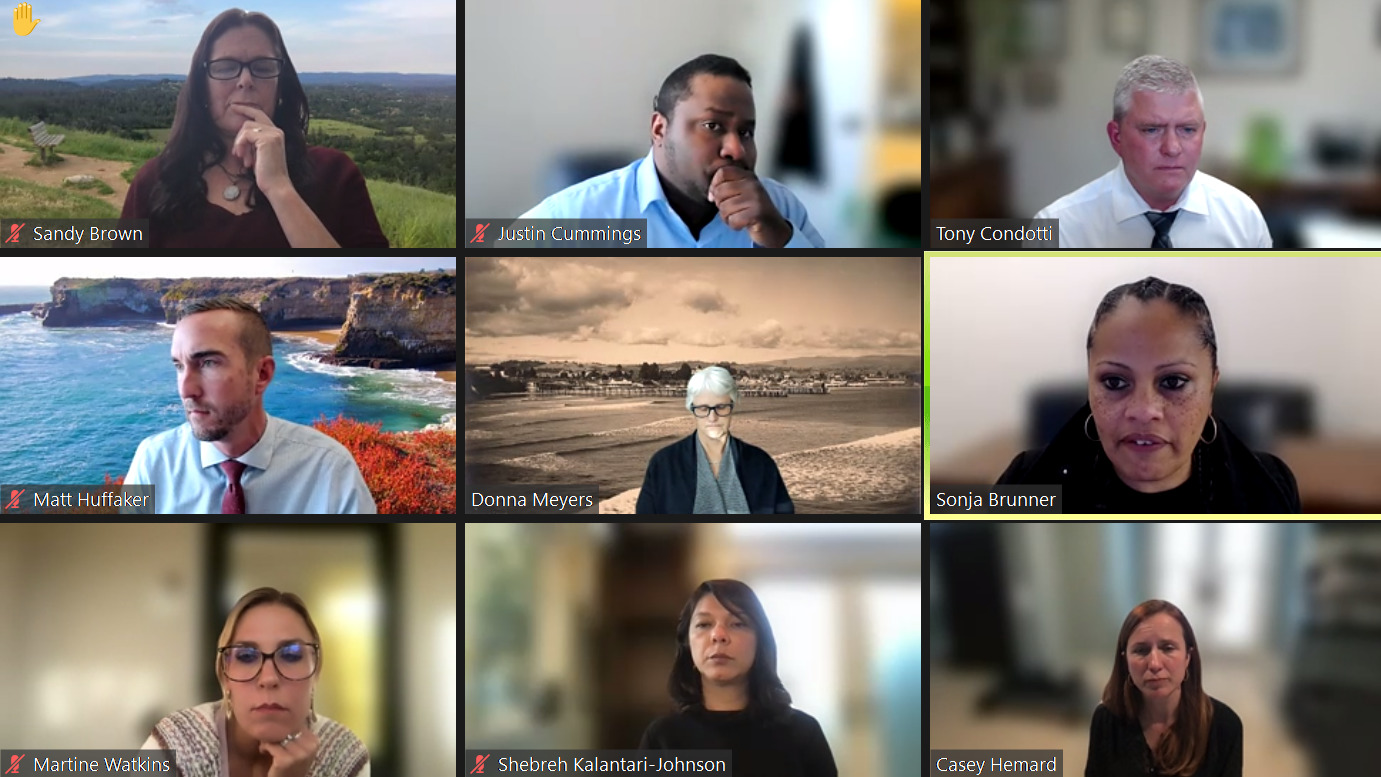 Santa Cruz City Council members and staff discuss the ballot measure proposal in Tuesday's online meeting. From left to right: Councilmembers Sandy Brown and Justin Cummings, City Attorney Tony Condotti, City Manager Matt Huffaker, Councilmember Donna Meyers, Mayor Sonja Brunner, Vice Mayor Martine Watkins, Councilmember Shebreh Kalantari-Johnson and city Principal Management Analyst Casey Hemard. (Zoom screenshot)
Council members explain their votes
Tuesday, Mayor Sonja Brunner, Watkins and councilmembers Shebreh Kalantari-Johnson, Golder, and Meyers voted in favor of the ballot measure.
The city will move to a form of district elections regardless of the election outcome, Watkins and other council members said. The ballot measure will allow voters to weigh in on what the district system looks like. "Ultimately this recommendation really puts the decision before our voters to decide ultimately how they want to see the city move forward with regards to having a directly-elected mayor with six districts as opposed to seven districts only," Watkins said.
Councilmembers Justin Cummings and Sandy Brown voted against the ballot measure due to concerns about a rushed proposal and lack of public input. In outreach and three public  hearings on a switch to district elections, seven districts had been contemplated rather than six. 
"The limited opportunities that we've had for public discussion have been around seven districts," Brown said. "There has been no extensive public discourse about the election of an at-large mayor."
Cummings said the proposed four-year mayoral term with a compensation of about $40,000 may preclude many people with low incomes from running for that office. He also said a primary election would mean a nearly year-long campaign that likely would be too time-consuming for people with low incomes who can't take time off work.
Cummings made a motion for city staff to create a process and timeline for community engagement on a directly-elected mayor, district makeup, council member wages, a stronger mayoral role, ranked-choice voting and other topics. The council rejected Cummings' motion in a 5-2 vote. Brown and Cummings were in the minority.
Why six districts and an at-large mayor?
The city reached a settlement with Gabriela Joseph, a resident who threatened to sue the city in 2020 for noncompliance with the California Voting Rights Act. The agreement states that if the city enacts district elections "with or without an at-large mayor" by the November 2022 election, then Joseph will not sue.
Tuesday, Brunner said that the settlement agreement's deadline and option for an at-large mayor prompted the council committee of Watkins, Golder and Meyers to focus on the proposal of a ballot measure for the June 7 election. A transition to an at-large mayor would require a majority of voters to approve a change to the city's charter.
If voters do not approve a system of six districts and an at-large mayor in the June election, then a city law is expected to be adopted that would create seven districts and no direct election of a mayor.
"This item is not us as a council deciding that there's going to be six districts with a mayor," Brunner said before Tuesday's vote. "That's not what's before us. It's us saying 'Hey, let's put it on the ballot and let the voters decide" between seven districts or six districts with an at-large mayor.
Draft maps released
After Tuesday's vote, city leaders published three new draft maps with six districts. Some of the maps split UC Santa Cruz or lump it into other parts of the Westside. Some maps split the Beach Hill, Beach Flats and Lower Ocean neighborhoods, home to a high concentration of Latino residents (47% of residents, compared to 17% city-wide, according to a 2012 report).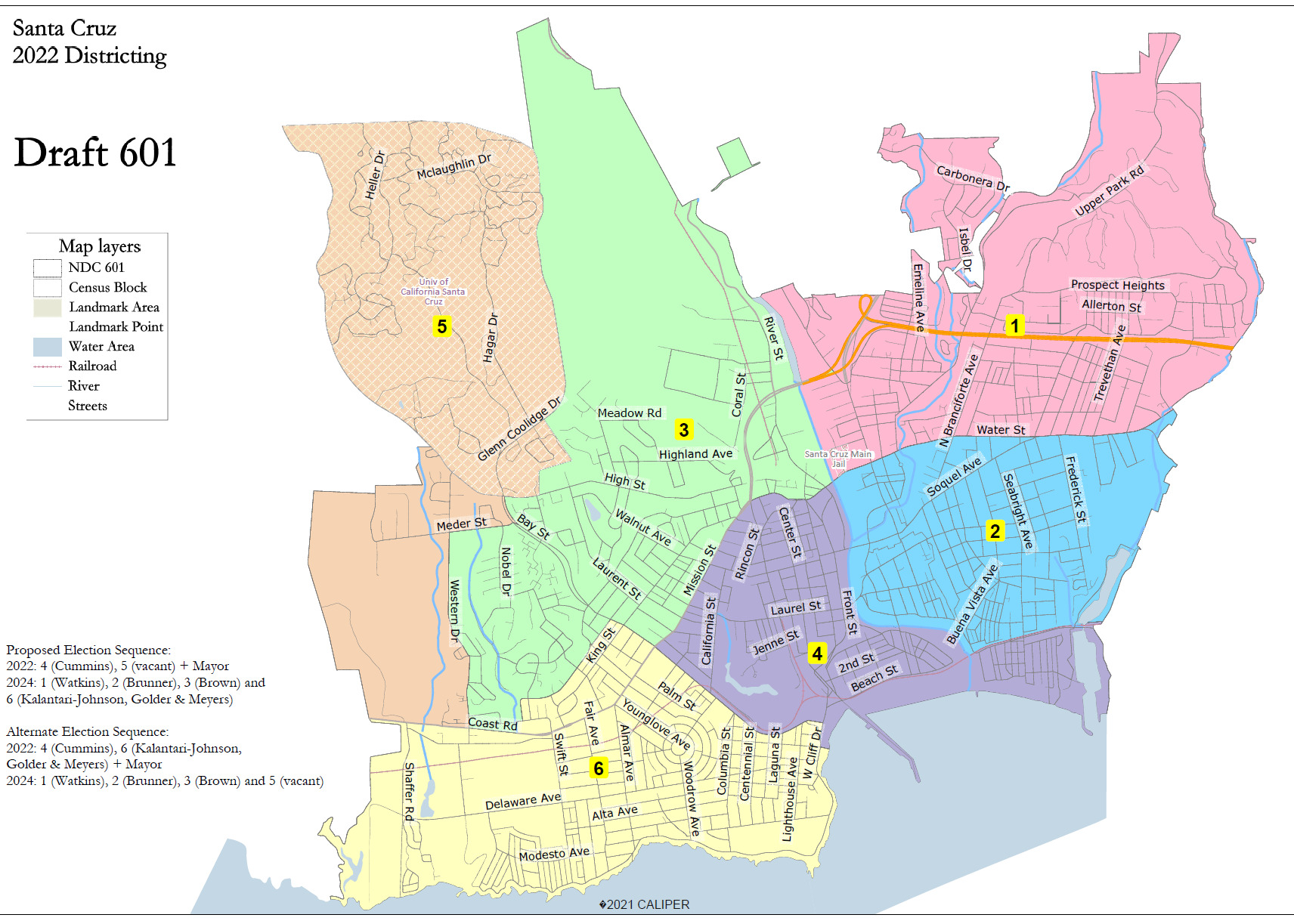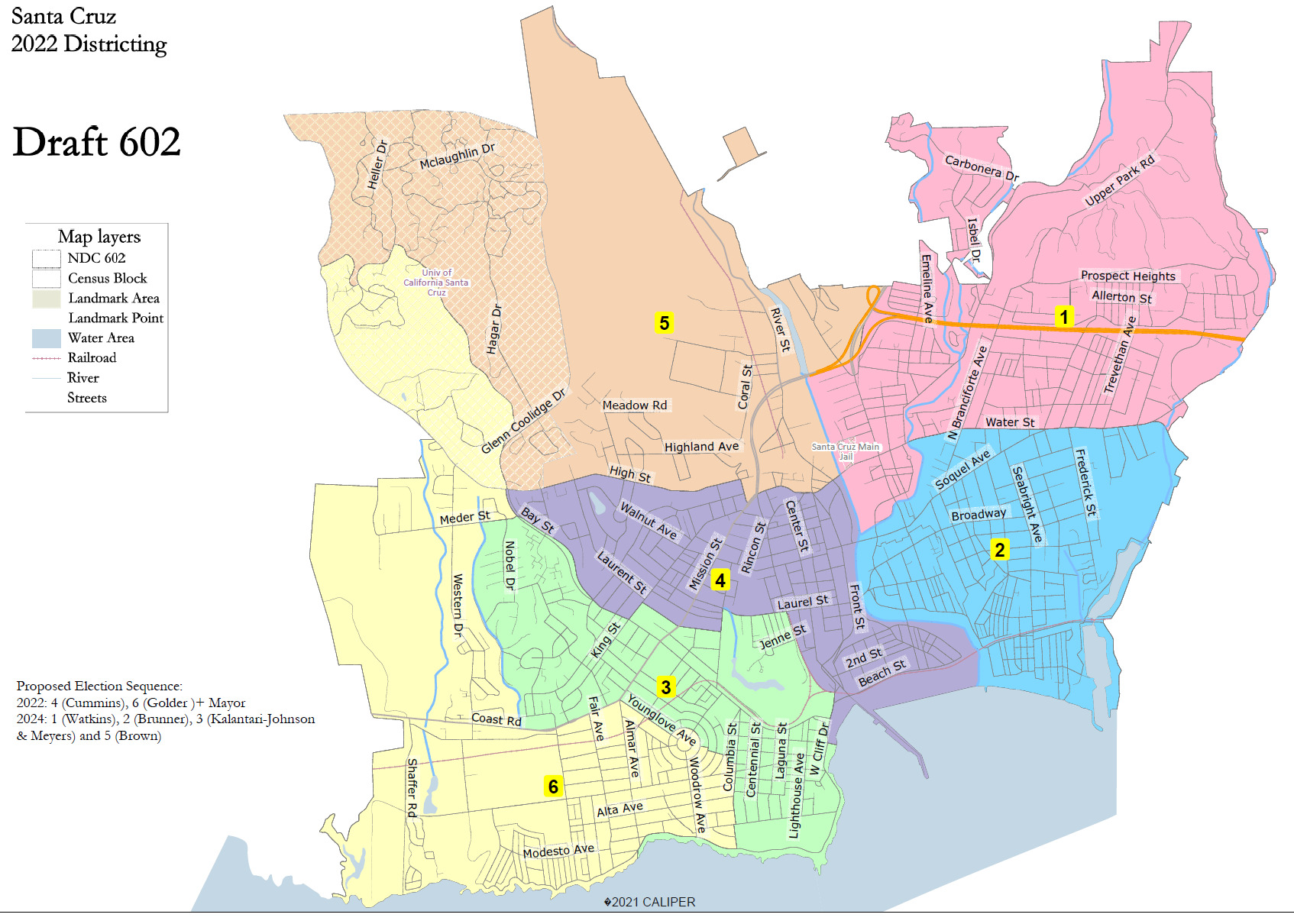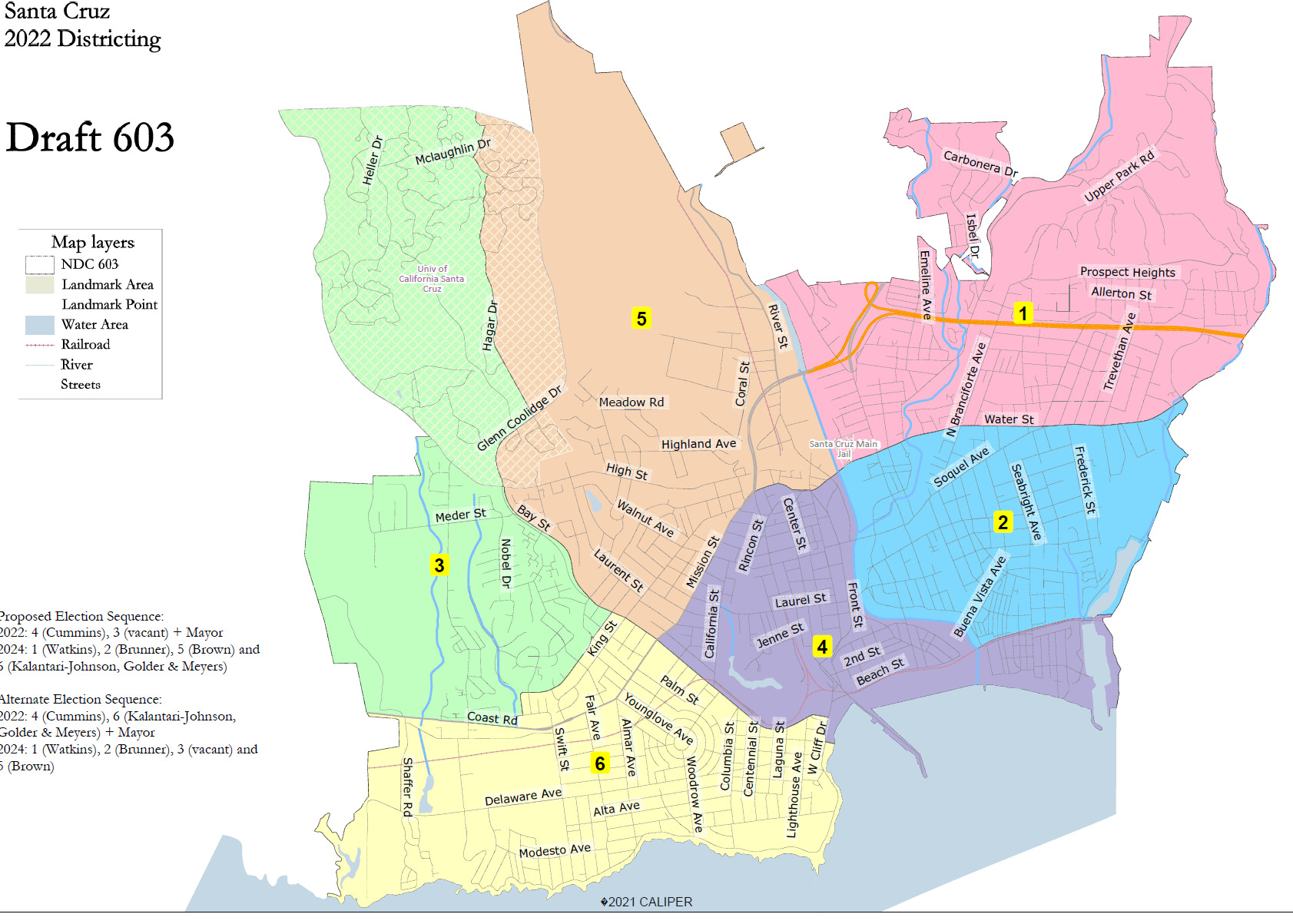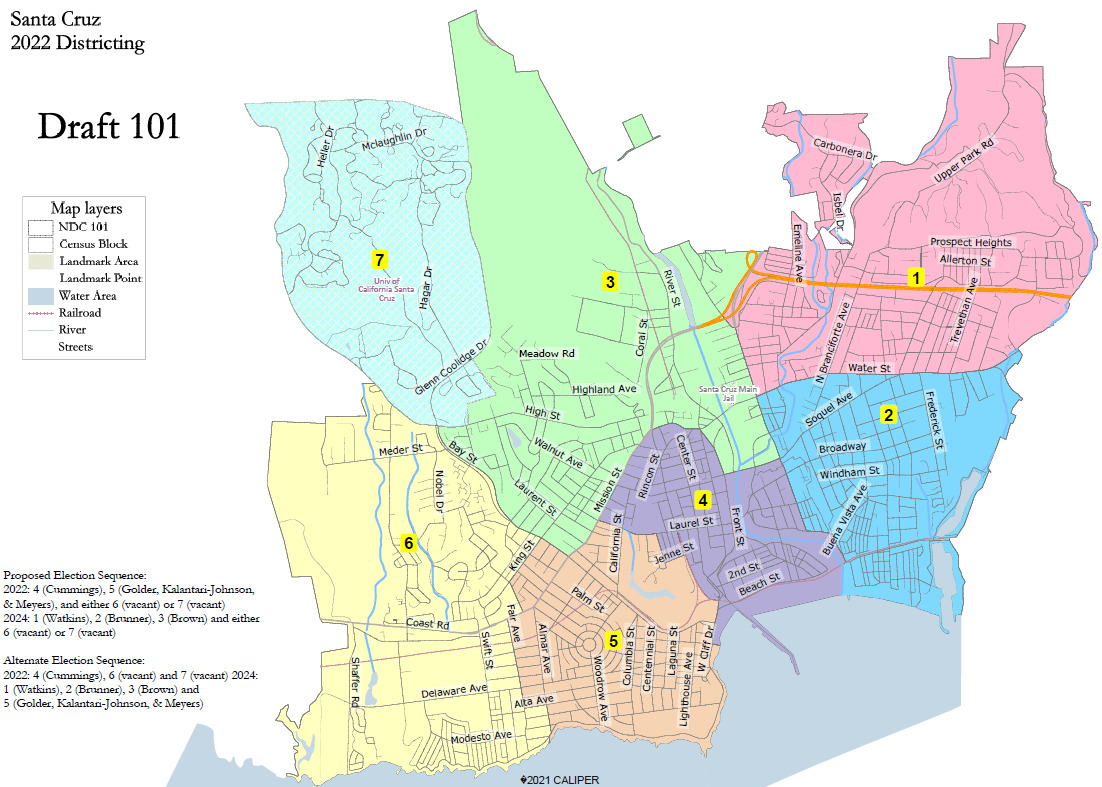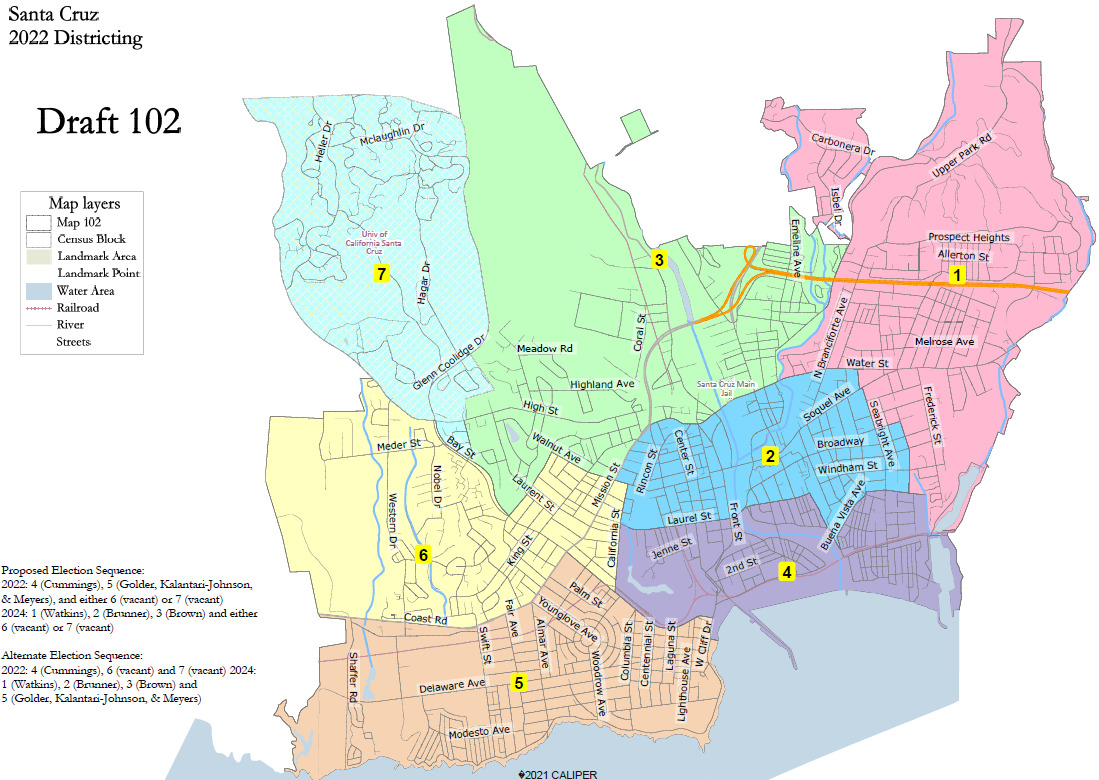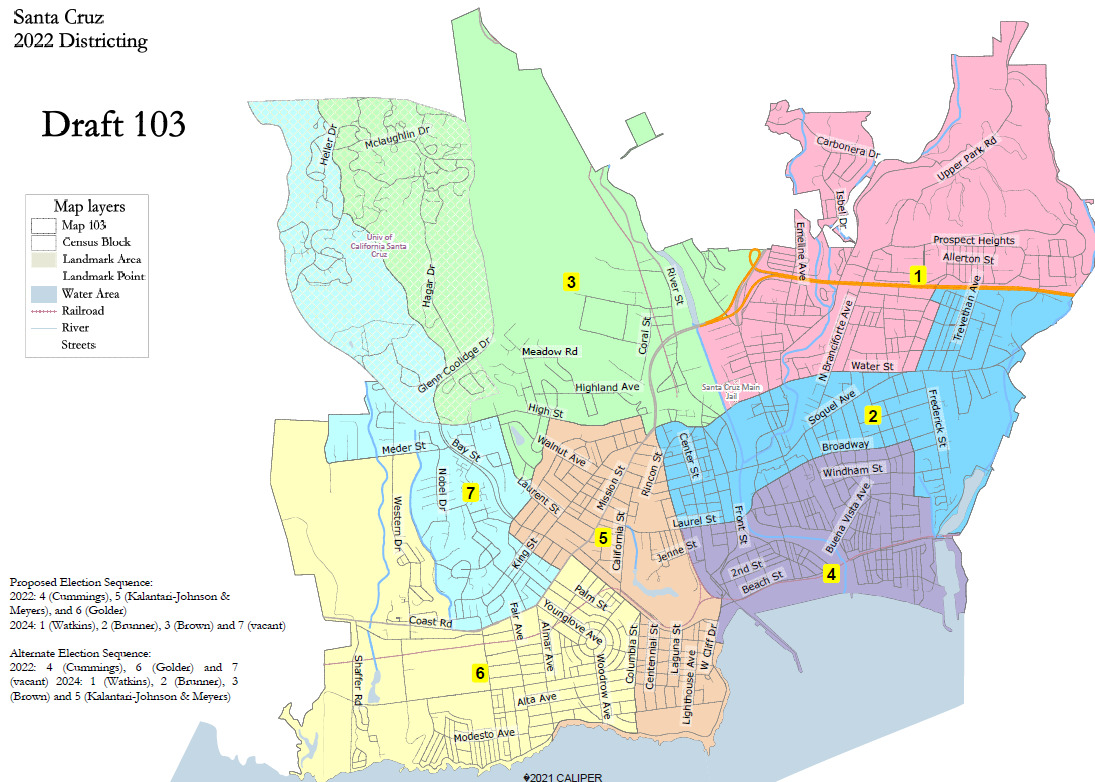 Click each draft map to expand its view. (City of Santa Cruz)
Residents can give feedback on the draft maps in a six-district map survey and a seven-district map survey. Feedback is also invited on an online mapping tool. Two special council meetings on the draft maps are scheduled March 29 and April 19. A new law that would establish a district map could be considered April 19. 
The council is expected to select a six-district map and a seven-district map. Depending on the outcome of the June election, the city will be split into six or seven council districts. 
Business, safety, transit among residents' priorities
Separately on Tuesday, the council heard a presentation on the results of the city's National Community Survey to help gauge residents' concerns.  The city-funded survey was administered by National Research Center, Inc., a Wisconsin-based survey research company. 
The standardized survey is administered in cities across the country. It is intended to inform local governments about the "livability" of the city, across sectors including:
Economy.

Mobility.

Safety.

Natural environment.
City spokeswoman Elizabeth Smith said the survey is intended to be a "benchmark" to gauge residents' priorities on how to spend city money and resources. 
It was administered for the first time in Santa Cruz this fall. It was sent to 2,700 randomly-selected city households and garnered 474 respondents. Responses were weighted along factors that included respondents' age, gender, race and housing type to try to reflect the city's demographics. 
Takeaways included:
Economy:

The city's

overall economic health was among respondents' top priorities

. 72% of respondents said the city's economy was "poor" or "fair." 85% of respondents said it is "essential" or "very important" for city leaders to focus on the economy in the next two years. 

Safety:

Safety was another priority for respondents

, with 60% rating it as "poor" or "fair" and 79% rating it as "essential" or "very important" to focus on in the next two years. About two-thirds of respondents reported feeling safe downtown in daytime hours. About 4 in 10 felt safe from property crime.  

Transportation:

Transportation was also a priority for respondents

, with 60% rating it as "poor" or "fair" and 78% describing it as "essential" or "very important" as a focus in the next two years. 
Respondents' priorities for city funding included:
Increases to the city's water supply

Maintenance of parks, open spaces and recreational facilities

Reduction of wildfire risk in open spaces

Maintenance of streets, roads and sidewalks

Mental health crisis response services  
More than 9 in 10 respondents said they supported funding for these areas even if it involved new taxes or fees. The council did not take action on the survey results Tuesday. The survey is expected to be administered every two years. 
To participate in future City of Santa Cruz surveys, including the next National Community Survey, create a free Polco account. Polco is an online engagement platform affiliated with National Research Center, Inc.  
View the report for full results of the survey. (National Research Center, Inc.)
Santa Cruz Local's news is free. Our newsroom relies on locals like you for financial support. Our members make regular contributions, starting at $19 a month or $199 year.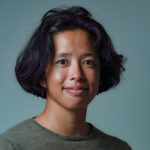 Kara Meyberg Guzman is the CEO and co-founder of Santa Cruz Local. ​Prior to Santa Cruz Local, she served as the Santa Cruz Sentinel's managing editor. She has a biology degree from Stanford University and lives in Santa Cruz.