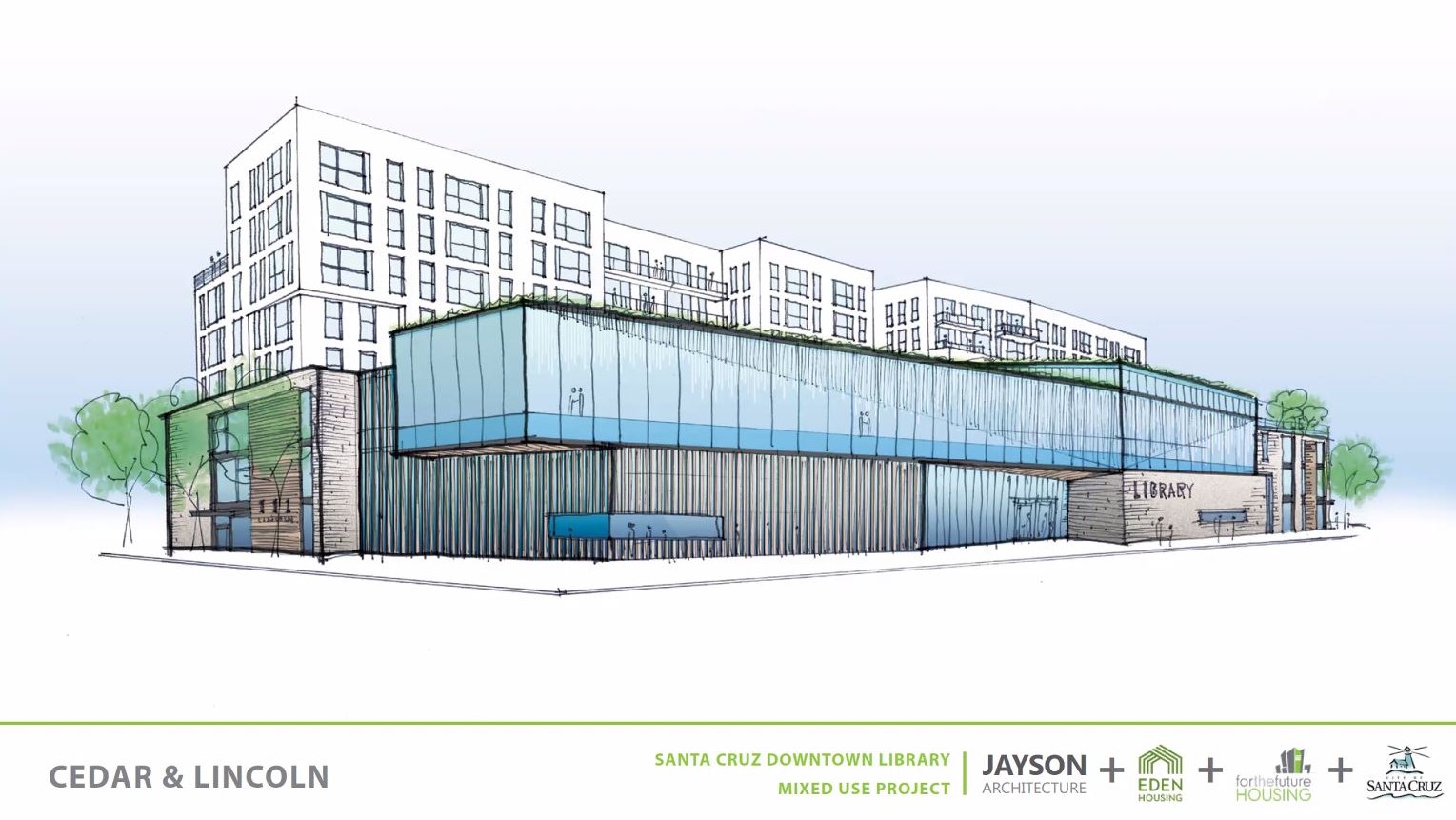 A sketch of the proposed Downtown Santa Cruz Library includes textured glass to add natural light to the second level. (Jayson Architecture)
SANTA CRUZ >> Revised conceptual designs for a new Downtown Santa Cruz library and housing complex were lauded by members of the Santa Cruz Council on Tuesday. The council approved more affordable housing, fewer parking spaces and a second-level roof deck on the proposed library at Cedar and Cathcart streets.
Original plans for the Downtown Santa Cruz Library included a ground-floor library with housing above and an adjacent parking garage. The new plans show a two-story library of 30,000 to 35,000 square feet with an entrance and lobby on Cathcart Street. Textured glass on the second level aims to provide natural light. Ventilation, rooftop solar panels and vegetation on the roof aim to reduce energy costs. Behind the library, a three-story parking garage would have  five floors of affordable housing above it. 
Santa Cruz Mayor Donna Meyers called the project a "game changer" for the city. "It's what we should be doing," Meyers said during Tuesday's meeting. "It's challenging ourselves to create a great and wonderful thing for future generations."
She added that Santa Cruz County voters approved Measure S in 2016. It taxes homeowners $49 annually for 30 years to help revamp the county's library system. 
"Other (new) libraries — Capitola, La Selva, Felton — are gorgeous," Meyers said. "They're full of people and kids and families sitting in these amazing little places reading books. And there's beautiful playgrounds out front. People are enlivened in those spaces, and I know we can do the same thing here in Downtown Santa Cruz." 
Conceptual plans for the Downtown library complex now call for 100 to 125 affordable homes — up from a minimum of 50 affordable homes in earlier designs.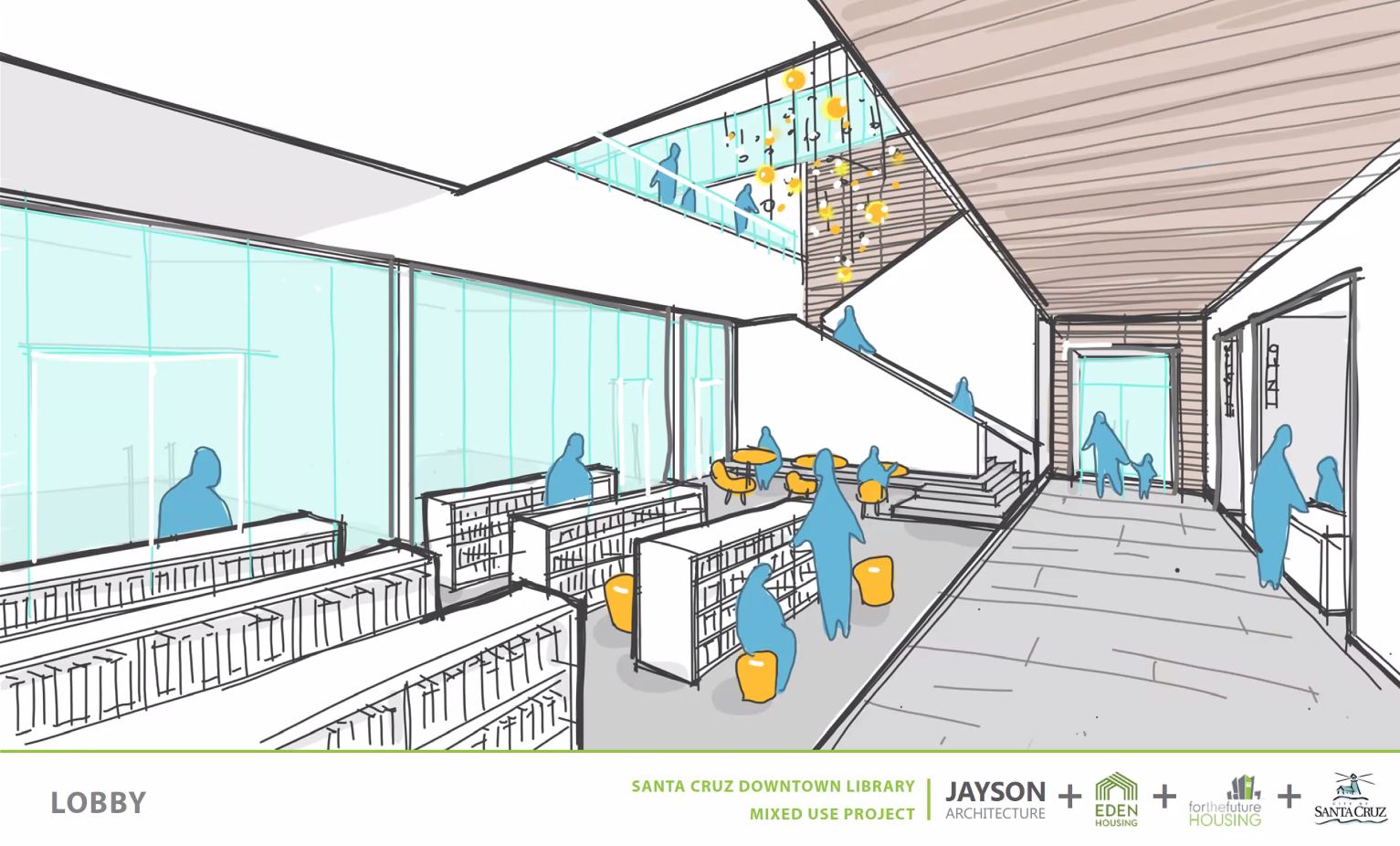 A sketch of the proposed Downtown Santa Cruz Library lobby includes stairs to the second floor. (Jayson Architecture)
Residents' concerns
Architects and city leaders conducted six public meetings in November to gather public feedback. Architects responded by adding affordable housing units, subtracting about 100 parking spaces and adding plans for a child care facility in ground floor commercial space. A "green" roof with vegetation was added, as well as a large roof deck of 3,000 to 5,000 square feet. 
When architects showed revised designs at workshops Dec. 10, "The phrase we heard most was 'pleasantly surprised'," Jayson said. Jayson Architecture also redesigned several of the county's other new libraries.
During outreach, architects said they heard several concerns:
Some residents felt the parking structure was too big. Some business owners said it should be larger and that it was "vital to their survival," said Abe Jayson, the architect and principal of Jayson Architecture. 

Because several other city parking lots are slated for housing development, the 300 spots in the proposed garage are meant to replace spots that will be erased, said Bonnie Lipscomb, Santa Cruz's economic development director. She said the garage will not add new parking downtown. 

Secure bike parking was another common desire that could be added, Jayson said. 

Several heritage magnolia trees are on the site and some residents wanted to save all of them. Lipscomb essentially said that some might be saved along the perimeter but the project would not be feasible if they all remained. Others mentioned that magnolias are not native. 

Some residents asked for a coffee stand or food kiosk on the top floor. Jayson said it was feasible and up to city leaders to hire a vendor. 

When asked why the current library on Church Street would not be renovated, city leaders said the library would be much larger at the new site — a size difference of roughly two Garfield Park libraries. If the Downtown library were renovated on its current site on Church Street, it also would have to close for two years, said Eric Howard, Santa Cruz Public Libraries interim executive director.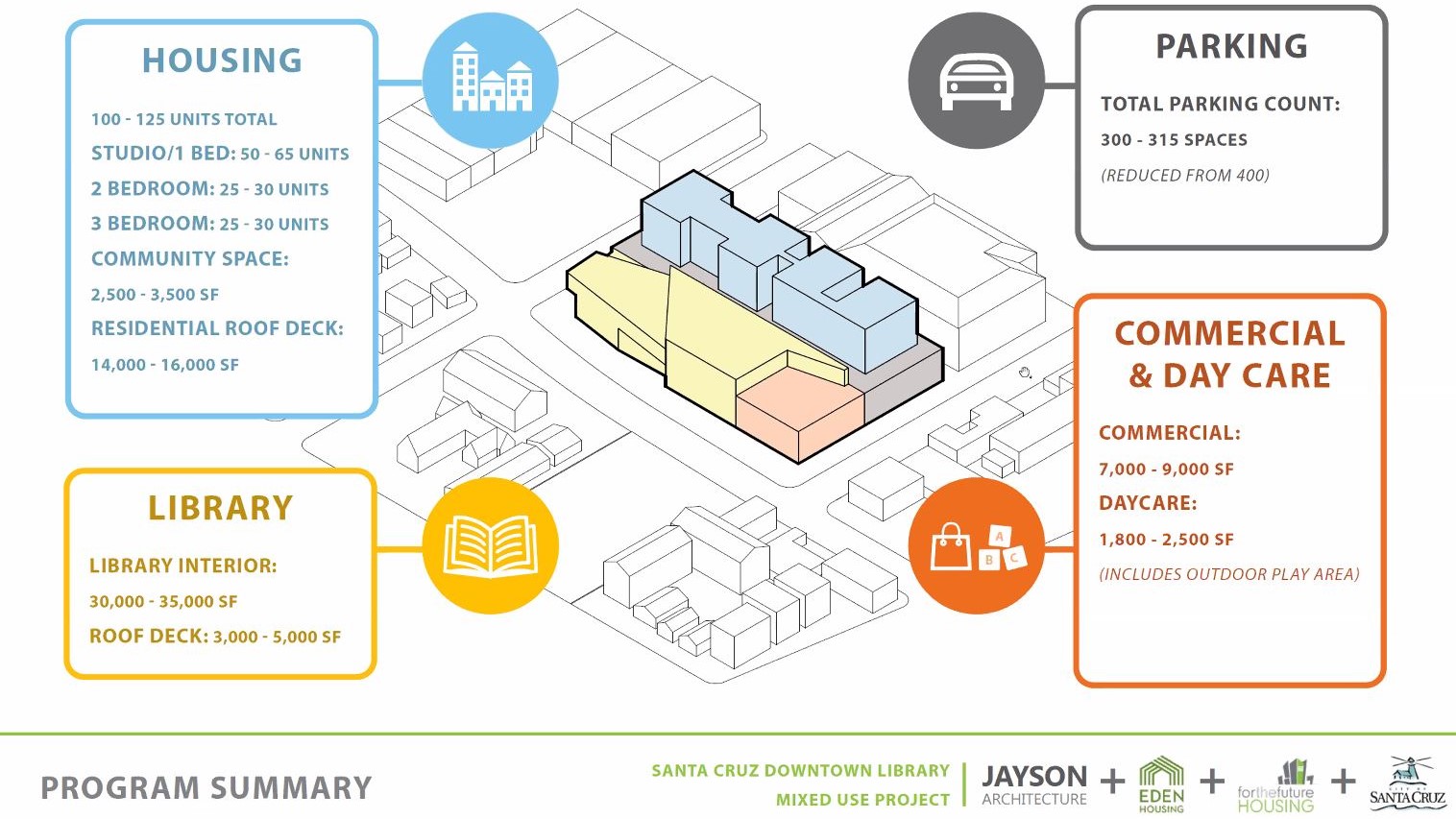 Plans for a Downtown Santa Cruz Library complex include more than 100 affordable homes, parking, a child care center and shops. (Jayson Architecture)
The Downtown library project — including the housing, garage and commercial space — could cost $104 million to $107 million, Lipscomb said. She mentioned that building the library, housing and garage at once is more cost efficient than building them separately because the foundations, walls, heating and ventilation can be done together. 
City leaders said the garage is expected to be constructed so that it could later be converted for housing, offices or other purposes if needed.
City staff is expected to return with a cost model based on the new conceptual designs. The city council also is expected to approve more detailed designs in 2022.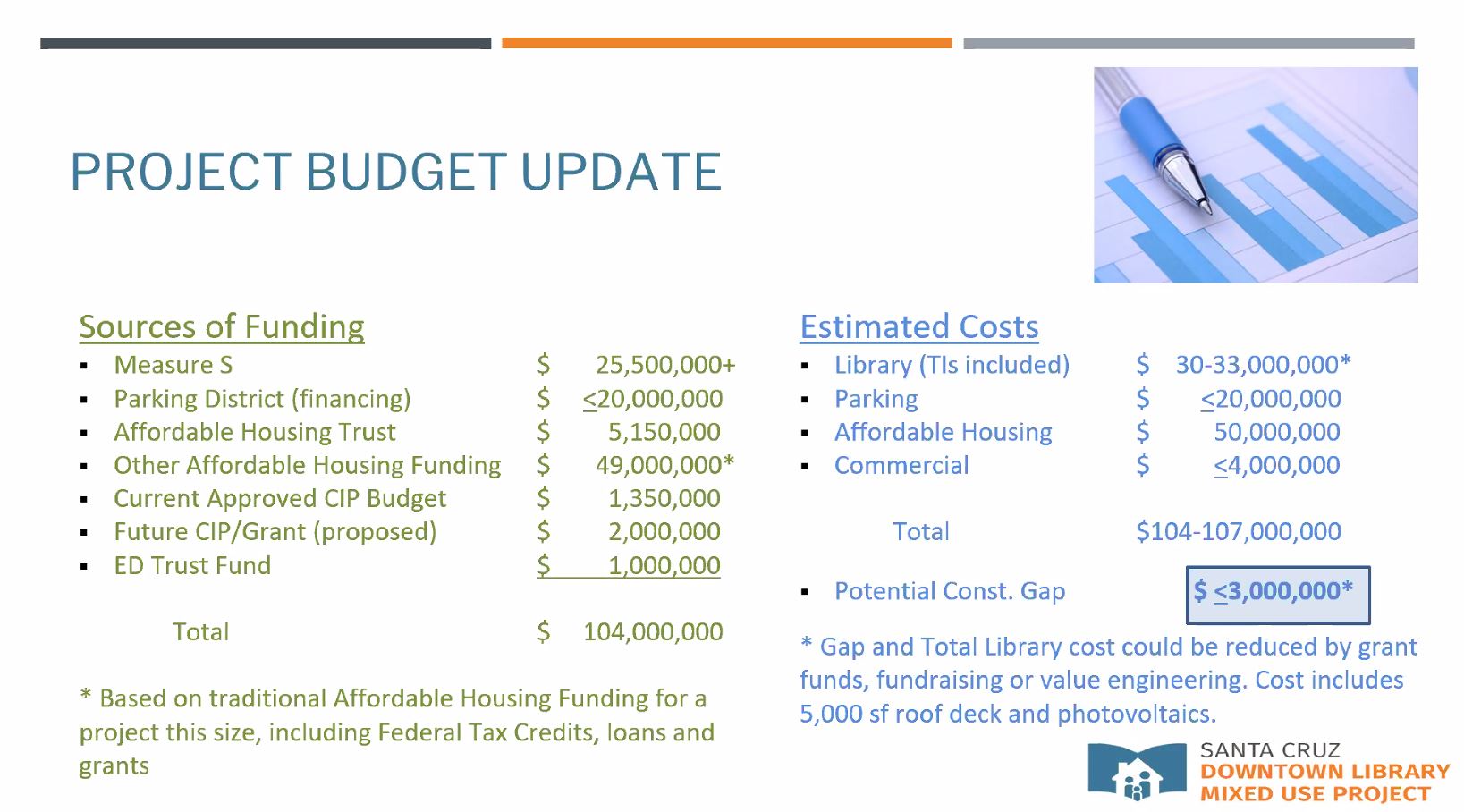 A rough outline of funding is expected to be detailed more in 2022. Measure S was approved by Santa Cruz County voters in 2016. (City of Santa Cruz)
Vice Mayor Sonja Brunner asked City Attorney Tony Condotti about the status of a city ballot initiative to halt the project. 
Opponents of the mixed-use library on Cathcart Street instead want to renovate the current library on Church Street. The planned site is City Parking Lot 4 that is used by the Santa Cruz Farmers Market on Wednesdays. Opponents argue that the market should not be displaced, although farmers market leaders have said they are not opposed to a new location. 
Opponents of the planned library complex envision a public square where the city parking lot stands at Cathcart and Cedar streets.
Condotti said that if the ballot initiative is adopted by voters in November 2022, "The library project would come to a halt." Condotti said the measure would:
Amend the city's General Plan to prioritize Lot 4 as the permanent location of the farmers market. 

Prohibit a parking structure on Lot 4.

Prohibit above ground-level parking on other city parking lots and prioritize them for affordable housing.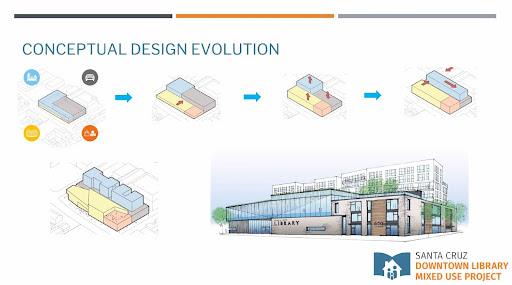 Library designs shifted from a large rectangle with parking and housing stacked above a library to a design with different heights spread throughout the lot. (Jayson Architecture)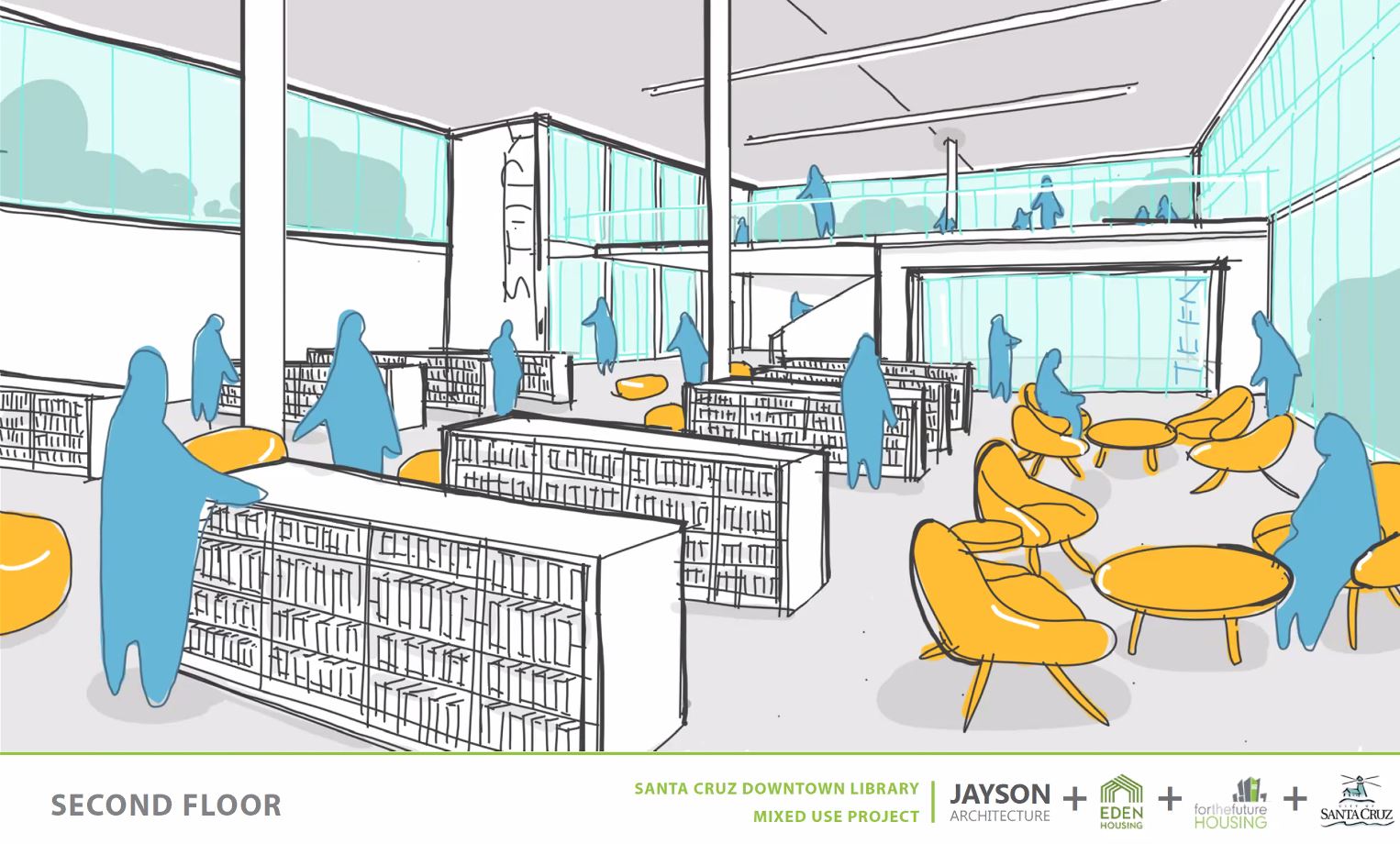 Sketches for a second floor include natural light and outdoor spaces. (Jayson Architecture)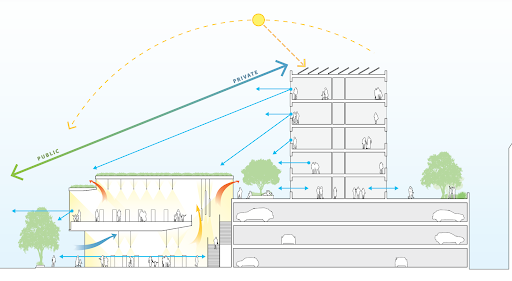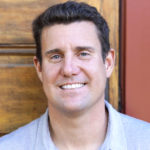 Stephen Baxter is a co-founder and editor of Santa Cruz Local. He covers Santa Cruz County government.