SANTA CRUZ >> In the November general election, the Santa Cruz City Council is expected to start a transition to council members who represent geographical districts rather than the city as a whole. This spring, the council plans to select maps that divide the district boundaries. In June, city voters will decide whether there will be six of seven districts.
Santa Cruz now has at-large elections where residents from anywhere in the city can vote for any candidate. With district elections, the city would be divided into geographical districts. Voters in each district would choose a council member who lives in their district. 
On the June 7 ballot, city voters will decide whether to change the city's charter to allow six districts and a directly-elected mayor. It appears as Measure E on the ballot.
A "yes" vote on Measure E means:

The city would be divided into six districts. Voters would choose a candidate who lives in their district. Voters would also choose a mayor who would represent the entire city for a four-year term. Mayors would have the same power that they have now. Mayors set meeting agendas and have the "primary but not exclusive" responsibility to interpret policies, programs and needs of city government. The system would include

primary elections and new term limits

.

A "no" vote on Measure E means:

The city will move forward with a process to establish seven districts. 
City leaders are moving toward district representation because of a threat of lawsuit in 2020. It alleged a California Voting Rights Act violation and an underrepresentation of Latinos on the city council. Other cities throughout the state have switched to district elections because of similar legal threats.
City leaders have published draft district maps for six-district and seven-district scenarios. In a special city council meeting on Tuesday March 29, the council heard public feedback and weighed in on the maps. A similar meeting is scheduled for April 19.
Council, public offer feedback
In January, city leaders released three six-district draft maps. In February, city leaders released three seven-district draft maps. National Demographics Corp., a consulting firm, created the maps. "These are starting points," said Doug Johnson, a demographic consultant.
By law, the districts must be continuous land with easily identifiable boundaries such as freeways or rivers. Each district must have a population of roughly the same size. Johnson said the maps must also consider distinct populations, like neighborhoods with a high concentration of people of color. 
Some maps split the Beach Hill, Beach Flats and Lower Ocean neighborhoods that have high concentrations of Latino residents. Latinos comprise 47% of residents in those areas compared with 17% of residents citywide, according to a 2012 report.
At the March 29 meeting, several councilmembers and residents said the maps should keep Beach Flats and the Lower Ocean neighborhoods in the same district.
Councilmember Cummings advocated to keep Beach Flats in a district with the Ocean Street corridor as areas with similar demographics and traffic concerns. Both areas have a high concentration of renters and many Latino residents, he said. "In the summer months, Ocean Street has a lot of traffic, and that traffic all goes into the Beach Flats, because it's people who are trying to get through the boardwalk," said Cummings. "So those impacts are shared by the people who live within those areas."
Resident Rafa Sonnenfeld echoed Cummings' recommendation. "We're responding to potential lawsuits alleging that we have an inadequate process to ensure minority representation on the city council," he said. "The best way for us to ensure minority representation on city council would be to have as close to a minority district as possible."
Click each map to expand its view. (City of Santa Cruz)
Of the 99 respondents so far to the city's seven-district map survey, 60% of respondents preferred Map 101, and 35% supported Map 102, according to a staff report. 
Map 101 splits the Beach Flats and Lower Ocean neighborhoods. It also creates a single district for the UC Santa Cruz main campus.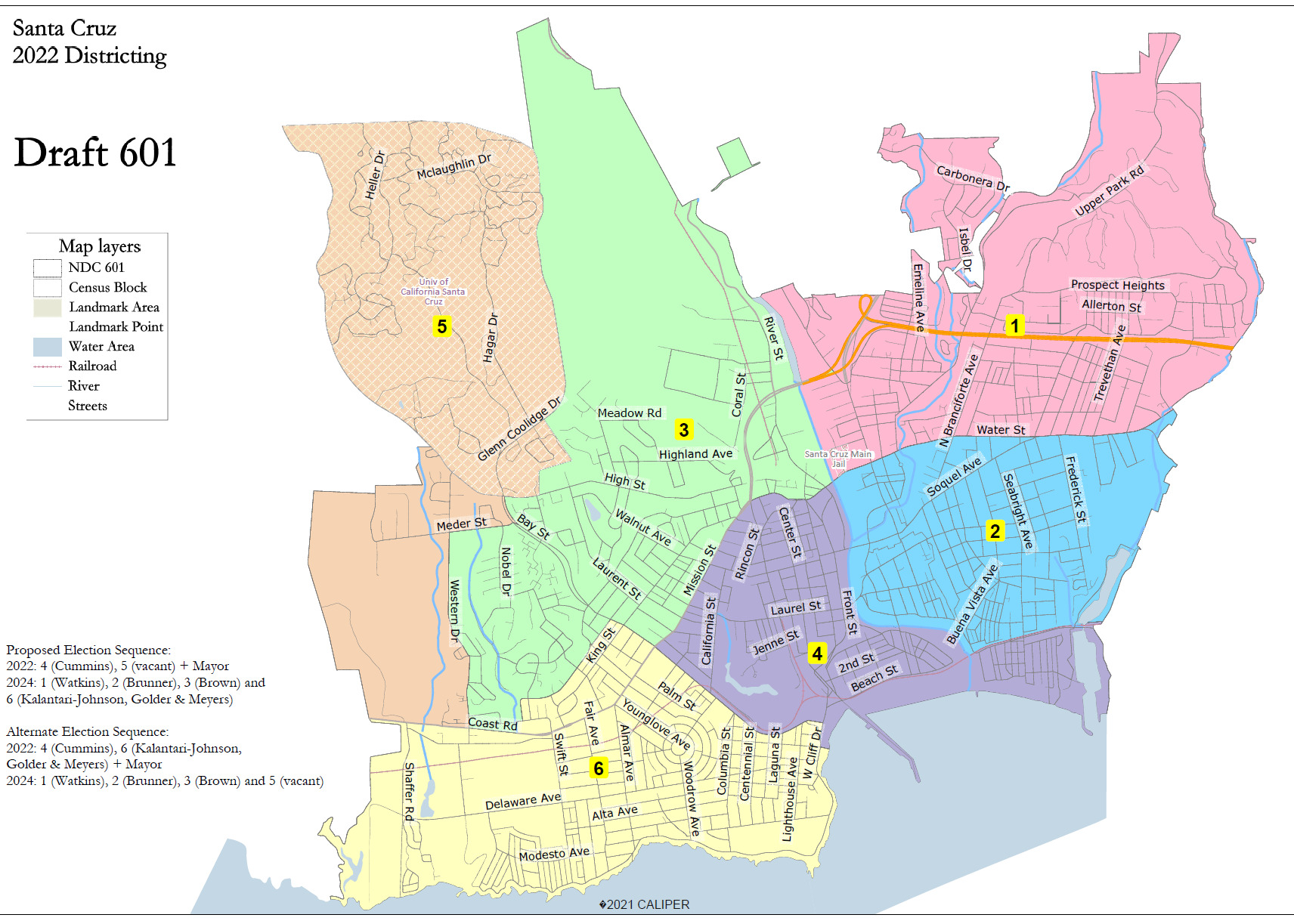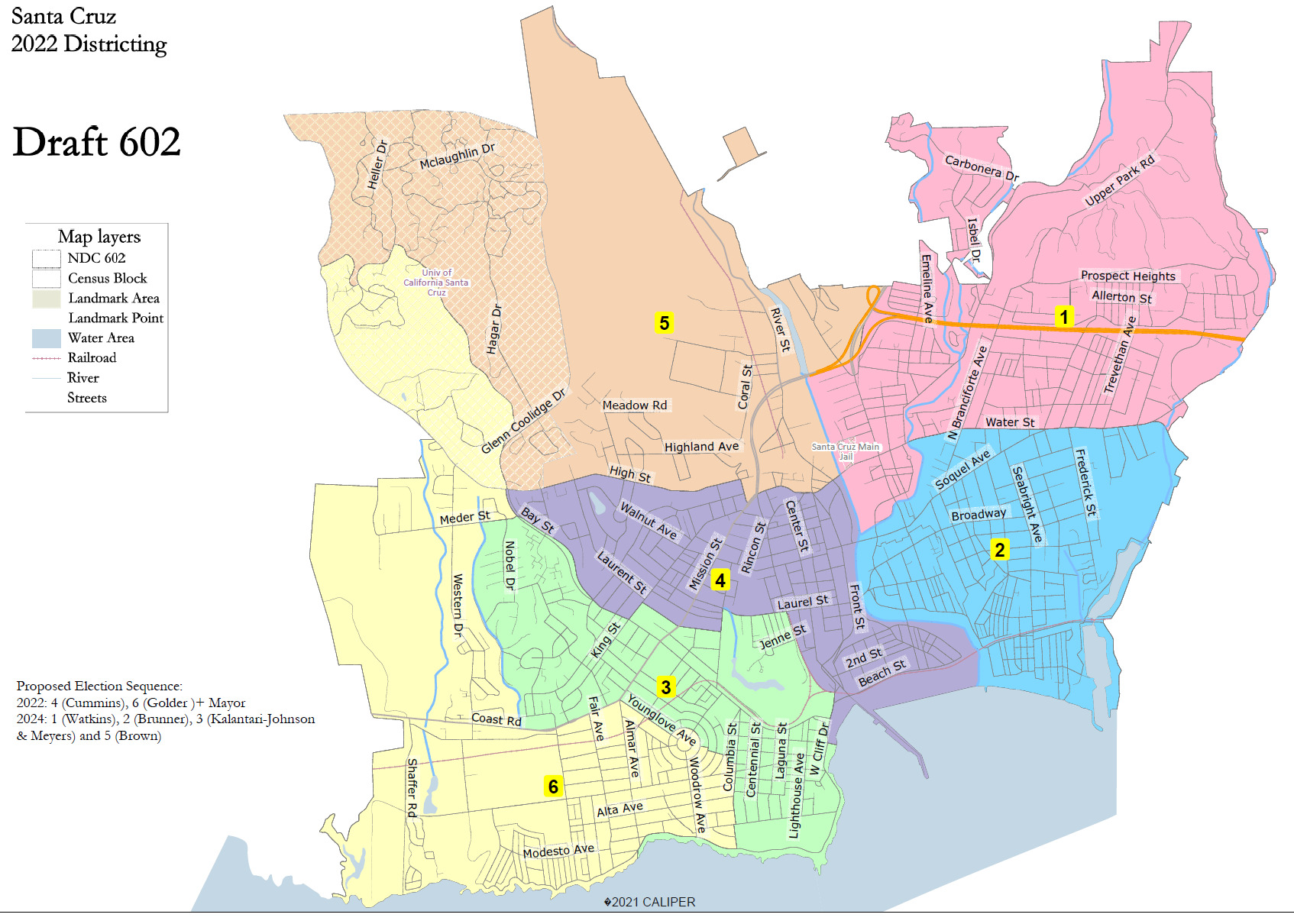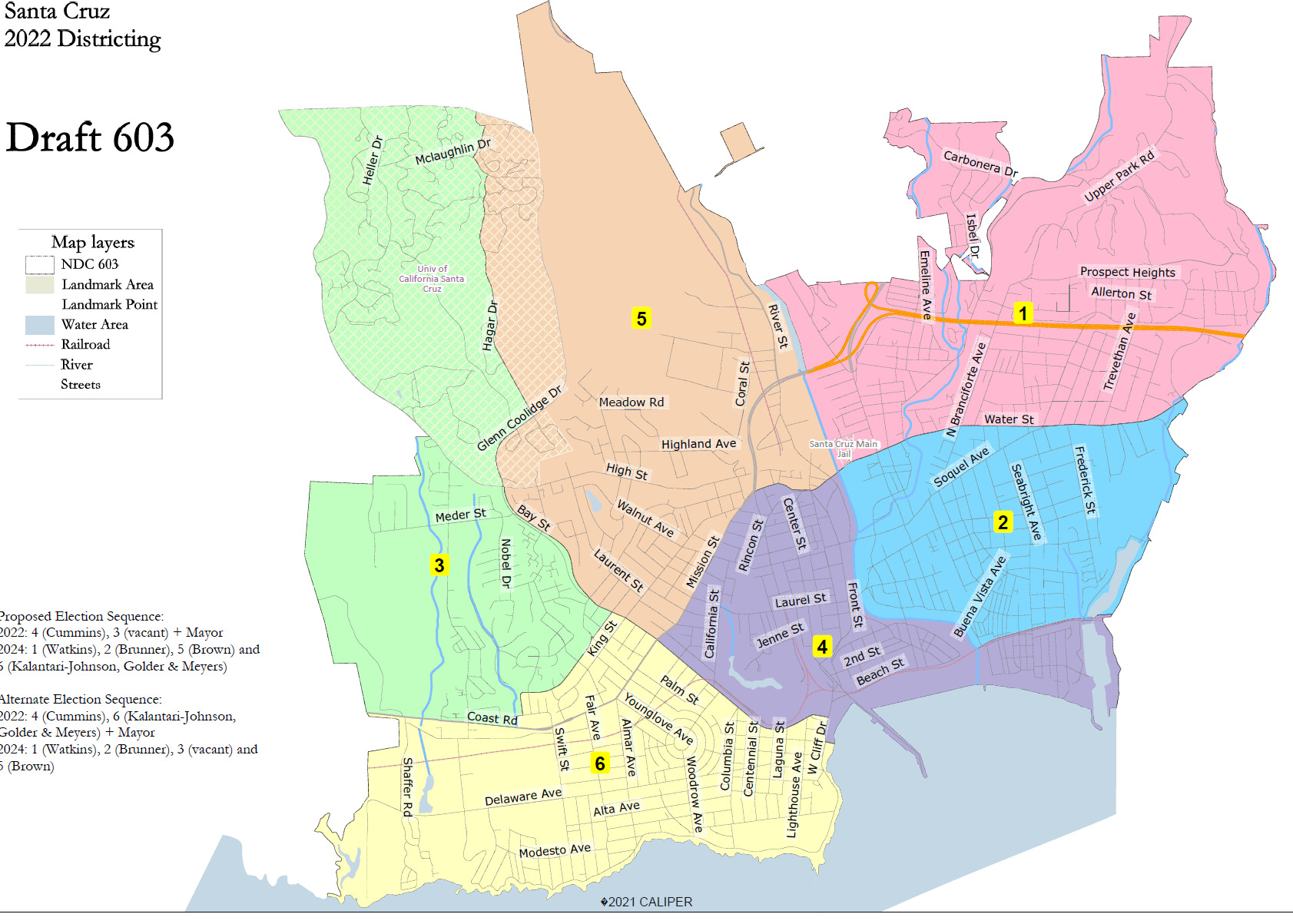 Click each map to expand its view. (City of Santa Cruz)
Of 34 respondents to the city's six-district map survey, 41% preferred map 601, and another 41% preferred Map 602. The surveys close April 19.
"Having lived in different neighborhoods, the right side of 602 seems to make sense, and the left side of 601 seems to make sense," said Councilmember Renee Golder. 
"That does align with some of the emails that I received," said Mayor Sonja Brunner in response. 
Map 601 shows areas north of Water Street and east of the San Lorenzo River in a single district. Areas east of the river, between Water and Murray streets would be another district.
Map 602 splits the Beach Flats and Lower Ocean neighborhoods into separate districts. The map also splits the main UCSC campus into separate districts. 
Division on possible UCSC district
At the March 29 meeting, residents who attended were divided on how UC Santa Cruz should be handled by the district system. Some maps with seven districts show the main campus as its own district. The maps proposed by the ballot measure group the campus with parts of the Upper Westside.
One Westside resident who identified herself as Kathryn advocated for the university to have its own district. "If you include 200 homes of Upper Westside residents with UCSC, those residents are going to feel gerrymandered," she said.  "We will lose our vote to the UCSC bloc if we're included in the UCSC district."
Another person said it was "unfair and undemocratic" for UCSC to form its own district because property owned by the university is not subject to many city municipal codes. 
UCSC student Zennon Ulyate-Crow, along with other student organizers, submitted a seven-district map proposal that would split the campus between two districts. "Students are people, students are residents and we have just as much right to be represented as anybody else," Ulyate-Crow said. "We are 30% of the city's population."
Enrollment at UCSC was 18,137 students in the 2020-21 school year, according to the campus website. About 8,900 students currently live on campus, according to an email Friday from a UCSC spokesman. Many students live off campus throughout the city.
Next steps
Consultants will use community and council feedback to create revised draft maps, which will be posted on the city's website by April 12. Another special council meeting to consider the revised maps will take place April 19.
Residents can give feedback on the existing draft maps in a six-district map survey and a seven-district map survey. Feedback is also invited on an online mapping tool. 
The council is expected to select a six-district map and a seven-district map before the June election.
Read Santa Cruz Local's related stories:
Santa Cruz Local's news is free. Our newsroom relies on locals like you for financial support. Our members make regular contributions, starting at $19 a month or $199 year.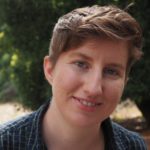 Jesse Kathan is an environmental journalist and a graduate of UC Santa Cruz's science communications program. Kathan has contributed to the Mercury News, Monterey County Weekly and KSQD-FM.