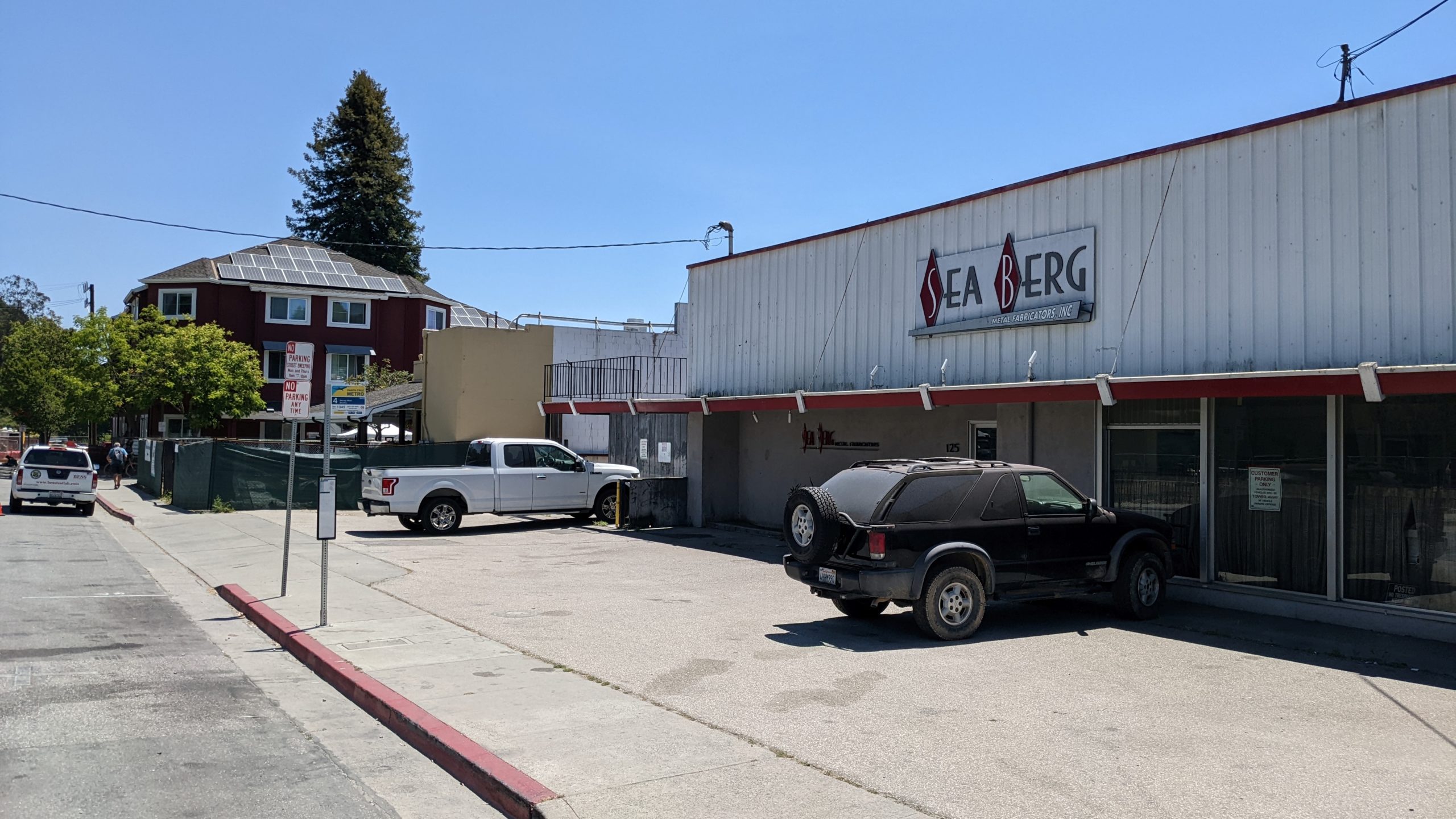 The City of Santa Cruz purchased 125 Coral St. in May 2022 to build a homeless-services navigation center next to Housing Matters. (Stephen Baxter — Santa Cruz Local file)
SANTA CRUZ >> The Santa Cruz City Council on Tuesday unanimously voted to pursue funding for a proposed five-story homeless services center with permanent housing and temporary shelter at 125 Coral St.
The center would be part of a larger plan to create a homeless services campus in the Coral Street area, as outlined in the Coral Street Visioning Report. The council accepted the report Tuesday. 
The report includes two other sites for future expansion: 
112, 114 and 116 Coral St.:

Santa Cruz-based homeless services nonprofit Housing Matters leases these three adjacent units in the same building and plans to purchase them when the lease expires, Santa Cruz Senior Planner Sarah Neuse said. The 7,000-square-foot space could be used for homeless services. The building also houses Santa Cruz Rehearsal Studios at 118 Coral St. If that property comes up for sale in the future, the city could buy it and construct a larger building.

115 Coral St.:

The southwest corner of the parcel adjoining River Street is the former site of River Street Shelter. The site could host a village of small prefabricated shelters or could have fewer shelters and include a multi-story building with housing.
Business owners, city staff and council members expressed concern about crowded parking conditions and potential parking shortages with the expansion plan.
Because of state laws for navigation centers and supportive housing, these developments may not require a public hearing or a vote from city council, Neuse said.
The report 
The Coral Street Visioning Report is a planning document that aims to guide city staff over the coming decades. The report was developed as part of a Homelessness Response Action Plan that the Santa Cruz City Council approved in March 2022. City staff presented a draft of the Coral Street Visioning Report to the Santa Cruz Planning Commission in March. 
As part of the Homelessness Response Action Plan in 2022, city leaders purchased the Sea Berg metal fabrication building at 125 Coral St. to convert it into a navigation center that would have shelter beds and aim to connect people with permanent housing.
Of four options for 125 Coral St. explored in the report, the council voted Tuesday to pursue the preferred staff option. The proposed five-level building would include:
A navigation center to connect clients with permanent housing and other services.

Two levels of permanent supportive housing or affordable housing.

A clinic space for county-integrated health services such as the Homeless Persons Health Project and behavioral health.

11 parking spaces along the property line with 119 Coral St.
The project may be eligible for state grants, and could secure long-term funding by leasing space to county agencies, said Lee Butler, the city's director of planning and community development. The city has already requested legislative funding from Sen. Dianne Feinstein, D- Calif., and U.S. Rep. Jimmy Panetta, D-Santa Cruz, according to a city staff report.
Coral Street area
Santa Cruz-based homeless services nonprofit Housing Matters runs two shelters on city-owned land at 115 Coral St.: 
The Loft shelter has emergency shelter for 57 people, including 40 small prefabricated

Pallet sleeping shelters

for individuals and couples.

The Rebele Family Shelter includes 28 units of emergency shelter for families. Families can stay for around six months while they work with case managers for more permanent housing options.

The campus is also the former site of River Street Shelter, which closed in 2021 and is slated for demolition this year.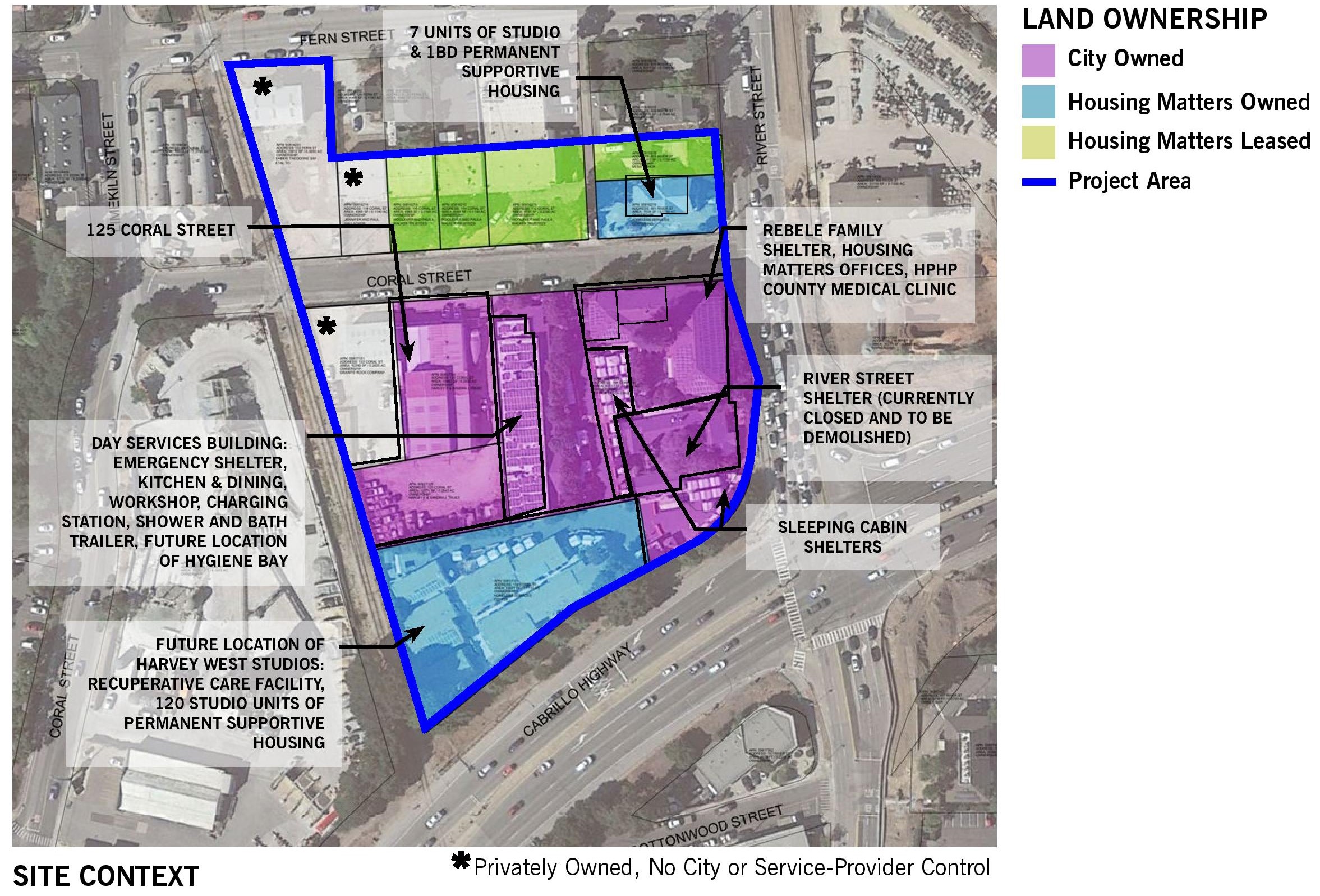 A map from April shows land ownership and homeless service sites on Coral Street in Santa Cruz. The Santa Cruz City Council this week directed city staff to exclude three privately-owned parcels in green from future maps with potential homeless services development. (City of Santa Cruz)
The planned five-story Harvey West Studios building at 119 Coral St. is expected to have 120 permanent supportive housing units on the upper three floors and care beds and medical offices on the lower two floors. People with disabilities who have been chronically homeless are expected to live there, leaders have said. Construction is expected by the end of the year, said Santa Cruz Senior Planner Sarah Neuse.
Business leaders cite problems
After concern from owners of two businesses marked as future "opportunity sites" for an expanded campus, the council voted to exclude three privately-owned parcels from campus maps in the report.
The report had listed the three parcels as areas that could host services or parking if they are offered for sale in the future in the coming decades. The city has no immediate plans to purchase these sites, Neuse said.
The three parcels were: 
118 Coral St.: Owned by Santa Cruz Rehearsal Studios.

129 Coral St.: Owned by Graniterock.

133 Fern St.: Owned by Theodore Saberi.
Owners of Santa Cruz Rehearsal Studios and Graniterock objected to their parcels being included in the report.
"We've been at this site for over 60 years, we'd like to be there for another 60," said Alexandra McCoy, a Graniterock employee.
Councilmember Sandy Brown said the city should remove the three privately-owned parcels from maps of the campus. "The idea that this is a property that is in our sights is producing a lot of anxiety in the community, and it's an unnecessary anxiety," said Brown.
Removing the privately-owned parcels from the report does not prevent the city from purchasing them or adding them to the Coral Street campus if they come up for sale in the future, said Butler. 
Parking
Paul Gallacher, owner of Santa Cruz Rehearsal Studios, said the parking lot his business shares with Housing Matters is "forced to handle volume it was never meant to accommodate." He said he also experienced intimidation from Housing Matters clients and worried more residents could drive customers away. "It's just a real challenge, and even a crisis for us here," he said.
Neuse said that current and future parking needs pose "a significant challenge." To meet parking requirements, the city could:
Require new developments to provide transit passes, bike parking or bike share programs.

Create agreements with other city agencies to share nearby city-owned parking lots.

Partner with existing businesses to build new parking on their land, which they would share.

Buy more land to build parking lots.
Councilmember Martine Watkins said increased traffic and parking demand could worsen safety concerns along River Street between Coral Street and Highway 1. "It's one of the most dangerous intersections in our city," she said. The intersection of River Street and Highway 1 had six collisions with injuries between 2015 and 2019, the second highest count in the city.
The city's public works teams will continue to plan for area parking needs and traffic safety in an update to the Active Transportation Plan, Neuse said.
The council voted to: 
Direct staff to explore possible changes to the General Plan and zoning on the campus. Zoning changes could allow the campus to house a coffee shop or another business.

Work with local businesses to find ways to mitigate current and future parking impacts.

Direct staff to work with Housing Matters and businesses within the Coral Street area to address the concerns of local businesses.
Other council actions
In a quarterly homelessness update, staff reported that they are working to close the homeless encampments within Pogonip. 
Staff plan to clear the camps because of public health concerns and wildfire concerns.

The unsanctioned, unmanaged camps house 80 to 100 people, according to a staff report. Staff plan to close the camps in phases through June, and plan to connect camp residents with shelters and other services.

Many of the campers in Pogonip had relocated from camps in the Benchlands

cleared by the city

last year, said Food Not Bombs organizer Keith McHenry during public comment.

"Those people will now be back on the doorways and levees of Downtown," he said.

The council voted unanimously to spend $250,000 on a contract to remove camp materials in Pogonip. 
Separately, the council voted to begin exploring a potential affordable workforce housing bond for the March 2024 ballot. The money would help build affordable housing. 
The bond, initially proposed by Keeley, may be levied on homeowners or on all residents.

The council voted unanimously to spend approximately $35,000 to $40,000 for polling, research and community outreach. 

After polling resident attitudes towards a potential bond, the city will facilitate a "clear and transparent process" to create an initiative with members of the public, Keeley said. "They are putting this bond together and in effect we hand it off to them." 

If supporters of the ballot initiative gather the signatures of 10% of city voters, it would need a simple majority in a city election to pass.
Read more
Learn about membership
Santa Cruz Local's news is free. We believe that high-quality local news is crucial to democracy. We depend on locals like you to make a meaningful contribution so everyone can access our news.
Learn about membership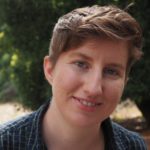 Jesse Kathan is an environmental journalist and a graduate of UC Santa Cruz's science communications program. Kathan has contributed to the Mercury News, Monterey County Weekly and KSQD-FM.