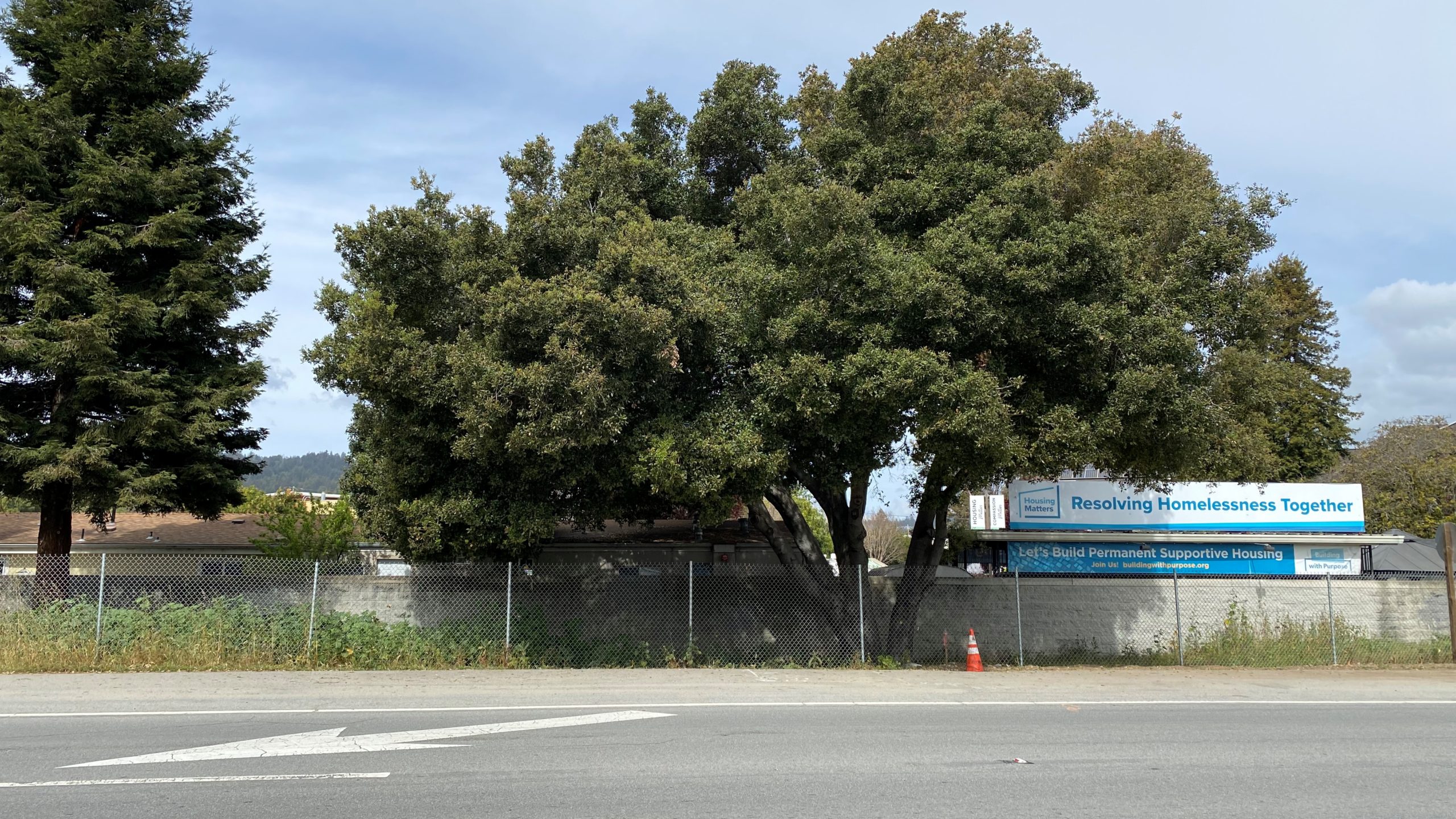 A permanent supportive housing project is planned at 119 Coral St., Santa Cruz. (Patrick Riley — Santa Cruz Local)
A planned 120-apartment, five-story complex will house homeless people with disabilities on the Housing Matters campus in Santa Cruz. (Rendering by David Baker Architects, 180 Supportive Housing LLC)
Last updated: Nov. 17, 2022
Project name: 119 Coral St.
Location: 119 Coral St., Santa Cruz. The project site is bounded by River Street, Highway 1, SCBT&P Railroad and Seaberg Metal Fabricators at 125 Coral St.
Status: Approved by the city's Planning Commission Nov. 19, 2020. The developer applied for a building permit Dec. 21, 2021. The permit remained under city review in November 2022. Housing Matters was awarded a $18.2 million grant for this project, announced in October 2022.
Developer: New Way Homes, Inc. The nonprofit operates an impact investment fund to help solve the Monterey Bay Region's housing crisis, according to the Santa Cruz County Chamber of Commerce's website.
Project description:
Total units: The project calls for 120 studio units to be used as permanent supportive housing and one manager's unit.
Affordable units: The units would be used as "very-low-income supportive housing for those needing a particularly high level of ongoing supportive services," according to the

city of Santa Cruz's website

. When the planning commission approved the project in November 2020 it recommended that the City Council support the fee waiver that the applicant has requested, with the caveat that the project be required to be 100% affordable at the very low income level in perpetuity.

Height: The project would be five stories or about 58 feet high.
Details: The mixed-use project would demolish six transitional housing units and build 120 studio units for permanent supportive housing. There would be one manager's unit. The project also would include a ground floor recuperative care center, behavioral health clinic, and a residential lobby with shared residential space and service provision space. The project aims to provide services and affordable supportive housing for the chronically homeless at the Homeless Services Center Campus at Highway 1 and River Street, according to the city's website.
Read more:
How to make your voice heard: Submit comments and questions on the City of Santa Cruz project page for 119 Coral St.
Read about other notable housing and construction projects in Santa Cruz County.