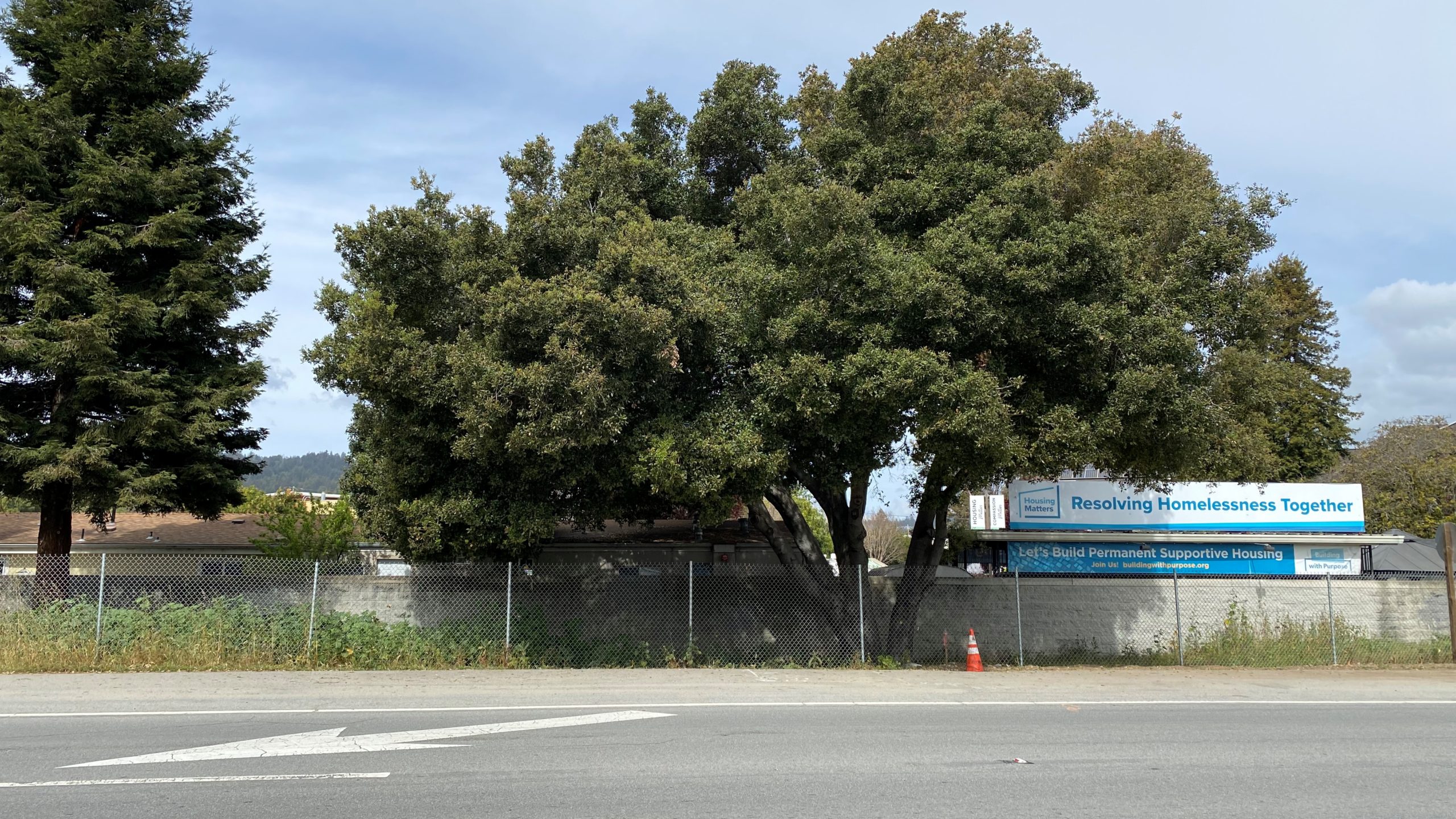 A permanent supportive housing project is planned at 119 Coral St., Santa Cruz. (Patrick Riley — Santa Cruz Local)
Status
Construction is tentatively expected to start in May 2024, Housing Matters CEO Phil Kramer wrote in an email in August 2023. Construction was expected to start in summer 2023 but delayed because of a switch to conventional building methods rather than a modular design as previously planned, Housing Matters leaders wrote in an August statement.

Housing Matters received an $18.2 million grant in late 2022. It received $25.29 million more in a state grant in February 2023 and is fully funded, Housing Matters leaders have said. 

The Santa Cruz Planning Commission approved the project on Nov. 19, 2020.

The developer applied for a building permit Dec. 21, 2021.
Developer
Foster City-based nonprofit MidPen Housing Corp. is the developer.
Project description
Total units:

The project calls for 120 studio units for permanent supportive housing and one manager's unit. 

Affordable units:

This 100% affordable housing project aims to provide homes and services for people with disabilities who have been chronically homeless. The units would be used as "very-low-income supportive housing for those needing a particularly high level of ongoing supportive services," according to the City of Santa Cruz.

Height:

The project would be five stories or about 58 feet high.

Details:

The mixed-use project would demolish six transitional housing units and build 120 studio units for permanent supportive housing and one manager's unit. The project also would include a ground-floor recuperative care center, behavioral health clinic, and a residential lobby with shared residential space and service provision space.
A planned 120-apartment, five-story complex will house homeless people with disabilities on the Housing Matters campus in Santa Cruz. (Rendering by David Baker Architects, 180 Supportive Housing LLC)
Learn about membership
Santa Cruz Local's news is free. We believe that high-quality local news is crucial to democracy. We depend on locals like you to make a meaningful contribution so everyone can access our news.
Learn about membership