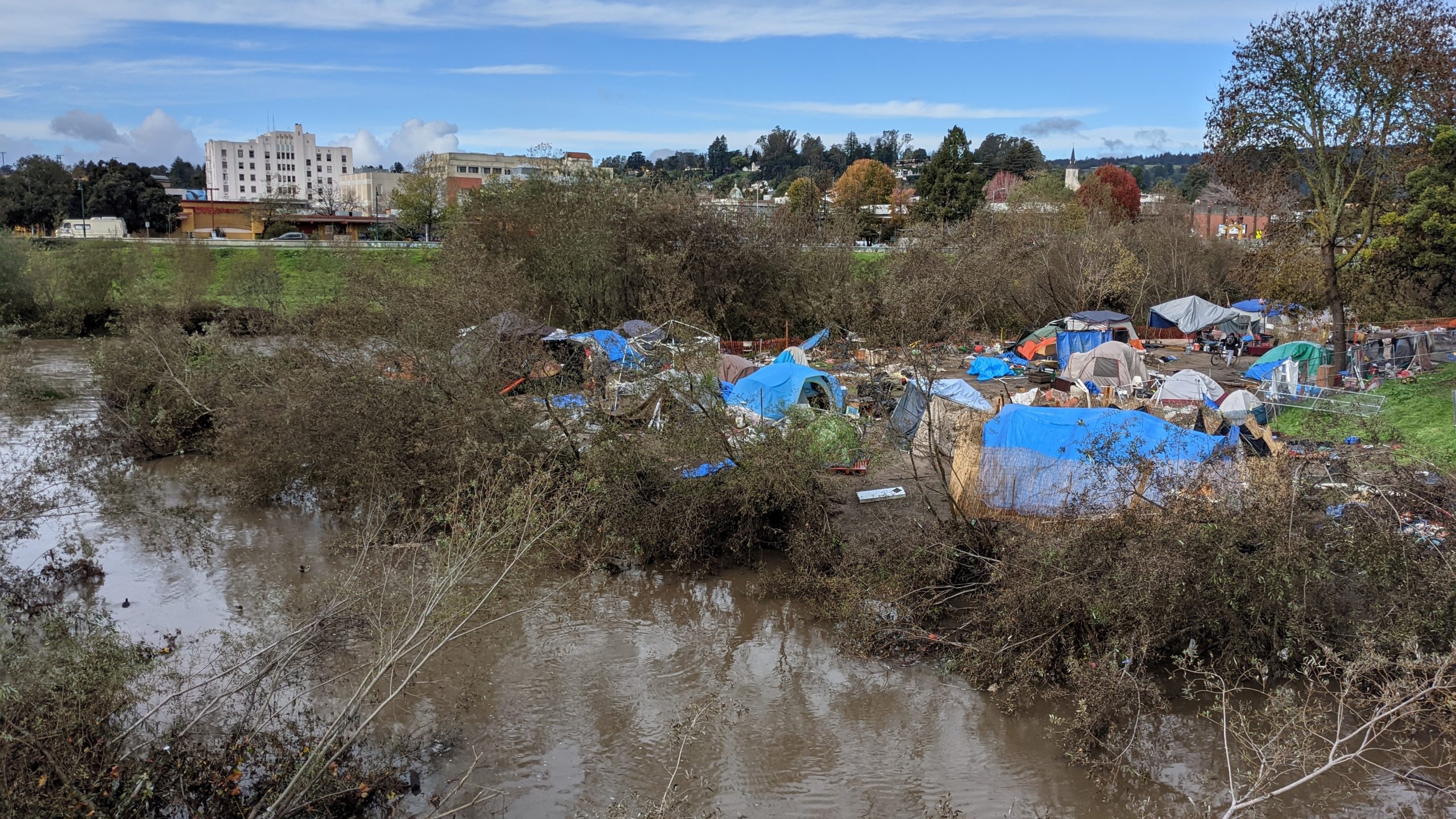 Flood water enters a Benchlands tent camp near San Lorenzo Park in Santa Cruz in December 2021. (Stephen Baxter — Santa Cruz Local file)
SANTA CRUZ >> The Santa Cruz City Council on Tuesday approved plans for a four-month, phased closure of the city-sanctioned, unmanaged homeless camp at the Benchlands near San Lorenzo Park.
City leaders aim to give shelter options to all people at the park who want it. The camp's closure is dependent on the opening of an indoor temporary shelter at the National Guard Armory in DeLaveaga Park that is expected in September, said Lisa Murphy, deputy city manager. 
City leaders estimate 225 people at the Benchlands tent camp. The indoor armory shelter will have about 60 beds. 
"If we do not have shelter space available, we'll hit the pause button," Murphy said. 
"There probably won't be enough (shelter) and we'll have to pause our closure until something else comes online," Murphy later added. She said city leaders will try to distribute hotel vouchers and offer shelter beds in other communities.
Costs
Benchlands camp maintenance costs about $66,000 per month, not including staff time, Murphy said. The city pays for portable toilets, wash stations, trash pickup, running water, electricity and other expenses.
The estimated cost of the closure is about $953,000, which includes:
New temporary shelter ($250,000).

Fences ($100,000).

Portable toilets, hand wash stations and showers ($400,000).

Trash cleanup ($340,000).

Debris removal ($280,000).  
Tuesday, the Santa Cruz City Council voted 6-1 to allocate $1 million of city money for the Benchlands closure. The $1 million came from a one-time $14 million allocation from the state. That $1 million was previously intended for a remodel of a shower and toilet facility on the Housing Matters campus. City leaders said they instead will pay for the remodel with federal American Recovery Plan Act money.
Several council members said they were unclear about funding available for homelessness response. The council told city staff to bring back a report on how much American Recovery Plan Act money and one-time state money remained. Council members expressed interest in spending the remaining money on services that include:
A van for people who use wheelchairs.

A warming center in winter.

A cost study for 24-hour non-law enforcement mental health crisis pilot program.
The planned indoor shelter at the National Guard Armory will be managed by the Salvation Army and cost the city $1.7 million. The shelter is part of the City of Santa Cruz's effort to expand city-run emergency shelters. 
As part of the city's Homelessness Response Action Plan approved this year, city leaders have started  safe parking sites and managed tent camps and funded for one year by one-time federal and state money. City leaders have not yet found money sources to extend those shelters.
Council members explain their votes
Councilmember Sandy Brown was the sole "no" vote Tuesday. "I'm just at a point where I feel it's not clear to me that we aren't repeating what we've already done," Brown said. "We're building out a bureaucracy that's going to cost a significant amount of money, and I'd like that to be effective," Brown said.
Mayor Sonja Brunner said her email inbox is full of questions from residents asking what leaders are doing to solve homelessness. Brunner said the city's Homelessness Response Action Plan "is not a 'cure homelessness in our city' plan. This is a response plan." 
Councilmember Martine Watkins said that having a city-sanctioned unmanaged homeless camp next to the San Lorenzo River "is a complete liability" due to flood risk. Several tents were flooded there during a December storm.
"It's not perfect, but it's progress, and I think we have to remember that," Watkins said before the vote.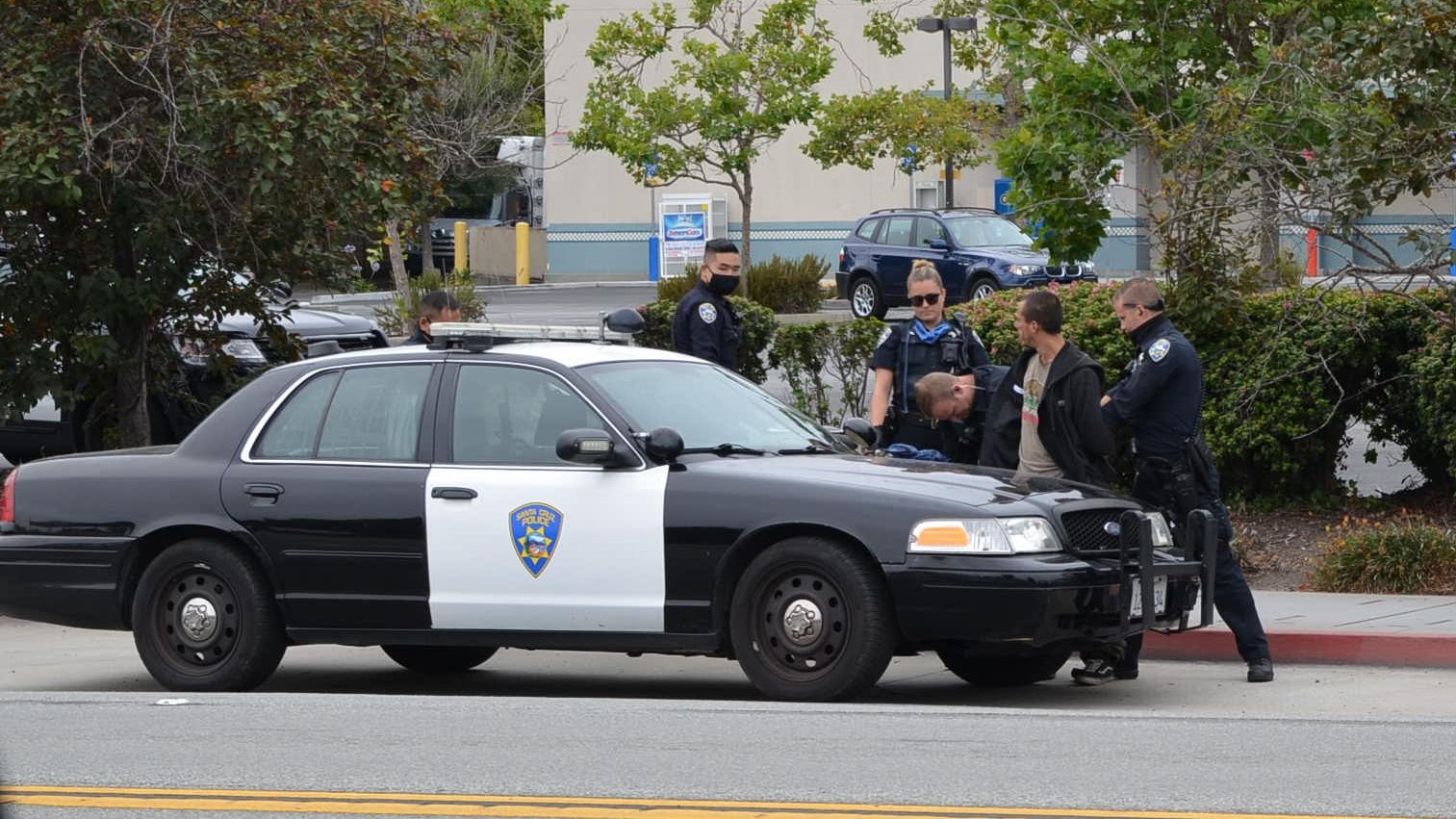 Santa Cruz police handcuff a man on Mission Street in Santa Cruz in 2020. (Stephen Baxter — Santa Cruz Local file)
Police auditor report
After a report from the independent police auditor at Tuesday's council meeting, the council told Santa Cruz police leaders to respond to the auditor's call for timely internal investigations of complaints.
In a recent report, the independent police auditor reviewed complaints against Santa Cruz Police and the department's internal investigations and made recommendations.
The complaints and internal investigations include the following cases: 
A man in police custody

died at a hospital after he was arrested for being under the influence of drugs. Police incorrectly assumed that the man was feigning medical distress, according to the report. An internal investigation after the man's death recommended revisions to the department's seat belt policy due to the risk of suffocation of people who are handcuffed and cannot safely wear a seat belt. A year after the man's death, the department had not revised the policy, according to the report.    

In another case

, in response to a report of a suspect who allegedly brandished a gun during a road-rage incident, officers stopped a car that matched a description. "Investigation determined the driver was the victim, not the perpetrator," according to the report. Multiple officers were involved. A complaint alleged excessive force, "discourtesy" and racial profiling. An internal investigation found no misconduct. The department's handling of the complaint revealed "shortcomings," such as an unexplained delay of 17 months to complete the investigation, according to the auditor's report. The complainant waited four months to be interviewed. Officers and witnesses were interviewed nearly a year after the incident, according to the report.  
A 'backlog' of investigations
"If we had to sum up the biggest challenge that the police department had, it had to do with getting investigations done on time. The great bulk of our recommendations were intended to make sure that investigations don't lay fallow," said Michael Gennaco, a lawyer and founding principal of OIR Group, the Los Angeles-based police auditor agency hired by the City of Santa Cruz.
Under state law, police officers cannot be disciplined if internal investigations are not completed within a year, even if violations are found, Gennaco said.  
"We have found cases that have fallen out of that one-year statute," Gennaco said. The "backlog" of investigations was largely due to "a performance issue of one individual in the police department," which has been resolved, Gennaco said. A new sergeant has begun to address the "considerable" backlog, he said.
The auditor's recommendations include:
The police department should create a system to track the time, date and manner of personnel complaints and monitor the assignment and completion of complaint investigations.

The department should create policies and training to prevent "bias by proxy," which occurs when a person calls the police to report false or ill-informed claims about a person they dislike or have a bias against.
A few residents expressed frustration Tuesday that the police auditor's report had no teeth since the police department could choose whether to respond. Ayo Banjo, a Santa Cruz resident and former UC Santa Cruz student body president, said the police auditor should have more investigative power and authority. 
"I think it's kind of weird that we expect the police to police themselves when they're the ones that make those mistakes, and expect those investigations to somehow come out on time," Banjo said.
The council voted 6-0 to direct city staff to respond to the recommendations. Councilmember Justin Cummings made the motion. Councilmember Renee Golder was absent.
Questions or comments? Email [email protected]. Santa Cruz Local is funded by members, major donors, sponsors and grants for the general support of our newsroom. Our news judgments are made independently and not on the basis of donor support. Learn more about Santa Cruz Local and how it is funded.
Santa Cruz Local's news is free. We believe that high-quality local news is crucial to democracy. We depend on locals like you to make a meaningful contribution so everyone can access our news. Learn about membership.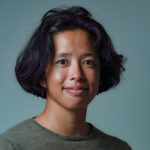 Kara Meyberg Guzman is the CEO and co-founder of Santa Cruz Local. ​Prior to Santa Cruz Local, she served as the Santa Cruz Sentinel's managing editor. She has a biology degree from Stanford University and lives in Santa Cruz.