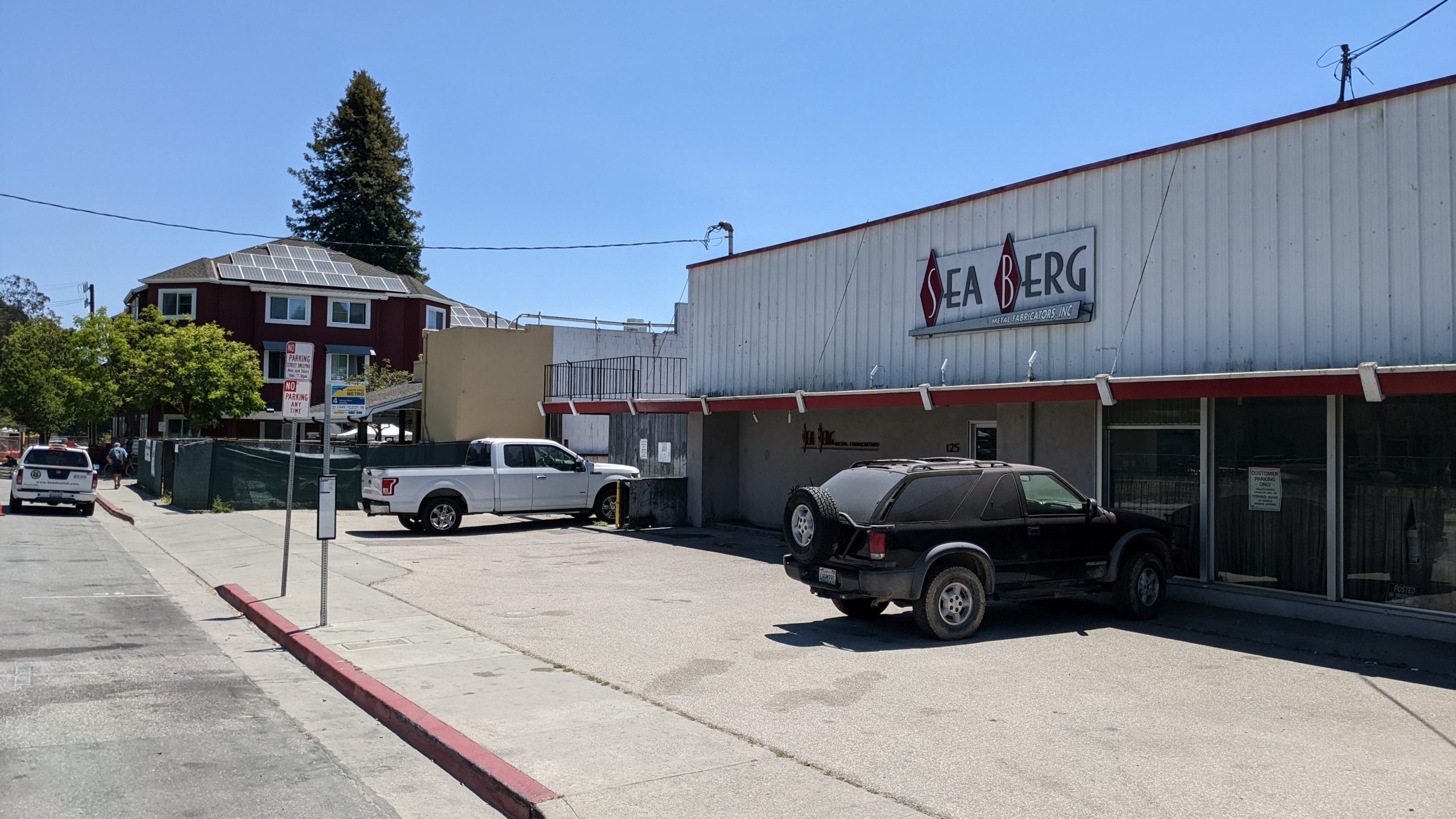 The City of Santa Cruz purchased 125 Coral St. in May 2022 to build a homeless-services navigation center next to Housing Matters. (Stephen Baxter — Santa Cruz Local file)
SANTA CRUZ >> Santa Cruz city staff on Thursday night presented a long-term vision for Coral Street that could include homes for people with disabilities and temporary shelter for more of the county's unhoused.
A draft of the Coral Street Visioning Report explored a potential new building with temporary shelter beds, a multistory building for permanent supportive housing and manufactured sleeping shelters. The report was presented at a Santa Cruz Planning Commission meeting Thursday night. 
At the meeting, business leaders on Coral and Fern streets said drug use and a lack of public restrooms are problems on the street. They said the plan would worsen the area's parking shortage and drive away customers.
No action was taken on the report. City staff plan to present the final report for further feedback and direction at a Santa Cruz City Council meeting in April or May. 
The report 
The Coral Street Visioning Report is a planning document that aims to guide city staff over the coming decades. The report is being developed as part of a strategy to tackle homelessness approved by city council in March 2022. 
As part of the Homelessness Response Action Plan, the council directed staff to acquire property for a navigation center that would have shelter beds and aim to connect people with permanent housing. 
Santa Cruz-based homeless services nonprofit Housing Matters runs two shelters on city-owned land at 115 Coral St.: 
The Loft shelter has emergency shelter for 57 people, including 40 small prefabricated

Pallet

sleeping shelters for individuals and couples.

The Rebele Family Shelter includes 28 units of emergency shelter for families. Families can stay for around six months

while they work with case managers for more permanent housing options.

The campus is also the former site of River Street Shelter, which closed in 2021 and is slated for demolition this year.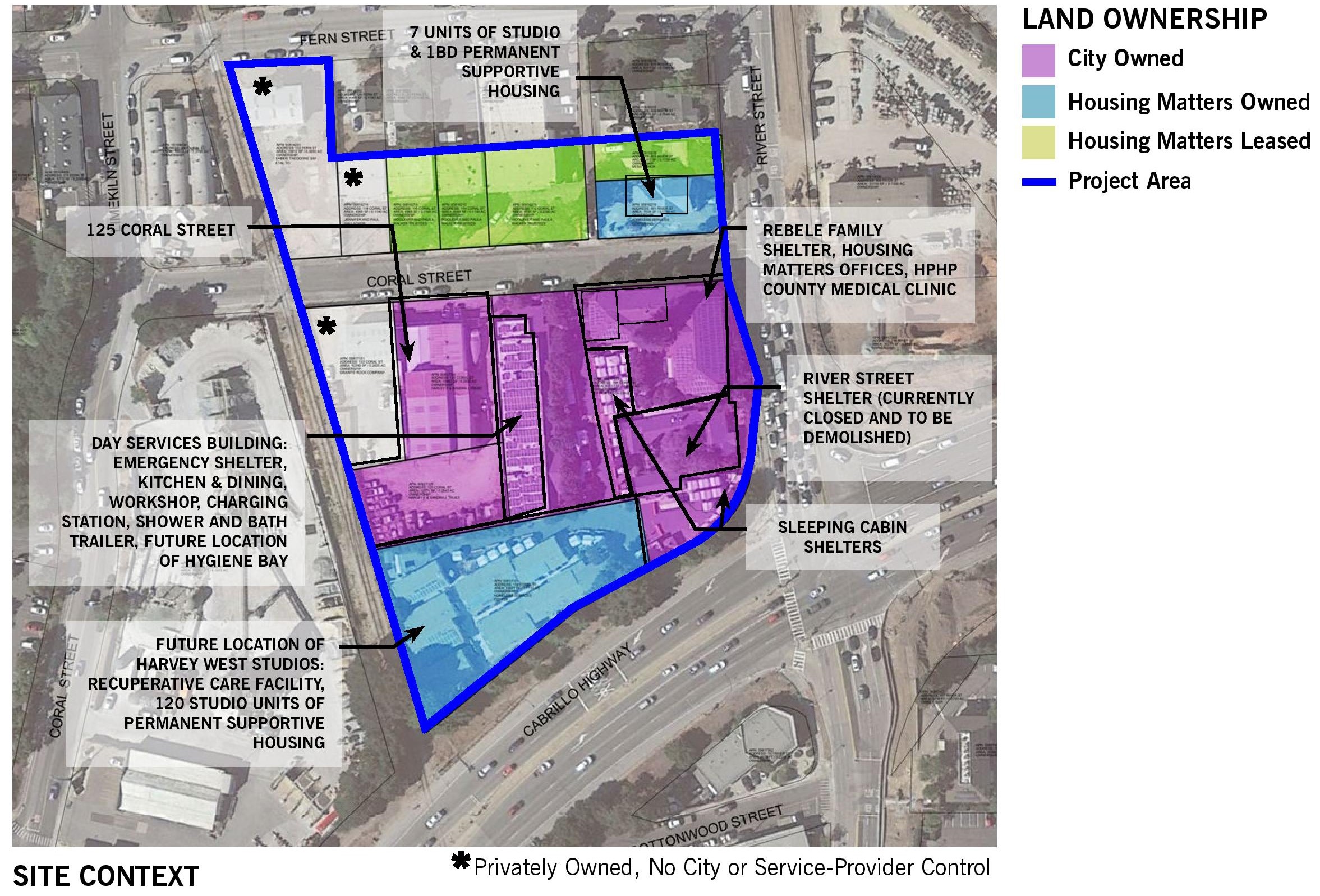 A map shows land ownership on Coral Street in Santa Cruz. (City of Santa Cruz)
The planned five-story Harvey West Studios building at 119 Coral St. is expected to have 120 permanent supportive housing units on the upper three floors and care beds and medical offices on the lower two floors. People with disabilities who have been chronically homeless are expected to live there, leaders have said. Construction is expected by the end of the year, said Santa Cruz Senior Planner Sarah Neuse.
The draft report was informed by two community workshops and an online survey. 
"There were strong reactions to some of the proposals that we presented," said Justin Doull, senior planner at Pleasanton-based Dahlin Architecture Group. The group helped conduct outreach and create the draft plan. 
Community members were particularly concerned about pedestrian safety, potential parking shortages and including hygiene services for homeless people, he said.
The draft visioning plan includes three potential sites for expansion:
125 Coral St.:

The city purchased the Sea Berg Metal Fabricators building in May 2022

. City staff considered four options for the property. The preferred staff option includes a 125-bed navigation center and three levels of permanent supportive housing or affordable housing. "The biggest con regarding this option is that only a minimal number of parking spaces are available to meet the demand generated by the new uses," according to the visioning report.

112, 114 and 116 Coral St.:

Housing Matters leases these three adjacent units in the same building and plans to purchase them when the lease expires, Neuse said. The 7,000-square-foot space could be used for homeless services. The building also houses Santa Cruz Rehearsal Studios at 118 Coral St. If that property comes up for sale in the future, the city could buy it and construct a larger building.

115 Coral St.

: The southwest corner of the parcel adjoining River Street is the former site of River Street Shelter. The site could host a village of small prefabricated shelters or could have fewer shelters and include a multi-story building with housing.
Because of state laws for navigation centers and supportive housing, these developments may not require a public hearing or a vote from city council, Neuse said.
Parking
The Coral Street area could face a shortage of parking for residents and workers, Neuse said. Density bonus laws and other state rules likely would allow the city to legally bypass or greatly reduce parking requirements for any new buildings.
"That is something that any development that comes in here is going to need to grapple with," Neuse said.
To meet parking requirements, the city could:
Require new developments to provide transit passes, bike parking or bike share programs.

Create agreements with other city agencies to share nearby city-owned parking lots.

Partner with existing businesses to build new parking on their land, which they would share.

Buy more land to build parking lots.
The plan also includes potential plans for additional parking or other services on three privately-owned parcels within the project area if they come up for sale in the future in the coming decades. 
"These are very hypothetical potential scenarios," said Neuse.
The potential future sites Include:
118 Coral St.: Owned by Santa Cruz Rehearsal Studios.

129 Coral St.: Owned by Graniterock.

133 Fern St.: Owned by Theodore Saberi, according to Santa Cruz County tax records. Saberi has not responded to city correspondence about the property, Neuse wrote in an email Friday.
Businesses concerned
During Thursday night's Planning Commission meeting, leaders of four businesses near the project site expressed concerns with the potential lack of parking and increased drug use near their businesses if the plan is executed.
Jennifer Gallacher, co-owner of Santa Cruz Rehearsal Studios said her property should not be included in potential future plans for the campus. 
"The fact is that it is not for sale," she said. Her employees and customers already struggle to find parking, and further expansion "would exacerbate those challenges," Gallacher said. 
She added that her business suffers from nearby open drug use and a shortage of bathrooms for unhoused people. "These are problems that are happening right now," Gallacher said.
Nathan Van Zandt, co-owner of Shanty Shack Brewing on Fern Street, also urged planners to design more on-site parking for the campus. More unhoused people in the area could impair his "ability to be able to continue business and have the public feel safe," he said.
The staff presentation was informational, and commissioners did not vote on the report. Planning Commissioner Cyndi Dawson proposed a motion that would have excluded private parcels from maps of the planning area.
"It is something businesses are asking for," Dawson said. "I think that's a small gesture to show we want their support."
The motion failed 3-2. Dawson and Commissioner Sean Maxwell voted for the motion. Commissioners Julie Conway, Pete Kennedy and Michael Polhamus voted against it. Mark Mesiti-Miller was absent. Timerie Gordon recused herself from the presentation and vote because she has a contract with Housing Matters.
Conway advised staff to provide enough parking, even if it means the constructed buildings are smaller. 
"I know how badly we need space for the navigation center and for services," Conway said. "But I really think that if we don't address the parking issue down there, it's not going to be successful."
Next steps
In April or May city staff plan to ask the city council for direction on next steps, Neuse wrote in an email Friday. 
Those steps could include:
Studying the land use changes needed to allow 125 Coral St. to be developed.

Beginning work on the demolition of River Street Shelter.

Working with Housing Matters and other partners to identify money sources to support the expanded campus.

Collaborating with local businesses to build new, shared parking.
Learn about membership
Santa Cruz Local's news is free. We believe that high-quality local news is crucial to democracy. We depend on locals like you to make a meaningful contribution so everyone can access our news.
Learn about membership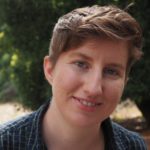 Jesse Kathan is an environmental journalist and a graduate of UC Santa Cruz's science communications program. Kathan has contributed to the Mercury News, Monterey County Weekly and KSQD-FM.