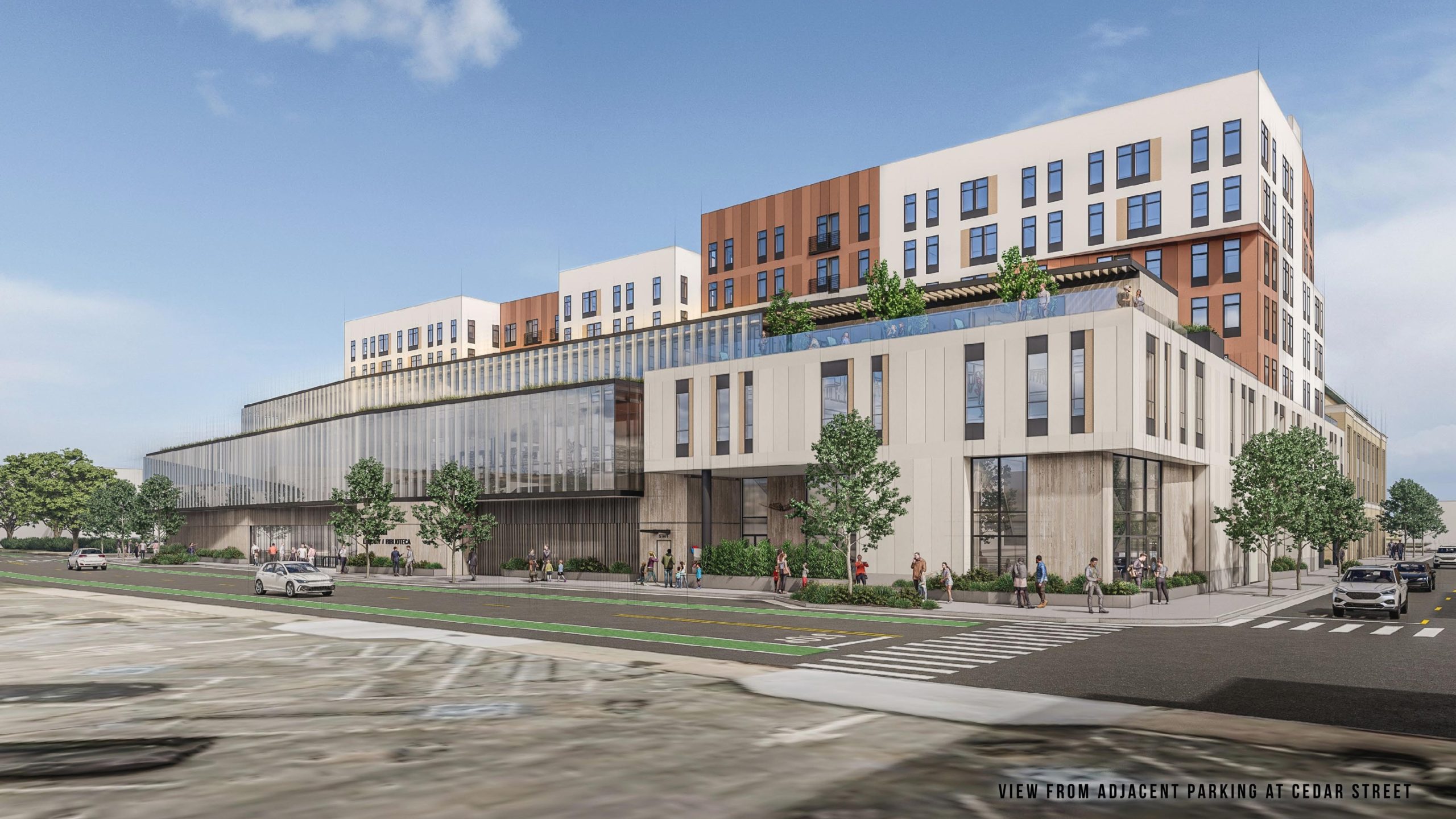 The Downtown Santa Cruz Library main entrance is slated for Cedar Street between Lincoln and Cathcart streets. (Ten Over Studio and Jayson Architecture)
SANTA CRUZ >> The Santa Cruz City Council on Tuesday allowed construction of the Downtown library, housing and parking project to start as leaders granted permits for demolition, design and special use.
The project at Cathcart, Cedar and Lincoln streets requires no more approvals from the city council or other elected bodies as it could only be challenged through litigation, Santa Cruz Senior Planner Tim Maier said Wednesday. Construction is expected to start by June 2024 and finish by the end of 2026, said Santa Cruz Development Manager Brian Borguno.
Planned since 2016 when Santa Cruz County voters approved Measure S to fund systemwide library renovations, the Downtown library project was reaffirmed by voters in November when Measure O failed to halt its construction with about 40% of the vote. 
The eight-story complex is expected to include:
A three-story library with two indoor levels, a rooftop terrace and patio.

Five levels of affordable housing above three levels of parking.

A three-story area for businesses with 9,600 square feet of commercial space.

A child care facility with an outdoor play area.

124 homes, including 19 units for residents with "extremely low incomes," 59 units for "very low incomes" and 45 units for "low incomes" based on

state-determined income limits

, according to a city staff report.
City council also adopted conditions added by the Santa Cruz Planning Commission in its Feb. 23 meeting:
Electric charging stations for bikes and vehicles and parking spaces that could be converted to charging stations in the future.

Features in all commercial spaces that would allow them to serve as restaurants. 
Tuesday's council decision focused on the project's planned removal of 12 trees, including nine heritage trees that are 14 inches or more in diameter. The council rejected calls from community groups to redesign the library to preserve two or more heritage trees. New conditions for the permits require developers to plant 24 replacement trees.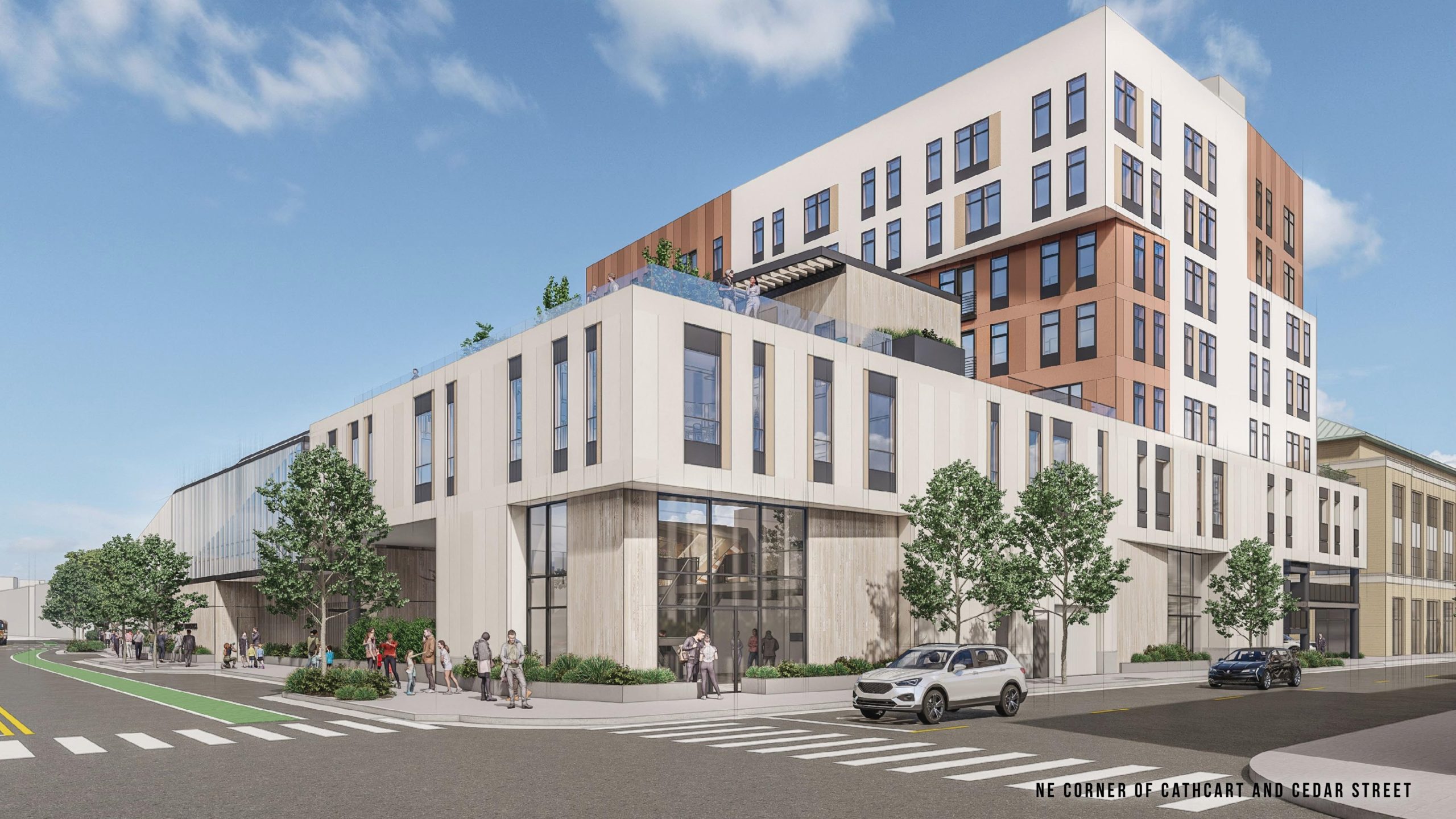 A rendering shows the Downtown Santa Cruz library project at Cathcart and Cedar streets. (Ten Over Studio and Jayson Architecture)
In October, a group called Save Some Trees Coalition appealed the project's heritage tree removal permit. The Parks and Recreation Commission rejected the appeal in December. The coalition says developers did not attempt to incorporate heritage trees in their design for the project. The city's heritage tree rules require that developers accommodate heritage trees unless the project design cannot be altered to accommodate them or the tree is unhealthy.
All 12 trees have health issues that are likely to get worse over time, according to a 2021 arborists report from Dryad LLC. Five of the trees could be preserved, but would need more unpaved area to grow, the report found. A 2022 addendum to the report noted that one of the heritage trees' health had further declined.
Pauline Seales, who led the appeal, requested that the building be redesigned to accommodate some trees. "It would enhance the project, and there's space for it, and it would be a benefit to everyone," she said. 
Project developer Abe Jayson and architect Jim Rendler said preserving even one of the trees would severely limit the building's capacity. "This isn't something that we have not tried to incorporate into the design," said Rendler. "We have gone about that in several iterations, trying to figure out how it could work."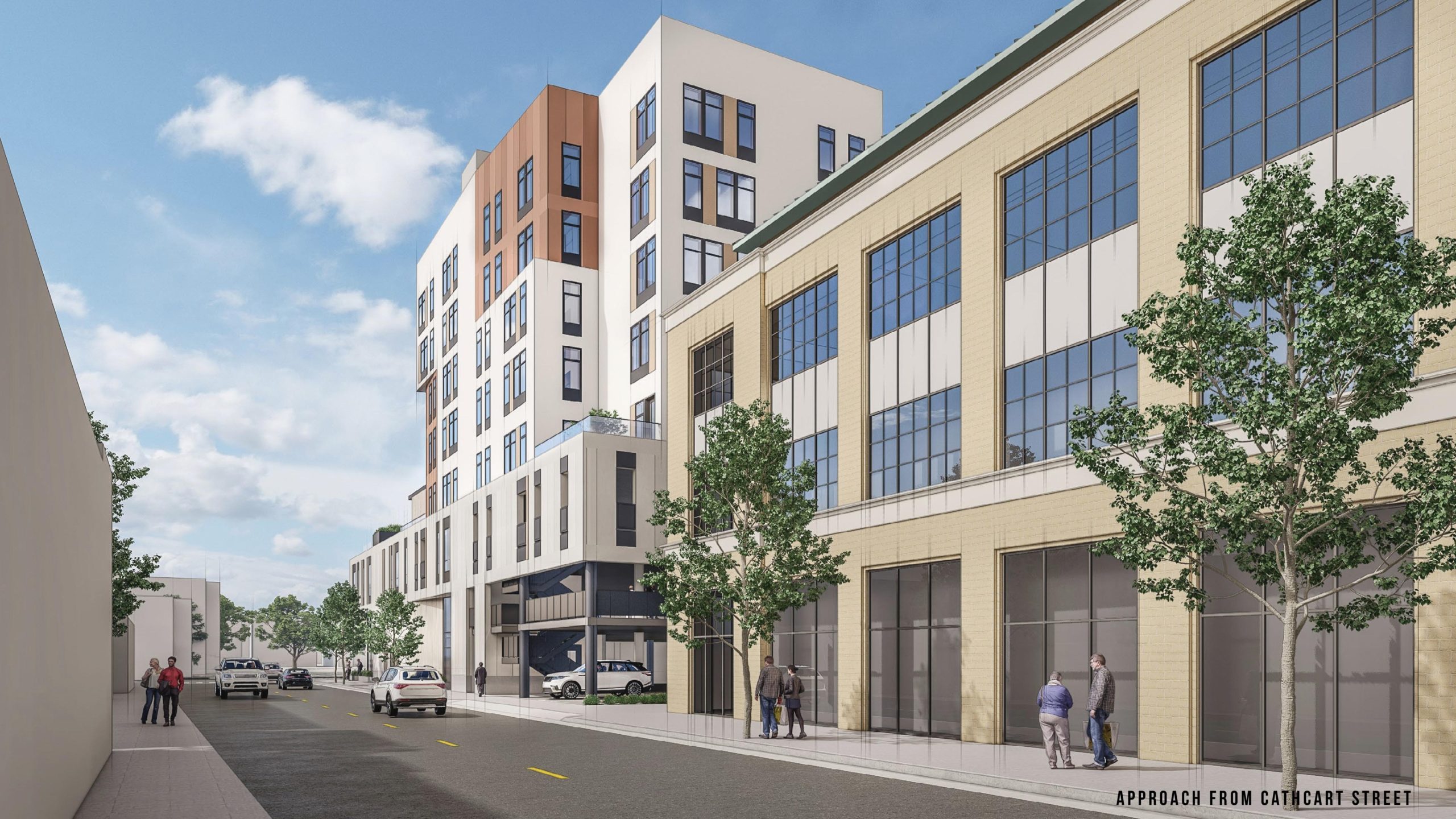 A rendering shows plans for the Downtown Santa Cruz library on Cathcart Street. (Ten Over Studio and Jayson Architecture)
During public comment at Tuesday's meeting, more than a dozen people spoke in favor of preserving two or more trees. Many, including resident Jane Doyle, recommended preserving two liquidambar trees on Cedar Street. "Any architect worth his or her salt could easily design around them," said Doyle.
Other commenters, including representatives from Housing Matters and Dominican Hospital, urged the council to approve the permits and avoid delaying the construction of affordable housing. Some mentioned Measure O, which aimed to stop construction of the library on the November ballot and was defeated by nearly 60% of voters. 
"Measure O was put to the voters and we soundly defeated it," said Rafa Sonnenfeld, policy director of the housing advocacy organization YIMBY Law. "I think we're all getting tired of debating every little single thing about this project."
The council voted to require developers to plant 14 replacement street trees around the library building, and 22 trees in the greater Downtown area. Previous conditions would have required nine trees around the library and 12 street trees Downtown. The new conditions also suggest that wood from cut magnolia trees be repurposed to create benches, artwork or other features for the project.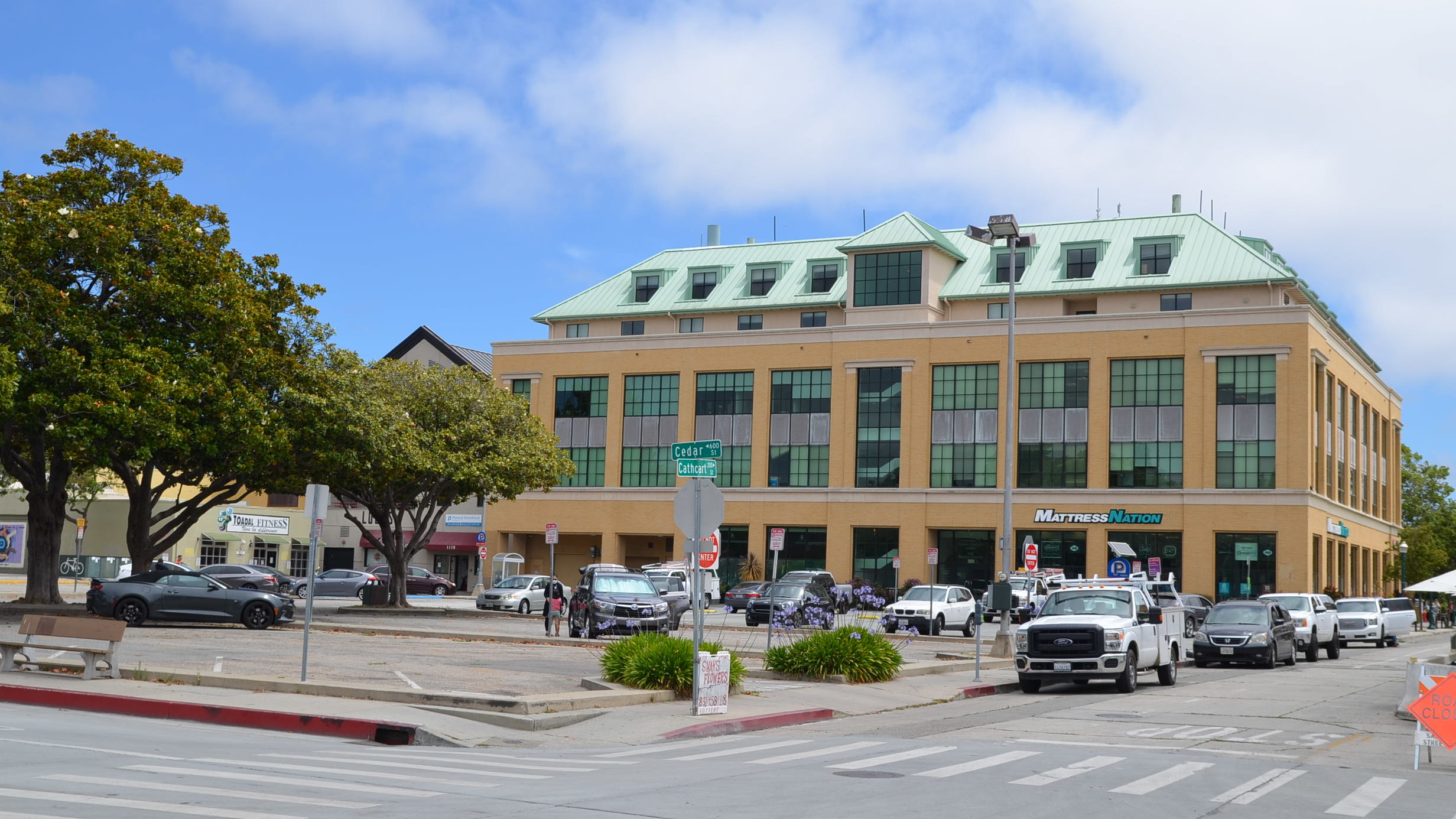 A new Downtown library, housing, parking and shops are slated to be built on Cedar Street from Cathcart to Lincoln streets. A city parking lot and trees are shown on the site in 2020. (Stephen Baxter — Santa Cruz Local file)
The council voted 5-1 to adopt the new requirements and grant the permits. Mayor Fred Keeley, Vice Mayor Renee Golder and Councilmembers Scott Newsome, Shebreh Kalantari-Johnson and Martine Watkins voted in favor. "What I really get is a sentimental attachment to these trees and to what this represents for our community," said Watkins. "I reached out to our staff to understand what could be possible and ultimately learned that really, we have limited choices here." 
Councilmember Sandy Brown voted against granting the permits. She proposed another motion that would have directed developers to propose a plan to preserve the two liquidambars and a smaller magnolia tree. Ongoing community feedback has made the mixed-use project better, Brown said. "I felt that this could be another opportunity to improve the project," she said. 
Councilmember Sonja Brunner recused herself from the discussion and vote due to her position as the director of operations for the Downtown Association of Santa Cruz. 
Laurel Street parking
Separately at Tuesday's council meeting, the council allowed parallel parking to be removed from a portion of Laurel Street.
A project aims to add a separated bicycle lane and wider pedestrian islands to Laurel Street, as well as redesign intersections to make crosswalks more visible. It would also remove parallel parking on Laurel Street from Mission to Chestnut streets.
The plan is part of Vision Zero, which is a 2019 resolution to stop deaths from traffic collisions.
Robin Belkin, a landlord who owns a building on Laurel Street, appealed the plan following its approval in January by the Santa Cruz Public Works Commission. Her tenants who now park in front of the building on Laurel Street would have to park around the corner on Myrtle Street if the planned project is built, she said at Tuesday's meeting. She said many of her tenants have been harassed and fear assault at night. A longer walk home would be dangerous. "They're at great risk for their personal safety," said Belkin.
Santa Cruz city staff presented a new plan that would create more parking on Myrtle Street to offset the lost spaces on Laurel Street. "We're talking about parking spaces that are within 300  to 400 feet of the original parking spaces that are being displaced," said Santa Cruz Director of Public Works Nathan Nguyen. Under the new plan, the neighborhood would lose four parking spaces. 
Nearly 90% of properties on Laurel Street between Walti Street and Chestnut Street have off-street parking, including Belkin's property, according to a city staff report. 
In response to safety concerns, Santa Cruz police Lt. Wes Morey said the neighborhood "is not a high crime area at all." In the past six months, police have responded to four reported incidents in the neighborhood, including one bike theft and three car burglaries, he said. 
Public comment was divided between neighbors concerned about lost parking spaces and neighbors who said they wanted better safety for walkers and cyclists.  
"I've got a new titanium knee – walking 300 feet extra makes a big difference to some of us." said Andrew Jarvis, a Laurel Street resident who would lose street parking in front of his house under the proposed plan. Removing all of our parking, Jarvis said, "makes it more difficult for us to get around."
Laurel Street resident Susan Monheit defended the plan and said the Laurel Street hill is currently "a death trap." "You cannot make a privilege of parking for cars on Laurel Street at the expense of the life of the other people trying to use the corridor," she said.
The council unanimously approved the new parking plan and denied the appeal.
Councilmembers also discussed raising the issue of safety in the neighborhood with the Santa Cruz Public Safety Commission and the Commission for the Prevention of Violence to Women.  
"I know that a white male police officer may feel safe, but someone else may not feel safe," said Brunner.
Read more
Editor's note: This story has been updated to correct the expected construction timeline. 
Learn about membership
Santa Cruz Local's news is free. We believe that high-quality local news is crucial to democracy. We depend on locals like you to make a meaningful contribution so everyone can access our news.
Learn about membership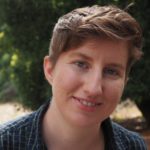 Jesse Kathan is an environmental journalist and a graduate of UC Santa Cruz's science communications program. Kathan has contributed to the Mercury News, Monterey County Weekly and KSQD-FM.