SANTA CRUZ >> A new report, presented publicly Friday, shows that a remodel of the downtown library at best would produce a "low-medium quality facility" lacking many amenities, according to the report.
In early 2020, the Santa Cruz City Council is expected to decide whether to remodel or rebuild the downtown library. The clock is ticking. If the city doesn't decide soon, it risks losing the roughly $27 million of bond money dedicated to the library construction.
A downtown library committee of Mayor Justin Cummings, Vice Mayor Donna Meyers and councilmember Sandy Brown are studying the issue.
At Friday's committee meeting at the library, Jayson Architects presented cost estimates and renderings of a potential remodel.
Jayson Architects Principal Abraham Jayson and Project Manager Katie Stuart presented two options for a partial renovation: a $27.2 million "base" plan and a $34.3 million plan with added features. Both plans include demolition of the one-story structures on the building's perimeter and renovation of the main two-story structure.
If the city doesn't have funding for the $34 million plan, it could start with the base plan, then add the extra features later.
The base plan includes a reorganization of the library's layout:
A new main entrance facing city hall
A new, larger children's area on the first floor
A new circulation desk next to the main entrance
A new community room on the first floor
Three small meeting rooms on the second floor
A new but smaller area for adults on the second floor
A new but smaller area for teens on the second floor
The extra features in the $34 million plan include:
A second elevator
Acoustic ceilings to cover pipes and wiring, and dampen noise
Added toilets
New wall finishes and a wall graphic
Tall windows in the atrium to let in light
Landscaping
Sliding doors in the children's area and community room that open to a garden and patio
Motorized window shades
Jayson said that the $34 million plan still would not be "premium level" or a "civic show piece." He described the $34 million plan as a "modest quality building" and the base plan as a "low-cost building with a whole list of programmatic compromises."
"You get your second elevator — critical for staff functionality. You get more restroom facilities — critical for the amount of people who are actually using the building on a regular basis," Jayson said. "In addition to that, you get your acoustic ceilings — critical for the functionality of a library that is heavily occupied with kids and people that are inside, teens, meetings, etc."
"And then there's a whole layer of qualitative improvements," he said. "Those things that we really love to design. The special things that make, kind of, a library sparkle. The kind of niches for the kids to sit in. Those fun little colorful playful elements that people want to go back to. Those really well-functioning spaces with premium materials that people want to relax and read a book all day."
Renovation of the library is feasible with a $27 million budget. But, Jayson said, the community needs to understand that "significant compromises will need to be made."
"And those are compromises regarding program, quality, and I would say, also important to your community, sustainability. So, it's something for you to consider as a community as you make a decision about this process," he said.
After the architects' presentation, Santa Cruz Public Libraries director Susan Nemitz gave prepared remarks, listing her concerns about a remodel. A remodel would improve the library, but not to the community's standards, she said.
Nemitz's concerns include:
The base plan calls for only five toilets, same number of toilets the library currently has, to serve 1,000 daily users. Also, with public single-use restrooms, sometimes people lock themselves for long periods to use drugs, she said. Multi-stall restrooms would be better, she said.
Without landscaping, the base plan would invite camping and loitering.
The downtown branch serves as a warehouse for the entire system. A remodel would result in a 30% loss of the library's primary book collection, and a 12% collections loss system-wide.
A remodel would not include enough space for teens, Nemitz said.
A budget is not included for a temporary library during the remodel. Forty percent of the system's collection would go offline for two years. And those who rely on the library for shelter when it rains would not have a place to go.
The council committee plans to hire an architecture firm to perform a similar analysis of a plan for a new library along with a parking garage and housing. That plan would cost more than a remodel, but a garage could help fund the project.
Friday's audience of about 100 included many who wore stickers showing their support of a library remodel. Many people supporting a remodel do not want a new garage downtown.
Nemitz told the crowd, "I know you care deeply about this library. I know the whole community does. But I ask you to think long and hard before you move this direction. Because it will have some consequences to this community. And I know there's discussion of support, and I know many of you here do not like this idea.
"But of doing a more detailed analysis about the cost and benefits of a library in a multi-use facility — in light of what this study shows, I would recommend that you do that analysis. Because I think at $27 million, you will not be content with what you've created."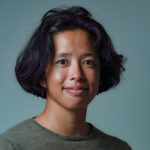 Kara Meyberg Guzman is the CEO and co-founder of Santa Cruz Local. ​Prior to Santa Cruz Local, she served as the Santa Cruz Sentinel's managing editor. She has a biology degree from Stanford University and lives in Santa Cruz.