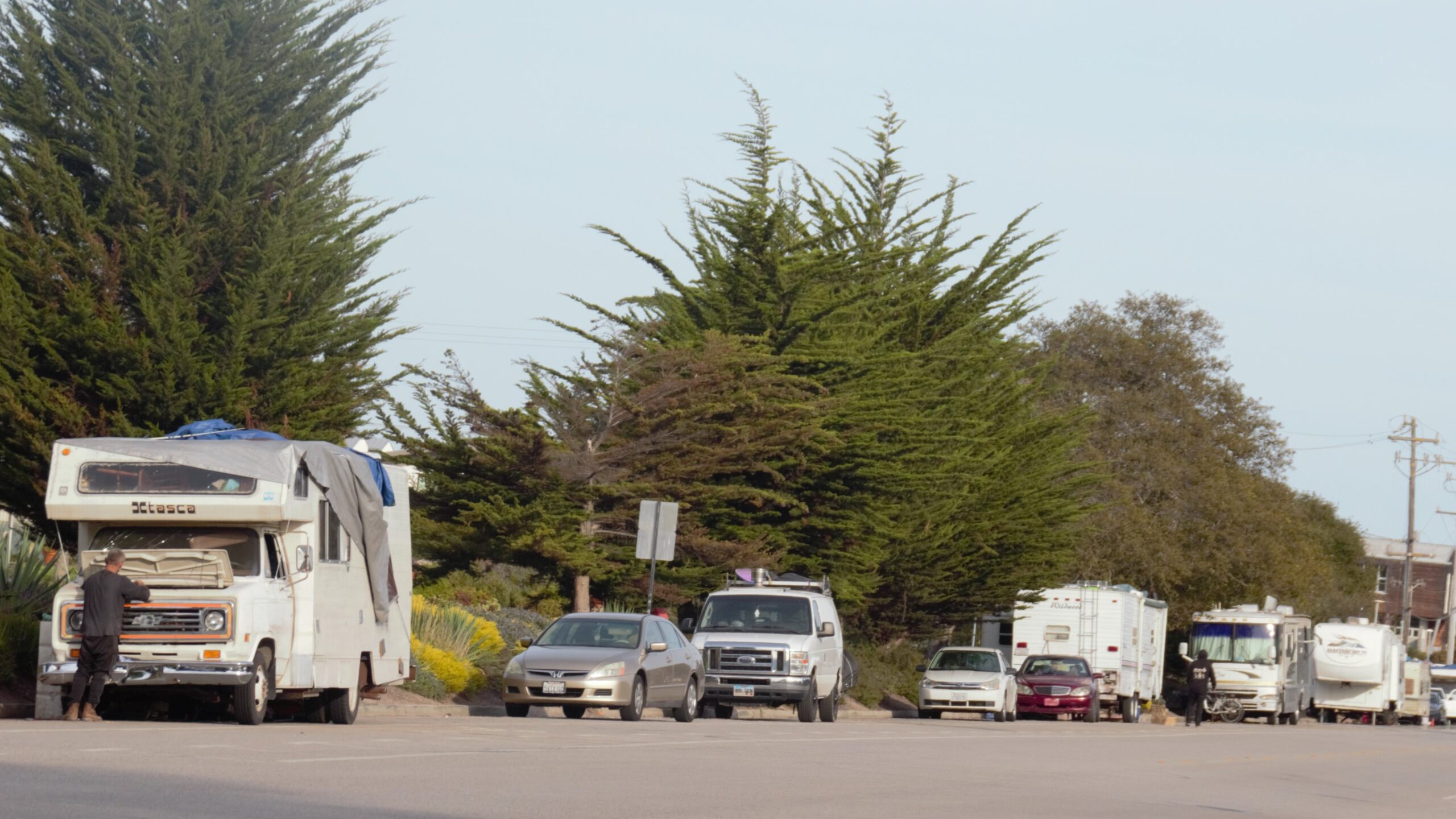 RVs and other vehicles line Delaware Avenue near Swanton Boulevard in Santa Cruz in November. (Jesse Kathan — Santa Cruz Local)
SANTA CRUZ >> Jamie has lived in Santa Cruz County since childhood. She now lives with her two cats in one of the dozens of RVs parked on Delaware Avenue and surrounding streets on the Lower Westside. 
She once had a motor home on rented land in the Santa Cruz Mountains, but the vehicle was destroyed in the CZU Lightning Complex Fire in 2020. She later bought another RV and has struggled to afford a legal place to park it. 
"During COVID and after the wildfires, people were compassionate and giving. Now, people who lost their homes are looked down on," Jamie said. She asked that her last name not be used because she fears harassment. 
Starting Dec. 4, Jamie and others who live in large vehicles on Santa Cruz city streets could receive $50 parking tickets from midnight to 5 a.m. The new enforcement is part of several changes to overnight parking in the city that have been in the works since 2021.
The changes originated in part because some Lower Westside residents were upset with overnight parking, drug use, illegal dumping and other problems near their homes.
"Oversized vehicles" are more than 20 feet long or more than 8 feet tall and 7 feet wide, according to

city rules

.

Owners of oversized vehicles on city streets past midnight will first get a warning, then a $50 ticket, said Santa Cruz Planning Director Lee Butler. 

Police do not plan to tow vehicles because of unpaid tickets, but they can tow for other reasons including expired registration.

A safe overnight parking program is available in some city parking lots, but it is inaccessible to many people who said they can't afford fuel or repairs to participate. The program started in February 2022 and has six registrants, city officials said this week.

Santa Cruz homeowners, contractors and hotel patrons can buy permits for overnight parking of oversized vehicles under the rules.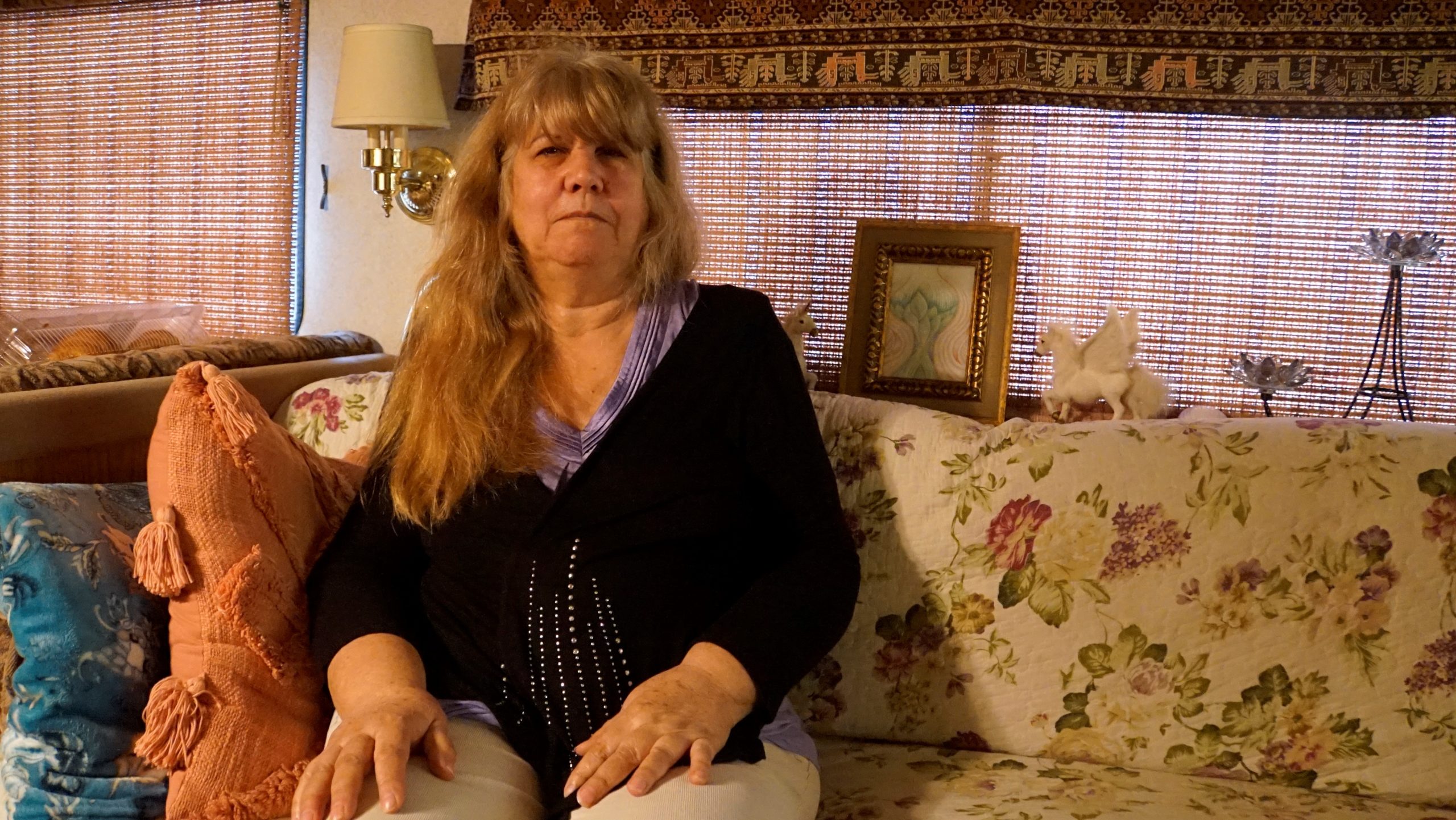 Silvana Hay grew up in Santa Cruz and lived in an RV in the city in 2021. (Kara Meyberg Guzman — Santa Cruz Local file)
The Santa Cruz City Council adopted the Oversized Vehicle Ordinance in 2021 and reaffirmed it in 2022, but enforcement has not started because it required California Coastal Commission approval in the Coastal Zone. In May, the Coastal Commission granted a one-year permit for the law in the Coastal Zone. 
Oversized vehicles that violate the ban won't be towed, even after receiving multiple tickets, Butler said. 
State law used to allow vehicle towing after five unpaid parking tickets. In July, a California appellate court ruled that the state constitution did not allow vehicles to be towed for accrued parking tickets unless a warrant was served.
Vehicles can still be towed for other infractions, including blocking streets and driveways or having a registration expired by more than six months, according to California law.
Places to park 24 hours and overnight
City leaders this month encouraged people who live in vehicles of all sizes to use safe parking programs in managed lots.
The city offers two overnight parking programs: one where people living in cars can park 24 hours, and one that allows overnight parking.
A program at the National Guard Armory allows 24-hour parking, but is full and has 43 people waitlisted. When the overnight parking ban starts in December, "I wouldn't be surprised if that number doubles," said Evan Morrison, manager of the 24-hour program and executive director of The Free Guide nonprofit.
The 24-hour parking program can host about 12 to 20 vehicles depending on vehicle size. It included 15 vehicles this week, program staff said.
The program matches participants with caseworkers to help them find permanent housing, and has had some success. Since its inception in August 2022, at least 19 of 33 participants found permanent housing, said Morrison.
Some program participants who found housing had Housing Choice Vouchers, formerly known as Section 8 vouchers, when they entered the program, Morrison said. Some were veterans prioritized for vouchers. Others moved in with family. Several participants who depend on Social Security or federal disability payments have moved, or are planning to move, elsewhere in the state where their income can cover rent, like Butte and Shasta counties.
Many of the residents without housing vouchers or government income are still struggling to find a place to live, Morrison said. The program is designed to last up to six months, but some participants have stayed at the armory parking lot longer, he said.
Because the 24-hour program is full, the rest of the people in Santa Cruz who live in vehicles have been directed to the city's overnight safe parking program Downtown. 
The city's free overnight parking program uses city parking lots at the northeast and southeast corners of Cedar and Lincoln streets. More lots can be added to accommodate up to 46 vehicles, Butler said. If the lots are full, the city can issue parking permits for nearby streets, he said.
Six vehicles are registered in the program, but not every registered vehicle uses the lots every night, said Santa Cruz Homelessness Response Manager Larry Imwalle.
People who park in the overnight lots are required to register for a space. Cars with expired DMV registrations are allowed, program staff said. 

Vehicles are allowed to use the lots from 7 p.m. to 7 a.m., staff said.

Parking is allowed for 30 consecutive nights, but not during the day. City leaders have allowed people to use the program for more than 30 days, and that will continue as long as there are spaces available, Butler said.

The overnight parking lots have dumpsters, bathrooms and hand washing facilities. They are open to all vehicles including RVs.
Some people living in vehicles said they won't be able to travel back and forth to the lots each day.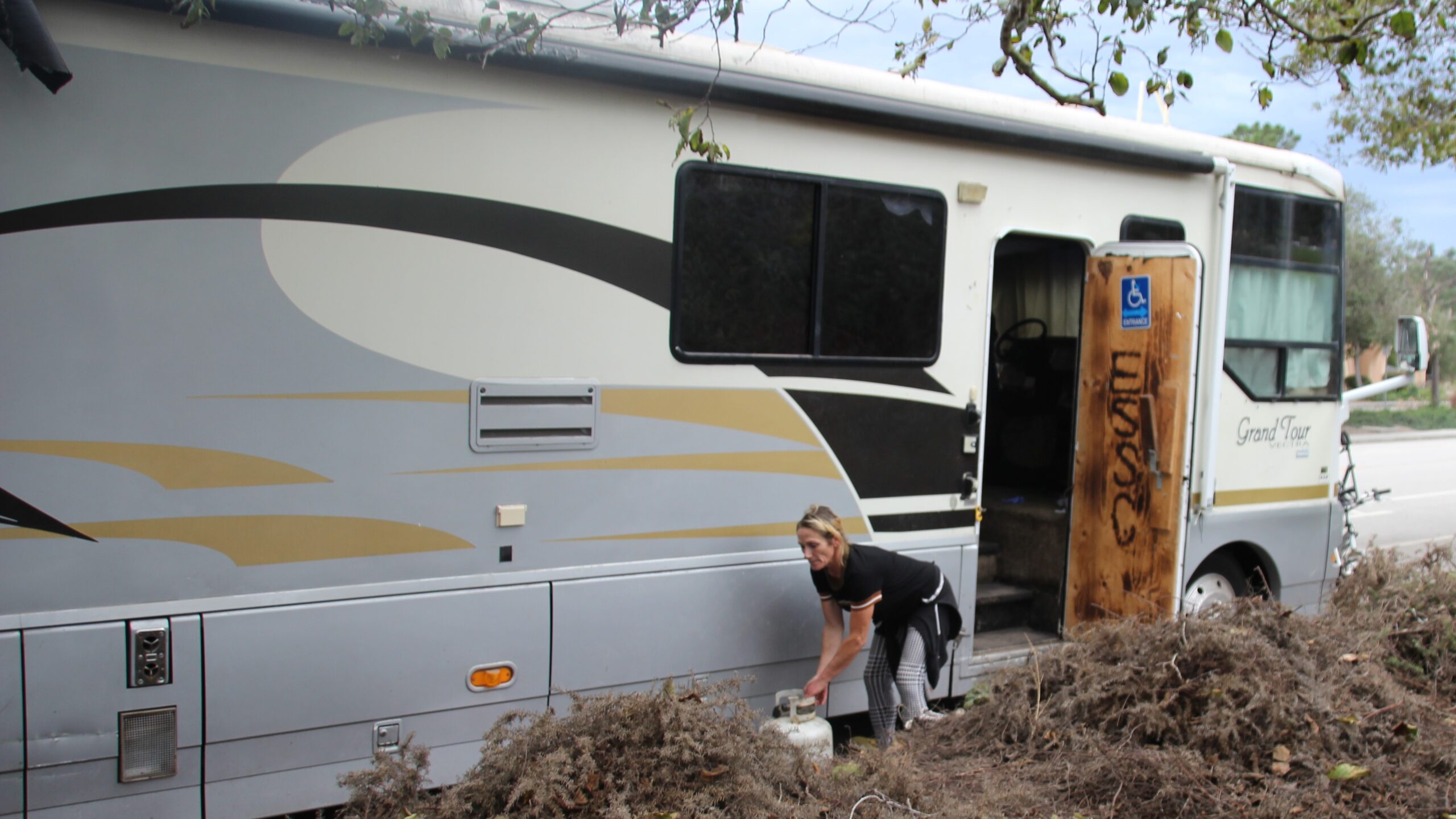 Santa Cruz native Jenny Howard says she might drive to the city's overnight parking lots each night, but she fears that her vehicle might break down. "It runs, but it doesn't run that great," she says. (Jesse Kathan — Santa Cruz Local)
Problems with accessing parking
Jamie is on the waitlist for the 24-hour parking program, and plans to travel back and forth from the Downtown lots each night. But she's unsure how she'll move her RV and the SUV she uses to work as a food delivery driver — both are subject to the ban on overnight parking. "I can't drive two cars at one time," she said.
Lindsey, a recent victim of domestic violence, is living out of her car. She said she would like to take advantage of safe parking for protection from her ex-partner and from theft and violence. But she can't drive to the lot. The clutch on her car is burned out, and she can't afford repairs.
"I'm a little bit worried about being out here by myself," she said. She requested to use only her first name because of safety concerns.
People living in undriveable vehicles have few options, Morrison said. "There hasn't been any formally identified resources for those folks," he said. Some other people who live in vehicles can't afford to buy gas, Morrison said.
Butler, the city planning director, said 24-hour use is not possible because businesses and Downtown visitors use the lots during the day. "We don't have a lot of places where there are parking spaces that aren't utilized 24/7," he said.
Tabitha Wilkerson grew up in the City of Santa Cruz and has lived in a detached trailer on Delaware Avenue for three years. Her truck was impounded two weeks ago for not having current registration. She said she would rather not drive back and forth to safe parking sites every day, but she would have used the lots if she had her truck.
Wilkerson has spent thousands of dollars on parking tickets and fees from previous impoundments, and can't afford to get her car out again, she said. Her mother, who lives elsewhere in the city and uses a wheelchair, now rides the bus to doctor's appointments, she said.
Since her truck was impounded, Wilkerson has barely left the trailer, worried that police will take it too, she said. Detached trailers are considered public storage, and can be towed at any time, according to city law. If the trailer is towed, "I have nothing after that," Wilkerson said. "Me and my dog would be sleeping on the streets."
Butler said city outreach staff are connecting people who live in vehicles and trailers "to a range of service providers to get the help that they need to find permanent housing."
Neighborhood impacts
Some Lower Westside residents said they hoped the enforcement will reduce pollution and criminal activity. The presence of the RVs has intimidated some neighbors, including older residents, said Lower Westside resident Carol Polhamus.
"They're afraid to walk to the store, they're afraid to walk to Natural Bridges," she said. "They don't feel safe in their own neighborhood."
Polhamus is a member of the group Westside Neighbors, which has advocated to remove people living in oversized vehicles from the neighborhood since 2017.
Some residents have witnessed animal abuse and RV dwellers dumping blackwater into storm drains, Polhamus said. "We don't think that everybody living on Delaware Avenue is a criminal," she said. "But there is a lot of crime that goes on there."
People living in vehicles would be best served by being able to park in areas where they have access to social workers, bathrooms and trash facilities, Polhamus said. "We're not homeless haters." Polhamus said. "Neighbors just want to have the ability to walk to the grocery store and not worry."
Santa Cruz City Councilmember Renee Golder has also advocated for the ban. She too lives on the Lower Westside.
"This is not how people are meant to live," Golder said of the people living in vehicles on Delaware Avenue and surrounding streets. "This is not safe for the people living in RVs, and it's not safe for the neighbors and the rest of the community out here."
Polhamus and Golder both have called on the county to establish 24-hour safe parking zones in unincorporated areas. "I think they have some responsibility in this as well," Golder said.
Jamie said she understands the perspectives of people who want the RVs gone.
"If I had a house, I wouldn't want an RV in front," she said. But the people who pollute are a small fraction of all the people living in vehicles, and people like her have limited options to park safely, she said.
"We took our money to make it so we could be inside a vehicle instead of a tent on the side of the sidewalk," she said.
Other overnight parking options
People living in vehicles also can park legally overnight, with permission, in church and business parking lots and driveways of houses.
The Santa Cruz City Council in 2021 adopted rules that increased the number of vehicles allowed to park overnight at church parking lots to six. City rules allow businesses to host up to three vehicles, and allow homes to host one vehicle. The religious organization, business or home resident must give written consent to the person parking.
The Association of Faith Communities operates Safe Spaces, which partners with churches and other religious organizations to organize overnight parking.
Butler said the various programs give people options. "We're trying to do what we can to not have people getting tickets," Butler said.
Criticism of enforcement
Homeless advocate Reggie Meisler said the armory safe parking program is too small to put a dent in the number of homeless people living in vehicles, and that efforts to find people housing are often unsuccessful.
"These programs want to act like they're a trampoline, but they're a trampoline to nowhere," he said. "We need to just meet the situation where it is, and we need to not criminalize parking on public streets."
He proposed 24-hour facilities where people have access to bathrooms and trash cans, "kind of like a gas station or something," he said. These facilities would cost less than the armory program, he said.
Serg Kagno, a consultant for homeless and behavioral health services, said the ban on overnight parking won't address problems of pollution and littering. The rule "doesn't get the leaky vehicles or the dumping vehicles off the streets. They're just off the street at night," he said.
The problem of blackwater dumping would be best helped by building a dumping station in the City of Santa Cruz, Kagno said. The nearest blackwater dumping site to the City of Santa Cruz is the 76 gas station on Soquel Avenue in Live Oak. Many people can't afford the fees for blackwater dumping or even the gas money to make the trip, Kagno said.
City staff are trying to find a place in the city where a dump site could be built, Butler said. The project is expected to cost $170,000 and the city received an $85,000 state grant for it, city leaders have said.
The city has tried putting dumpsters near areas where oversized vehicles park, he said. "They're helpful for some period of time, but then they can decline in terms of their effectiveness," Butler said. In some cases, trash was thrown around the dumpster and not in it, he said.
The city hasn't put portable toilets on the side of the road because of concerns that cars could hit them, Butler said. In the past, the city tried to negotiate with State Parks to put portable toilets at Natural Bridges State Beach. "They weren't interested," he said.
How to register for parking
Permits for parking oversized vehicles
Overnight RV parking permits are available for hotel guests and contractors, as well as for homeowners, renters and their temporary guests. Permits are available 9 a.m. to 4:30 p.m Monday through Friday at the city parking office at 124 Locust St.
Call
831-420-6100
for more information.
Read more
Learn about membership
Santa Cruz Local's news is free. We believe that high-quality local news is crucial to democracy. We depend on locals like you to make a meaningful contribution so everyone can access our news.
Learn about membership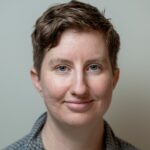 Jesse Kathan is a staff reporter for Santa Cruz Local through the California Local News Fellowship. Kathan holds a master's degree in science communications from UC Santa Cruz.