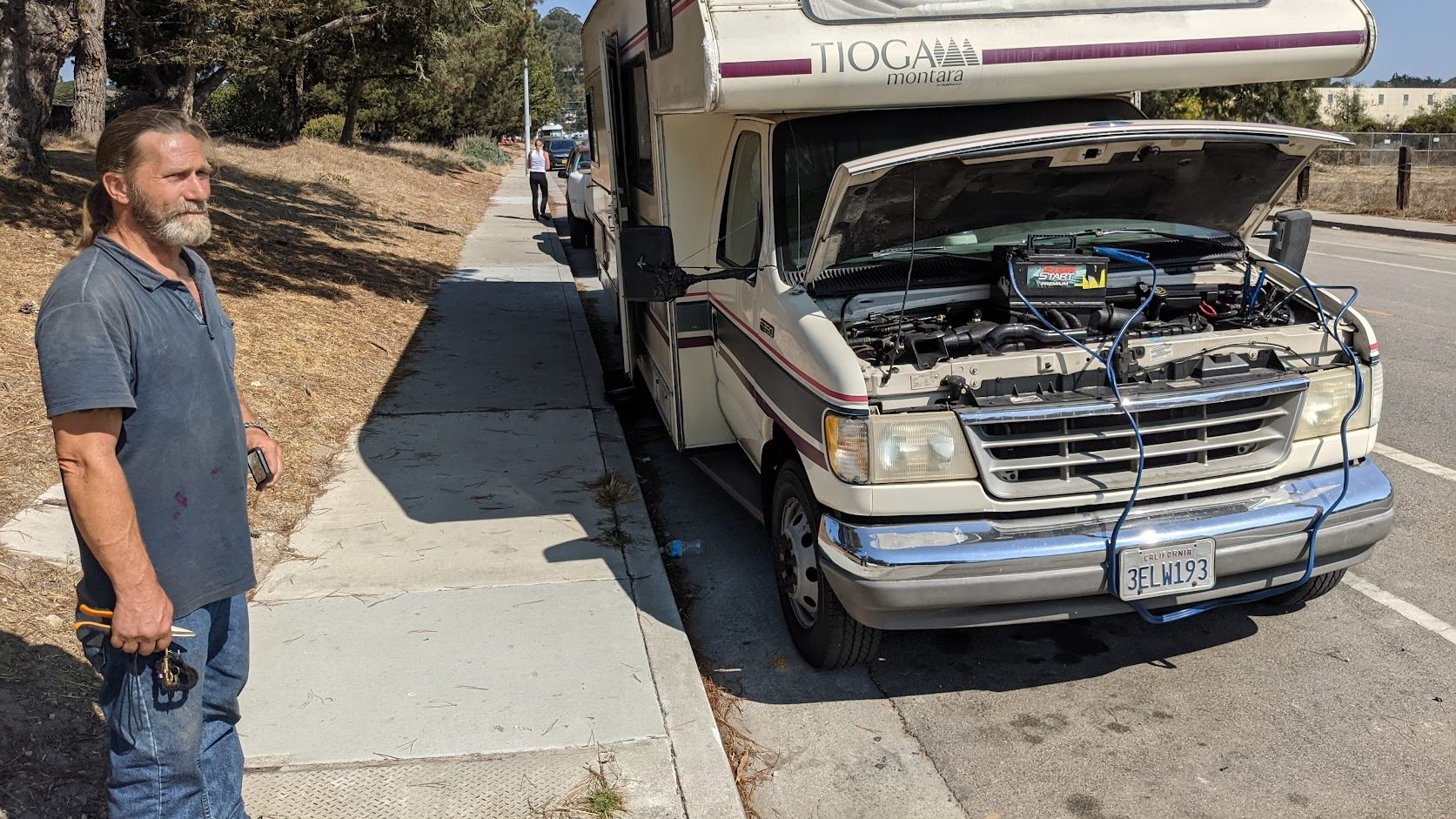 John Daugherty says he usually parks his RV overnight in church parking lots that allow it. (Stephen Baxter — Santa Cruz Local file)
SANTA CRUZ >> The Santa Cruz City Council on Tuesday night reaffirmed rules on overnight RV parking and rejected a proposal from the Santa Cruz Planning Commission to loosen the rules of a Safe Parking program.
The planning commission's recommendations also would have prohibited police from issuing tickets for overnight parking if no spaces were available in a city-run Safe Parking site.
The city council voted 5-2 to accept the city staff's recommended amendments to the law, which reversed much of the Planning Commission's changes. Councilmembers Justin Cummings and Sandy Brown voted no. Mayor Sonja Brunner, Vice Mayor Martine Watkins and Councilmembers Donna Meyers, Shebreh Kalantari-Johnson and Renee Golder voted yes.
The council's vote approved the coastal and design permits for the new rules, making the restrictions on RV parking enforceable.
RV law initially adopted in November
Adopted in November, the RV parking law requires overnight parking permits for oversized vehicles. Without a permit, RV parking is not allowed on streets, alleys or city lots from 12-5 a.m. 
The rules also set up a Safe Parking program to provide parking spaces for RV owners without a street address in the city of Santa Cruz. The program calls for three spaces in the Santa Cruz Police Department lot at 155 Center St., 30 spaces on city-owned or non-residential land, and an overnight parking program with connections to service providers. 
So far, parking is allowed in a police department lot and a pilot program on city lots at 610 Cedar St. and 538 Center St. City leaders plan to expand those sites and open new locations. Most sites under the Safe Parking program would be open 8 a.m. to 8 p.m.
The parking limits have not been enforced since coastal and design permits were in limbo, largely due to two appeals.
The appeals were filed in January by the American Civil Liberties Union and Reggie Meisler of the group Santa Cruz Cares. Both appeals essentially argued that the rules unfairly criminalized unhoused people living in vehicles and didn't provide enough alternatives for safe parking.
In March, the Planning Commission recommended approval of permits for the Safe Parking program, with several conditions:
At Tuesday night's council meeting, Councilmember Renee Golder objected to these changes and brought the rules back to the council. "I really feel like the planning commission circumvented those years of work, and the democratic process," Golder said. 
At Golder's request, city staff analyzed the changes made by the planning commission and offered further amendments. Staff proposed to remove the loosened enforcement and the requirement for available spaces in the Safe Parking program. 
Councilmembers disagree
Councilmember Sandy Brown said the changes from the planning commission were based on best practices in social services and are similar to safe parking programs in other cities.
"Just because you don't like what their recommendations are, that doesn't mean that they don't deserve to have a position," Brown said. Brown said the Safe Parking program should be developed and expanded without the RV parking restrictions.
Councilmember Justin Cummings likewise said, "The planning commission did its job to try to hear the concerns of the appellant and provide conditions of approval to address the concerns brought forward by the community." Cummings proposed an amendment which would have preserved some aspects of the planning commission's changes. That amendment was rejected in a 2-5 vote, with Brown and Cummings in the minority.
Councilmember Shebreh Kalantari-Johnson said the conditions put in place by the planning commission would make the ordinance challenging to enforce. 
"If we're really about helping folks out, then let's not put in all the conditions that make it very difficult, nearly impossible, for us to implement something we've been working on for years," Kalantari-Johnson said.
The council voted 5-2 to accept the staff's recommended amendments to the law, which reversed much of the planning commission's changes. Councilmembers Cummings and Brown voted no. 
After the vote, Cummings said at the meeting that did not think the struggle was over. "Until we find consensus on some of these controversial issues, we're going to just continue to find ourselves getting appealed in legal battles," he said.
Residents respond to proposed changes
Some residents said the law was overly punitive towards people living in vehicles. Others argued that the changes made by the planning commission made the law too lenient.
"With gas prices being so expensive, your program is not 'low barrier.' It requires people to move around," said Alicia Kuhl, president of the Santa Cruz Homeless Union. "The only thing that helped me out of homelessness here in Santa Cruz was a housing voucher and a willing landlord, not an ordinance and not the $1,700 in tickets I've had to pay," said Kuhl.
A woman from the lower Westside said RV camping has led to illegal dumping of trash and wastewater, and that the planning commission's changes "made the ordinance unenforceable." 
"Enforcement is essential to ensure that those living in their vehicles out of necessity can move to a place where they receive needed services and support and that those on vacation or camping by choice in our neighborhood are told that this is not permitted," the woman said. 
Read Santa Cruz Local's related stories:
Santa Cruz Local's news is free. We believe that high-quality local news is crucial to democracy. We depend on locals like you to make a meaningful contribution so everyone can access our news. Learn about membership.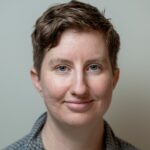 Jesse Kathan is a staff reporter for Santa Cruz Local through the California Local News Fellowship. Kathan holds a master's degree in science communications from UC Santa Cruz.