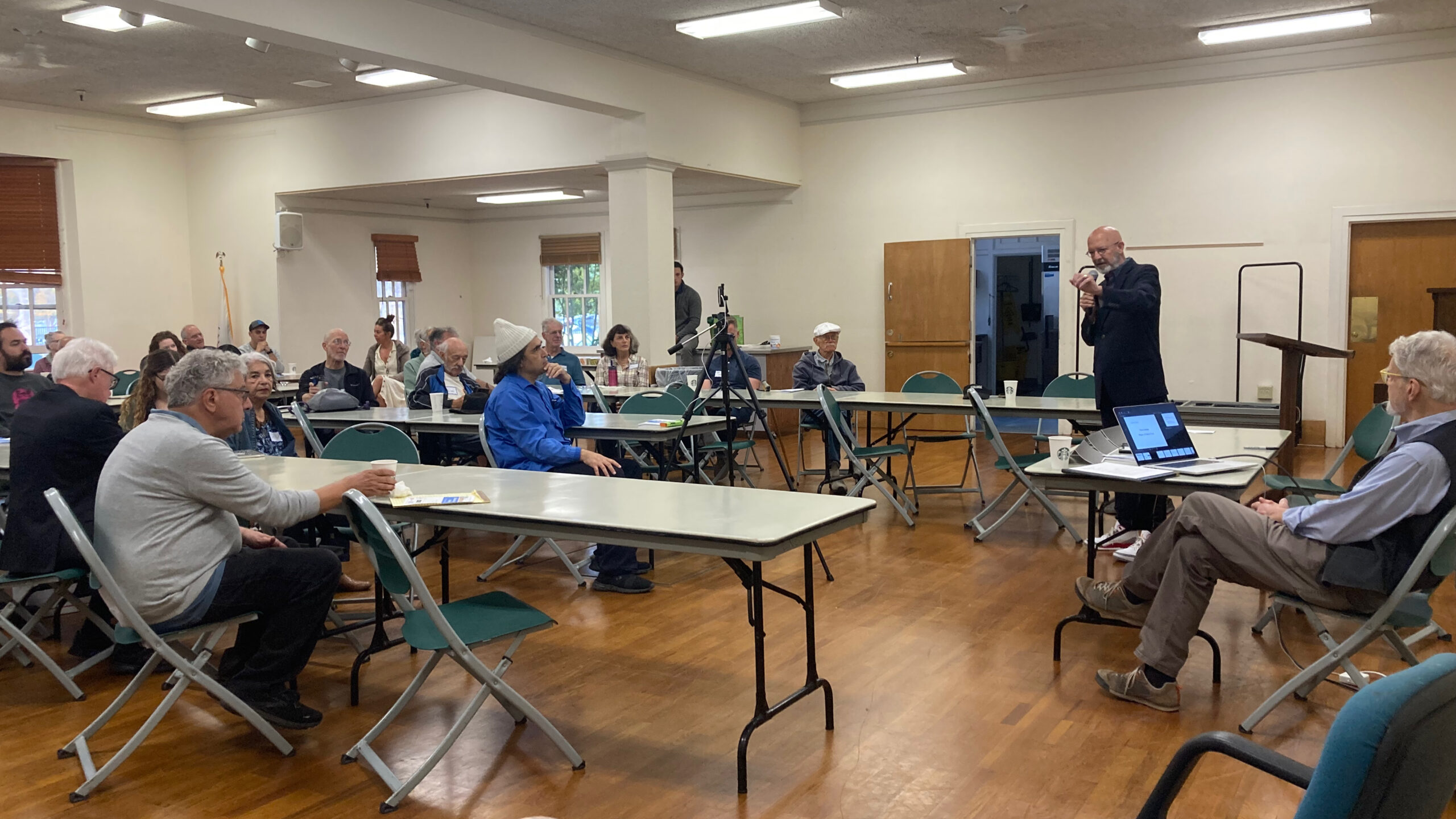 Santa Cruz Mayor Fred Keeley discusses some of the roots of Santa Cruz's housing crisis at an Oct. 14 forum at London Nelson Community Center in Santa Cruz. (Jesse Kathan — Santa Cruz Local)
SANTA CRUZ >> Panelists at an Oct. 14 forum agreed: Santa Cruz's housing crisis has been decades in the making, and city leaders must help facilitate more affordable housing development in the city. 
Opinions differed on how to produce more affordable housing, and participants offered some competing visions. 
An event called "Affordable Housing in Santa Cruz: Diverse Perspectives on Our Crisis" took place at the London Nelson Community Center in Santa Cruz. It included panels that tackled Santa Cruz's affordable housing shortage and its history. About 70 people attended, including academics, students, landlords, developers and current and former city leaders.
The group Our Downtown Our Future hosted the forum as the first of several planned events about local issues. The group formed last year to promote Measure O, which would have halted the Downtown library, parking and housing project and required affordable housing development on city-owned parking lots. Voters defeated the measure in November 2022. 
Market-rate and affordable housing
Some panelists said that building a mix of market-rate and affordable homes would help reduce local rents. Others said that more market-rate development won't solve the crisis, and that developers should be required to dedicate a greater portion of their projects to deed-restricted affordable housing. 
Panelist Diana Alfaro said the construction of market-rate apartments can indirectly free up more affordable housing. Alfaro was a project manager for nonprofit housing developer MidPen Housing Corp. and now works for building studio Workbench. She is a member of Santa Cruz YIMBY Action, which advocates for more housing development.
"There's someone who's probably taking up a room right now at a house in Santa Cruz, and maybe they are eligible to finally move into their own apartment," Alfaro said in an interview. "That room is now available for a student or someone who needs a lower rent."
Other attendees and panelists weren't convinced that the laws of economics operate so cleanly. 
"It's not a binary situation," said Lira Fillipini, co-chair of Our Downtown Our Future. "It's not simple supply and demand." The idea that increasing housing supply will lower rents "does not seem to me to pan out at all, in any real life example, in a place that is actually desirable to live," Fillipini said.
A 2021 report by the UC Los Angeles Lewis Center for Regional Policy Studies suggested that in many places with high housing demand, building more market-rate homes decreased rents of nearby properties. The report looked at six prior studies, one of which had mixed findings about the relationship between new housing and rent trajectories.
Building new housing in some areas also can lead to displacement of lower-income renters. 
Research from the Stanford Changing Cities Research Lab has suggested that new market-rate housing in the San Francisco Bay Area increases the number of low-income residents who move to a different city or neighborhood. Ongoing UCSC research has suggested that low-income renters in the Beach Flats and Lower Ocean neighborhoods of Santa Cruz are at high risk of displacement, said UCSC graduate student Elena Losada, during the Oct. 14 panel discussion. 
If the goal is to reduce displacement, new housing should be produced while preserving existing affordable housing and protecting tenant rights, said undergraduate researcher Julian Crown. 
"We have to think very hard about making sure that development is designed with affordability in mind," Crown said.
Because there has been a decades-long trend of California cities and counties limiting new housing, the state legislature has adopted several laws that reduce city and county governments' ability to block new housing projects in recent years.
For example, state law SB 330 adopted in 2019 required housing projects to be reviewed against a city's "objective design standards," essentially making it harder for city leaders to deny new developments.
State laws have "made local governments largely functionaries," said Santa Cruz Mayor Fred Keeley during opening remarks for the forum. The laws have had both political and emotional impact, he said. 
"It bothers us that our community might be changing in ways we're not comfortable with," Keeley said. "What adds to that feeling, and that anxiety, is there's a very great degree to which we're not in charge of that any longer."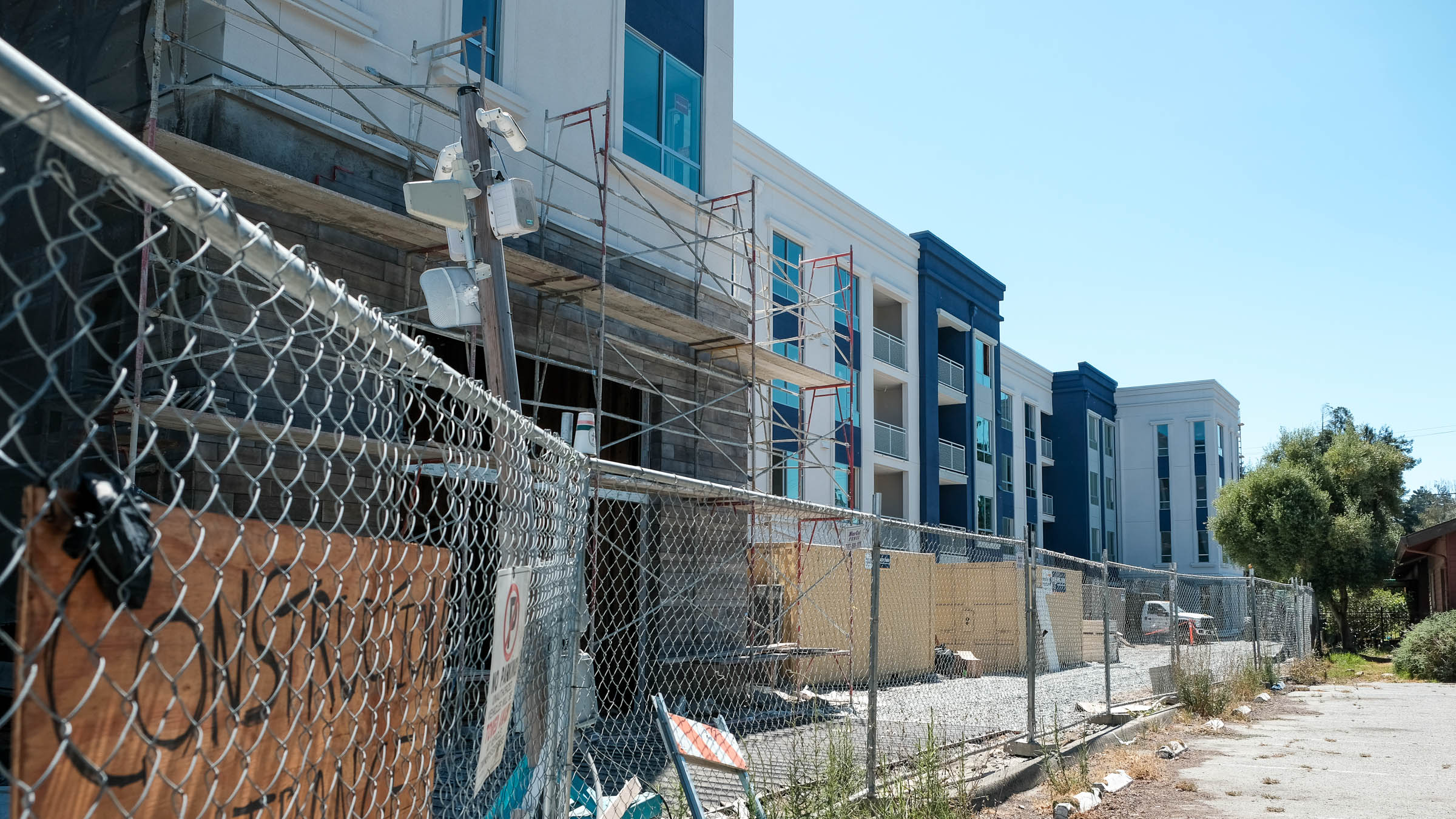 A 65-unit affordable housing project on the 500 block of Center Street in Santa Cruz is expected to finish in January. (Nik Altenberg — Santa Cruz Local)
Background on Santa Cruz County housing
Two initiatives championed by former Santa Cruz County Supervisor Gary Patton in the late 1970s helped shape Santa Cruz County's housing landscape.
In response to rapid growth in the area in the mid-1970s, Santa Cruz County voters adopted Measure J in 1978. The measure:
Aimed to limit annual population growth to 2% by restricting building permits in unincorporated county areas.

Created an urban services boundary to limit the expansion of gas, water and sewer lines.

Set aside 15% of new homes in unincorporated county areas as affordable.
The measure slowed new housing production as some population growth continued. There were about 133,000 unincorporated Santa Cruz County residents in 2020, up from about 107,000 residents in 1980, according to the U.S. Census Bureau.
In 1979, Santa Cruz city voters adopted Measure O, which prevented the city boundaries from expanding into parks like Arana Gulch and Pogonip. Like Measure J, Measure O also set aside a percentage of new homes to be permanently priced below market value. In 2020, the Santa Cruz City Council increased the required percentage of affordable homes to 20% from 15%. 
Measure J and Measure O helped prevent rapid development and allowed the city and county to preserve open space and agricultural areas, said Keeley. 
"The parts that you love of Santa Cruz today, in large part, were due to the vision that Gary [Patton] and others had," Keeley said at the Oct. 14 event. But the initiatives "also had consequences to them, many of which we'd like, some of which we're wrestling with," including slowing housing development, he said.
Another roadblock to building affordable housing is a lack of areas zoned for multifamily buildings like apartments, said UCSC researcher Miriam Greenberg, in an interview. 
In the 1990s, county leaders rezoned some land to only allow single-family homes, Greenberg said. "It was basically a stranglehold on multifamily housing development," she said. 
Today, 39% of Santa Cruz County's residential land and 64% of the city's residential land is zoned for single-family homes, according to maps from the UC Berkeley Othering and Belonging Institute.
Single-family zoning "is, in essence, cordoning off large chunks of a city where the only housing that can be built is designed to be more expensive, and to be unavailable to most renters," said Crown, the UCSC researcher, during a panel.
Emerald Waters, president of the UC Santa Cruz Student Housing Coalition, said she now contends with a housing market that has left many UCSC students living in vehicles. Waters said she experienced homelessness as a child.
"I came here to escape homelessness and poverty, and I entered it myself," Waters said. "To get out of this situation, we need to build housing."
Competing visions for Downtown Santa Cruz
Looming in the background of the Oct. 14 event was the City of Santa Cruz's Downtown Plan, which is an effort to bring higher buildings and more housing Downtown. On Jan. 10, the Santa Cruz City Council voted to ensure that new buildings would be a maximum of 12 stories, and the plan would bring no more than 1,600 new homes.
The plan has faced backlash from residents concerned about higher density Downtown. A measure that would reign it in, Housing for People, is expected to qualify for the March 2024 ballot.
The proposed law would require housing proposals with more than 30 units to dedicate 25% of the units to be affordable. It would also require a vote to approve new buildings taller than existing limits.
Patton, the former supervisor, said the measure would create more affordable homes, and would help the city take back control from state regulations. "It can be done and it needs to be done if we want to have the kind of community that we believe is the best, that meets the needs of people."
Critics and some developers have said that raising the rate too high could cause developers not to build new homes because there is less profit incentive or the project does not "pencil out." Others have said developers will build anyway and need to be pushed to include more affordable homes.
Former Santa Cruz Mayor Bruce Van Allen advocated for a more decentralized approach to new affordable housing. "​​Instead of top-down, whether it's from the state, whether it's even from City Hall, or whether it's from private investors, what about starting with the people in the neighborhood?" he asked.
Individual "neighborhood affordability plans" could be created in small areas across the city to add new affordable homes or rent existing homes at affordable rates, Van Allen said. Neighbors could pool home equity to finance the new homes, he said.
The plan is "totally utopian," Van Allen said. "I don't know of any place in the world that has done this, except for places that don't have planning departments and don't have investors." He said he is forming a community group to explore the idea.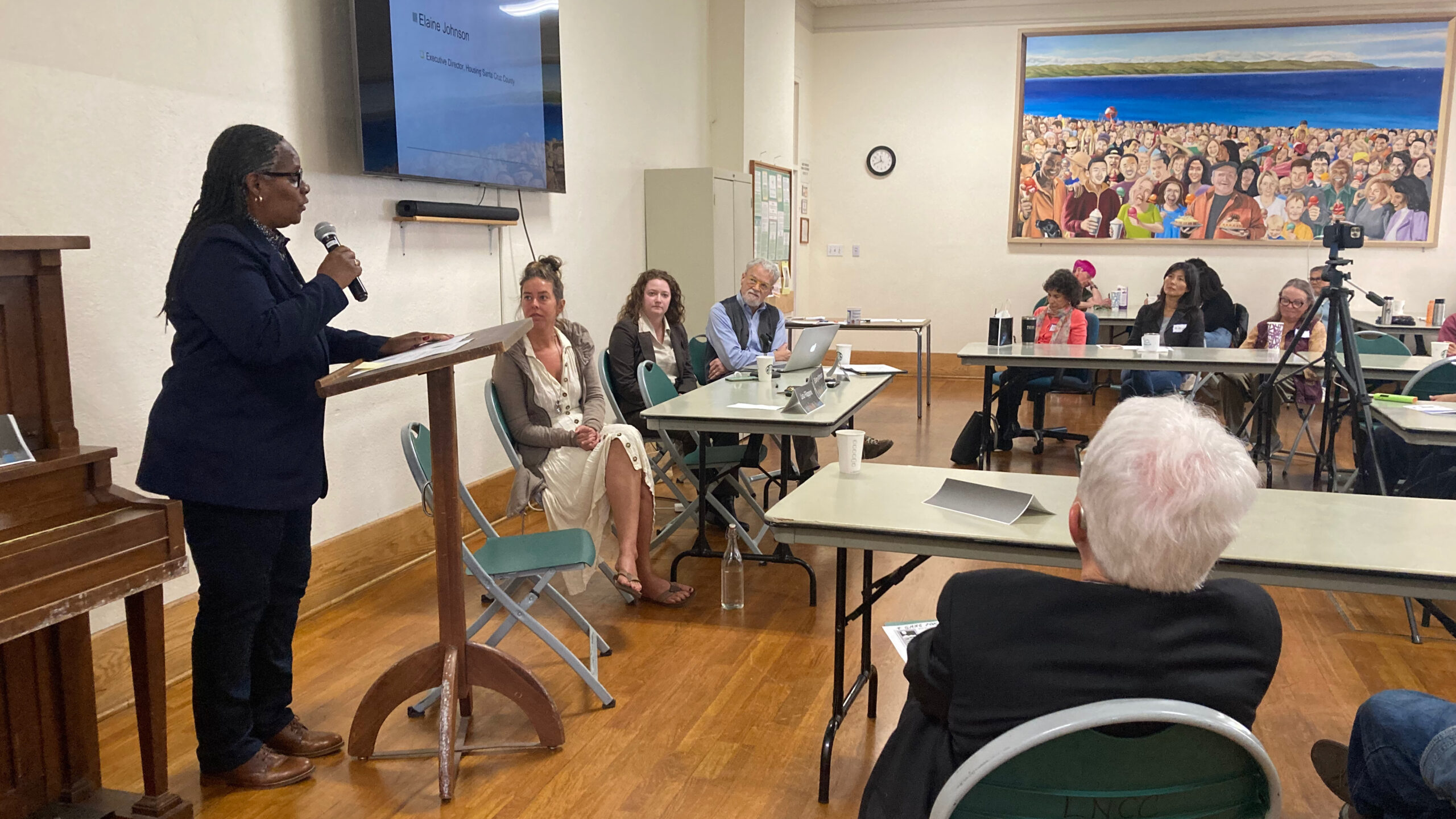 Elaine Johnson, the executive director of Housing Santa Cruz County, discusses the need to include more residents in conversations about affordable housing. (Jesse Kathan — Santa Cruz Local)
Calls for inclusion
Elaine Johnson, executive director of Housing Santa Cruz County, called for panelists and attendees to involve more community members in conversations about housing.
"One of the things that I'm learning here is not everybody's in the know, and it doesn't mean they don't want to know. But it can mean there's no room for a seat at the table, for them to know," she said during a panel discussion. "I invite people who have been doing this work for decades, bring people into the room that are not current on what's going on in this community."
In an interview, Johnson said she hopes future community conversations about housing will include the whole county. Latino county residents should specifically be included more, she said. "I hardly ever see them at the table," she said.
"If we can bring in a different perspective, then maybe we'll hear something that we haven't heard," Johnson said. "If we keep just listening to the same perspectives, then we're just going to keep getting the same results."
Read more
Editor's note: This story has been updated to correct the expected date of the election for the Housing for the People ballot measure. The measure is expected to qualify for the March 2024 election.
Learn about membership
Santa Cruz Local's news is free. We believe that high-quality local news is crucial to democracy. We depend on locals like you to make a meaningful contribution so everyone can access our news.
Learn about membership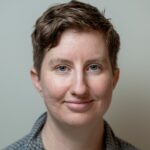 Jesse Kathan is a staff reporter for Santa Cruz Local through the California Local News Fellowship. Kathan holds a master's degree in science communications from UC Santa Cruz.