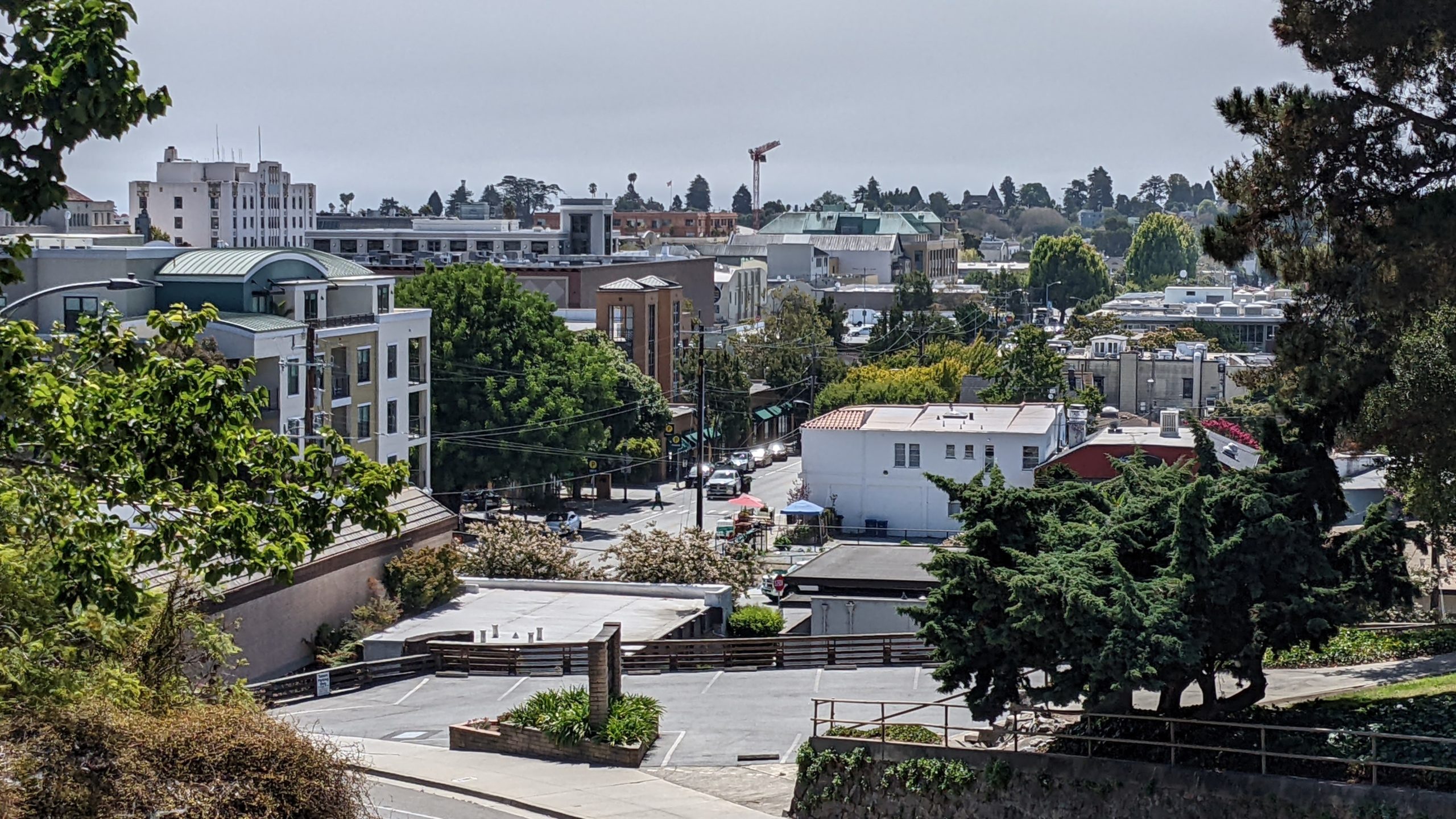 The Palomar building and a construction crane top Santa Cruz's skyline in August 2022. (Stephen Baxter — Santa Cruz Local)
SANTA CRUZ >> In the wake of complaints from many residents about a plan to expand Downtown Santa Cruz, the city council on Tuesday scaled back some proposed height limits south of Laurel Street.
The Santa Cruz City Council amended a Downtown expansion plan that it advanced in June. The June plan extended the Downtown zoning area south of Laurel Street to Front Street. That plan would allow a minimum of 1,600 more housing units and allow one building at 175 feet or 17 stories and up to three buildings at about 14 stories. It would also provide space for a permanent stadium for the Santa Cruz Warriors that would be privately funded from neighboring commercial and residential projects.
Tuesday, recently-elected Santa Cruz Mayor Fred Keeley and City Councilmember Scott Newsome proposed an amended plan. It called for:
A maximum of 1,600 new housing units.

A maximum building height of 12 stories, including units developers are awarded as a density bonus for providing affordable housing.

Twenty percent affordable units, including density bonuses. Though the city already has a 20% inclusionary requirement, the requirement does not apply to units awarded as a density bonus. State leaders set income limits for affordable units.
Staff support original plan
According to a city staff report, the revised plan could limit the city's ability to fulfill housing construction goals as part of the state's Regional Housing Needs Assessment. In October, regional leaders approved plans that require the city to build 3,736 housing units from 2024 to 2031.
Santa Cruz Planning Director Lee Butler said that state law requires that the city develop more housing. "It's not a question of whether we plan to grow, but how we plan to grow," Butler said. "Anecdotally at least, most people are of the opinion that we should not be growing out into our open space areas — so DeLaveaga, Pogonip, or expanding into our agricultural lands to the west. So the area where we will develop is generally fixed," Butler said. "Since growing out into our greenbelt is not an option, growing up is what we must do."
State laws around density bonuses mean that city leaders cannot directly impose height limits or inclusionary requirements for units awarded as density bonuses, according to the staff report. City staff plan to study options for how developers could meet an overall 20% affordability requirement and 12-story height limit. Options could include a height limit of fewer than 12 stories, an increased inclusionary rate, and off-site 100% affordable housing projects. The rules will be analyzed to make sure the State Department of Housing and Community Development won't consider them a barrier to housing production, the staff report said.
"The question is really whether the projects will be viable (for a developer) at that affordability level," Butler said.
Likewise, although the city can zone the Downtown area to plan for a maximum of 1,600 housing units, state law does not allow a cap on the amount of housing, Butler said.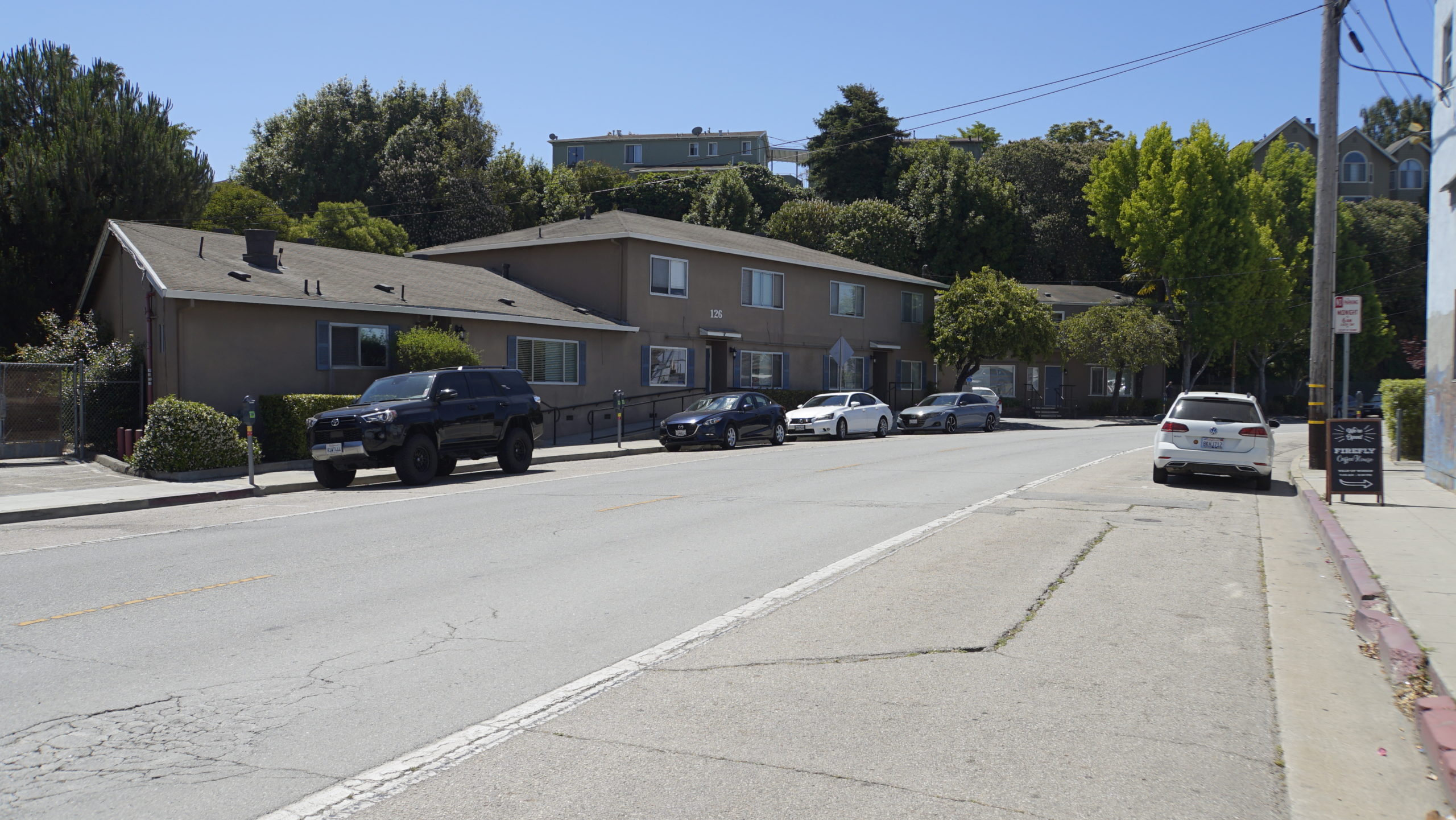 Areas along Front Street south of Laurel Street in Santa Cruz would have potential for more housing in the Santa Cruz City Council's plan to expand Downtown. (Kara Meyberg Guzman — Santa Cruz Local file)
Public sentiment
During public comment, several residents spoke in favor of the amended plan. The council received over a dozen letters in support of the amendments. Susan Monheit, a representative for Stop the Skyscrapers, a community group opposed to the original plan, said much of the group supports the amended plan, though some people wanted more limits on the number of 12-story buildings. 
"Too many tall buildings or not enough space between them will create dense, dark canyons of microclimate that is cold and dank," Monheit said. "I really want to empower this council to create a vision that is livable and desirable for our town and not follow a developer's vision that is built around maximizing profit in order to fund an arena that nobody wants to pay for."
Frank Barron, a retired planner for Santa Cruz County, said the revised plan should place limits on the number of 12-story buildings allowed. "This could result in the whole south of Laurel area being covered with hugely out-of-scale and out-of-character high rises," Barron said. 
Chris Murphy, president of Santa Cruz Warriors basketball team, said the team supports the amended plan as part of efforts to receive "widespread community support." "We recognize that housing needs of Santa Cruz are far greater than building a new arena is of importance," Murphy said.
Jessie Bristow, development project manager with Swenson Builders, said he supports the council's previous plan. "The more concentration you have in a Downtown walkable area, the better," Bristow said. Less dense development downtown would push more housing towards less walkable areas on Mission and Soquel streets, he said.
William Kempf, an architect and resident, said the increased inclusionary requirement could be a barrier to development. "State density bonus law is the only option to make these high density projects pencil out and be attractive to developers," he said. "I don't see a way to adjust this law that won't be challenged in court."
Councilmembers support amended plan
The council voted 6-0 to advance the amended plan. Councilmember Sonja Brunner recused herself from the discussion and vote due to her position as the director of operations for the Downtown Association of Santa Cruz. Staff will continue preparing an environmental impact report that will study the potential effects of both the June plan and the amended plan. A final vote on the downtown expansion plan is expected after the report is complete.
Keeley acknowledged the limits that state legislation and regional goals put on the city's housing policy, but said that the city should exercise what power it has to curb excessively dense development. "We are sort of, kind of, in control of our own destiny," Keeley said. The revised plan is a "second start" to the downtown plan that will gain more community support, he said.
Councilmember Sandy Brown supported the amended proposal because of the increased inclusionary requirement. "This is a really big difference between the initial proposal that the council proposed," she said. "It's not entirely my vision, but it's a vision I can get on board with under the circumstances."
Read Santa Cruz Local's related stories
Learn about membership
Santa Cruz Local's news is free. We believe that high-quality local news is crucial to democracy. We depend on locals like you to make a meaningful contribution so everyone can access our news.
Learn about membership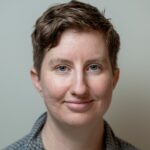 Jesse Kathan is a staff reporter for Santa Cruz Local through the California Local News Fellowship. Kathan holds a master's degree in science communications from UC Santa Cruz.