Last updated: 5 p.m. September 3, 2021
Project name: Library Mixed-Use Project
Location: The Downtown Farmers Market parking lot at Cedar and Cathcart streets.
Status: Approved by Santa Cruz City Council in June 2020. Construction could start in early 2023 and take two years.
Developer:

Affordable housing developers:

Eden Housing

and

For the Future of Housing Inc.

 

Owner's representative: Griffin Structures will lead selection of the rest of the developer team.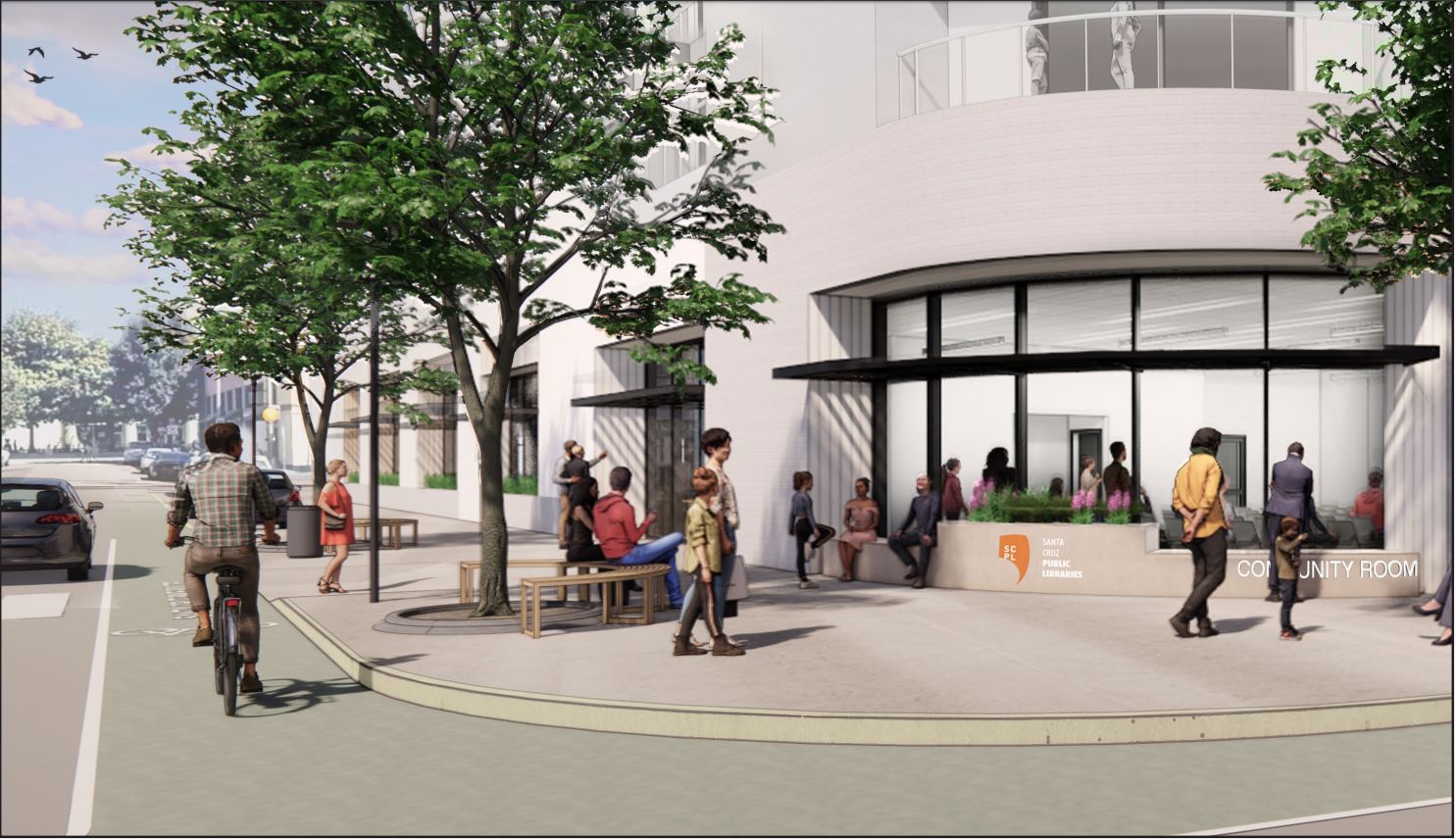 A mixed-use library, affordable housing, and parking garage is planned at Cedar and Cathcart streets. (Rendering: Group 4 Architecture)
Project description
Details:

This project calls for a new one-story library, 50 to 107 affordable housing units and a maximum 400-space parking garage at Cedar and Cathcart streets, where the downtown farmers market meets.

Market-rate housing: The project may include market-rate housing, but that decision has not yet been made. "It has not been finalized, but the team is leaning toward 100% affordable [housing] based on current financing options," a city spokeswoman Elizabeth Smith wrote in a July 8 email to Santa Cruz Local.
Farmers Market location: City leaders will resume discussions to permanently move the farmers market to another location, possibly a parking lot at Front and Cathcart streets.
Existing library site: 

City leaders have begun a public process to consider options for the existing library at 224 Church St. Based on public feedback,

a consultant team recommended

:

Affordable housing

Community-oriented (not commercial) ground-floor options

A civic plaza or park focused on daily uses for downtown residents, such as a dog park

Potential to host the downtown farmers market
Read more:
How to make your voice heard: Submit comments and questions to the city's Economic Development Director Bonnie Lipscomb [email protected]
Read about other notable housing and construction projects in Santa Cruz County.