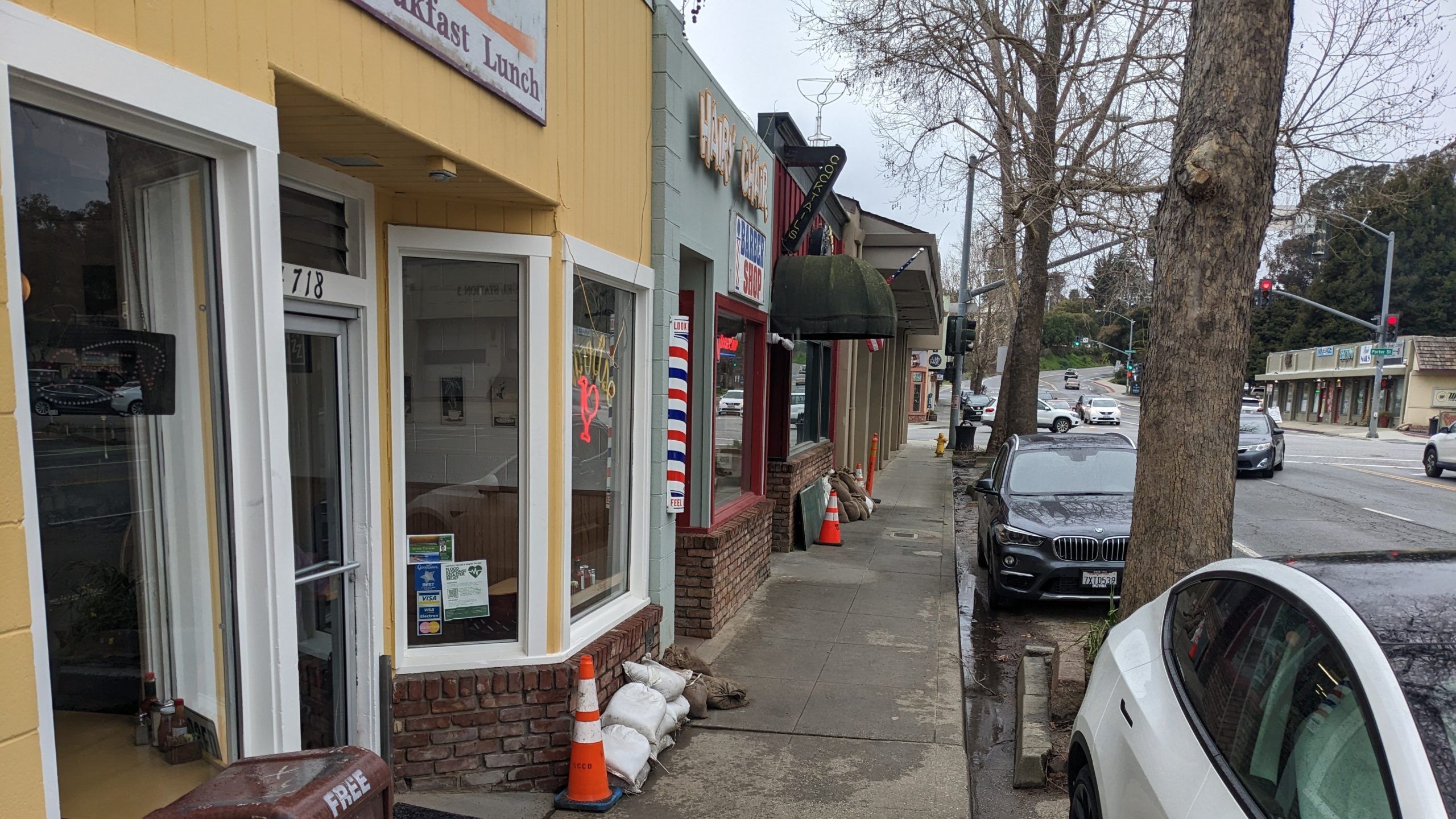 Sandbags are stacked outside Sunrise Cafe and other businesses on the 4700 block of Soquel Drive near Soquel Creek on March 9. (Stephen Baxter — Santa Cruz Local)
Editor's note: Additional shelter sites have been added to this report.
SOQUEL >> Rain expected through March 14 has renewed flood risks to the same Santa Cruz County areas that flooded during storms in January, county leaders said.
Downtown Soquel, Capitola near the Esplanade, Corralitos Creek, Watsonville near the Pajaro River, Felton Grove and many other areas of the San Lorenzo Valley are prone to potential floods during an atmospheric river event due to peak Friday, March 10.
"Any rivers or streams that we saw troubles with during the January storms are probably going to be repeat offenders for this one," said National Weather Service meteorologist Brayden Murdock.
Most flooding is anticipated after the initial downpour as runoff accumulates in streams and rivers, said Santa Cruz County representative Jason Hoppin. Flood risk will remain high through the weekend, he said.
Some resources: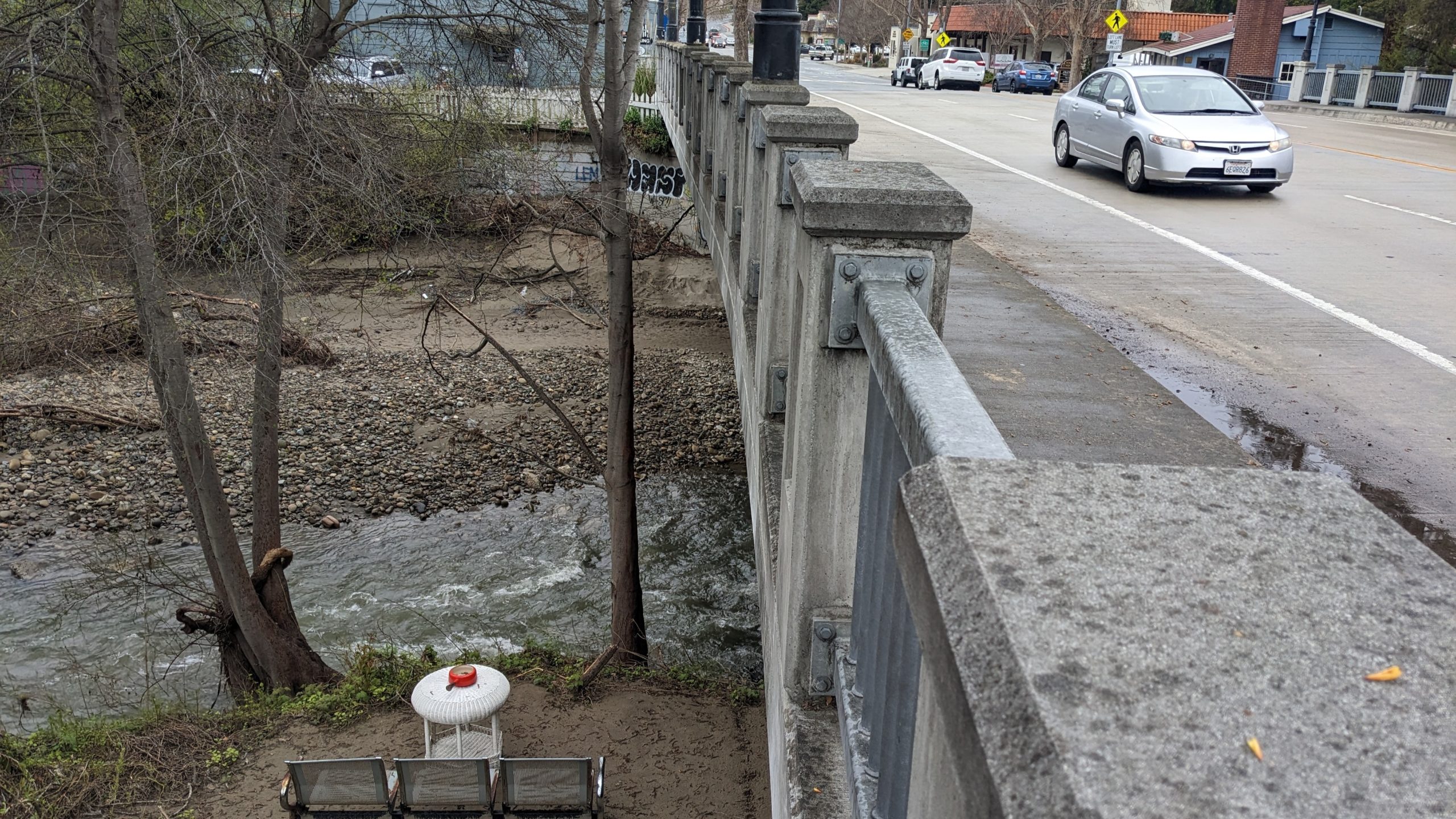 Soquel Creek flows under Soquel Drive as light rain begins to fall on Thursday, March 9. Downtown Soquel flooded twice in January. (Stephen Baxter — Santa Cruz Local)
Since January, county staff have cleared out major debris from streams to try to prevent blockages during storms. Floods may happen anyway, Hoppin said. "If there's too much water, there's too much water," he said.
In anticipation of potential evacuations, temporary shelters opened Thursday, March 9:
Watsonville Veterans Memorial Building, 215 E. Beach St., Watsonville. Food, supplies, support services and a place to sleep are provided, county leaders said.
Cabrillo College gymnasium, 6500 Soquel Drive, Aptos. Food, supplies, support services and a place to sleep are provided. Pets are allowed in carriers.
Santa Cruz County Fairgrounds, 2601 E. Lake Ave., Watsonville. Food, supplies, support services and a place to sleep are provided.
A daytime evacuation point opened at Scotts Valley Community Center, 370 Kings Village Road, Scotts Valley, county leaders said.
Flood forecast
Paradise Park north of Pogonip in Santa Cruz and low-lying areas of Aptos and also could flood, authorities said. In Watsonville, areas of the Corralitos Creek that flooded in January will likely flood again, said Pajaro Regional Flood Management Agency Executive Director Mark Strudley. 
The San Lorenzo River is forecast to reach major flood stage Thursday night in Big Trees. "Expect rises on the river all along the San Lorenzo," said National Weather Service Meteorologist Brian Garcia in a storm briefing Wednesday afternoon. 
Although short-term repair work to South County levees has started been underway, levees along Corralitos Creek and Pajaro River won't see major improvements until long-term flood management projects break ground in 2025, Strudley wrote in an email. 
Pajaro River is forecast to peak at 29.9 feet Saturday morning, just two feet shy of the flood stage. Forecasts for San Lorenzo and Pajaro Rivers will continue to be updated as the storms progress.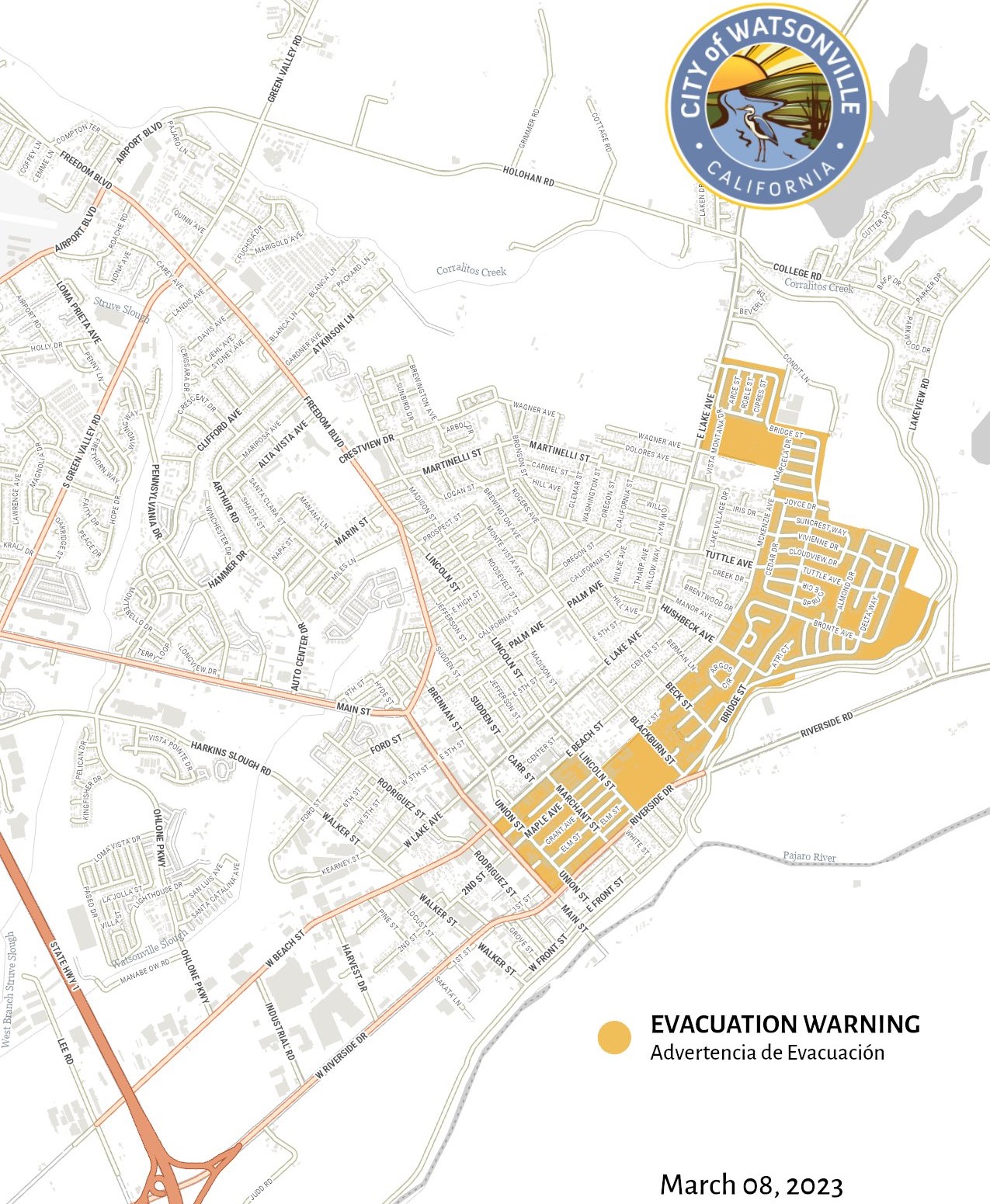 Watsonville leaders on March 8 announced an evacuation warning for areas near the Pajaro River. "There is a strong likelihood these areas will flood during this week's storm. Residents should be prepared, protect their property, and be ready to leave should conditions change," city staff wrote. Evacuation information. (City of Watsonville)
Rain and slides forecast
The city of Santa Cruz is forecast to receive 4 to 5 inches of rain from Thursday to 4 a.m. Saturday, Murdock said. 
An estimated 8 to 9 inches of rain is forecast for the Santa Cruz Mountains, he said. Some models predict "a full foot-plus of rainfall over an 18-24 hour period in the Santa Cruz Mountains," said Garcia.
Landslides are likely throughout the mountains as rain hits slopes already saturated with water, Hoppin said. "We don't know where they're going to occur," he said.
County staff expect road damage, downed trees, and high wind with gusts up to 60 mph. Fallen trees are expected to damage power lines and cause power outages, Hoppin said. 
Two smaller storm systems are expected during the weekend and early next week, Murdock said. A break in the weather is expected Thursday March 16 break from the storm, but it's not yet clear how long that calm will last, he said.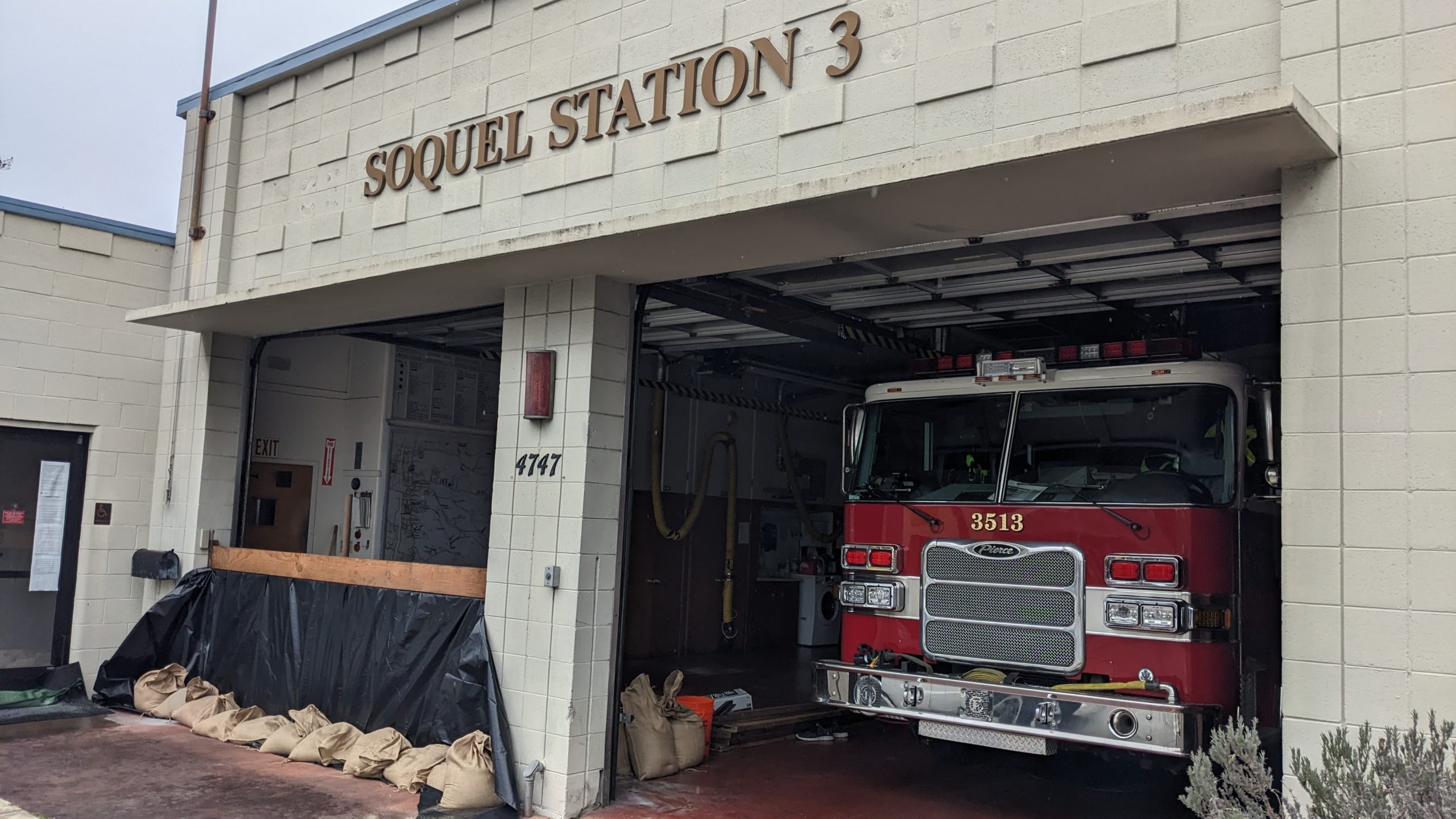 Sandbags and plastic are set up to prevent potential floods at Central Fire District Station 3 at 4747 Soquel Drive in Soquel on March 9. (Stephen Baxter — Santa Cruz Local)
The storms will likely bring more damages to homes already battered by storms in January and February.
This week, Santa Cruz County leaders on Board of Directors Mar. 8 declared an emergency due to storm damage Feb. 24 through March 5 that caused more than $500,000 in damage. The declaration could prompt state and federal agencies to grant disaster relief funds, Hoppins said. "It would not surprise me if we did that again for this round of storms," he said.
Read more
Learn about membership
Santa Cruz Local's news is free. We believe that high-quality local news is crucial to democracy. We depend on locals like you to make a meaningful contribution so everyone can access our news.
Learn about membership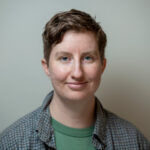 Jesse Kathan is a staff reporter for Santa Cruz Local through the California Local News Fellowship. Kathan holds a master's degree in science communications from UC Santa Cruz.