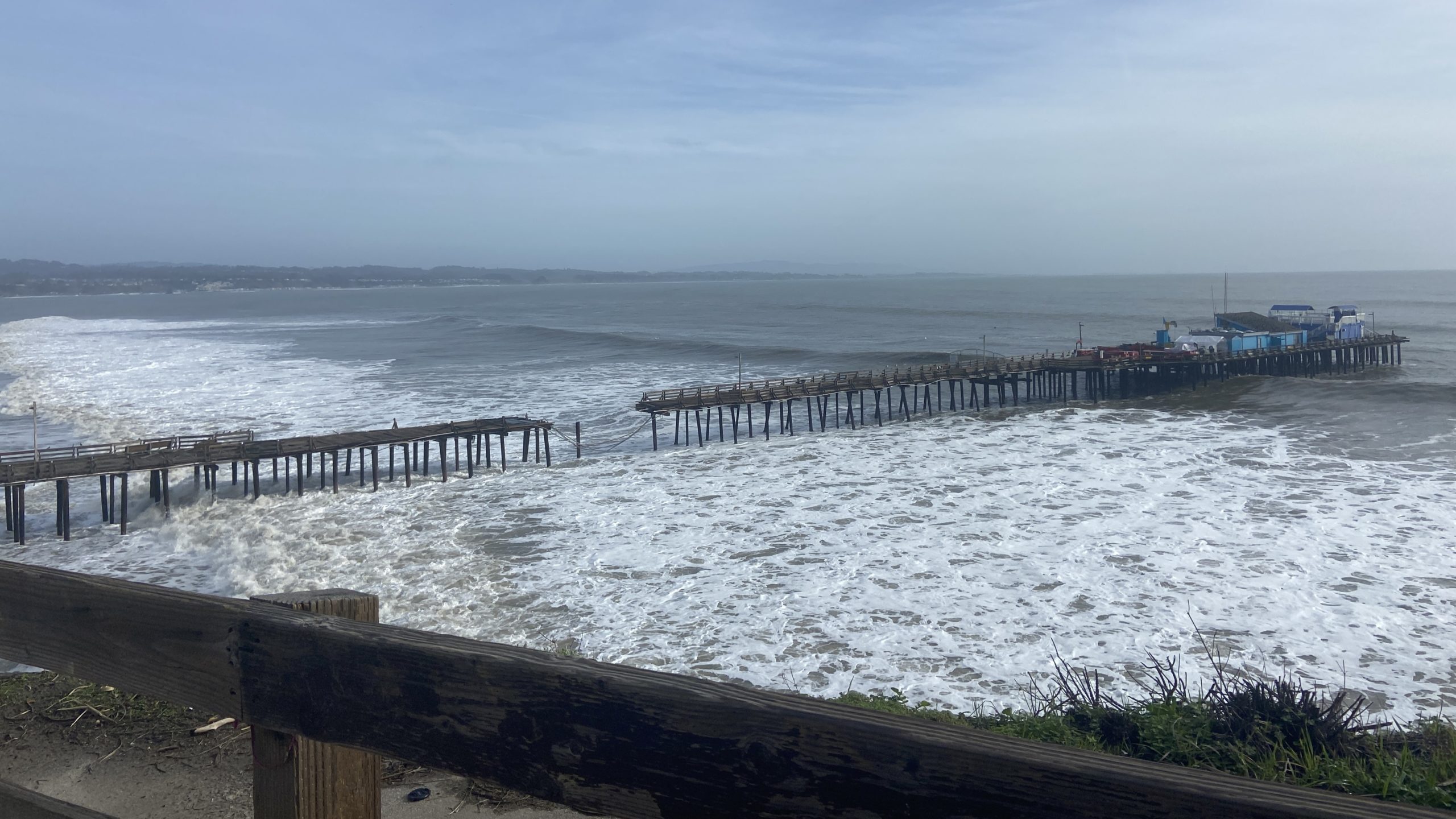 Waves streak through Capitola Wharf on Thursday after storm surf separated it on Jan. 5. Plans were in the works to renovate the 166-year-old wharf this fall, but renovations could begin as early as summer, Capitola officials said. (Grace Stetson — Santa Cruz Local)
CAPITOLA >> Capitola residents, city workers and business leaders this week continued to dig out from storm damage as they braced for more rain, high surf and potential floods this weekend.
Friday, Capitola's Esplanade from Stockton to San Jose avenue remained closed to drivers not involved in the cleanup. That area is expected to remain closed at least through January as residents, city staff and many others remove debris and reboot businesses, said Capitola City Manager Jamie Goldstein.
Goldstein said that feelings of loss and resilience are on the minds of many in Capitola.
"The wharf and the village are important components in our community's character, they're the heart of it," Goldstein said. "We're seeing the same thing we saw (during floods) in 2011, in that neighbors and residents are supporting each other."
Zelda's on the Beach restaurant is expected to reopen its deck for dining in mid-March. The heavily damaged Capitola Wharf is expected to start a renovation this summer.
Most of Capitola's recent damage happened Jan. 5 when waves, driftwood and debris from the Capitola Wharf slammed into 10 oceanfront restaurants on the Esplanade. That morning, a 6-foot high tide combined with storm surf that peaked at roughly 23 feet at 18-second intervals. It was the largest swell in about 15 years, according to Surfline.com 
Waves and onshore wind uprooted pilings of the 166-year-old Capitola Wharf, ripped off part of its deck and separated it from shore access. 

Sixteen Capitola homes were flooded or had "slope stability problems," Goldstein said.

Rain and wind caused Soquel Creek in Capitola Village to send rushing water into the rivermouth at flow rates unseen in years.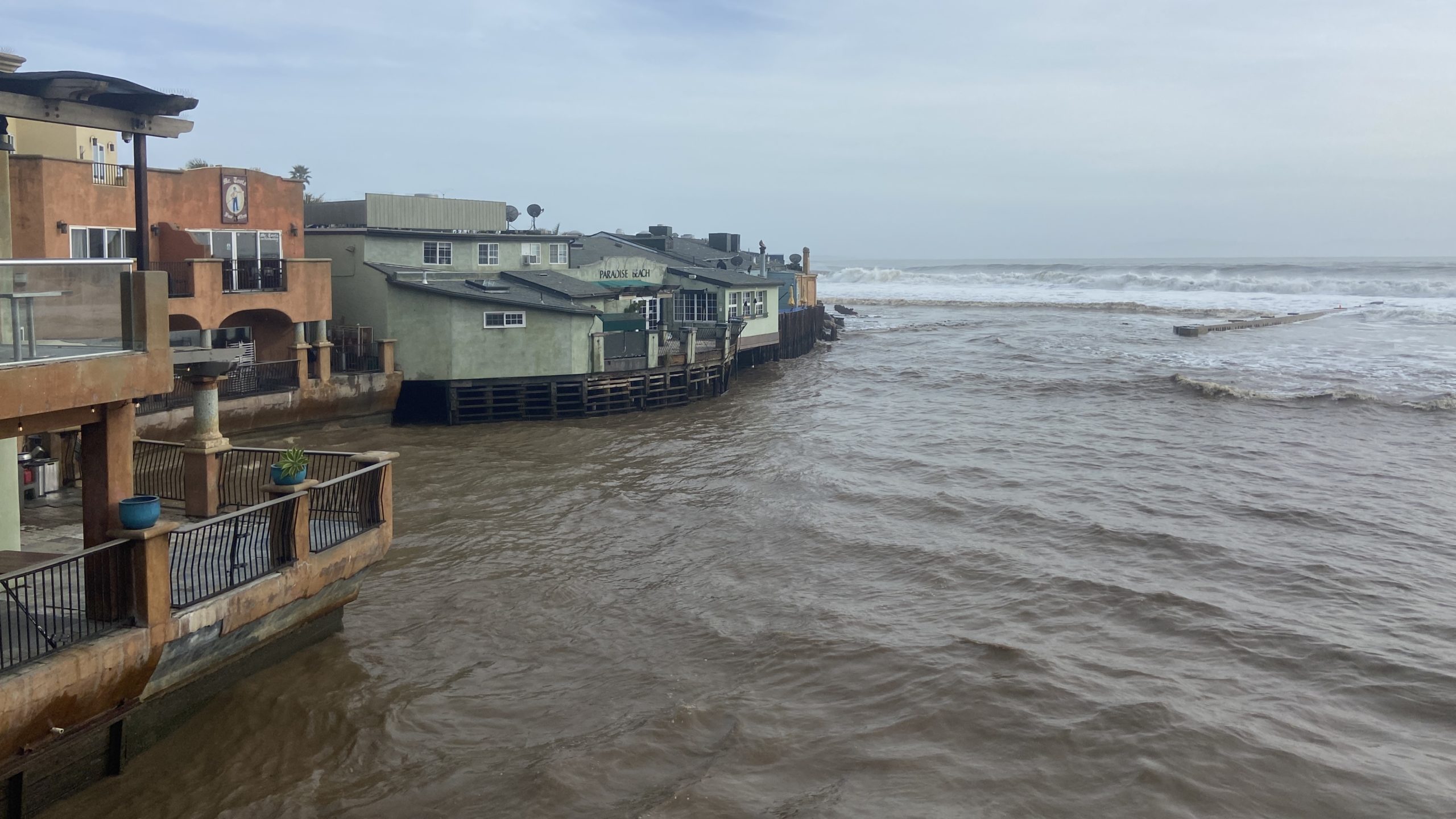 Muddy water creeps up to Paradise Beach Grille and other oceanfront buildings in Capitola on Thursday. (Grace Stetson — Santa Cruz Local)
City leaders said the following Esplanade restaurants remained closed for repairs Friday.
Zelda's on the Beach

Tacos Moreno 3

My Thai Beach

Bay Bar & Grill

Pizza My Heart

The Sandbar

Paradise Beach Grille

Mister Toots Coffeehouse

Margaritaville

Capitola Bar & Grill
Zelda's on the Beach
Joshua Whitby, a co-owner and kitchen manager of Zelda's on the Beach, said his staff barricaded windows and stacked sandbags in front of doors ahead of the Jan. 5 storm.
"We were as ready as we could possibly be," Whitby said. "There were no other precautions that could have been taken beyond what was taken," he said.
Whitby arrived at Zelda's at around 7 a.m. Jan. 5 ahead of the brunt of the storm. When he was asked to evacuate the restaurant, Whitby watched from across the street as the restaurant's ocean-facing wall was pressed in and broken by waves.  He unlocked the restaurant's front door to allow the ocean water on to the street.
"It's hard knowing there's not anything you could do about it," Whitby said this week.
Water, seaweed, rocks and driftwood have been among the dumpsters of waste removed from the site. On Jan. 7 alone, workers at Zelda's removed 120 yards of debris from the deck, alleyways and interior, Whitby said. 
The building structure is sound. It's a matter of rebuilding the kitchen and overhauling the plumbing so that outdoor dining and takeout service can restart. "We're going to get up and going as soon as we can," Whitby said. They hope to reopen the restaurant by Spring Break in mid-April.
Whitby noted that his staff has been working hard during the cleanup — and even finding some camaraderie over cups of coffee and slices of pizza. He said Capitola's Public Works and Planning departments have been incredibly helpful in working to get businesses running in part by waiving fees and expediting processes.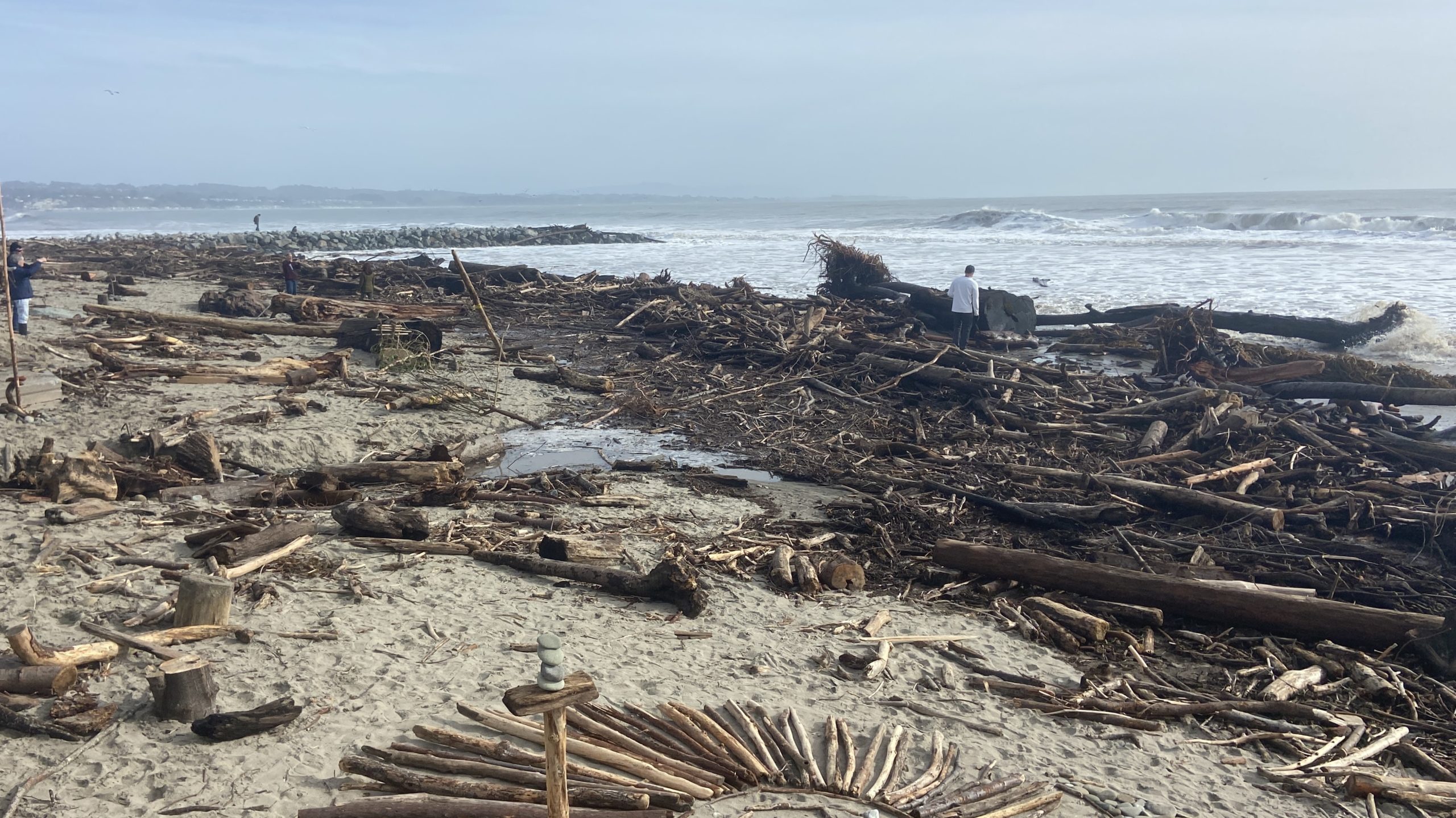 Driftwood is strewn across Capitola Main Beach on Thursday after a series of storms pushed on shore. (Grace Stetson — Santa Cruz Local)
Tacos Moreno 3
Tacos Moreno 3 next to Zelda's also was damaged and is expected to take weeks to reopen.
Its owner, Gabriela Castro, said she and her family were at home in Watsonville the day before the brunt of the storm. She watched the storm warnings on television news the morning of the storm's peak on Jan. 5. That afternoon, she drove into Capitola Village with "a shaky, scary feeling." The power was out, the Esplanade was closed to traffic and big surf pummeled the beach.
The entire wooden deck that connected her restaurant to Zelda's was gone. "That sat with me," Castro said. "It was so shocking to see what used to be a patio full of people, just gone," she said.
Her restaurant was strewn with saltwater, debris and wood swept in from the ocean. One of the  rear windows had blown out. Glass was scattered on the floor.
The restaurant opened on the Esplanade in 2019 and is one of several Tacos Moreno locations in the county.
Unlike some other oceanfront buildings constructed on wood foundations Tacos Moreno has a concrete foundation that has made some repairs simpler. Castro said. She said Pacific Gas & Electric Co. is working with an engineer and a plumber to clear up the restaurant's utilities.
"We were one of the fortunate ones to not have major damage," Castro said Thursday. "It's mostly cleaning up the debris, and just getting everything straightened out with the city," Castro said.
Capitola Wharf
Capitola Wharf was set to begin a renovation in October with $3.5 million from the federal government, $1.9 million from the state and money from local tax Measure F approved in 2016. 
"At this point, we have about $7 million to commence this project in October, contingent on the Coastal Commission permits," City Manager Jamie Goldstein said. "However, they've informed us we can move that date forward, so my hope is that we can start this summer."
Still, the city will have to evaluate the wharf's renovation and restoration needs after the storms have passed. Goldstein said he was unsure how much more money will be needed.
Although other California beach communities were damaged by storms this month, Capitola's destruction has garnered state and national attention.
Reporters from The Weather Channel, NBC and CBS reported from Capitola. Gov. Gavin Newsom held a news conference near the Esplanade with Capitola Mayor Margaux Keiser and others on Tuesday, Jan. 10. 
Newsom surveyed the scene and spoke to elected leaders and the media about next steps. He said he was impressed that residents simply showed up to help restaurant workers clean up the mess.
"The acuity of the storm in terms of the number of inches of rain and the intensity doesn't tell the entire story," Newsom said. 
Because rivers are swollen, buildings are exposed and water remains high in places, "A more modest amount of precipitation could add an equal or greater impact in terms of the conditions," Newsom said. "That's why it's incredibly important that everybody is mindful to take seriously the orders or recommendations coming from law enforcement in particular," Newsom said.
"There's resiliency of the businesses — it's a really inspirational aspect to just see how much people care and how much they're there to support each other through this," Newsom said.
How to help
Cleanup volunteers can email Capitola's Recreation Division at

[email protected]

to be notified of volunteer events. Event dates have not yet been determined.

Cleanup volunteers can also

sign up online

through the Volunteer Center of Santa Cruz County

or call 831-427-5070.

Leaders from Trestles restaurant and Reef Dog Deli plan to host a benefit dinner to support the staff of restaurants damaged in the storms. Trestles and Reef Dog Deli remain open.

The Community Foundation Santa Cruz County has a disaster fund

that includes matching funds of up to $75,000.
Get informed
Read Santa Cruz Local's Winter Storms Resource Page
Learn about evacuation orders, shelter, road closures and how to help.
Get informed
Learn about membership
Santa Cruz Local's news is free. We believe that high-quality local news is crucial to democracy. We depend on locals like you to make a meaningful contribution so everyone can access our news.
Learn about membership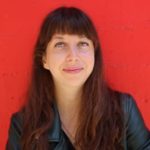 Grace Stetson is a Santa Cruz County freelance journalist who covers housing, homelessness and development. Stetson is a graduate of the Medill School of Journalism master's program. Stetson has worked for Dateline NBC, Walt Disney Publishing Worldwide, Metro Silicon Valley, the Six Fifty, Good Times and Lookout Santa Cruz.