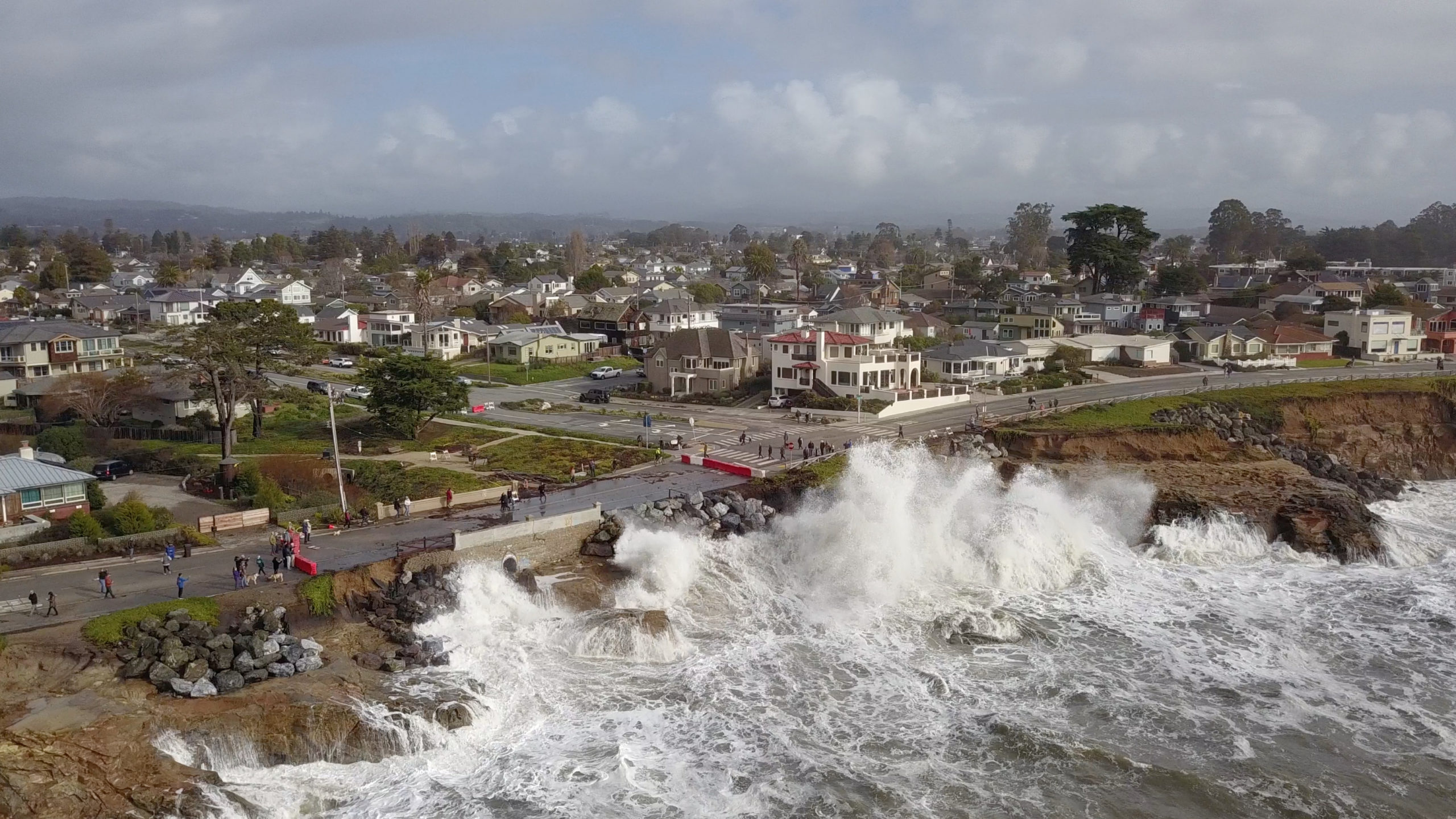 Waves batter cliffs near West Cliff Drive and Woodrow Avenue in Santa Cruz on Jan. 8. (TR Dreszer — Contributed)
SANTA CRUZ >> During a break in the rain Tuesday, Santa Cruz County officials described more than $27.8 million in storm damages to roads, parks and coastal access in unincorporated county areas since Dec. 30. 
The estimate did not include flood damage to many businesses in Capitola, standing water in some Watsonville homes and car-sized chunks of the West Cliff Drive path that were carved out by waves and rain in the city of Santa Cruz. It also didn't include more than $1.3 million in damage to water pipelines in the San Lorenzo Valley Water District during the storms, county leaders said.
One rain gauge in the county received 23 inches of rain in the past 10 days, said Dave Reid, director of the Santa Cruz County Office of Response, Recovery & Resilience.
Similar rainstorms in February 2017 and March 2011 caused slides in the San Lorenzo Valley and flooded areas like Capitola. In January 1982, storms caused mudslides and other dangers across the county that killed 22 people.
One person has died during this winter's series of storms, a 72-year-old man who was killed by a fallen tree in Lighthouse Field State Beach in Santa Cruz on Dec. 31.
Also on Dec. 31, Soquel Creek flooded Soquel Village for the first time in more than 40 years, Reid said. Then it flooded again on Monday, Jan. 9.
The storms' reach is "not unfamiliar territory." Reid said during a Santa Cruz County supervisors meeting Tuesday. "Our hills and mountains and streams are saturated and full. Even smaller (rain) events that hit us in short succession could have much more impactful damage."
County leaders advised residents to monitor the county's flood warning webpage that includes current waterway levels.
Tuesday, Gov. Gavin Newsom surveyed storm damage in Capitola and held a news conference at the Capitola esplanade.
"I want to thank the community for taking care of themselves," Newsom said. "It's remarkable. Just walking through these businesses, how many of the businessmen and women — the owners of these businesses — said people just showed up. (They) said they needed just one thing, which was gloves, and they took it upon themselves to help clear out the debris and try to get this community back on its feet. And that's the spirit that marks, I think, these moments."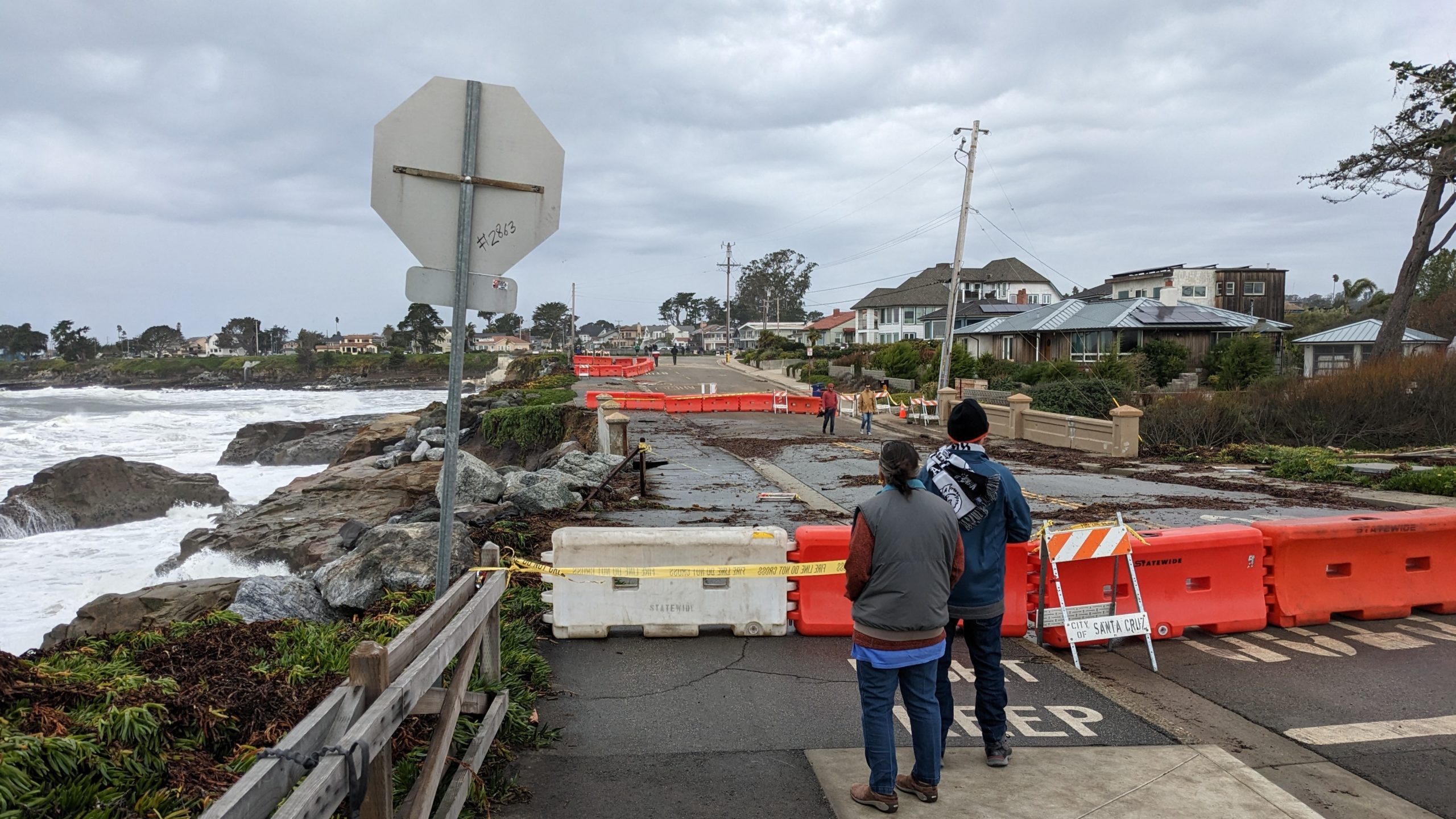 January storms have damaged many areas of Santa Cruz County. West Cliff Drive near Woodrow Avenue remained closed Jan. 8. (Stephen Baxter — Santa Cruz Local)
Evacuations, shelters and levees
During the past week, threats to the Pajaro River flood basin promoted evacuation orders for nearly 30,000 people, Reid said.
As of Tuesday night, two areas near the Pajaro River near Watsonville remained under evacuation orders. Several other areas near the Pajaro River were downgraded to an evacuation warning.
Evacuation warnings and orders are updated on a Zonehaven webpage

similar to one used during the CZU Lightning Complex Fire in 2020. 

As of Tuesday night, four shelters and one evacuation point remained open. Shelters at the Santa Cruz County Fairgrounds, Cabrillo College in Aptos and Jade Street Community Center in Capitola had availability. About 150 people stayed at the county fairgrounds Monday night, Reid said.

A shelter at Depot Park in Santa Cruz was at capacity Tuesday. An evacuation point at Scotts Valley Community Center offered RV parking, food, water and blankets. 

Find more information on shelters, evacuation orders and road closures in

Santa Cruz Local's Winter Storms Resource Page

.
On Wednesday, Jan. 11, emergency repairs are expected to start on a "seepage berm" on the Pajaro River about one mile upstream of the confluence of the Pajaro River and Salsipuedes Creek, said Santa Cruz County spokesman Jason Hoppin, in a statement. 
The work in an agricultural area aims to add support to the levee until the U.S. Army Corps of Engineers begin extensive fortifications on the Pajaro River levee and other waterways near it. The emergency work is expected to take about a week. Similar fixes were made just downstream from the site in 2017, Hoppin said. 
Santa Cruz County leaders described some major events from three separate storms this winter. 
Storms summary
Dec. 30-31
Rain prompted floods on parts of the San Lorenzo River, as well as some areas near  the Soquel, Aptos, Corralitos and Salsipuedes creeks. There were landslides and "road failures" around the county, said Dave Reid, director of the county's Office of Response, Recovery & Resilience. 
Jan. 4-5
There was less rain than predicted, but a 6-foot high tide and the largest swell in more than a decade caused "catastrophic damage to our coastal zone," Reid said. A westerly swell peaked at about 23 feet at 18 second intervals, according to buoy data.

Capitola Wharf was separated and heavily damaged, and the Seacliff pier was ripped away from the SS Palo Alto cement ship. Several restaurants on Capitola's esplanade were flooded. In Santa Cruz, three areas of the West Cliff Drive path were damaged. 

Power was knocked out and many roads were closed in San Lorenzo Valley because of slides and downed power lines. 
Jan. 8-9
Rain prompted another flood in Soquel Village, as well as more floods in Felton, Ben Lomond, Rio Del Mar, along the San Lorenzo River and near creeks in Aptos, Corralitos and some South County areas. 
More steady rain is anticipated Wednesday, Jan. 11 and Saturday, Jan. 14, according to the National Weather Service.
"We can definitely bounce back from this," said Capitola Mayor Margaux Keiser during a news conference Tuesday. "We're going to need more support going into the future," Keiser said.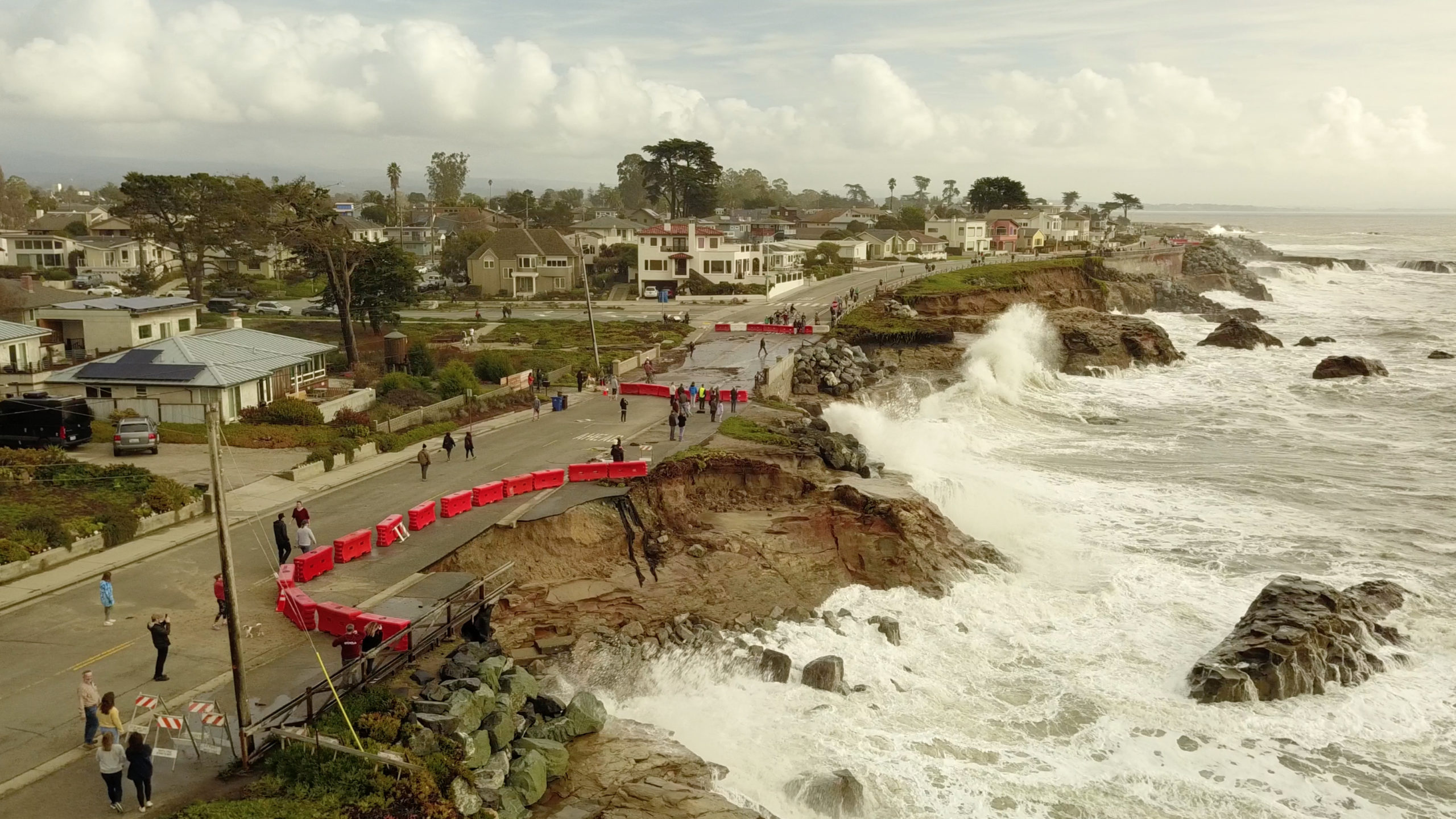 West Cliff Drive near Woodrow Avenue in Santa Cruz remained closed Jan. 8 because of storm damage. (TR Dreszer — Contributed)
Preparations
During Tuesday's county supervisors meeting, Santa Cruz County Supervisor Bruce McPherson said some residents asked why the county was not more prepared. McPherson said county workers maintain more than 600 miles of roads in unincorporated county areas. "There's just no way to know" where and how trees will fall, block roads and knock out electricity, McPherson said.
McPherson added that the county was about two-thirds through its backlog of road repairs from the 2017 storms. Without road repair money that county voters approved in 2016's Measure D, "This could have been much worse," McPherson said of the recent damage.
Editor's note: This story has been updated to correct a date that Soquel Village flooded.
Get informed
Read Santa Cruz Local's Winter Storms Resource Page
Learn about evacuation orders, shelter, road closures and how to help.
Get informed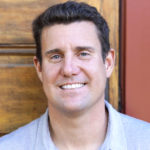 Stephen Baxter is a co-founder and editor of Santa Cruz Local. He covers Santa Cruz County government.