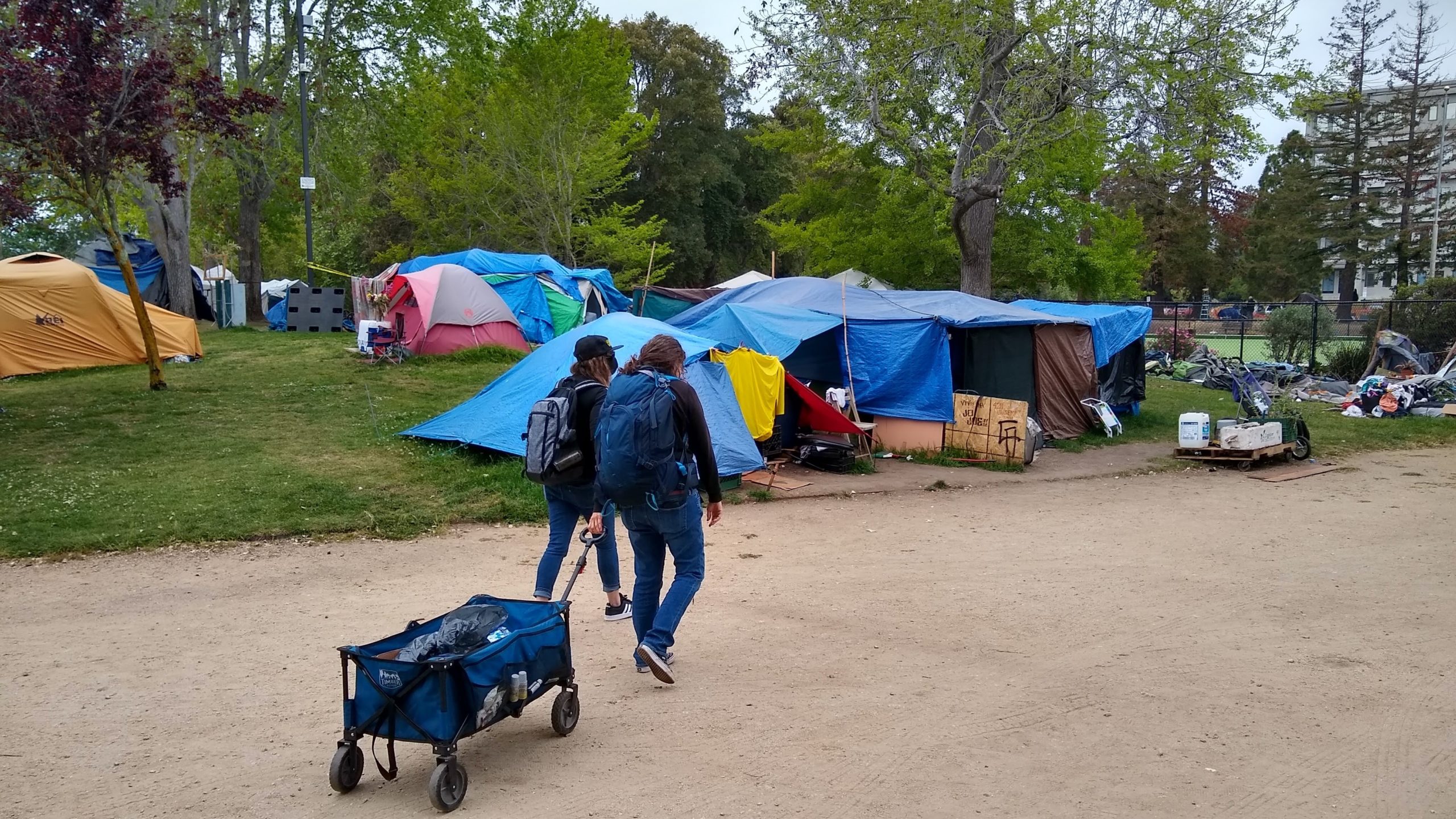 The Homeless Persons Health Project facilitates behavioral health services and provides water, first aid and other supplies at the benchlands near San Lorenzo Park in Santa Cruz in 2021. (Stephen Baxter — Santa Cruz Local file)
SANTA CRUZ >> Two years into a three-year plan to reduce homelessness in Santa Cruz County, more people are finding landlords to accept housing vouchers and more residents 60 and older are sleeping in vehicles outside churches, county and community leaders said Tuesday.
During a Santa Cruz County supervisors meeting Tuesday, county leaders said 425 people who lived in shelters during the pandemic used Emergency Housing Vouchers to find permanent homes. 
While many people historically have had difficulty finding landlords to accept their vouchers, that rate of voucher acceptance was the highest of any jurisdiction in California, according to the Housing Authority of the County of Santa Cruz. A mix of case management, housing search help, flexible money for move-in costs and landlord support and incentives helped the cause during the county's Rehousing Wave, county staff wrote.
Randy Morris, director of Santa Cruz County's Human Services Department, told county supervisors Tuesday that within homeless services there is a "tension of whether to respond to emergencies or plan and invest long-term so that people stop becoming homeless and stay housed."  Morris said, "That tension will keep going, and our job as staff is to share those tradeoffs."
Morris added that homelessness and homeless services are complex topics that often trigger passionate responses. "The emotions run deep, and there is often finger-pointing at every forum we're at: Why, what's the problem, who's the cause, where it's going," Morris said.
There are two major goals of the county's Three-Year Strategic Plan to Address Homelessness:
A 25% reduction of the roughly 1,405 households experiencing homelessness in the county by January 2024. That includes people in shelters, vehicles and outdoors.

A 50% reduction of the roughly 1,100 households living outdoors and in vehicles in the county by 2024.
There were about 2,299 unhoused people in the county in 2022, compared with about 2,167 unhoused people in the county in 2019, according to point-in-time counts. Results from a Feb. 23 point-in-time count are expected in April, county staff said. 
During a Santa Cruz County supervisors meeting Tuesday, the Rev. Joseph Jacobs of the Association of Faith Communities said there are now more seniors in the group's overnight safe-parking program than when he started running the program about four years ago. Nearly half of the participants are 60 or older, and many are in their 70s or 80s, Jacobs said.
"Many people are just one health crisis or one paycheck away from losing their housing," Jacobs said. He said he wanted more emphasis placed on unhoused seniors.
Recent trends
More than $28 million in emergency rental assistance was given to 2,386 Santa Cruz County households through the state's Housing is Key program from March 15, 2021 to Feb. 28, 2023,

according to a state dashboard.

"Long-term housing subsidies remain the most effective homelessness prevention intervention available for extremely low-income households,"

county staff wrote

. Applications closed in 2022.

There were longer shelter stays during the past six months, county staff wrote. Lack of affordable rentals was a significant contributing factor, staff wrote. 

Temporary shelter capacity increased to 461 beds in the county in the past six months due to one-time investments from the City of Santa Cruz at the National Guard Armory. Some of that shelter capacity could be reduced in the future because most of the city's funding came from

one-time state money

. The county's goal is 600 "housing-outcome focused, temporary housing beds" that would cost $21.9 million annually, according to a county staff report. 
Dr. Robert Ratner, director of the county's Housing for Health Department, said he and his staff deal with a "maze" of state grant applications, rules, contracts, funder staff support, reporting deadlines and timelines.
"We spend a lot of our time, as staff, navigating and braiding this funding together to get outcomes. It's a lot of wasted taxpayer dollars, to be honest with you. The amount of time I spend, the amount of time my coworkers spend in all of this work — we'd rather be helping people move into housing," Ratner said.
"To the extent that the state and federal government can make it easier and consistent with the funding that we receive and be more predictable, we can have a much bigger impact on our community," Ratner said.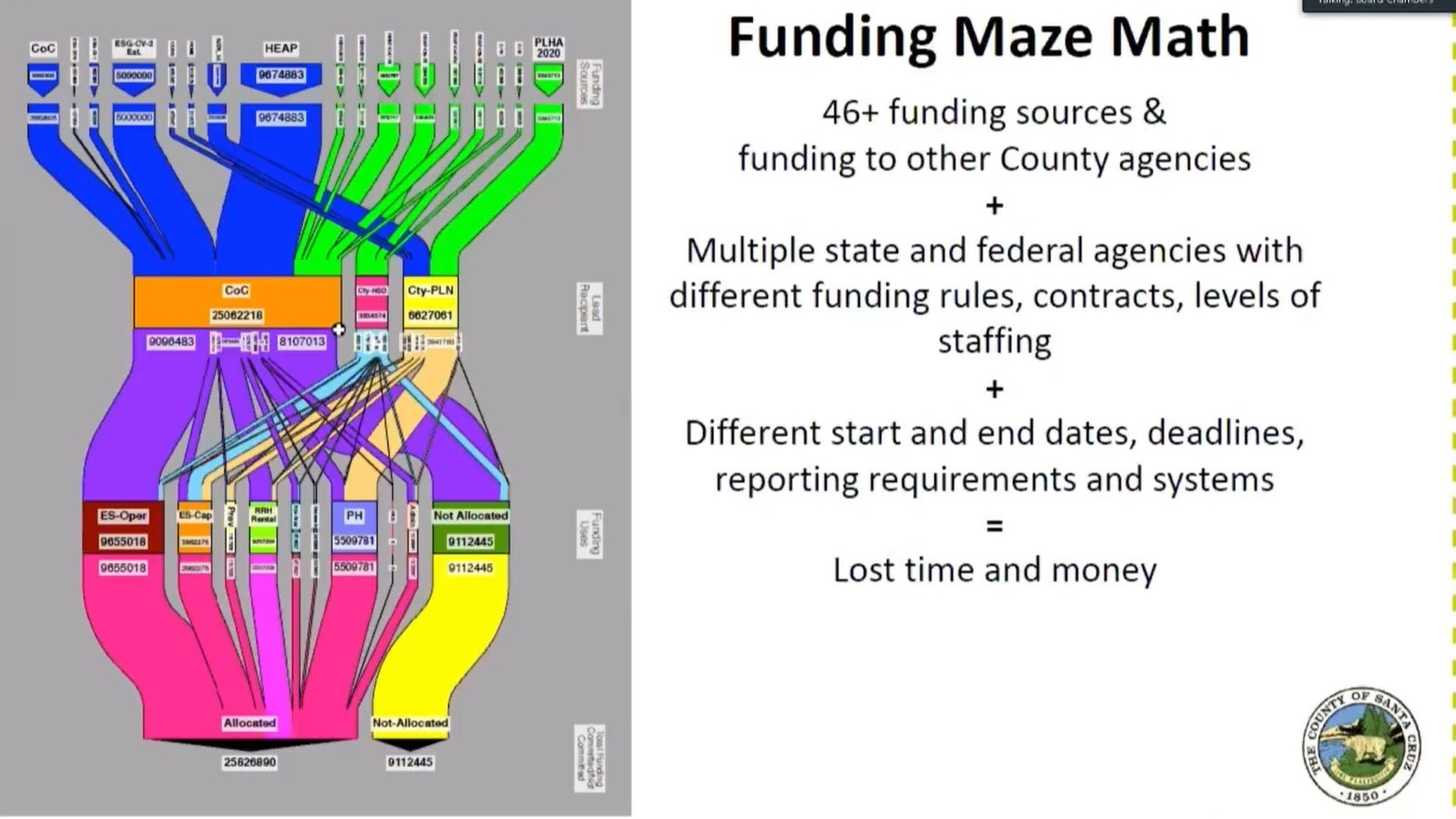 County staff showed this slide during a presentation to county supervisors on Tuesday to illustrate money sourced from the Continuum of Care, the Homeless Emergency Aid Program and elsewhere on its path to being spent to combat homelessness in Santa Cruz County. (County of Santa Cruz)
Ryan Hoffmann, 43, was a social worker before he became unhoused and lived in a tent camp off Highway 9 in January. He said he was trying to find housing and "not just be ostracized from our community and made it seem like we don't exist or we're not part of that community — because we absolutely are," Hoffman said. 
"There's limitations to what the city (and county) probably could and should do, but at the same time, they're not getting anywhere," Hoffman said. Hoffman said he wanted more permanent housing development.
Santa Cruz resident Carol Polhamus said during Tuesday's meeting that she was concerned about several dozen people who sleep in vehicles on the Lower Westside each night. "Although I think that building more housing is absolutely key and I support that effort, the immediate need is people living in their cars," Polhamus said. She said she wanted more safe overnight parking areas.
Supervisors react
During Tuesday's meeting, County Supervisor Bruce McPherson said his constituents often talk to him about homelessness and homeless services. "This issue is something that we all hear more than anything else," McPherson said at Tuesday's meeting. 
He noted that there has been more coordination with city and county officials on the issue in recent years. "We have a long way to go, but I think we're on the right track," McPherson said. 
County Supervisor Justin Cummings said the county needs "middle-income housing for our workforce."
Cummings also noted that Black and Latino residents are overrepresented among unhoused people in the county, according to the 2022 point-in-time report. "The people who are experiencing homelessness have been under-resourced in the past," Cummings said.
County Supervisor Manu Koenig asked county staff how the county could diversify its housing stock "to have a vibrant community of people with all incomes."
Ratner said many new and proposed affordable housing projects are "segregated housing communities" that have income levels of one type. He said more affordable housing projects should have a mix of incomes similar to the housing, health and dental care center project at 1500 Capitola Road in Live Oak. 
"I'd like to see a lot more of those developments," Ratner said.
Homelessness trends from 2019 to 2022
"Chronically homeless" people in the county increased from 403 people in 2019 to 921 people in 2022, according to point-in-time counts. Chronically homeless people have multiple or longer periods of homelessness.
Homelessness rose among seniors, veterans and people with disabilities and people with self-reported problems with health and behavioral health, according to 2019 and 2022 point-in-time counts.

There was a 59% decrease in homelessness among families with children younger than 18 and a 94% decrease in unsheltered homeless families from 2019 to 2022. Unsheltered essentially means living outside or in a vehicle rather than in a shelter. Five families were reported unsheltered on the night of the 2022 count.

Homelessness among 18- to 24-year-olds declined by 61% from 2019 to 2022, according to point-in-time counts.

State leaders funded three of four Project Homekey proposals to build new homes for the homeless at 2838 Park Ave. in Soquel, 801 River St. in Santa Cruz and at 8705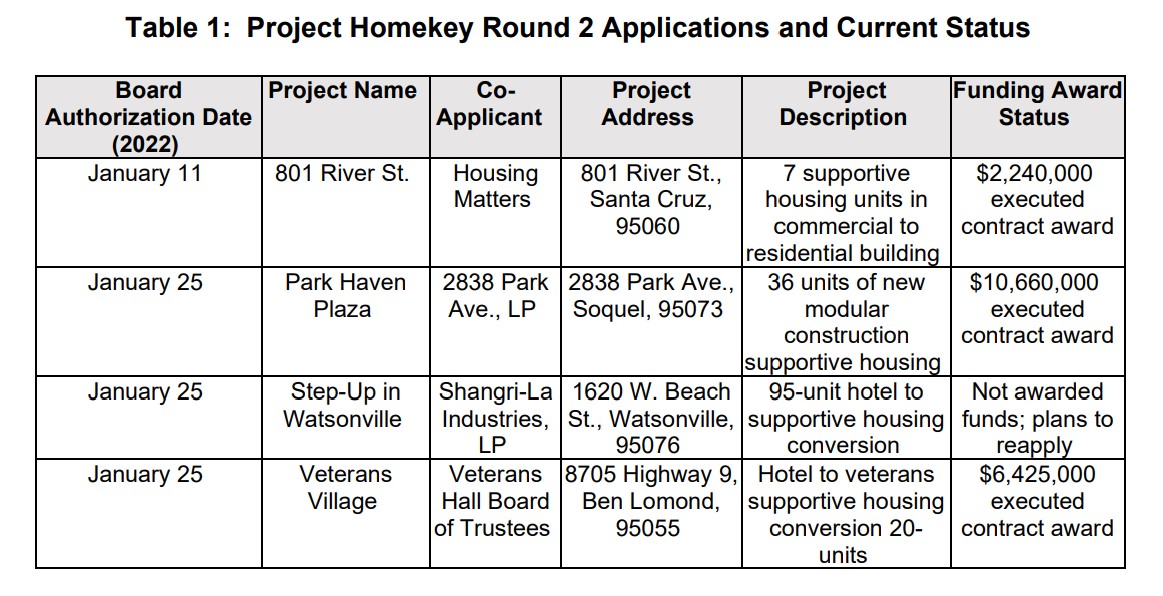 County staff said they hoped to secure grants for at least two more Project Homekey housing projects in 2023, in part because of a lack of permanent supportive housing for people with disabilities and other health problems. (County of Santa Cruz)
Santa Cruz Local writer Tyler Maldonado contributed to this report.
Read more Santa Cruz Local stories
Learn about membership
Santa Cruz Local's news is free. We believe that high-quality local news is crucial to democracy. We depend on locals like you to make a meaningful contribution so everyone can access our news.
Learn about membership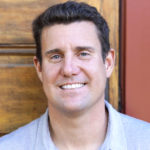 Stephen Baxter is a co-founder and editor of Santa Cruz Local. He covers Santa Cruz County government.