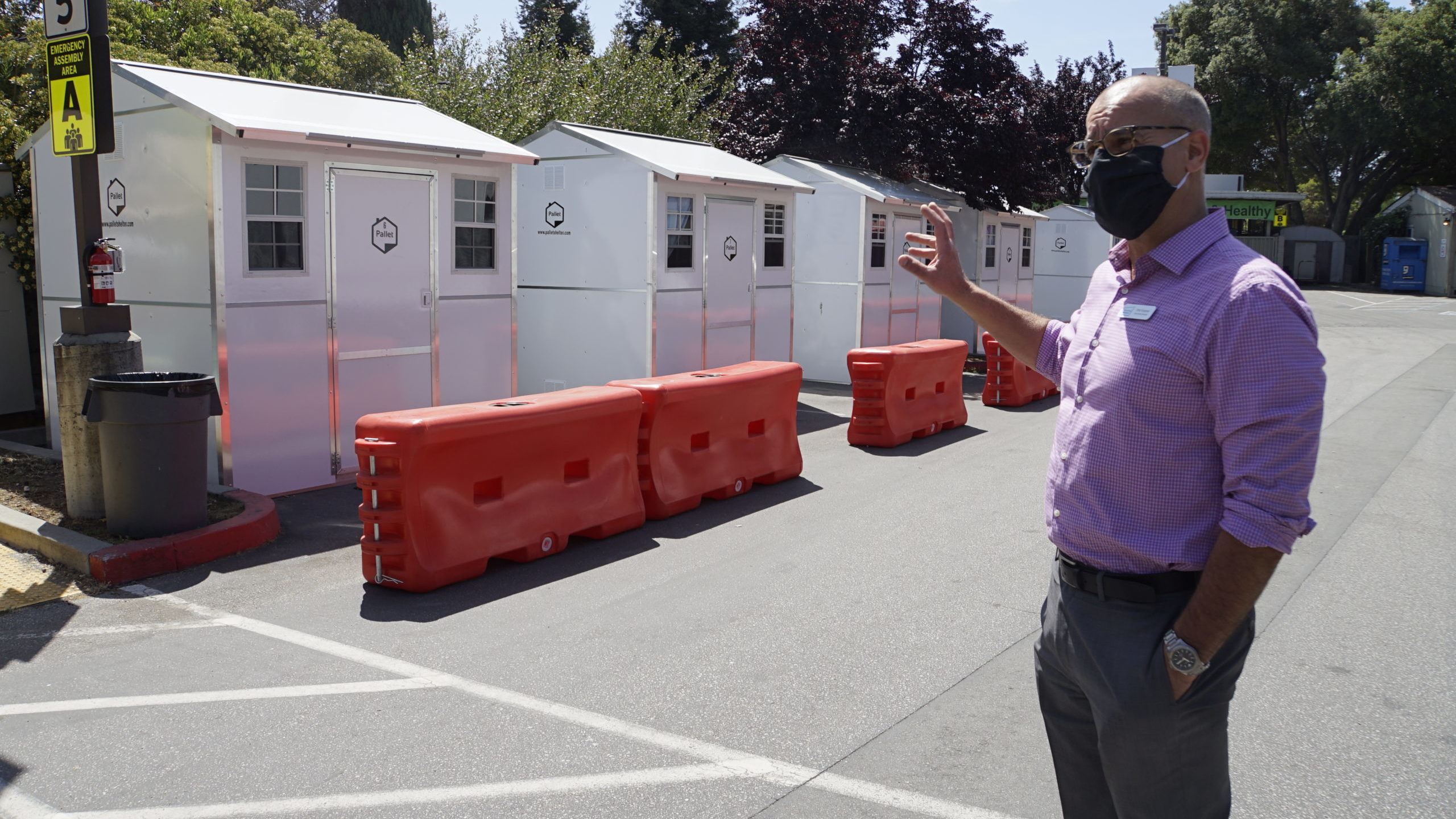 Housing Matters CEO Phil Kramer gives a tour of the Santa Cruz-based nonprofit group's Pallet Shelters in May 2020. A City of Santa Cruz Homelessness Response Action Plan from March called for Pallet Shelters and an expansion of homeless shelter services at Housing Matters. (Kara Meyberg Guzman — Santa Cruz Local file)
SANTA CRUZ >> Santa Cruz city leaders on Tuesday described progress toward eliminating unmanaged tent camps and temporary shelters for the homeless in favor of building permanent shelters in the city and county.
At a Santa Cruz City Council meeting Tuesday, Santa Cruz Homelessness Response Manager Larry Imwalle was joined by city staff members Monica Hernandez and Jeremy Leonard to present a quarterly report of the city's Homelessness Response Action Plan.
Imwalle described progress on a few fronts.
Rental assistance helped 40 households in the city avoid eviction

. Since April, city staff spent $108,000 of $150,000 authorized for eviction protection by the city council. The money helped 111 people in 40 households remain in their homes. The County of Santa Cruz authorized $500,000 toward eviction protection.

More shelter beds have been added.

A tent camp was closed at the benchlands near San Lorenzo Park recently. City leaders estimated that the camp included about

225 people in August

and fewer people this fall. Since January, city leaders said they have opened 165 managed camp spots or shelter beds and 27 safe parking spots. Those efforts have served about 310 people, city leaders said.
Imwalle addressed the plan's priorities: 
Provide shelter, hygiene and storage services

. Leaders want to eliminate unsanctioned homeless camps and move people to managed shelters in the city and throughout the county. 

Building capacity and partnerships

to improve the city staff's coordination of services. Leaders want to expand mental health and addiction treatment, outreach, shelter and job training for homeless people. They also pledged to prioritize environmental restoration and protection.

RV parking and law enforcement.

The plan calls for equitable law enforcement and an updated model for deployment of police to calls related to homelessness.

Expansion of affordable housing and supportive housing

. 
The city council adopted the three-year Homelessness Response Action Plan in March. From July 1 to July 2023, it was estimated to cost $14.5 million — nearly all covered by one-time money from the state legislature.
Years two and three of the plan remain largely unfunded, according to a Dec. 8 city budget report. City leaders are working with state leaders to find more sustainable money sources, Imwalle said.
Costs since July 1 include:
City acquisition of 125 Coral St. for a navigation center: $3.01 million. The center would have shelter beds and aim to connect people with housing and resources.

Shower and restroom remodel at Housing Matters' Coral Street site: $1.36 million.

Personnel costs for expanded capacity: $1.1 million.

Salvation Army contracts for the armory safe sleeping program: $3.7 million.

Contracts with the Association of Faith Communities and The Free Guide for the armory safe parking program: $392,000.

Eviction protection assistance to the Community Action Board: $150,000.

Benchlands restoration: $1 million.
Building housing
Imwalle said Santa Cruz city planners have more than 2,300 residential units in process, including 850 deed-restricted affordable homes and 220 permanent supportive housing units for people with disabilities at risk of homelessness. 
A Coral Street Master Plan is in the works with Oakland-based consultant Dahlin Group. Housing Matters and city leaders continued a community engagement process Monday with a public meeting to invite feedback on design options for the project.
Shelter beds, safe parking and partnerships
Showers and restrooms at Housing Matters' Coral Street site closed in 2019 because of needed repairs. With money from the American Rescue Plan, repairs are expected to finish by the end of January or early February.
At two other shelters in the city — 1220 River St. and the National Guard Armory near DeLaveaga Golf Course — staff have helped some people find homes.  
The City Overlook program at the National Guard Armory opened in May with 75 spots. It expanded to 135 spots in September. Funded by the city and operated by the Salvation Army, it is staffed 24 hours and has had 217 participants. Twenty participants have moved into homes or more stable shelter,

according to a staff report

. More than 45 people received case management services. The program is contracted with the Salvation Army through the end of June. City leaders have funding to extend the contract for a few months, but further funding has not been identified. 

A "transitional" camp at 1220 River St. opened in January 2022 and has had 56 participants. Seventeen people have moved into permanent homes or more stable shelter, city leaders said. Many people also received services.
One couple who stayed at the River Street camp said they received an emergency housing voucher and found a home, said Monica Hernandez, a member of the city's outreach. The couple had been living out of their car and had been in contact with the Downtown Streets Team since 2017, Hernandez said.
"This couple had a stable and safe place to sleep without worrying about having their belongings stolen. No longer having the worry of having their vehicles cited or towed — it provided breathing room," Hernandez said at Tuesday's council meeting.
Homeless services
City leaders started a Public Works Homelessness Response Field Division in November. It includes the equivalent of 4.5 full-time employees. The division addresses the impacts of unmanaged tent camps across the city. 
City staff also works with community-based organizations and county health leaders to address behavioral health and addiction problems of the unhoused. 
In the rehousing focused service coordination, city workers collaborated with county and community partners to expand case management service connections and rehousing efforts for about 170 people who were camping in the Benchlands. 
In early November, city leaders offered an alternative shelter option to everyone interested. At Tuesday's council meeting, Imwalle said 39% of the people in the camp accepted that offer and 107 people were placed in either a better shelter, safe sleeping site, or toward more stable housing.
Since the camp closed, Imwalle said the group's focus has shifted to case management and housing navigation.
"That collaboration that was built, that process is ongoing and continuing as an effective method to coordinate our work and be effective in serving our unhoused community and building connections toward housing," Imwalle said.
Separately, city leaders continue to work on a 24-hour mobile crisis-response team that can provide an alternative to law enforcement for non-criminal and non-emergency problems. A crisis intervention worker could work alongside a medic, similar to programs in Oregon and elsewhere. 
RV parking and law enforcement
The city council adopted a law in November 2021 to limit overnight RV parking, but it hasn't started because it was appealed to the California Coastal Commission in May. An initial hearing was held in July. The Coastal Commission is set to discuss the permit process related to the law next year but it has not been scheduled.
Santa Cruz police dedicated two Community Service officers to work with city outreach and homeless camp response workers.
In September, Gov. Gavin Newsom signed the Community Assistance, Recovery and Empowerment Court, which aims to compel people with untreated schizophrenia and other severe mental illnesses into housing and treatment.
Counties have to establish the new courts by December 2024. Imwalle and city workers plan to work with county staff to develop the program.
Learn about membership
Santa Cruz Local's news is free. We believe that high-quality local news is crucial to democracy. We depend on locals like you to make a meaningful contribution so everyone can access our news.
Learn about membership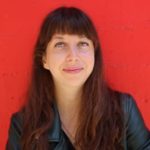 Grace Stetson is a Santa Cruz County freelance journalist who covers housing, homelessness and development. Stetson is a graduate of the Medill School of Journalism master's program. Stetson has worked for Dateline NBC, Walt Disney Publishing Worldwide, Metro Silicon Valley, the Six Fifty, Good Times and Lookout Santa Cruz.