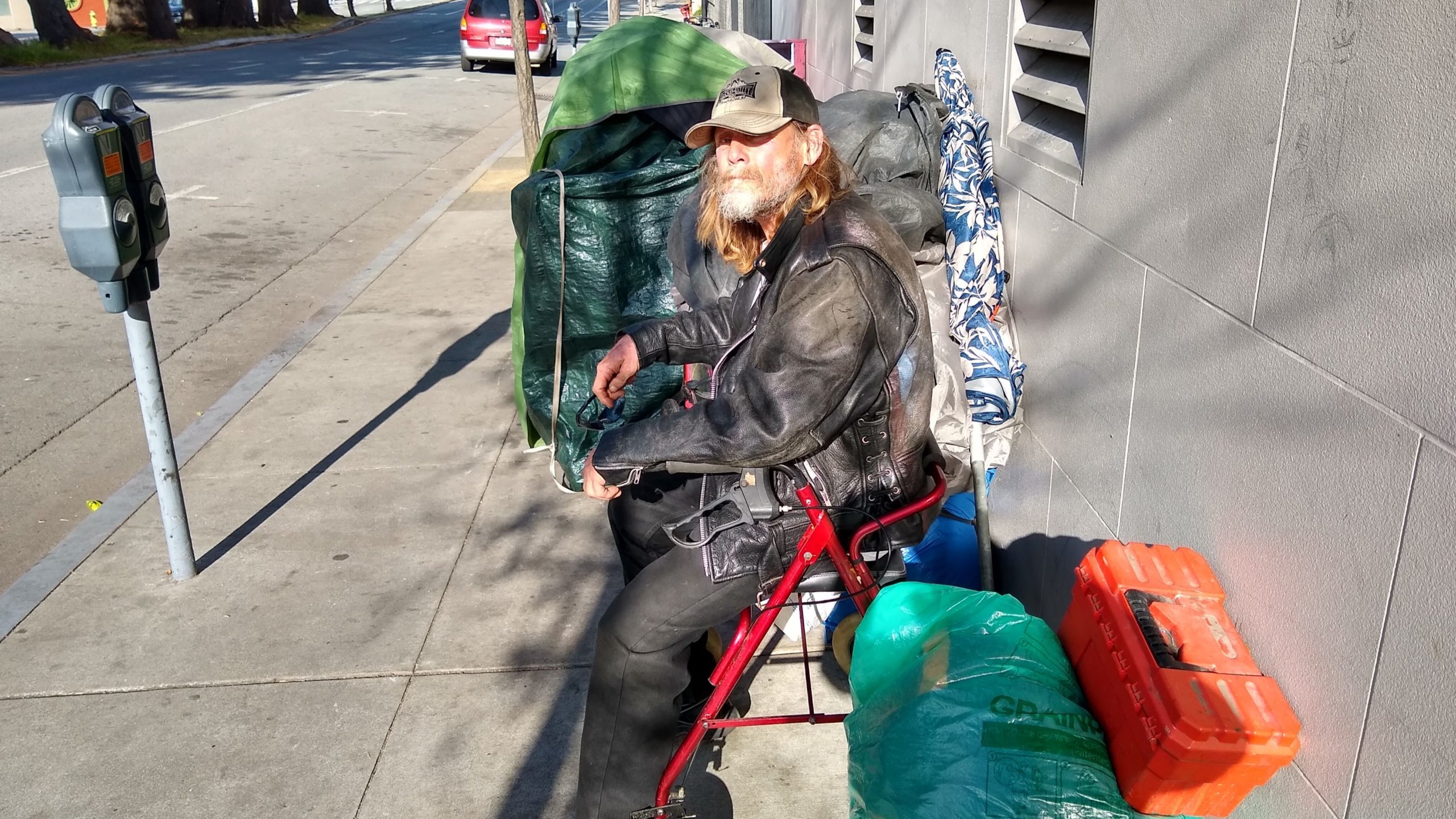 Gary, 63, said he would go to a shelter if it accepted his belongings. He camped near the post office in downtown Santa Cruz in 2020. (Stephen Baxter — Santa Cruz Local file)
SANTA CRUZ >> Midway through Santa Cruz County's three-year plan to reduce homelessness, county leaders on Tuesday outlined some reasons why homelessness has grown in recent months, as well as some progress toward housing more homeless children and parents.
There are two major goals of the county's Three-Year Strategic Plan to Address Homelessness:
A 25% reduction of the roughly 1,405 households experiencing homelessness in the county by January 2024. That includes people in shelters, vehicles and outdoors.

A 50% reduction of the roughly 1,100 households living outdoors and in vehicles in the county by 2024.
"We've got a really mixed situation in terms of how we're progressing on these goals," said Dr. Robert Ratner, director of the county's Housing for Health Division, at Tuesday's county supervisors meeting. "With families with children and youth, we saw significant progress," Ratner said.
The backdrop of the past two years is that Santa Cruz County housing became less affordable, said Randy Morris, director of the County of Santa Cruz Human Services Department, during Tuesday's meeting. 
Based on rents, Santa Cruz County was the second most expensive in the nation, according to a recent report by the National Low Income Housing Coalition. San Francisco, San Mateo and Marin counties formed the most expensive area, according to the report.
A Feb. 28 "point-in-time" count of unhoused people in Santa Cruz County suggested a roughly 6% increase in the past three years. The San Francisco Bay Area had a 9% increase in unhoused people in the same period. 
There were 2,167 people unhoused in Santa Cruz County in 2019 and 2,299 people unhoused this year, according to the report.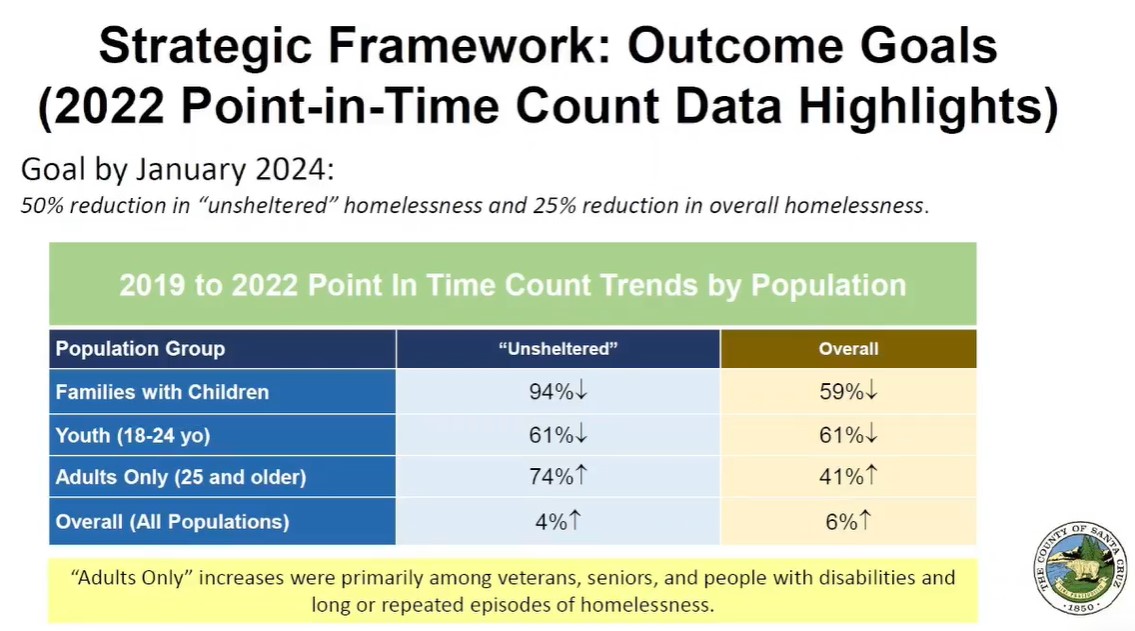 A survey in February showed fewer homeless residents in some categories compared with those categories in 2019. (County of Santa Cruz)
Some trends in Tuesday's report included:
Homelessness among people ages 18 to 24 declined 61% since 2019, according to the report.

There were 59% fewer unhoused families with children younger than 18 since 2019, according to the report.

Fifty families

were counted in shelters, outside, and in transitional housing such as hotels, according to the February tally. 

Chronically homeless people in Santa Cruz County increased from 403 in 2019 to 921 in February, the report stated. "Chronically homeless" means a person has been homeless for at least a year, or homeless at least four times in the past three years. They also must have a disabling condition such as a serious mental illness or drug addiction. Chronically homeless people

are among the most challenging to help house

, homeless services providers and county staff have said.

More unhoused people

reported that they had problems

with mental health and drugs and alcohol this year compared with 2019. County leaders said pandemic stressors may have been a factor as well as a lack of residential treatment beds.

Homeless veterans more than doubled from 151 in 2019 to 332 in February.
Some goals of the three-year plan include:
Expand permanent housing.

Prevent homelessness with rent assistance, connections with landlords and other means.

Improve the effectiveness of programs to help people secure housing, measured in part by the number of days a person spends in a temporary shelter.

Expand capacity within the homelessness response system and increase connections with programs, services and temporary housing.

Build a coalition of stakeholders in the county.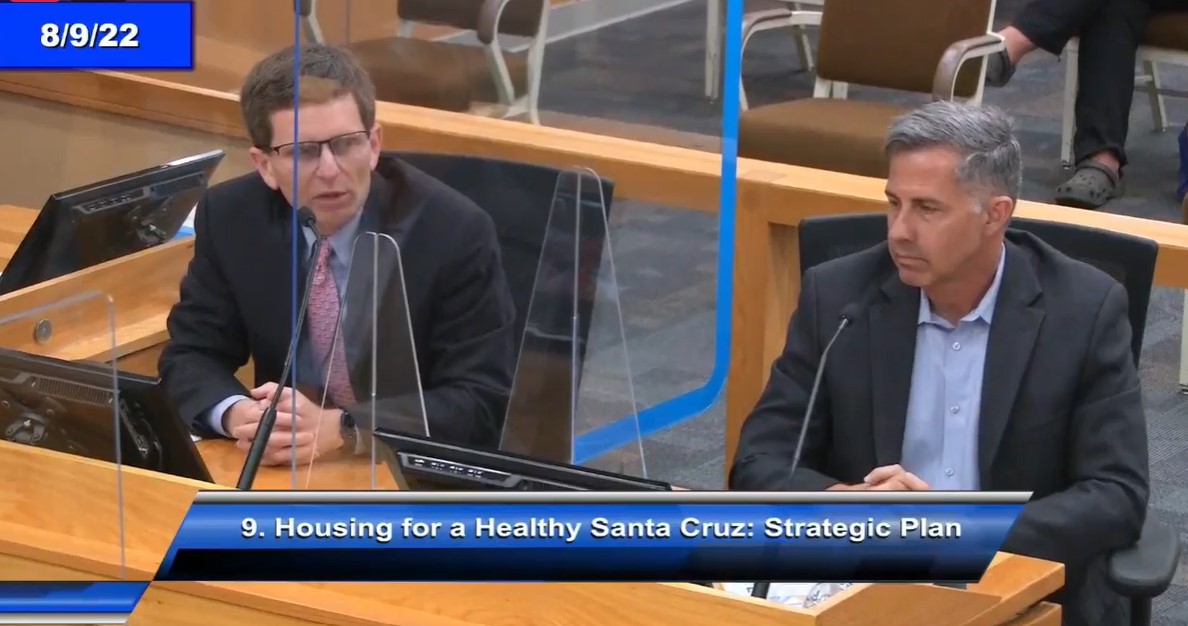 Dr. Robert Ratner, left, is director of Santa Cruz County's Housing for Health Division. Robert Morris is director of the county's Human Services department. Both discussed programs to reduce homelessness during a county supervisors meeting Tuesday. (County of Santa Cruz screenshot)
When Manu Koenig, chair of Santa Cruz County Board of Supervisors, asked about shelter costs, Ratner said that subsidizing permanent housing with rental assistance is cheaper. 
Rent assistance
Rent assistance has been a strategy to prevent residents from becoming homeless and to house the homeless. County leaders said that from January through June, $1.6 million in contracts were executed with local nonprofit groups to prevent people from becoming homeless through rent assistance and other flexible funding, Ratner said. 
Many people have Housing Choice vouchers that provide a rent subsidy, but an ongoing problem has been that many landlords will not accept them, county leaders said. 
Some county housing navigators have found subsidized rentals in places such as Santa Clara County, but many Santa Cruz County residents have been reluctant to leave in part because they have family support here, Morris said. Others have medical problems or are disabled and rely on friends or family here.
"Being offered an opportunity to move somewhere else where they would lose all of their connections — even if they've been here for a long period of time — is a very complicated conversation to have," Morris said at Tuesday's meeting. "Adults have a right to self determination and we can't tell people to leave," Morris said.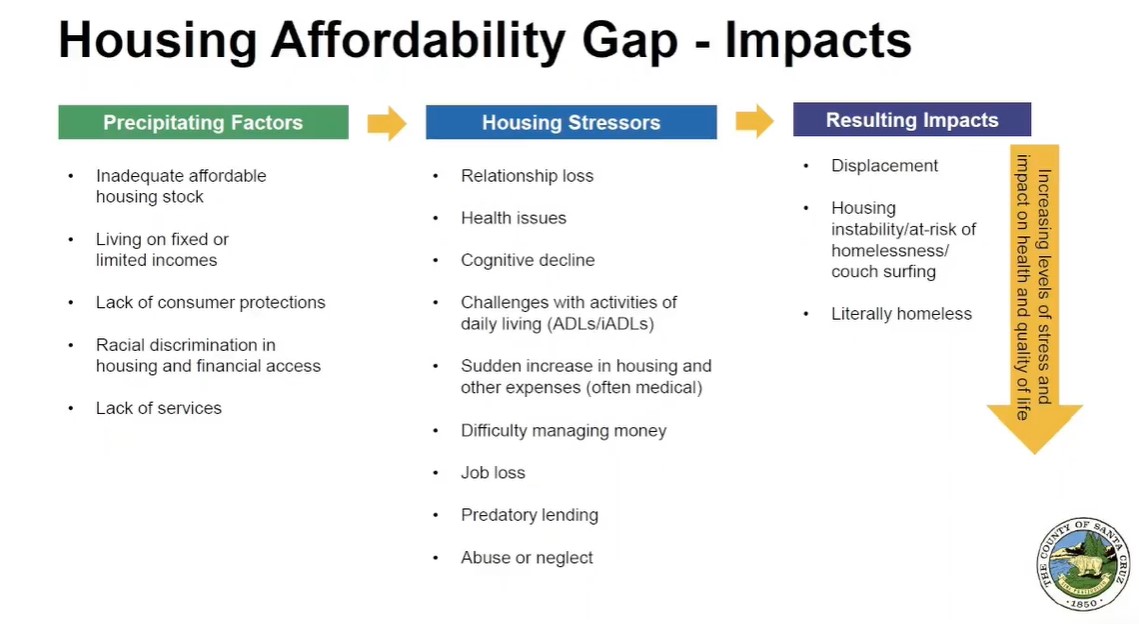 People can become homeless or housing insecure for many reasons, Santa Cruz County leaders said. (County of Santa Cruz)
From hotels to homes
County leaders said they are trying to get to 600 permanently funded shelter beds. There were about 387 shelter and "transitional housing" hotel beds in Santa Cruz County in July, Ratner said.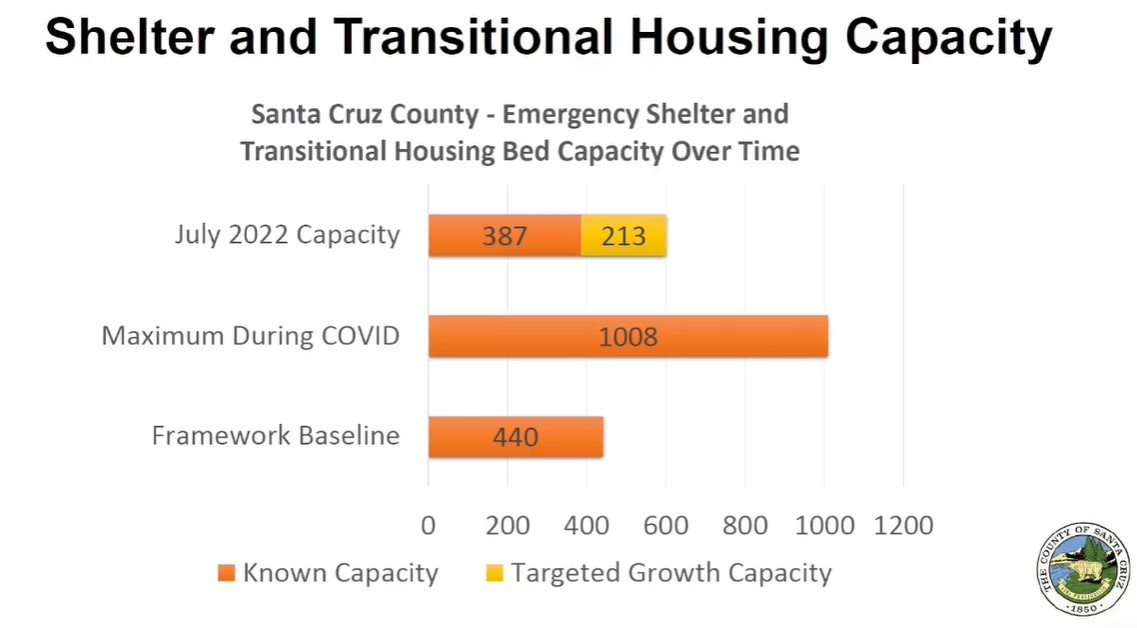 Santa Cruz County leaders said Tuesday there were fewer shelter beds available in July than there were about 18 months ago. (County of Santa Cruz)
Earlier this year, there were 1,008 shelter and hotel beds because there was state money tied to the COVID-19 pandemic. That money expired and the county's last shelter funded with COVID-related money closed in June.
Because county leaders knew that money would end, they tried to facilitate transitions from those hotel rooms to permanent homes in its Rehousing Wave program. It aimed to help 250 people find permanent housing. At least 145 people found permanent housing before the hotel room money ran out in late June, said Ratner, the county's Housing for Health director. 
Twenty-one of the 323 enrolled in the program died in the past 14 months, according to a county report.
"The lack of available private rental market owners and property managers willing to rent to participants remains the primary barrier to helping participants secure permanent homes within Santa Cruz County," according to the report.
About 40 people in the program, including some seniors and disabled, were forced to leave hotel rooms and returned to homelessness in late June, program leaders said.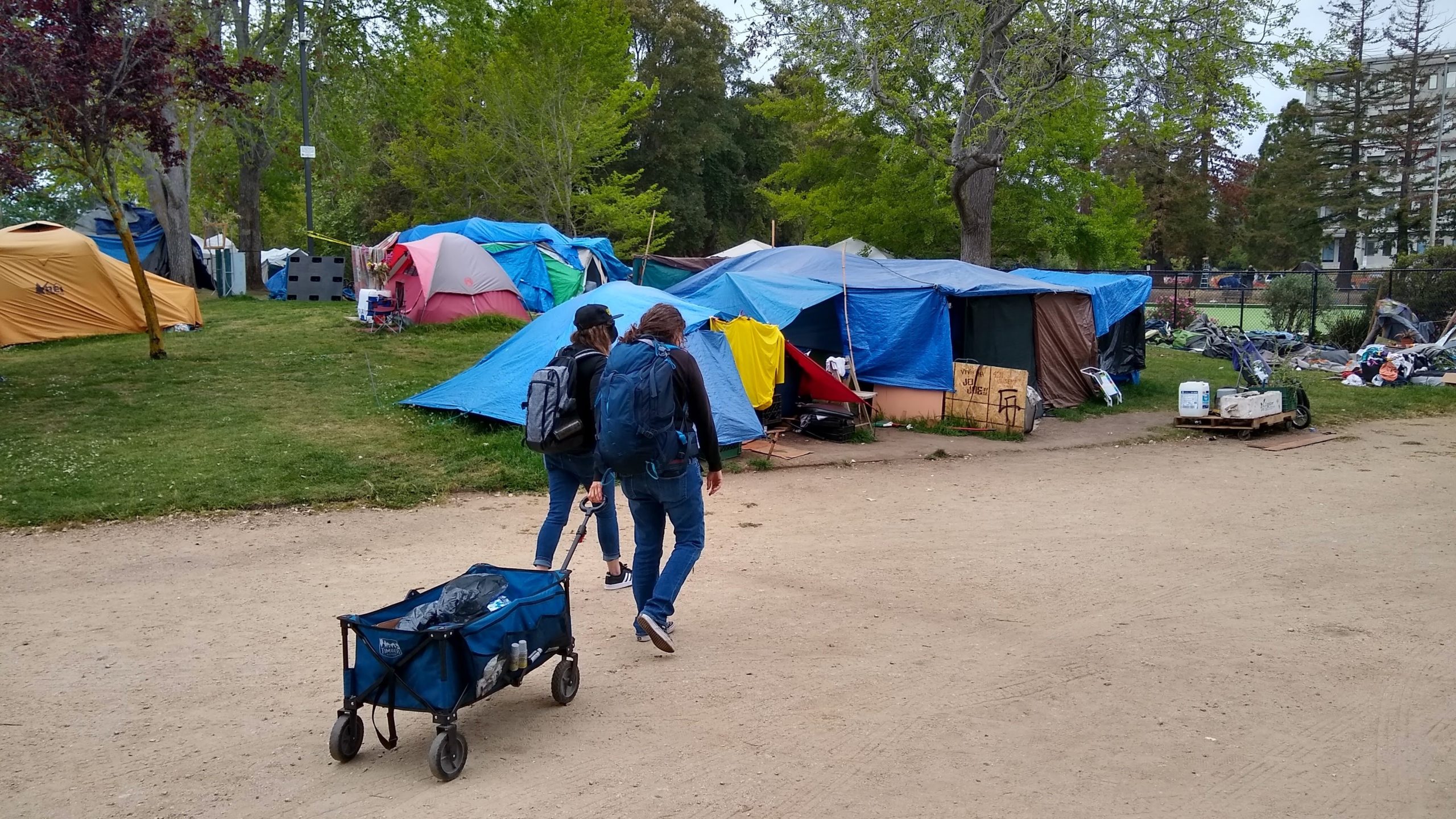 The Homeless Persons Health Project facilitates behavioral health services and provides water, first aid and other supplies at the benchlands near San Lorenzo Park in Santa Cruz in 2021. (Stephen Baxter — Santa Cruz Local file)
Permanent housing
County leaders said they have applied for state Project Homekey money for four affordable housing projects. The state awarded the county about $6.4 million for the 20-unit Veterans Village project in the San Lorenzo Valley. 
Nearly $10.7 million was awarded for a 36-unit project at 2838 Park Ave. in Soquel. The project aims to house former foster youths, veterans and families at risk of homelessness.
State leaders have not decided whether to fund a Project Homekey proposal at 801 River St. in Santa Cruz. It proposed five one-bedroom apartments and two studios for chronically homeless people with disabilities. 
County leaders have appealed a state decision not to fund a 94-unit Project Homekey proposal in Watsonville. It proposed conversion of the Rodeway Inn at 1620 W. Beach St. into permanent supportive housing for the homeless or people at risk of homelessness.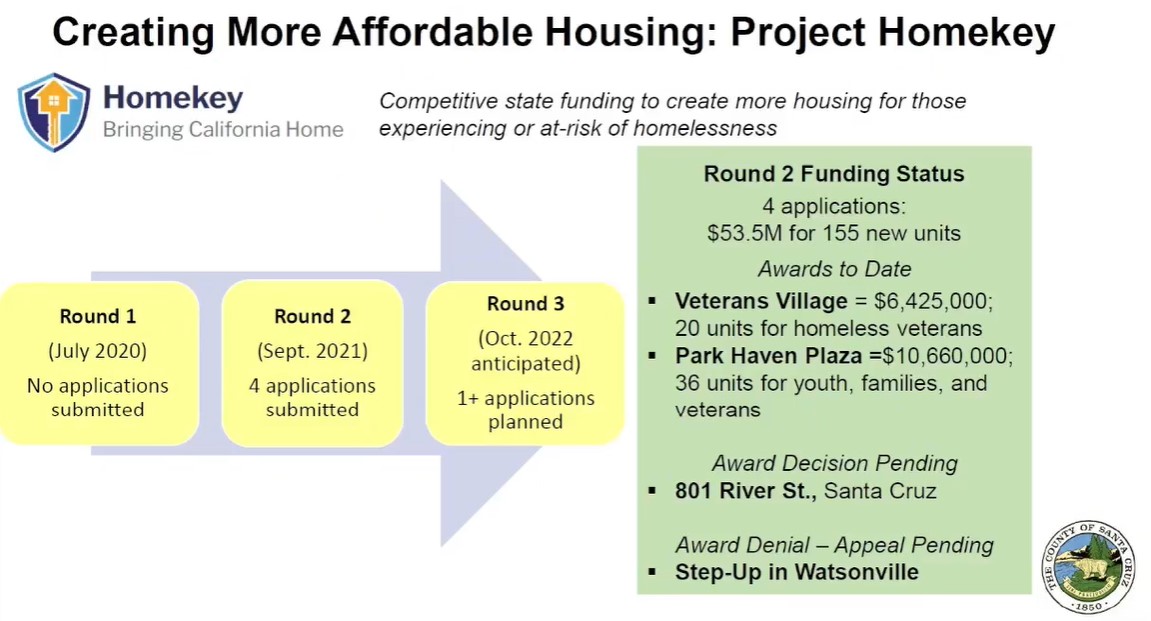 County leaders described some housing projects in the works with state money. (County of Santa Cruz)
Next steps
County leaders said that trying to house more on veterans will be a focus in the next six months. Trying to court more landlords to accept Housing Choice vouchers and continuing rental assistance programs also are priorities. 
"Veterans are a next logical group to focus on and really try to make substantive inroads in reducing homelessness among that population while, of course, continuing our commitment to youth and families," said Manu Koenig, the county supervisors chair.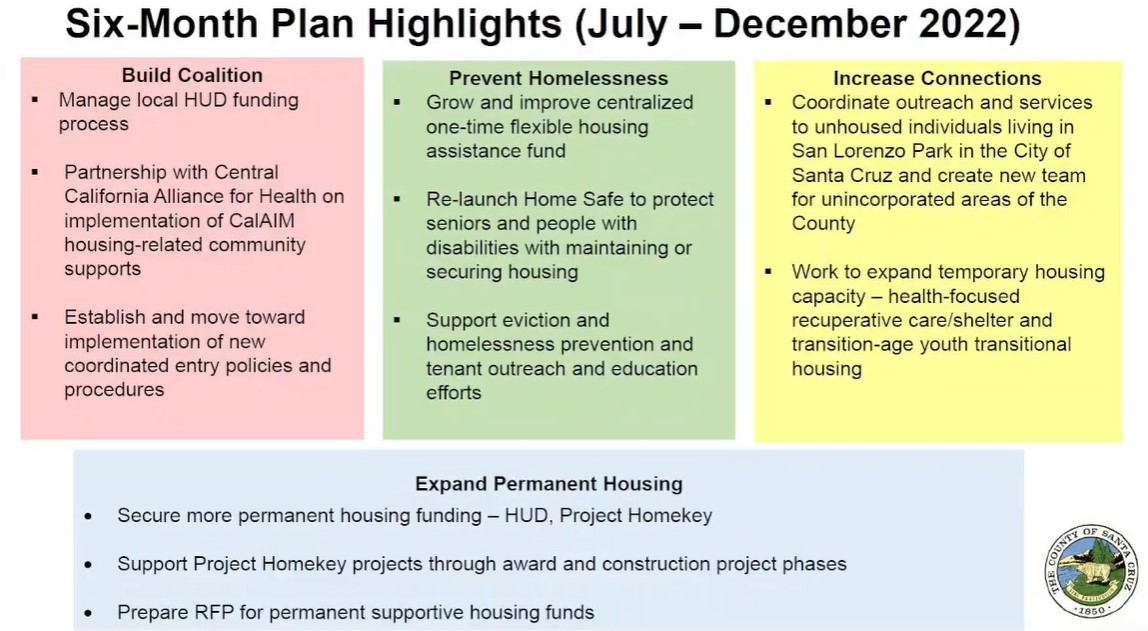 Plans in the next six months aim to help seniors and veterans maintain and secure housing. (County of Santa Cruz)
Morris, the director of county Human Services, said that a state proposal to help more people get services for mental health problems would be a "profound game changer" for their work. 
Community Assistance, Recovery and Empowerment Court is a "proposed framework to deliver mental health and substance use disorder services to the most severely impaired Californians who too often languish – suffering in homelessness or incarceration – without the treatment they desperately need," according to a California Health and Human Services website. 
A bill to enact it, SB1338, is headed to the State Assembly Appropriations Committee on Aug. 11.
Morris said if the bill becomes law it is likely to be "gummed up in court systems." But, he said, "It's an effort by our governor to try to address this issue."
Questions or comments? Email [email protected]. Santa Cruz Local is funded by members, major donors, sponsors and grants for the general support of our newsroom. Our news judgments are made independently and not on the basis of donor support. Learn more about Santa Cruz Local and how it is funded.
Santa Cruz Local's news is free. We believe that high-quality local news is crucial to democracy. We depend on locals like you to make a meaningful contribution so everyone can access our news. Learn about membership.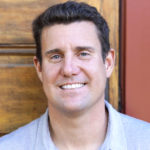 Stephen Baxter is a co-founder and editor of Santa Cruz Local. He covers Santa Cruz County government.