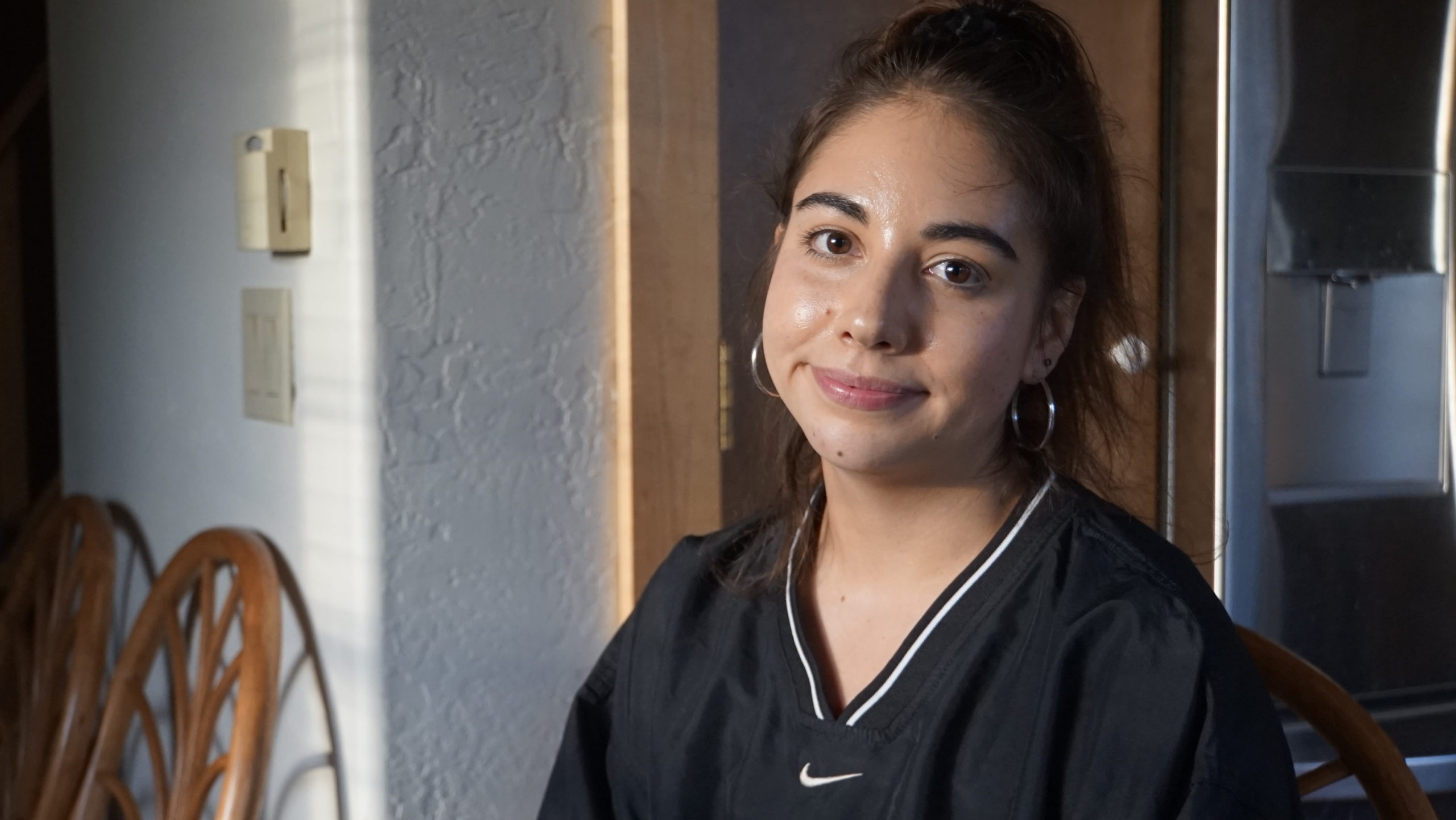 Capitola resident Scarlet Siegel wants to become a social worker to help youth experiencing homelessness. (Kara Meyberg Guzman — Santa Cruz Local)
We hear from four Santa Cruz County residents: a 25-year-old caregiver in Santa Cruz, a 54-year-old janitor in Watsonville, a father of three in Santa Cruz and a 24-year-old sales associate in Capitola. They share their experiences with homelessness and the keys to getting housed. This episode is part of Santa Cruz Local's Solutions to Homelessness Series.
Transcript
ADVERTISEMENT: Have you heard about San José Spotlight? It's a nonprofit news organization over the hill. San Jose Spotlight covers policy, politics and government in Silicon Valley. Tune in to the San José Spotlight weekly podcast, The Podlight. You'll find in-depth conversations about the South Bay issues you care about. Homelessness. transportation, business, education, COVID-19 and more. Find The Podlight on Apple Podcasts, SoundCloud or Spotify. Learn more about San José Spotlight at sanjosespotlight.com. 
[AMBI OF CAMP, ducks under]
KARA MEYBERG GUZMAN: I'm at a homeless camp in Santa Cruz. It's along the San Lorenzo River near the Highway 1 bridge. The camp stretches for about 100 yards. It's between the river and the Santa Cruz Memorial Cemetery.
It's known as Camp Paradise. It's come and gone for years. As of this fall, more than 100 people call this place home.
[AMBI OF CONVERSATION, ducks under]
It's late September. It's a sunny afternoon. The camp is quiet. I'm here with my coworker Natalya Dreszer. We're walking down the main trail. We pass between several dozen tents and lean-tos. Some lean-tos are built out of pallets and tarps. Around the tents, we see people's belongings: potted plants, mirrors, handwritten signs, chairs, Christmas lights, a pile of bikes.
Our guide is Sara Coon. Sara was part of Santa Cruz Local's community advisory board last year. She used to be homeless. A lot of her friends live in the camp. She comes often.
SARA COON: Every time I come down here it looks different. And I come down here every day.

KMG: How long has this camp been here?

SARA COON: Camp Paradise has been here… I'm not exactly sure.

KMG: Before COVID, right?

SARA COON: No, I think it started in the middle of it. 

KMG: Oh, OK. 

SARA COON: But we've always lived down here. We used to have to hide from the cemetery people. We were talking about this the other day. Ten years ago it was ducking and diving because you couldn't let them see because then they'll call the cops on you. And the cops will come yell at you. So we had to hide behind bushes and everything. Now it's, 'Stay away from the water.' 

Let's go down this way.

KMG: What do you mean stay away from the water?

SARA COON: Oh, the groundsmen like to shoot water over there. 

KMG: Oh! Geez. 

SARA COON: And get everybody wet. Knock knock! Honey, I'm home. Hold on.
KMG: We slip past a hanging tarp and climb down through the trees. We're on a sandy riverbank. A stand-up paddle board rests on a makeshift wooden dock.
Sara introduces us to a woman who lives here. She's 25. 
INDY: You can share my comments just don't put my name. Please don't put my name because I have a family in the community and I don't want this to be like a thing. My whole family's here. They'll kill me, basically [chuckles].

SARA COON: She's local.

KMG: You grew up in Santa Cruz?

INDY: Yeah.
[AUDIO DUCKS UNDER]
KMG: She wants us to call her Indy. Indy went to elementary and middle schools in the San Lorenzo Valley. She graduated from high school there too. 
Indy plans to enter the dental hygiene program at Cabrillo College. She hopes to return to Cabrillo soon to finish the prerequisites. Her passion though, is the water. She loves to surf and paddle. She goes all the time.
INDY: When I was doing caregiving I did some aquatic therapy. 

KMG: Cool. 

INDY: And I thought that it was super duper interesting, you know, like seeing how the muscles work and how triggering certain muscles can react to other muscles and maybe save their mobility. You know? 

And so I thought that was like something that could suck me really into a school. I was like, maybe I could do this, because I love the water and I love helping people and I love — I thought I'd be sick as **** to be able to magically get someone who can't walk and get him to walk again, you know, like, just by playing in the pool. Yeah, that's awesome, I think. 

SARA COON: Yeah and you can't do dentistry in the water. 

INDY: Yeah, I don't like teeth either. [Laughs] But it's the fastest route to a job in Santa Cruz County that pays enough to go into home and afford it by myself. 
KMG: Indy lived in an apartment until about three years ago. She had a falling out with her roommate. 
INDY: I went to hotels, and I got a voucher from the county building for like, the two weeks. And then I was working full time still and paying for rooms on top of that. And then I ran out of money. You know? It's expensive out here. So I came out to the streets and I camped. 

I've been a part of the park camp before. I've been part of the Ross Camp. I've lived in the Pogonip. And now I live here. 

And it's just kind of irresponsible to me that I haven't gotten my **** together. But it's kind of a struggle, you know. It's like a weird struggle. And I'm sure you guys know the gist of it. You know? But I've worked, like, I've worked a normal minimum wage job consecutively and I still don't make enough to afford a house out here.
KMG: Indy has held jobs as a caregiver. She sometimes works for a cleaning company. The work is not steady.
INDY: We all know that we need to get our **** together out here. Everyone knows that you need to get up and get going. You need to get on your feet and get a job. And everybody's stressed. It's like, OK, you got to figure out what I'm gonna do today. Or how to get out of this situation. It's not like, 'Oh, this is my home for life!' You know, like, Nobody feels like that out here. At all.

KMG: What's the key to getting you out of homelessness? Like, what —

INDY: Low-income housing.

Somewhere to go. A way I could even make, like, build into being able to afford it. Or like, you know, like, the Families in Transition and stuff, how you can get a job, they give you enough time to get a job, and then build up until you're able to pay your rent. 

Stuff like that would be ideal. Because like, the waiting lists for that stuff is like, years now. 

KMG: Are you on the wait list for one of those?

INDY: I've honestly just been like, I'm gonna do it, you know. And there's people who probably need it a little bit more than me. 
[THEME MUSIC]
KMG: I'm Kara Meyberg Guzman.
This is Santa Cruz Local.
In today's episode, we'll hear from Santa Cruz County residents who live in homeless camps or in their cars. We'll hear their stories and what they need. 
We'll also hear from people who used to be homeless in Santa Cruz County. We'll learn how they were able to get housed.
This episode is part of our series on solutions to homelessness. Before we get into solutions though, we need to understand the problem. And who better to learn from than the people who are affected most?
[AMBI OF FARMERS MARKET]
I met Froylan Infante Garcia at the Watsonville Farmers Market. It was mid September.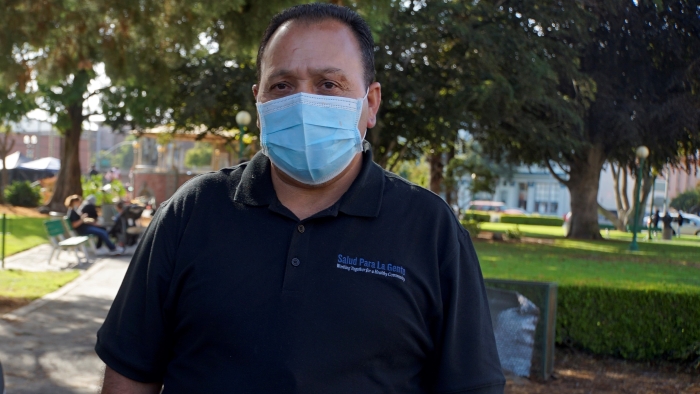 Froylan Infante Garcia works full time as a janitor at Salud Para La Gente in Watsonville. (Kara Meyberg Guzman — Santa Cruz Local) 
Froylan works full time as a janitor at Salud Para La Gente. That's a health clinic in Watsonville. Froylan told me he's hard-working and strong.
Our interpreter was Oscar Rios.
FROYLAN INFANTE GARCIA: I'm 54 years old. The 10th of November, I will have been homeless for three years. What made me be homeless was that when I had an apartment, I was getting myself in debt. More and more and more. I had to make a decision: either eat or rent. Now, at this particular time, everything is more expensive. I don't even think about renting. Right now I've made the decision to work only to eat and survive.
KMG: Froylan earns $3,200 a month. His wife gets a few hundred dollars a month from a federal program. It's for people with disabilities. They live in their car. 
FROYLAN INFANTE GARCIA: My wife has a mental disability. And I've gotten no help from nowhere. They say that because I make $3,200, they say that that's enough for rent for a place. But when I do my monthly budget, it's not enough to pay for the rent. That's the reason I don't rent.

KMG: What do you need? Like what would help you get out of homelessness?

FROYLAN INFANTE GARCIA: Maybe study more maybe? And to have a higher income.
[AUDIO DUCKS UNDER]
KMG: Froylan told me that he can't rent an apartment because his income is too low. Property managers always deny his application. They tell him he does not qualify. 
FROYLAN INFANTE GARCIA: They had told me that you need to make three times the amount of the rent. So if the rent is $1,500, you have to make at least $4500 just so you can have a regular life. That's what some say. And what I say, with these rules, who makes $4,500 a month? Who? Maybe engineers or doctors, lawyers, from there on up. With 40 hours, who works to make $4,500? Who? Life is not regulated right now. It's not normal.
[ MUSIC]
KMG: In the past few weeks, our team interviewed about two dozen homeless people in Santa Cruz County. We went to homeless camps and food handouts.
We started with three questions: 
What would help you get out of homelessness?

What services are helpful to you?

What do you need?
Not surprisingly, a need for housing was the most common theme we heard. People wanted stable, lower cost housing and help with rent.
Another big theme: People said that Santa Cruz needs more public bathrooms and showers. The few toilets available are often dirty and not welcoming, they told us. The Housing Matters campus has a few showers, but the hours are limited. People have waited for hours in line for the shower. Sometimes to no avail.
We also asked people about their hopes and dreams.
Here's Matthew Hendrix. He's 32. We met him at a tent camp behind the county government building in Santa Cruz. Matthew had lived in an apartment in Aptos until early this summer. 
Until this summer, Matthew Hendrix lived in an Aptos apartment and worked two jobs. (Natalya Dreszer — Santa Cruz Local)
MATTHEW HENDRIX: My goal is to get some stability, like, that's really what I need, is some stability in order to get, get — I feel like stuck, you know? I don't have anything or nowhere to go or do, just to begin to, you know? Like, yeah, I could go to the armory (shelter) or I could go do something like that. But then it's like, you're still in the same spot, you know? You're in a tent somewhere, you know? So it's like —

KMG: Like, paint the picture for me. What would that look like?

MATTHEW HENDRIX: Like some type of housing. Whether it's a room or a shared room, you know? I have my wife and kids. My kids are with their grandparents, too. So my wife's pregnant with my third son with her. You know, we're trying to get in the Rebele shelter, but apparently she's not — she's six months pregnant. You have to be nine months pregnant. So you know? All I really need is that stability. And then I can get back to the job and then progress from there. I mean, I was, I had it when I had the house, and second came the job. 

And then came this stability. I was able to stay clean. People would offer me drugs, gave me drugs, I, for the first time, I was able to say no. Part of it had to do with my kids too. But then that stability of knowing I have a safe place to go and it's not gonna be taken away. I'm not gonna have to sleep outside. That makes all the difference in the world. 
[AUDIO DUCKS UNDER]
KMG: Matthew told me he's lived in Santa Cruz County his whole life. 
MATTHEW HENDRIX: Yeah, my dad's a local here. My grandma's homeless here. My mom, my sister are homeless. 

KMG: Whoa, your whole family. Did you grow up homeless?

MATTHEW HENDRIX: My grandmother, my mom's mom, raised me and she had a house for the most part. But yeah, since I've been about 16 I've been outside or trying to escape from place to place, hotel rooms, you know, with my mother.
[AUDIO DUCKS UNDER]
KMG: Until this summer, Matthew worked two jobs. He worked at a Burger King in Santa Cruz and the Fairfield Inn and Suites in Capitola. Before that, he worked in construction and retail.
Matthew had a four-year break from homelessness. That was when he and his family lived in a two-bedroom apartment in Aptos. 
The rent was $2,700. He had rental assistance of about $1,700 a month. When that help ended, he and his family became homeless again.
That was this summer. He moved into the Benchlands homeless camp. His wife went to a shelter in Watsonville. His kids moved in with their grandparents. 
Matthew became depressed. He had to deal with some problems in family court. He stopped working.
Looking back on it, Matthew says the linchpin for his family was that rental assistance. That's what kept his family housed.
MATTHEW HENDRIX: That was because of my kids. So now that me and my wife don't have our kids in our possession, all that goes out the door. So what about people who don't have kids? You know, or their kids are old, grown up and gone? What are they supposed to do? How are they gonna get help and funding? How are they supposed to get the funding and help without having kids or some disability?
[MUSIC]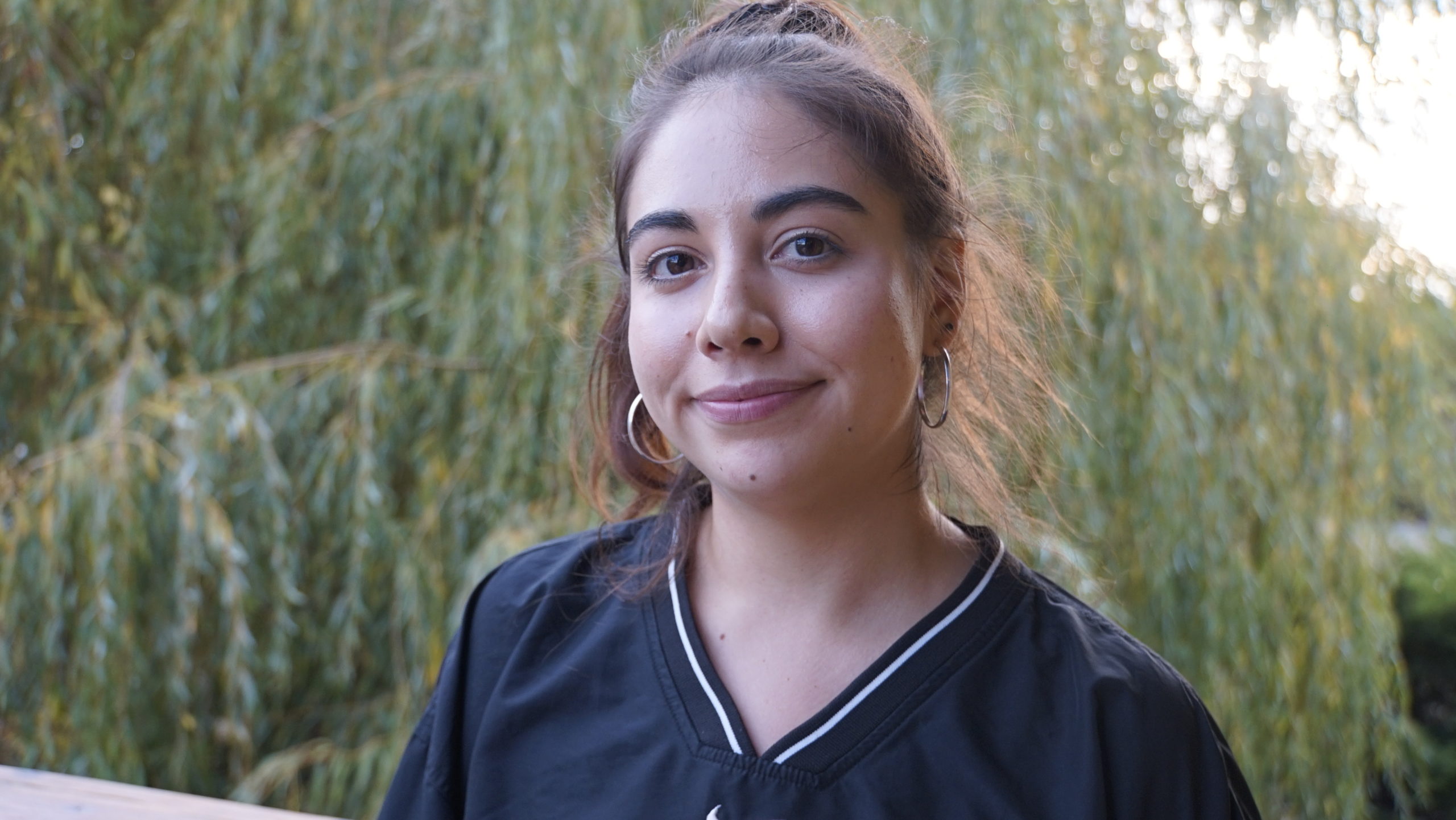 Scarlet Siegel wants to become a notary so she can get a promotion at a UPS store in Santa Cruz. (Kara Meyberg Guzman — Santa Cruz Local)
KMG: We also interviewed Santa Cruz County residents who used to be homeless. We wanted to know how they became housed. We thought they could help us understand solutions to homelessness.
SCARLET SIEGEL: It's kind of tough, even with a job or two jobs to live in Santa Cruz. A lot of people have to work three jobs to even have an apartment in Santa Cruz.
KMG: Scarlet Siegel is 24.  
She works at a UPS store in Santa Cruz. She's a sales associate there. She's going to take a test next month to become a notary. Then she can get a promotion. 
Scarlet lives with her boyfriend in Capitola Village. They just got an apartment together. Until recently, they lived with his dad in Scotts Valley.
SCARLET SIEGEL: I want to start going to Cabrillo and I want to get my Gen Ed out of the way. And then I was thinking I wanted to be a social worker just to help out kids that have dealt with what I've dealt with, because I'm very understanding about that. 
[AUDIO DUCKS UNDER]
KMG: Scarlet grew up in Santa Cruz. 
SCARLET SIEGEL: Yeah, so I lived with my mom and my dad over off of River Street on Potrero Street. 

They broke up when I was about six. My mom became like, really addicted to pills because she injured her back. So that's how her addiction kind of started. And then my dad was also very abusive to my mom physically. So that was like my first memory. Like my dad physically abusing my mom and me trying to protect her when I was like a very small child. 
[AUDIO DUCKS UNDER]
KMG: When her parents split, Scarlet stayed with her mom. Scarlet told me her mom struggled with addiction. 
They moved around, eventually to a house on Button Street in Santa Cruz. Scarlet was 15. 
SCARLET SIEGEL: That's when I kind of started leaving home a lot because it was just kind of scary where I was. Like, there was a lot of people over there, like scary guys. And like, people in my room. And just, it was terrible over there. 

So I started leaving and like staying at friends' houses just because I don't want to be there. And it started to get, like, really bad. So I was like, you know what, I'm leaving. I can't be here. There was like, random people sleeping in my bed one day, and I was like, I can't be here anymore.
KMG: Scarlet stayed at a friend's house. She told me it wasn't ideal.
SCARLET SIEGEL: It was just kind of a mess over there. Because there was a lot of people staying there. It was like four of my other friends staying there that also had kind of broken homes. His home life wasn't also the best. Like his mom was, I think, also using, and it was just kind of all over the place. There was like, probably six teenage kids sleeping on the ground. So I would stay there and my mom was staying at different friends' houses, staying in cars, staying different places. And I would kind of go visit her. 

KMG: Would you have considered yourself homeless at that time?

SCARLET SIEGEL: I mean, I would because it was kind of like a messy situation. And sometimes there was too many people there. And I couldn't always stay there. So I would put money together to rent a hotel room with friends if we couldn't stay there. Or I would see where my mom was staying and see if I could sleep on the ground where she was staying. So yeah, I would consider myself homeless then.
KMG: Scarlet told me that she struggled with addiction as a teenager. She partied, took pills and drank. She eventually ended up in a group home in Watsonville. 
She told me that one day she just came to a realization. She was about 19.
SCARLET SIEGEL: Something in my head kind of clicked. And I stopped, like, using drugs and decided that I didn't want to go down the path that my mom and my dad went down. And I really wanted to try my best. And I went back to high school and I graduated on my own. And I decided to just kind of do my best. And I had to live with like, past boyfriends at their houses. 

And like, I kind of had to do that because I couldn't afford to rent an actual place out. So that's how I got out of homelessness. But I think not being on drugs and not going down the wrong path and kind of just like having that click in my brain and doing the best that I could and get a job and like, do all that stuff, really helped me.

KMG: Once you decided things are gonna change, can you tell me about those steps? How did things sort of fall into place?

SCARLET SIEGEL: So it was definitely like a slow process. First, it was like, 'Alright, I'm going to stop taking pills. I'm going to stop drinking alcohol. I'm going to stop hanging out with that person because they keep stealing from me, certain little things like that. It wasn't just all at once. 

I got a job at a sandwich place. And I was like, 'OK, this is a first step. I'm gonna work at the sandwich place full time so I can't go party all the time.' But I think it was just like small little steps. 

And then I slowly realized, like, my ex-boyfriend was kind of bad for me. And I dated a lot of guys that were mentally abusive to me. Never physically, but just like put me down a lot. And I kind of realized that the reason I was with people, like with people in general, is because I wanted that sense of comfort and home. And like, I've looked for that in a person rather than like a home because I didn't have that and didn't have family. So I look for that in people. And I was like, OK, I need to stop looking for that in people and try to find it for myself. And once I started actually doing things to help myself rather than looking for people to help me, that actually really played a good part in me stepping up and doing better in my life.

And like I know other homeless people probably have crazier stories than I do and like have dealt with so much. Because there's just like so much you have to do and so much you have to — like hoops, you have to jump through and I remember just like, staying with my mom in cars and like weird places after she got kicked out of the Button Street house. And yeah, going to churches to get food and like, it's tough. Definitely being homeless, especially growing up and like, trying to go to school at the same time. And like, your home life just being so messy, that it's hard to focus on school. I remember getting held back a lot in elementary school, just because I was so focused on, am I going to be able to eat dinner tonight? Where am I going to be?

KMG: Where did you go to middle school and high school?

SCARLET SIEGEL: I went to high school at Ponderosa. It's alternative education in Ben Lomond. And then middle school, I went to SLV (San Lorenzo Valley Middle School).

KMG: Oh OK, got it. What really helped you during that time, from 15 to 19? Were there any services or programs that you really depended on that were very effective?

SCARLET SIEGEL: Um, food stamps definitely helped, like getting food. My mom would just give me her food stamp card, because it was for both of us to get food. So that helped a lot. But she also would sell her food stamps for money for drugs. So that was like, kind of tough when she would do that. And, obviously, that's not legal to do, but she would do that. So that was tough. 

The churches definitely helped a lot just to get food, even if it was just like a box of cornflakes or anything. So that helped a lot. I definitely wish there was more help, just because — like, I wish there was a way for like, youth to get food stamps, rather than their parents getting the food stamps, because there's a lot of situations where the parents do sell the food stamps. And then the kid's starving and they can't eat, and they have to go figure out if they can go to the church. 

So I feel like it would be helpful because like, I just remember not being able to eat enough as a kid. That was one of the main things. And now I'm very, like, I don't want to waste any food. Like I always eat like every last bite, even if I'm full. I'm like, I can't waste it.

KMG: Were there any other programs you wish you had when you were experiencing homelessness?

SCARLET SIEGEL: Better therapy and counseling. We had MediCal. I'm still on MediCal. But that insurance isn't really the best for therapy and counseling and stuff, like you can get a counselor, but they're not like that — they don't really know what they're talking about. At least, they don't understand what I'm talking about, I guess I would say. I don't want to put them down. 

But like, it was hard to talk to them. Because they would just be like, well, are your parents using drugs? They kind of wanted to just get to the bottom of what illegal was happening, instead of like, 'Are you OK? What's happening?' 

I feel like therapy would have really helped me because I think I wanted to numb myself, because I couldn't talk to anyone, and I didn't have anyone to talk to. So it was like, OK, if I can't talk to anyone, I'm just going to numb myself with alcohol and drugs and not talk about it, because I don't have anyone to talk to.
KMG:  I asked Scarlet if a faster path to housing would have helped her and her mother. Other California counties have a shorter wait time for homeless people to get into housing.
SCARLET SIEGEL: I think that it would at least help me. It might not help her because she was struggling with addiction a lot. But I think it would help me get through school and be able to graduate when I needed to graduate high school instead of dropping out and then going back, which is fine, but like, I wish I could have graduated when I was supposed to. And it probably would have helped me go to college when I wanted to go to college, rather than trying to figure out where I'm going to sleep at night. So I think that would have really helped. And that could help a lot of youth get through that and go to school and do what they want to do with their life instead of worrying about what they have to do to survive.

I think it would have just been nice to like have a place to stay even if my mom was still struggling, like, just like shelter like that might have at least helped her with her addiction, you know, that we could have a nice warm place to stay rather than being in a car with another drug addict to sleep somewhere. Like I think that would help her and that would help me so yeah, just having housing would help the whole situation a lot more.
 [MUSIC INTERLUDE]
KMG: Stay tuned for the next part of Santa Cruz Local's Solutions to Homelessness series. We'll look into programs that have shown promise at addressing homelessness in other parts of California.
We have more stories in this series on our website. We answered readers' questions on how landlords can rent to people who are homeless in our county. We also published the initial results of our survey on Santa Cruz County residents' views on homelessness.
We also published more stories of people who live outside.
All those links are in our show notes.
All of Santa Cruz Local's work is free. We are supported by our members. Our members donate starting at $9 a month or $99 a year.
So much work goes into these episodes. To understand the complexity of people's stories, we gathered hours and hours of recorded interviews with people who live outside. To understand the themes, we sorted all those responses in a private database. This work takes time and money.
We do this work because we love Santa Cruz County. Please support local journalism with a membership today. 
The link is in our show notes.
If you use the Patreon app, you can also donate to us there. That link is also in our show notes.
And. To enter our contest to get a free coffee at 11th hour in Santa Cruz, sign up for our email newsletter. Our newsletter keeps you up to date on what's happening in local government. We also show you how to get involved.
Sign up link is in our show notes. We'll draw a coffee winner on Wednesday Dec. 1.
[ MUSIC]
Thank you to all our members. Thank you especially to our highest-level members.
Elizabeth and David Doolin

Fran Goodwin

Jim Weller

Debra Szeicei

Chris Neklason

Patrick Reilly

Cove Britton

Craig Rowell and Cory Ray
Thanks to Trimpot for the music.
Thank you also to Santa Cruz Local's Natalya Dreszer for helping me report this episode.
And much gratitude to the UC Santa Cruz Science Communication students. They also contributed reporting to this episode.
I'm Kara Meyberg Guzman.
Thanks for listening to Santa Cruz Local.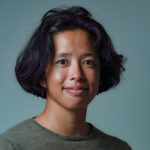 Kara Meyberg Guzman is the CEO and co-founder of Santa Cruz Local. ​Prior to Santa Cruz Local, she served as the Santa Cruz Sentinel's managing editor. She has a biology degree from Stanford University and lives in Santa Cruz.