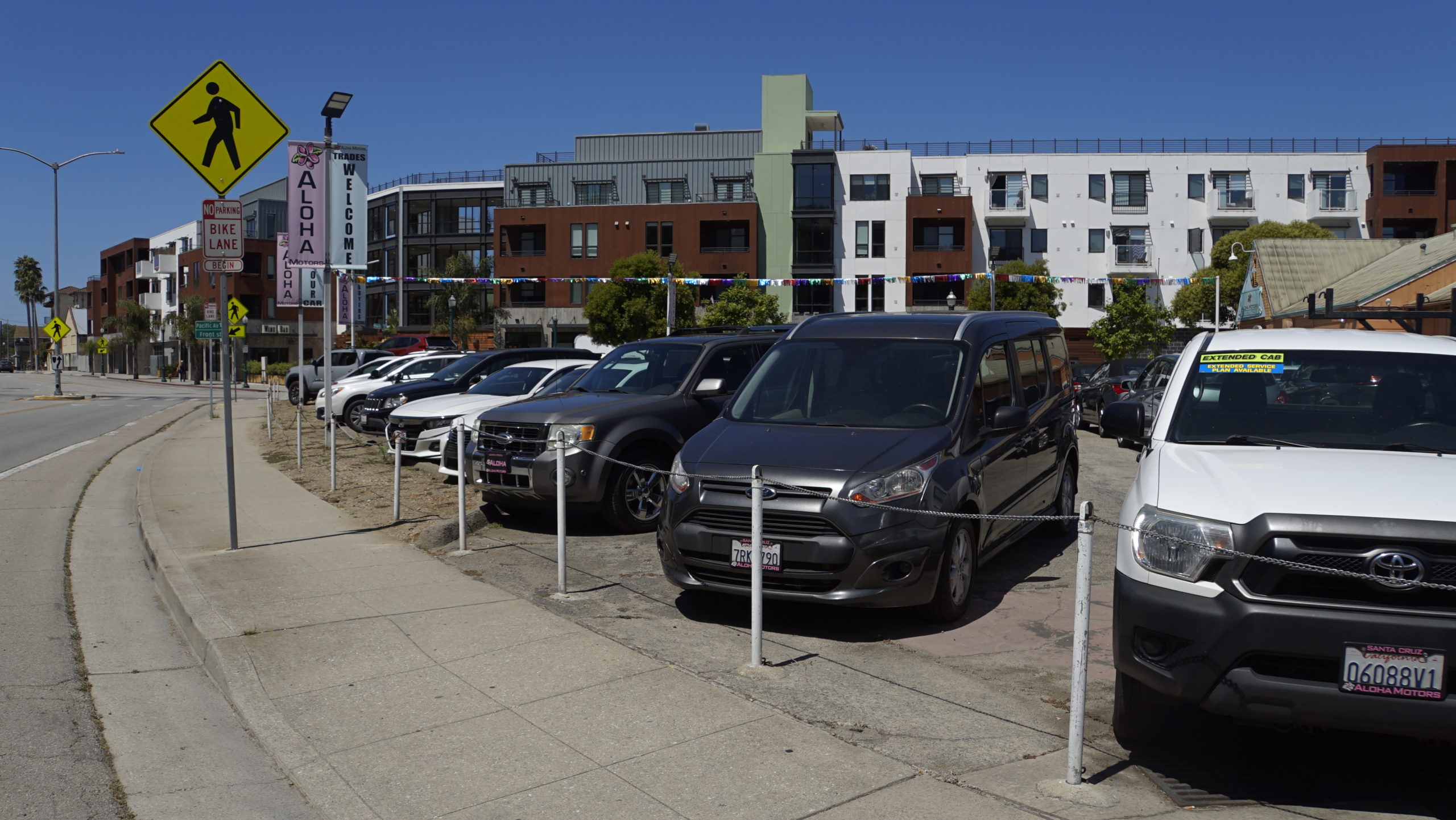 A city plan was advanced Tuesday that aims to increase housing potential and better connect downtown to the beach and riverfront. This city block between Pacific Avenue and Front and Spruce streets could be home to a new Santa Cruz Warriors arena with housing and shops. (Kara Meyberg Guzman — Santa Cruz Local)
SANTA CRUZ >> The Santa Cruz City Council on Tuesday night advanced a plan that aims to better connect Downtown Santa Cruz with the beach and riverfront, allow for more housing and create a permanent arena for the Santa Cruz Warriors basketball team.
The plan, an update to the Downtown Plan, extends the downtown zoning area south of Laurel Street to Front Street. 
According to a staff report, expanding the downtown area would:
Promote more multi-family housing projects, enabling the city to meet the housing production goals set by state and local leaders.

Provide space for a permanent stadium for the Santa Cruz Warriors. The stadium will be privately funded by revenue from neighboring commercial and residential projects.

Create more public parks, trails and other community spaces.

Better connect downtown with the beach and riverfront.
Planner Bill Wiseman from Oakland-based consulting firm Kimley-Horn presented the proposed plans to city council. The plans include:
Permanently closing Spruce Street east of Pacific Avenue. A new civic space would be created on the closed road.

Regrading Spruce Street to gradually slope up towards the river, creating a smooth path to the top of the San Lorenzo River levee.

Using some streets, including Pacific Avenue, as "flex zones" which could close for events.

Use Cliff Street as a "transition zone" to connect downtown to the beachfront.
The future home of the Warriors remains undetermined. The new stadium could be built on the existing lot, but another location being considered is on the south side of Spruce Street between Pacific Avenue and Front Street, according to a city staff report.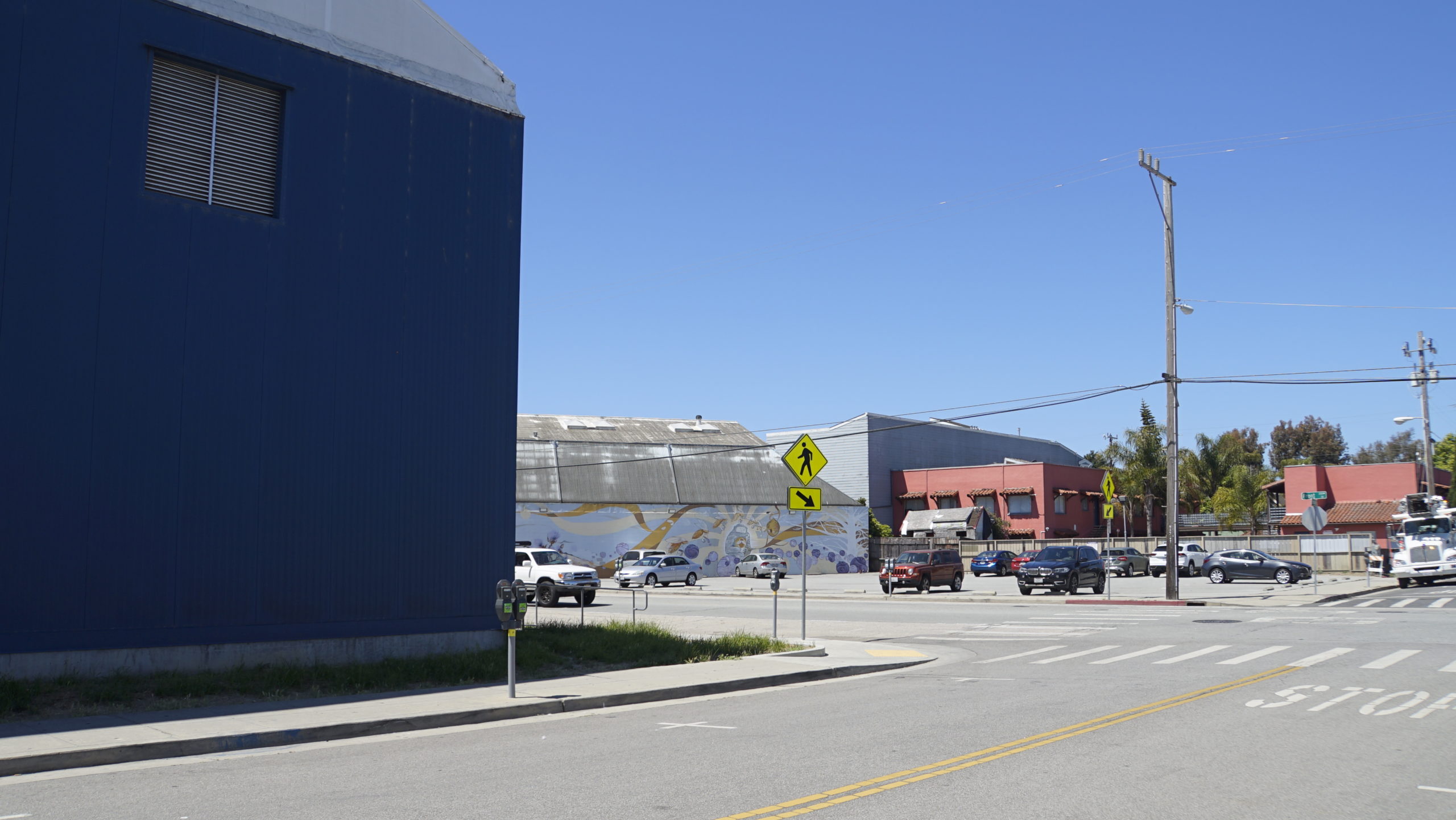 A new Santa Cruz Warriors arena could be built one block west of the current arena, south of Spruce Street and between Front Street and Pacific Avenue. Warriors leaders are developing partnerships with property owners on the four blocks surrounding this intersection for a possible housing and commercial project, Santa Cruz Planning Director Lee Butler said at Tuesday's council meeting. The organization is exploring a potential mixed-use arena project that could include affordable housing, office space, restaurants and shops.(Kara Meyberg Guzman — Santa Cruz Local)
Senior Planner Sarah Neuse said increasing the density of homes downtown would enable the city to meet not only the housing goals set for the next seven years, but for decades in the future.
"Any number of units we put in this part of town we don't need to find a place for elsewhere," Neuse said.
Maximum height debated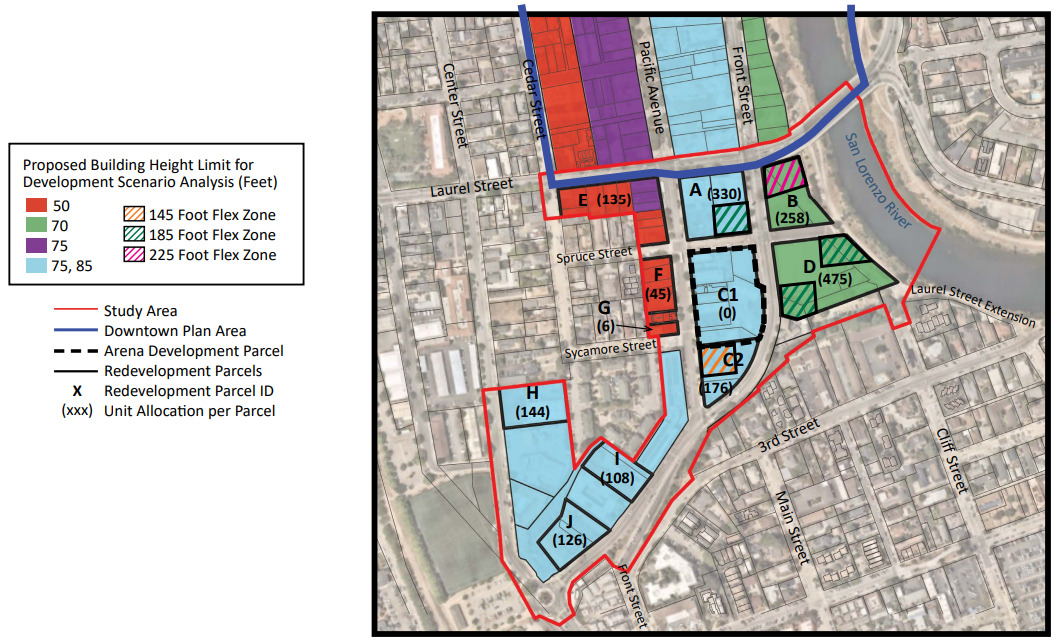 A map shows striped areas along Front Street where city staff recommended increased building heights of 145 to 225 feet. The council instead advanced a plan that called for a maximum building height of 150 feet, with one taller building at 175 feet. (City of Santa Cruz)
The staff-recommended plan included a maximum building height of 50-85 feet, with up to five buildings from 145-225 feet permitted in limited areas. In May, the Santa Cruz Planning Commission recommended that heights for all buildings be capped at about 90 feet. Ninety feet is the same height as the seven-story Palomar Hotel.
City staff disagreed with the planning commission. 
"Large blocks of buildings all at the same 90-foot height would look and feel monotonous and oppressive," city staff wrote in a report. "Taller building elements, which will create a distinctive skyline, would actually feel lighter and allow the base portions of all buildings in the project area to be in scale with their environment."
Residents push back
Santa Cruz Warriors President Chris Murphy urged the council to support the plan and clear the path towards a permanent home for the team. He said a new stadium would house not only the Warriors, but also serve as a venue for the Santa Cruz Symphony and host other regional events.
At Tuesday night's council meeting, the plan received some support from others that included:
Some supporters of the Santa Cruz Warriors.

Several former city council members.

Leaders of the housing advocacy group Santa Cruz YIMBY.
"We need housing desperately," said Zachary Davis, who owns several restaurants in Santa Cruz. "This is a perfect place for housing to go." 
But several residents in neighborhoods adjacent to downtown said the planned development would block out views and dwarf nearby homes.
Beach Hill resident Philip Rosenblum called the plan a "zoning bomb" and said outreach to residents in neighborhing communities had been insufficient. 
"Do we benefit if you want to widen streets, if you want to build plazas, if you want to plant trees, if you want to build more walkways and you want to improve beach connectivity? Absolutely," said Rosenblum. "Does that have to go hand in hand with building skyscrapers?"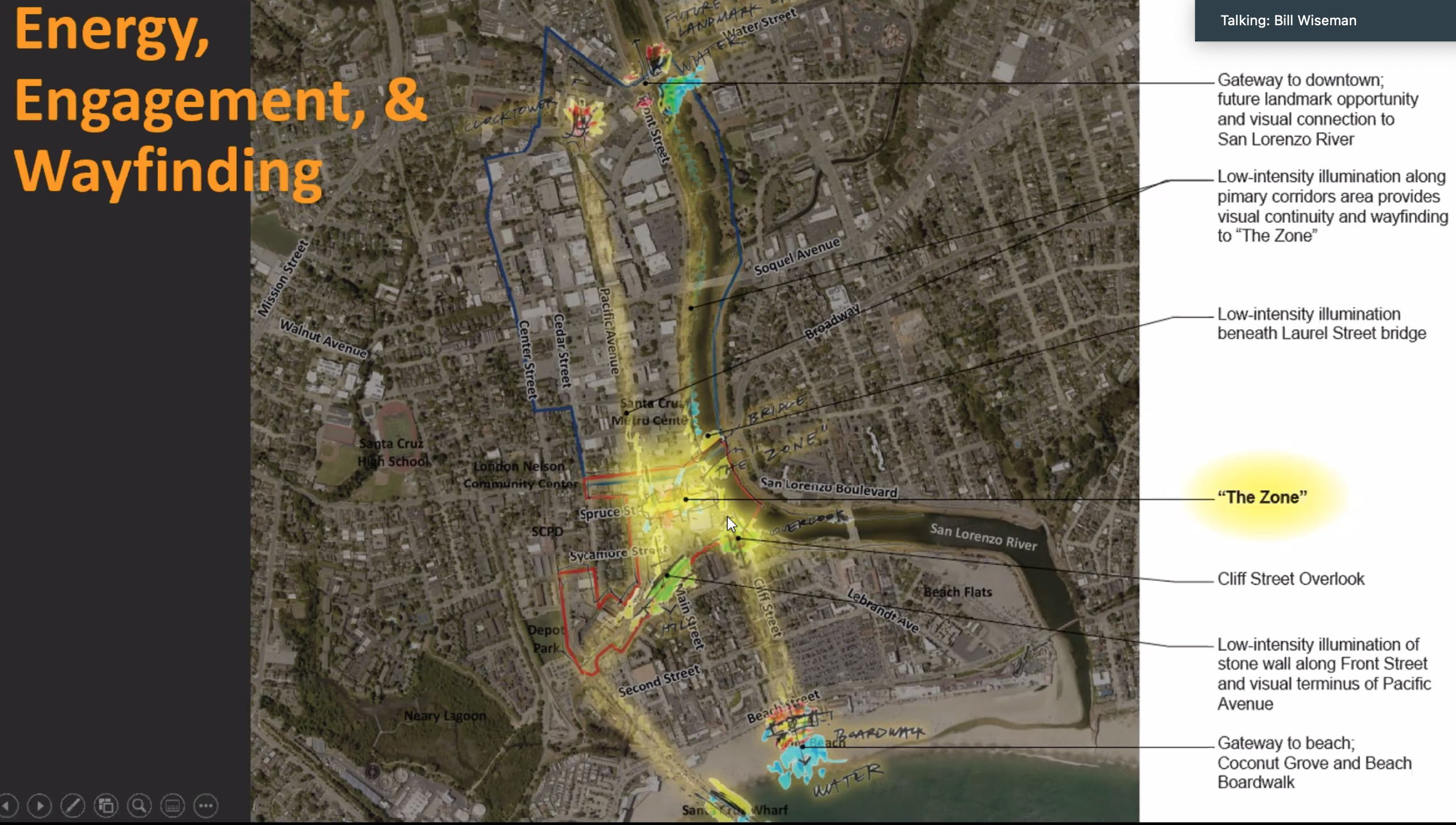 A map shows streets with expanded walk and bike access that would connect a planned expansion of Downtown Santa Cruz with the beach and San Lorenzo River. (Kimley-Horn)
Council chooses alternative plan
Santa Cruz City Councilmember Renee Golder supported the plans, including connection to the San Lorenzo River and increased building heights. 
"These buildings will be here long after we've kicked the bucket," Golder said. "We're going to be gone and the city will be different, just as it was different before we were here." 
Councilmember Donna Meyers supported the proposal, but expressed concerns on the development's environmental effects on birds and other wildlife. Meyers proposed a motion that decreased the plan's maximum building height to 150 feet — with one taller building at a maximum of 175 feet, based on community feedback. It was called the "medium-intensity development scenario."
For reference, the 90-foot Palomar Hotel is seven stories tall. Meyers said, "I don't see support for 225-foot buildings."
Councilmember Justin Cummings proposed an amended motion, which would have required 25% of new housing units to be priced for households with moderate, low or very low incomes, compared to area median income. The city currently requires 20% of new units to be offered at affordable rents or prices to people with incomes below thresholds set by the state. Cummings' proposal also would have created a committee to study ways to minimize negative impacts to residents in Beach Street and Lower Ocean redevelopment. The amended measure failed 2-4. Brown and Cummings voted in favor of it.
Mayor Sonja Brunner recused herself from the item due to her position as the director of operations for the Downtown Association of Santa Cruz.
The council advanced Meyers' proposal with a 4-2 vote. Brown and Cummings were opposed. "I do support the Warriors. But without a commitment to affordable housing, I can't move forward with supporting this," Cummings said. 
Next steps
City staff and consultants will now begin work on the Environmental Impact Report to detail the environmental effects of the preferred plan and several alternatives. 
City leaders plan to continue to collect community input during the process. After the impact report is completed, amendments to the Downtown Plan and other zoning laws are expected to be brought back to city council in spring or summer of 2023.
Read Santa Cruz Local's related stories
Santa Cruz Local's news is free. We believe that high-quality local news is crucial to democracy. We depend on locals like you to make a meaningful contribution so everyone can access our news. Learn about membership.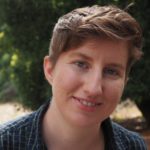 Jesse Kathan is an environmental journalist and a graduate of UC Santa Cruz's science communications program. Kathan has contributed to the Mercury News, Monterey County Weekly and KSQD-FM.