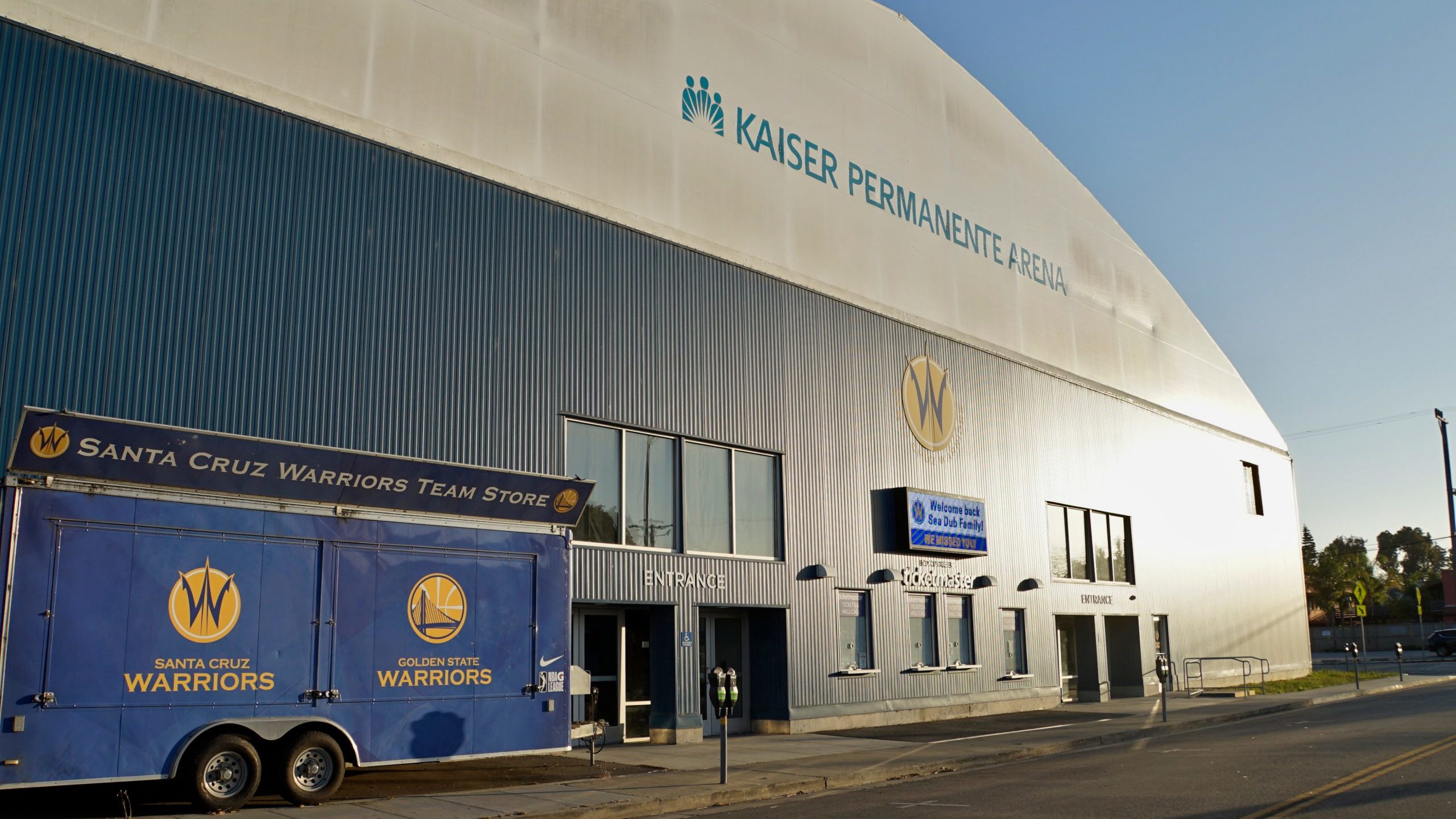 Santa Cruz city leaders are in talks with Santa Cruz Warriors leaders about a new facility to replace the Kaiser Permanente Arena at 140 Front St. (Kara Meyberg Guzman — Santa Cruz Local file)
SANTA CRUZ >> Nearly a decade after Kaiser Permanente Arena opened as a temporary facility for the Santa Cruz Warriors basketball team, team leaders say it needs to be replaced by a more permanent home. To make that happen, Warriors leaders are exploring an ambitious project that could add homes, offices and shops next to a new arena in downtown Santa Cruz.
Santa Cruz city officials lease the current arena on Front Street to the Warriors, and their latest agreement runs through September 2023, city officials said. City and Warriors leaders see the need for a permanent facility — but many details remain to be settled.  
Discussions about a permanent facility for the Warriors aren't new. The Kaiser arena at its inception in 2012 was designed to be the team's temporary home until about 2019. It was always intended to help bridge downtown Santa Cruz to the beach and recognize the San Lorenzo River levee's potential, a former city council member said. 
There have been talks about a permanent home for at least eight years, according to a city staff report. City consultants and staff have examined it. The difference is that stakeholders are having "real conversations," said Bonnie Lipscomb, economic development director for the City of Santa Cruz. "I think all sides are firmly committed and moving this project forward," Lipscomb said.
Warriors games have helped draw patrons to restaurants and other businesses downtown, city officials said. Chris Murphy, president of the Santa Cruz Warriors, said the Warriors are considering a multi-purpose arena that could also potentially host concerts, shows and athletics events for UC Santa Cruz and local high schools. 
The organization is exploring a potential mixed-use arena project that could include affordable housing, office space, restaurants and shops, Murphy said. The hope is to figure out "how that can all come together as part of a larger community, sports and entertainment district," he said.
What the team wants
Murphy told Santa Cruz Local in January that the team's goal and primary focus has been to stay in Santa Cruz. The Warriors G League team is the minor league affiliate to the NBA's Golden State Warriors. The league prepares players and staff for the NBA. A permanent home in Santa Cruz is expected to be primarily privately funded, Murphy said. 
"Our goal is to build an arena in Santa Cruz and be able to stay and play in front of these fans that have been so good to us for so long," said Murphy.
At 30,000 square feet, the current arena seats just over 2,500 people. A 2016 feasibility report from the city and a sports arena consultant recommended a 3,500-seat facility. 
The Warriors' current arena has its limitations, Murphy said. 
It lacks the proper level of acoustics.

It doesn't have a kitchen for the concessions vendor. 

"We barely have a weight room or training facility, our locker rooms are not necessarily what they should be," Murphy said. "We just don't have a ton of back-of-house facility for these players to really try and develop in the way that we need them to develop to get to the next level." 
"In the event we can't figure out a way to facilitate a building in Santa Cruz, then we'll have to evaluate other options — because we can't play in the building we're in now forever," Murphy said.
Some Santa Cruz city officials have alluded to recent attempts to lure the Warriors to the San Francisco Bay Area. 
San Jose has been rumored to be interested, but a spokeswoman for the City of San Jose said there were no official efforts to court the team. "No one is aware of being contacted by the Warriors," said Kristen Van Kley, deputy public information officer for San Jose. Van Kley said in late January that she had no other information. 
Still, the prospect of potentially losing the Warriors to another community has concerned Santa Cruz city staff. "It is critical for the city to expedite discussions and options for creating a permanent home for the Santa Cruz Warriors in Santa Cruz," stated a March 2021 city staff report. 
Details for a permanent arena plan are still taking shape. Where a new facility would go is not yet clear, but Warriors officials point to housing, including affordable units, as part of the vision. The new complex could replace the existing arena on the same site or it could be built elsewhere. 
"We all know in this community the need for more housing and the ability to put more housing downtown, something that can really create an ecosystem, a vibrant economy and things to do and whatnot and at the center of it all could be an arena that has Warriors games," Murphy said.
How many housing units or what exactly the footprint of such a project would be has not been divulged publicly. But Murphy said the team is continuing to work with the Santa Cruz Seaside Co., which owns the land under the current arena, as well as at least five parcels near it. Seaside owns a triangular property at the intersection of Front and Laurel streets, two lots along Front Street across from the arena and two more abutting the facility, according to county records. Seaside also owns the Santa Cruz Beach Boardwalk and other properties. 
Seaside ground leases the current arena site to the city. The city, which owns the arena building, leases the facility to the Warriors.
Kris Reyes, a Seaside Co. spokesman, declined to answer questions about potential plans. He said the company has been "proud partners" with the Warriors since the franchise arrived in Santa Cruz. "We look forward to working with them now and into the future as they explore options for a permanent home in Santa Cruz," Reyes said.
A potential arena project with shops and housing near Kaiser Permanente Arena on Front Street could anchor a connection between Santa Cruz's downtown and the beach. City leaders are trying to revitalize the area south of Laurel Street.  
A red boundary shows the areas under consideration for Downtown Plan expansion. Plan expansion would allow more housing in these areas. (City of Santa Cruz)
What city leaders want
For some city leaders, the Warriors' exploration of avenues to construct a new permanent arena is a "primary catalyst" for an effort to plan for future redevelopment and housing south of Laurel Street. 
Laurel Street is the south boundary of the city's Downtown Plan. City officials are looking to expand the plan footprint from Pacific Avenue to the Depot Park roundabout and east to the San Lorenzo River levee. That would allow more housing in that neighborhood and possibly offer an improved connection between downtown, the river and the beach. 
City leaders are about halfway through an estimated three-year process to expand those downtown boundaries. Areas under consideration for the plan expansion include the current arena site and other areas along Front Street. The plan would guide future development and redevelopment by dictating design requirements, how many units can be built per acre and how tall buildings can be. 
City staff want to bring the Downtown Plan expansion proposal before city council by June 2023. Before then, community feedback and an environmental review are expected, said Matthew VanHua, a Santa Cruz city principal planner.
"That seems like a long time away, but in planning terms, it's very soon," VanHua said. The deadline for the grant-funded Downtown Plan expansion effort — which, among other things, aims to increase the number of housing units — is October 2023.
To current and former city officials, the Warriors have been a boon for Santa Cruz, benefiting the local economy and residents as a family-friendly entertainment option.
Games draw visitors to Santa Cruz who often shop downtown, go to dinner before or after games, or park in one of the city's parking structures, Lipscomb said.  "Absolutely, there's a positive economic impact of having the Warriors in town," she said. City leaders have yet to quantify that impact.
Justin Cummings, a Santa Cruz city councilmember, said he considers the Warriors a "real asset" to the community. One perk is that it has brought people from different backgrounds together, Cummings said. 
Cummings also said he hoped that local businesses could help run food or other concessions at the arena. He said he's also hopeful for more job creation. Cummings said he wanted to "find ways and opportunities for us to work with the Warriors to create workforce development programs for young people in our community and just people who live in the surrounding areas who may need jobs."
With a potential housing component in a future arena project, he said he hopes to maximize the number of affordable housing units on site.
Some residents' feedback on potential downtown expansion
Not all city residents are on board with the potential expansion of downtown. Some people want more transportation alternatives.
Some residents on the city's online "ideas wall" for the Downtown Plan expansion described a need for improved bus service, bike parking, hotel shuttles and other alternative transportation to the area south of Laurel Street.
"Encourage ways to get to the area WITHOUT cars or new parking structure," one person wrote in the comments.
On the city's online interactive map for the Downtown Plan expansion, another person wrote that leaders need to address "the gridlock from summer beach traffic (caused by smartphone wayfinding apps) that has ruined the quality of life of residents near the beach and causes many locals to avoid the beach area and Downtown during summer weekends and holidays."
Others described a need for more parking near the arena, including spaces for people with disabilities. Other needs included a grocery, more public bathrooms and walkways.
The longview
Former Santa Cruz Mayor Hilary Bryant helped bring the Warriors to Santa Cruz. 
Early in the process, she said there was "a real concern" around whether a community more known for its surf and skate culture would embrace the Warriors. Those worries were quickly allayed. Now, she can't imagine Santa Cruz without the team. 
From players' visits to schools, to their work at San Lorenzo River cleanups, Bryant said the Warriors have "gone above and beyond" in the community. The city, and the rest of the region, have gotten behind the team, Bryant said.
"The Warriors brought so much more to Santa Cruz than just basketball," she said.
How to share your views with Santa Cruz leaders
City staff invite feedback on the Downtown Plan expansion. Enter comments, questions and ideas at the bottom of the city's

Downtown Plan expansion page

.

City staff are expected to share drafts of development scenarios in early 2022.
Santa Cruz Local's news is free. We believe that high-quality local news is crucial to democracy. We depend on locals like you to make a meaningful contribution so everyone can access our news. Learn about membership.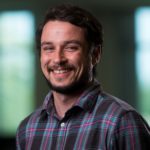 Patrick Riley is a Santa Cruz-based freelance reporter. He has covered a range of topics and beats in Florida and California.