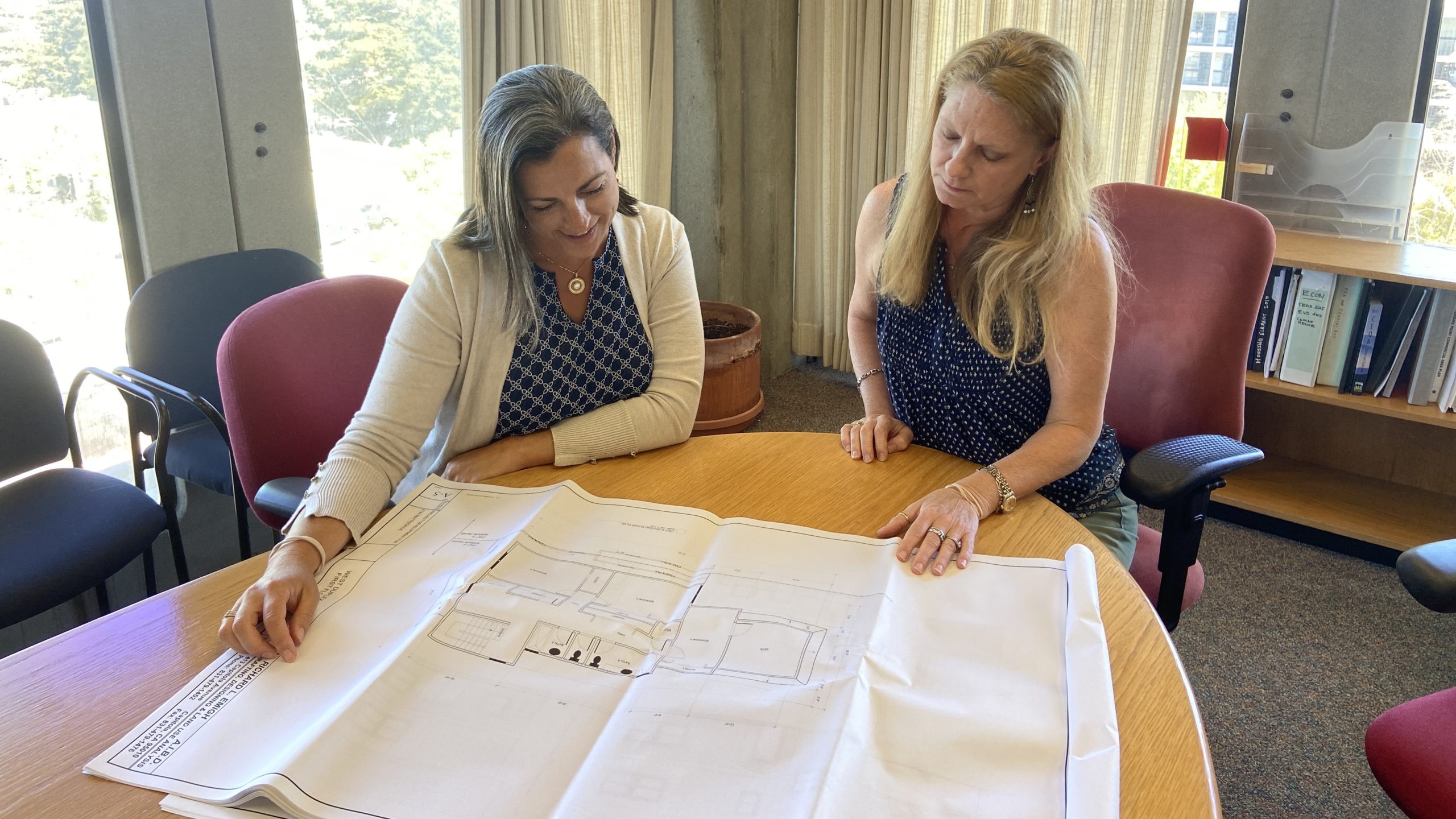 Carolyn Burke, left, and Stephanie Hansen are assistant directors of the County of Santa Cruz's Community Development and Infrastructure Department. (Grace Stetson — Santa Cruz Local)
SANTA CRUZ >> A new state dashboard that tracks the time it takes to get housing permits shows longer wait times for permits in some areas of Santa Cruz County compared with the state average.
The data starts to quantify what builders have long known about the often yearslong process of building homes in Santa Cruz County. It also provides some comparisons of planning staff workloads and city and county progress towards alleviating the region's housing shortage.
It takes 70 to 106 days on average to meet legal entitlement requirements to build a home in California, according to the state dashboard. It takes another 48 to 125 days to obtain permits to start construction, according to the dashboard.

In the cities of Santa Cruz and Capitola, it takes several months longer than the state average to obtain permits, the data suggests.

Some permit data is missing for unincorporated areas of Santa Cruz County, although the county maintains its own dashboard. Some Scotts Valley permit information is also missing. Scotts Valley planners did not respond to requests for comment. 
The state dashboard tracks the average number of days it takes a home builder to get permits from a city or county. It also tracks the average days it takes a builder with permits to complete the housing project. 
The dashboard also shows cities and counties' progress toward state housing production goals in the state's Regional Housing Needs Allocation. Those targets — set roughly every eight years at the direction of the state — are housing production minimums in to help relieve the state's housing shortage.
"What you'll see is construction can be a very long process," said Suzi Merriam, Watsonville's community development director. "The only thing regulating agencies have control over is how long it takes to review something."
There are some limitations to the dashboard. 
City and county leaders report the data to the state Department of Housing and Community Development and state leaders do not verify it. 

Submission and entitlement dates are not tracked universally for each project. For example, the database excludes many dates for entitlements, especially in unincorporated Santa Cruz County. 

The average time from permit approval to completed construction only includes homes that are finished.

Different sized housing projects should not be compared against each other for the time it takes to entitle, permit and build, some Santa Cruz County developers said. The dashboard offers breakdowns on types of homes, but drawing larger conclusions is problematic, some developers said.
"Entitlements" are typically the first hurdle in developing land for housing. They essentially show that legal requirements have been met to build a home.
| | Average time from submission to entitlement | Average time from entitlement to permit | Average time from permit to home completion |
| --- | --- | --- | --- |
| City of Santa Cruz | 105 days for 50 projects | 266 days for 33 projects | 375 days for 172 projects |
| Capitola | 77 days for 15 projects | 213 days for 12 projects | 382 days for 5 projects |
| Watsonville | 9 days for 2 projects* | 101 days for 39 projects | 219 days for 38 projects |
| Scotts Valley | 29 days for 3 projects | No data | 211 days for 14 projects |
| Unincorporated Santa Cruz County | 206 days for 7 projects** | No data | 303 days for 86 projects |
| California | 70 to 106 days | 48 to 125 days | 223 to 251 days |
Source: California Department of Housing and Community Development from July 2020 to December 2021. "Entitlements" essentially show that legal requirements have been met to build a home.
*Watsonville also included 10 in-law-unit projects that were entitled on the same day as submission, according to state data.
**This average is based on a small number of projects that county planners handled because there is missing entitlement data for dozens of projects in unincorporated Santa Cruz County. 
Building permits
Building permits "ensure safety, protect the environment and help us live together," a Santa Cruz County planning website states. Part of the reason some permit processes take longer than others is the amount of staff each city and county has to process permits. 
The County of Santa Cruz — which handles building permits for unincorporated county areas such as Live Oak and the San Lorenzo Valley — maintains a separate development dashboard. It states that the county's five planners issued 1,879 permits in the past 12 months. It takes a median of 29 days to review permits, according to the dashboard.
The county also has a Recovery Permit Center Dashboard that tracks building permits in the CZU Lightning Complex Fire zone where more than 900 homes were destroyed in 2020. It states that 148 homes have been cleared to build and 177 permits were in process as of Friday.
Iman Novin, a developer and principal of Novin Development, said another limitation of the dashboard is that each housing project is different. Novin's firm has plans to develop homes at 831 Water St. in Santa Cruz and 2388 Park Ave. in Soquel.
"There can be environmental review processes, community opposition," Novin said. "There are so many different factors, it's hard to generalize." 
Housing hurdles in Santa Cruz
Sam Haschert, principal planner for the City of Santa Cruz, has seen firsthand how the public's understanding has clashed with actual development timelines, especially when looking at all the information in the dashboard.
In the city of Santa Cruz, Haschert described 38 "significant" projects in various stages of development. Each project includes at least 25 new housing units or more than 25,000 square feet of commercial space.
"It's tough to estimate timeframes, since our (office has) required timeframes, but there's a big chunk of the permitting process that's out of our control," she said. 
In Santa Cruz and other cities in Santa Cruz County, a public notice must appear in the Santa Cruz Sentinel newspaper at least three weeks in advance of public hearings. That process can extend a project's timeline, depending on how many public hearings are required.
Haschert said those public hearings and forums can assist the developer to hear from the community directly. "They'll know if there's a certain aspect of the project that will be controversial," she said. "They'll get an idea if there's something that will hold up the project."
Haschert said city planners try to use a pre-application system to help streamline the process with a three-month timeline for smaller projects such as in-law units and longer timelines for larger projects.
In Watsonville, city planners said they have tried to streamline the development process. 
It typically takes at least two months from the submission of an application to granted entitlements in Watsonville.
County planners describe challenges
For some leaders of the Santa Cruz County's Community Development and Infrastructure Department, the main takeaway of the state dashboard is its comparisons to other jurisdictions. The new county department melded the county's planning and public works departments earlier this year.
Leaders said staff challenges have played a role in the time it takes to get permits, which is similar to other parts of the state.
"We've had staff who have chosen to relocate or change positions — that's pretty universal. We've also been dealing with shifting to remote work, which requires additional training," said Carolyn Burke, assistant director of the county's Community Development and Infrastructure Department.
Stephanie Hansen, another assistant director of the county's Community Development and Infrastructure Department, said there are many factors in the time it takes from completed permits to a completed construction that are out of the county's control.
There is a lack of construction workers. Some developers pause projects. "There's not too much we can do about that," said Hansen.
Developers describe slow pace
Some Santa Cruz County developers said that while they work respectfully with county planners and planners in Scotts Valley and Santa Cruz, they too have been frustrated with the time it takes to build homes.
Kelley Trousdale is an Aptos-based real estate agent who has developed homes around Santa Cruz County for a few decades. For his current project — a single-family home in unincorporated county — he estimates he's around the five-year mark. He awaits permits.
"From the initial (permit) submission time, the county is supposed to respond within 30 days. It's running more around 90 days from the initial review," he said. "They usually have 15 to 20 comments that you need to respond to before moving forward."
Trousdale said that a "dream scenario" would be about six months to receive permits, but it's much more common to not receive permits for actual building until 12 to 18 months after submission. "Public Works alone had 14 or 15 conditions, [which were] very onerous types of things," he said. "And that's fairly typical, when you build a house now — it's like [the county] holds you hostage."
Charles Eadie, a land-use consultant with Eadie Consultants, is working on a Scotts Valley development of homes and shops that was originally proposed in 2008.
The Oak Creek Park project is slated for Glen Canyon and Mount Hermon roads. The Scotts Valley Planning Commission is expected to review the project once more in August.
Eadie said he began consulting on the project in 2017. He acknowledged the difficulty in moving it forward.
"We applied in May 2018, and we didn't get comments back from the city until May 2019," Eadie said. "For the next year, we went back and forth multiple times on every little detail," he said. "Since 2021, we've been basically doing a few more tweaks with the city staff on it, and then waiting to get scheduled for the Planning Commission, which we finally did in June — four years later."
Eadie said the Oak Creek project awaits entitlements. That's the first hump of the development process. "It takes a long time, and I think that's been the case for a lot of others," Eadie said. "There are projects that won't even show up here, because people wanted to file or started or withdrew because it seemed like it wasn't going to work."
Read Santa Cruz Local's related story:
Correction: An earlier version of this story incorrectly stated Stephanie Hansen's title. She is an assistant director of the County of Santa Cruz's Community Development and Infrastructure Department.
Learn more about Santa Cruz Local and how we are funded. Santa Cruz Local is supported by members, major donors, sponsors and grants for the general support of our newsroom. Our news judgments are made independently and not on the basis of donor support.
Santa Cruz Local's news is free. We believe that high-quality local news is crucial to democracy. We depend on locals like you to make a meaningful contribution so everyone can access our news. Learn about membership.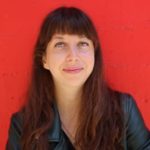 Grace Stetson is a Santa Cruz County freelance journalist who covers housing, homelessness and development. Stetson is a graduate of the Medill School of Journalism master's program. Stetson has worked for Dateline NBC, Walt Disney Publishing Worldwide, Metro Silicon Valley, the Six Fifty, Good Times and Lookout Santa Cruz.