SANTA CRUZ >> The Santa Cruz City Council on Tuesday chose two maps that mark boundaries of city council districts for future elections.
In the June 7 election, city voters will decide whether to change the city's charter to allow six districts and a directly-elected mayor. It appears as Measure E on the ballot.
A "yes" vote on Measure E means:

The city would be divided into six districts. Voters would choose a candidate who lives in their district. Voters would also choose a mayor who would represent the entire city for a four-year term. Mayors would have the same power that they have now. Mayors set meeting agendas and have the "primary but not exclusive" responsibility to interpret policies, programs and needs of city government. The system would include

primary elections and new term limits

.

A "no" vote on Measure E means:

The city will move forward with a process to establish seven districts.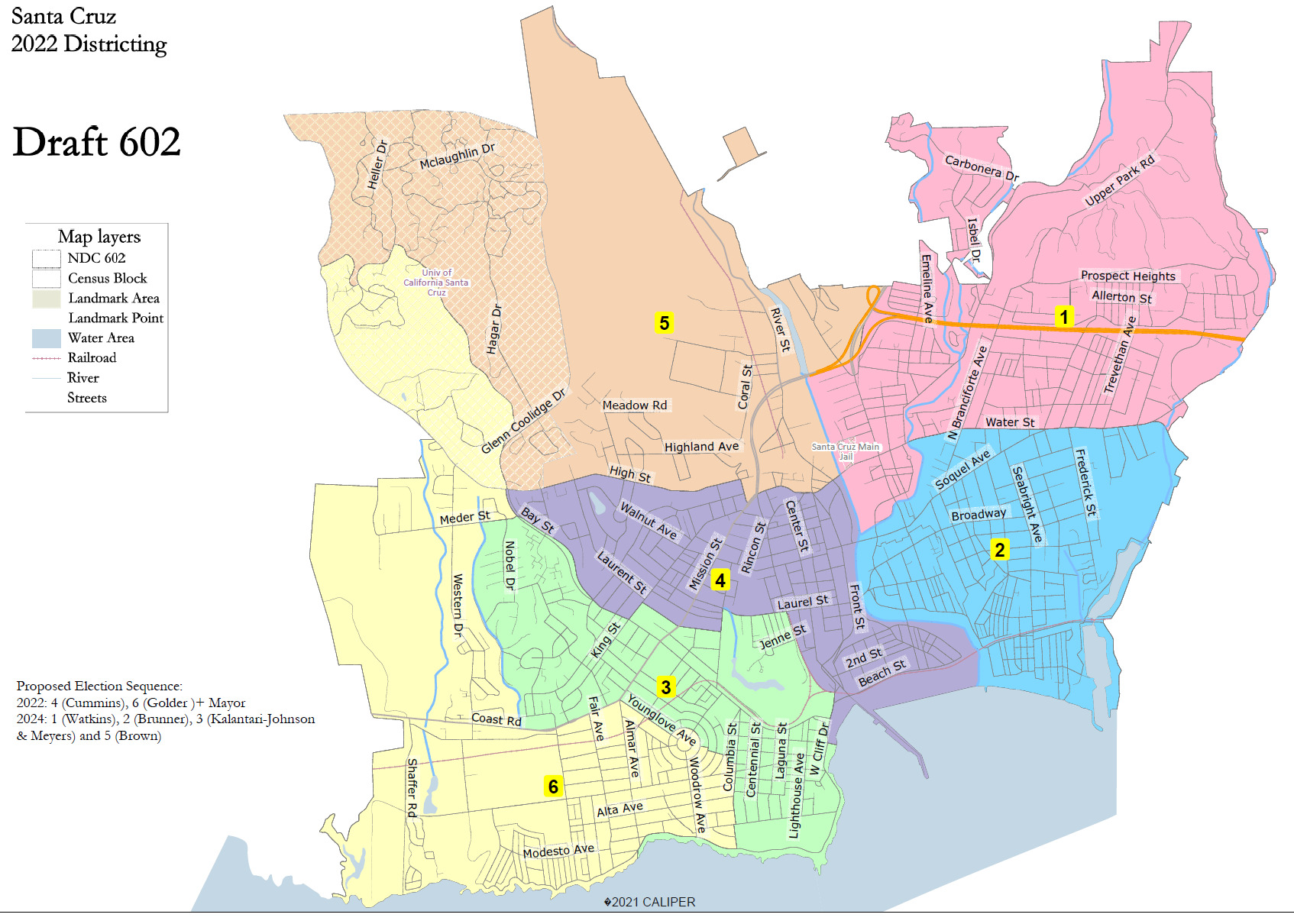 If voters approve Measure E, this six-district map would be enacted. The council confirmed Draft Map 602 in a May 24 vote. (City of Santa Cruz)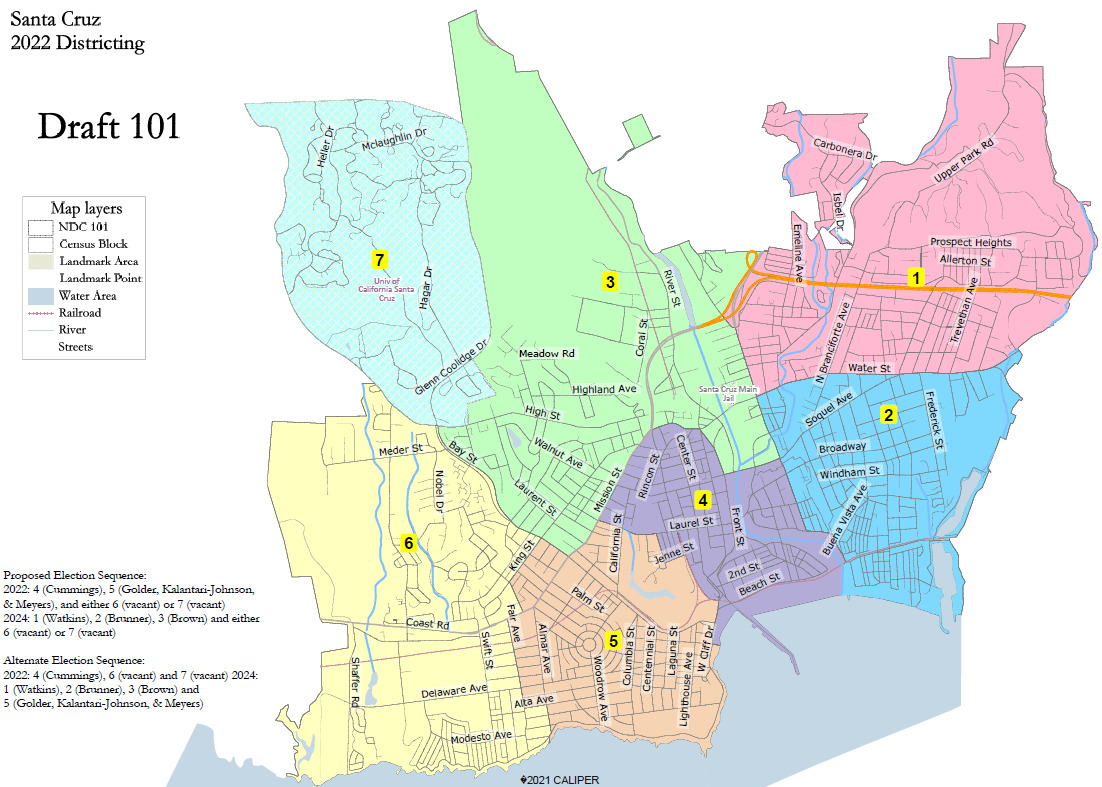 If voters reject Measure E, this district map would be enacted for the November 2022 election. The council adopted Map 101 in a May 24 vote. (City of Santa Cruz)
Several residents at Tuesday's council meeting said that the two chosen maps unfairly separated Beach Flats and Lower Ocean, two neighborhoods with a high percentage of Latino residents and renters. The chosen six-district map "joins Lower Ocean with Seabright, and look — Lower Ocean is a neighborhood that has more in common with Beach Flats than it does with million-dollar homes," a resident said.
City leaders are moving toward district representation because of a threat of lawsuit in 2020. It alleged a California Voting Rights Act violation and an underrepresentation of Latinos on the city council. Other cities throughout the state have switched to district elections because of similar legal threats.  
The council voted 5-2 to adopt the maps. Councilmembers Justin Cummings and Sandy Brown opposed. Cummings said the maps chosen by the council won't improve representation of Latinos, Asians, renters and students. 
"The reason why we're here and we're making decisions, and moving to district elections, is to address racially-polarized voting," Cummings said. "That's where we should be going, that's what we should be doing. But that's not what the outcome of this vote will be today."
Read the demographic breakdown of Map 602 that would be enacted by Measure E:
Read the demographic breakdown of Map 101 that would be enacted if voters reject Measure E:
Read Santa Cruz Local's stories on Measure E:
Proposed ballot initiatives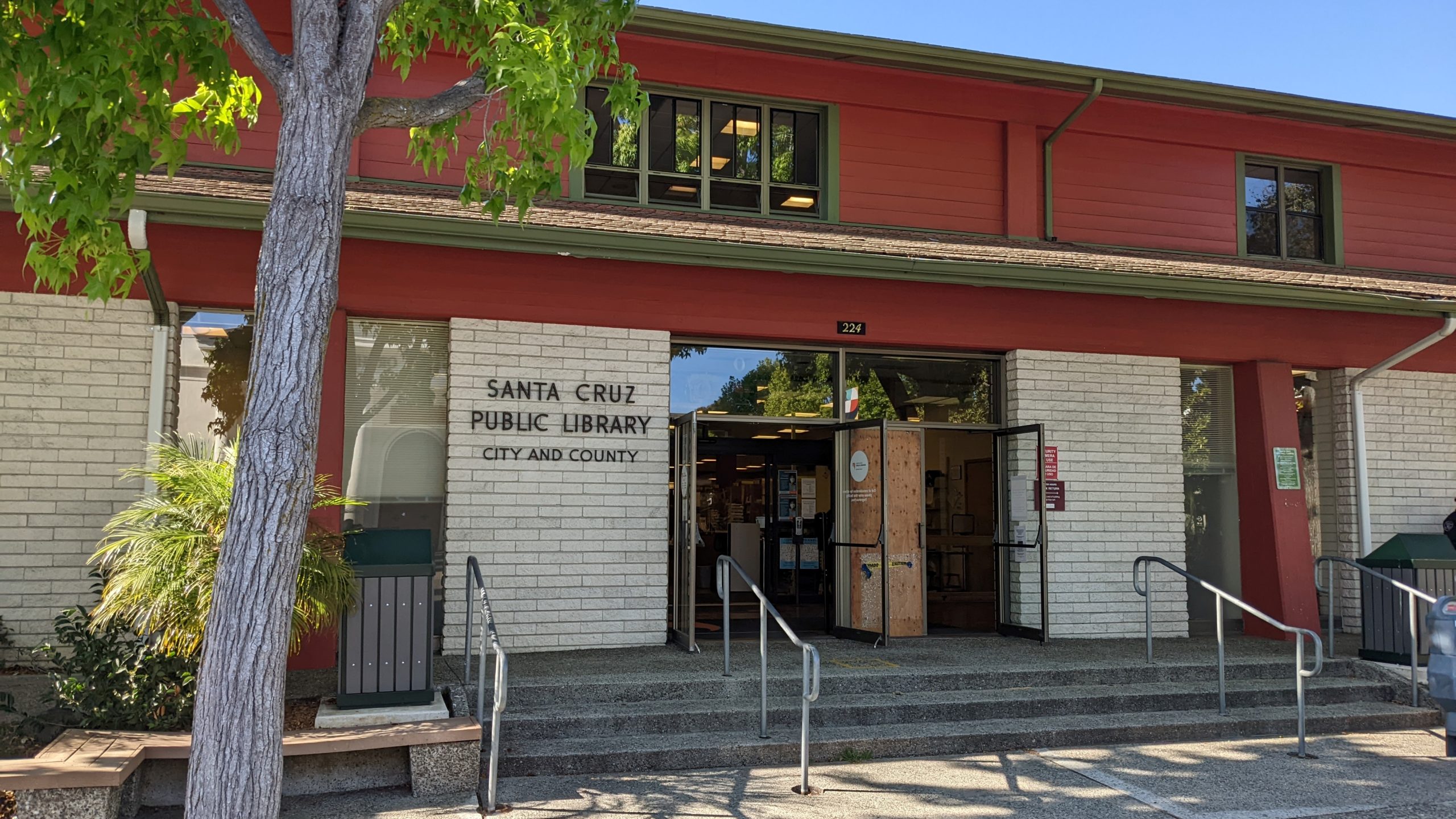 A November ballot initiative aims to renovate the Downtown Santa Cruz library on its current site at 224 Church St. rather than build a larger library on Cedar and Cathcart streets. (Stephen Baxter — Santa Cruz Local)
The Santa Cruz City Council voted Tuesday to direct staff to produce financial impact reports for two ballot initiatives planned for the November election. The first is an Empty Homes Tax and the second is Our Downtown Our Future that deals with the Downtown Santa Cruz library.
The city reports will detail how the measures might affect the city, including impacts on:
Land use, including housing availability.

Funding for transportation, schools, parks and other public infrastructure.

The community's ability to attract and retain businesses.

Agricultural lands, open space and traffic congestion.
The council voted 6-0 in favor of the impact reports. Councilmember Donna Meyers was absent for the vote. The reports are expected to be presented by the end of July.
The Our Downtown Our Future initiative would halt the new library, garage and affordable housing project planned for Cedar Street between Cathcart and Lincoln streets, Santa Cruz City Attorney Tony Condotti has said. The site is City Parking Lot 4 where the Downtown Santa Cruz Farmers Market meets Wednesdays. The measure also calls for a "state-of-the-art" remodel of the Downtown Library at its current site on Church Street. The city council approved plans for the new library on Cedar and Cathcart streets in 2020 and 2021 after years of public input.
The initiative would change the city's General Plan to:
Prioritize City Parking Lot 4 as the permanent location of the farmers market.

Keep the Downtown Library at its current site.

Prioritize surplus parking revenue for affordable housing development, a program to reduce car travel downtown, and a remodel of the library at its current site on Church Street.

Prohibit above ground-level parking on other city parking lots and prioritize them for affordable housing.

Read the proposal.
The Empty Homes Tax initiative would tax owners of homes and other residences occupied less than 120 days each year. The initiative would:
Require homeowners to declare each year whether their house has been occupied for more than 120 days of the year. The city would be able to audit those claims to confirm the declarations. Homes rented for at least 120 days each year would not be taxed.

Tax owners of homes occupied for less than 120 days of the year— $6,000 for a single family home, $6,000 per vacant parcel for complexes of up to six units, and $3,000 per vacant unit for complexes of seven or more units.

Use money from the tax to develop affordable housing. Up to 5% of the funds would be used for hygiene services for unhoused people; up to 15% would be used to administer the program.

Establish an oversight committee to advise the council on zoning and land use designations for affordable housing creation.

The proposed tax would not apply to empty lots and

other exempt properties

.

Read the proposal.
"We're in a housing affordability crisis, and this seeks to create an annual funding stream, which is something that council talks about," said campaign manager Cyndi Dawson during public comment. "I'm happy to hear your impact report and I want to just ensure that it's well researched and balanced."
Several residents said the city's vacancy rate wasn't high enough to warrant a tax. "A very tiny number of people have vacation homes," a resident named Eric said. "They're not the cause of our housing problems."
Correction: An earlier version of this story inaccurately described an oversight committee in the Empty Homes Tax initiative. The committee will advise the city council.
Santa Cruz Local's news is free. We believe that high-quality local news is crucial to democracy. We depend on locals like you to make a meaningful contribution so everyone can access our news. Learn about membership.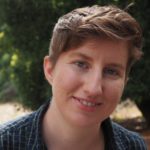 Jesse Kathan is an environmental journalist and a graduate of UC Santa Cruz's science communications program. Kathan has contributed to the Mercury News, Monterey County Weekly and KSQD-FM.