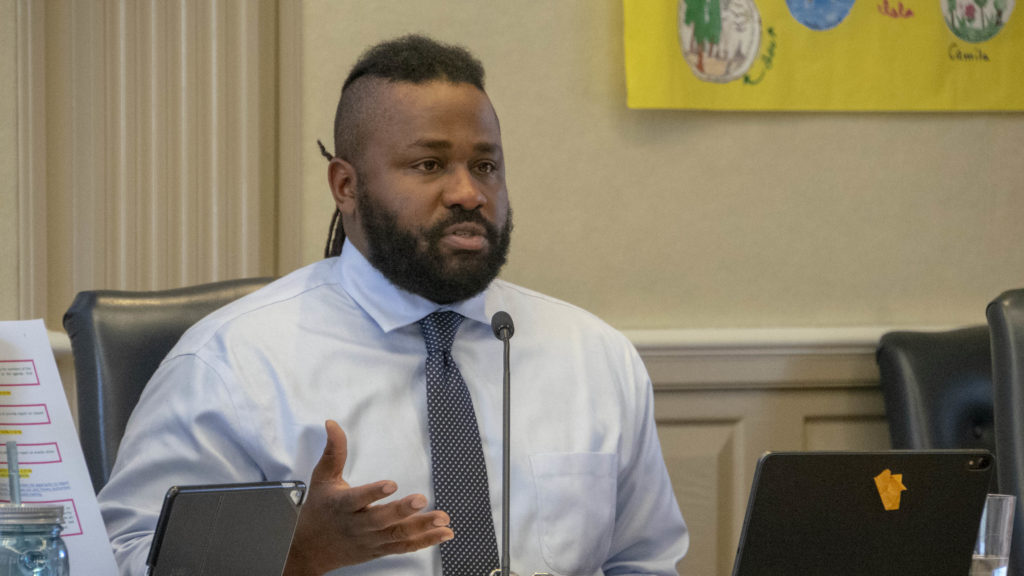 Santa Cruz City Councilmember Justin Cummings has raised concerns about potential district elections. (Kara Meyberg Guzman — Santa Cruz Local file)
SANTA CRUZ >> Santa Cruz city residents could vote for city council candidates in their district of the city rather than for all vacant seats by the November 2022 election. Yet the change to district elections may not be certain. A meeting this week about how to divide new districts brought out some concerns from council members.
Santa Cruz and many other cities have at-large elections, where residents from anywhere in the city can vote for any candidate. With district elections, the city is divided into geographical districts and voters in each district choose a council member who lives in their district. Watsonville and Santa Cruz City Schools, for example, have district elections.
Why the change?
Santa Cruz is one of dozens of California cities that plan to change to district elections or have transitioned to it.
In July 2019 Santa Cruz city leaders were threatened with a lawsuit for noncompliance of the 2001 California Voting Rights Act. The law essentially prohibits at-large elections if they prevent "voters of a race, color or language minority group" from electing their preferred candidate. In moving to district-based elections, the law seeks to ensure areas of the city with greater concentrations of people of color have representation. 
A Feb. 2020 report from the California Voting Rights Project alleged that Latinos are systematically underrepresented in Santa Cruz. Despite making up over 20% of the city's population, only two Latinos have served on the city council since 2000. 

Dozens of cities across the state have received similar complaints in the past 20 years. 

Many city leaders who refused to transition to district-based elections have lost costly lawsuits. 

In May 2020, the Santa Cruz City Council responded to the threat of lawsuit by deciding to transition to district-based elections. 
City leaders hired demographer Doug Johnson from National Demographics Corp. to help map the community and solicit community input on potential districts. 
New maps, elections discussed
At Tuesday's meeting, Johnson presented the requirements for the city's future districts.
By law, the districts must be a continuous stretch of land with easily identifiable boundaries, such as freeways or rivers. Each district must have a population of roughly the same size. Draft district maps have not been drawn. 
Johnson said the maps must also consider distinct populations, like neighborhoods with a high concentration of people of color. In Santa Cruz, Johnson said the Beach Flats neighborhood represents one of the few areas with a concentrated population of Latino residents. Other factors that can help define districts can include socioeconomic status, homeownership, and age.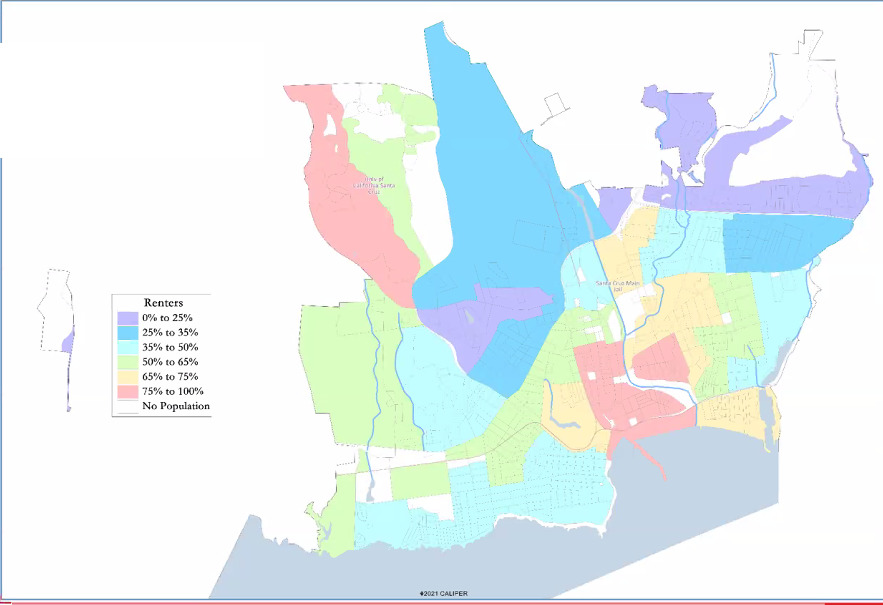 A map of the City of Santa Cruz shows the proportion of residents who rent homes in different areas. The rate is one factor that can be used to determine potential electoral districts. (National Demographics Corp.)
As the mapping process continues, Johnson said residents will have the opportunity to submit their own suggestions for districts. They can be simple, drawn outlines or with digital mapping tools. 
Still to be resolved is how the current at-large council members would transition into a district-based council. The shift may also change how the mayor is elected. The mayor now is chosen by city council members.
Council members share concerns
Councilmember Justin Cummings expressed doubt that a new election procedure would result in more representation for the city's Latino population.
"We can prove that when Latinos have run in this community, especially in the last 10 years, they have not only been elected, but we have actually seen one Latino, former Mayor David Terrazas, become the highest vote recipient and become the mayor of Santa Cruz," said Cummings. "In addition to that, there are elections when Latinos have not run, so if someone doesn't run we can't say that there's biased voting on behalf of Latinos." 
Latino candidates have run in six of the 10 elections from 2000 to 2018, according to the report from the California Voting Rights Project. Two Latinos were elected. Former Mayor David Terrazas received the second highest vote tally in 2014, not the highest.
"It's really unclear how protected groups will be benefited by redrawing these maps, just based on the fact that for the past 10 years, we've had people from protected classes elected in every single election," said Cummings. "It seems like [creating districts] would actually increase the potential for bias in our elections and in our voting system. So I'm really concerned with that."
Cummings and Drew Glover, who are Black, served on the city council in 2019 until Glover was recalled by voters in March 2020. People who identify as Black make up roughly 2% of the Santa Cruz city population, according to the U.S. Census Bureau. Santa Cruz Vice Mayor Sonja Brunner and Councilmembers Martine Watkins and Shebreh Kalantari also identify as people of color.
Cummings suggested fighting the threat of a lawsuit. 
Councilmember Sandy Brown echoed that sentiment. "I don't believe that being strong armed, being extorted, being threatened, is a good way to make policy," said Brown. "I don't know if [creating districts] is a done deal. It feels that way. But, you know, there's a lot of variables that are going to continue to emerge."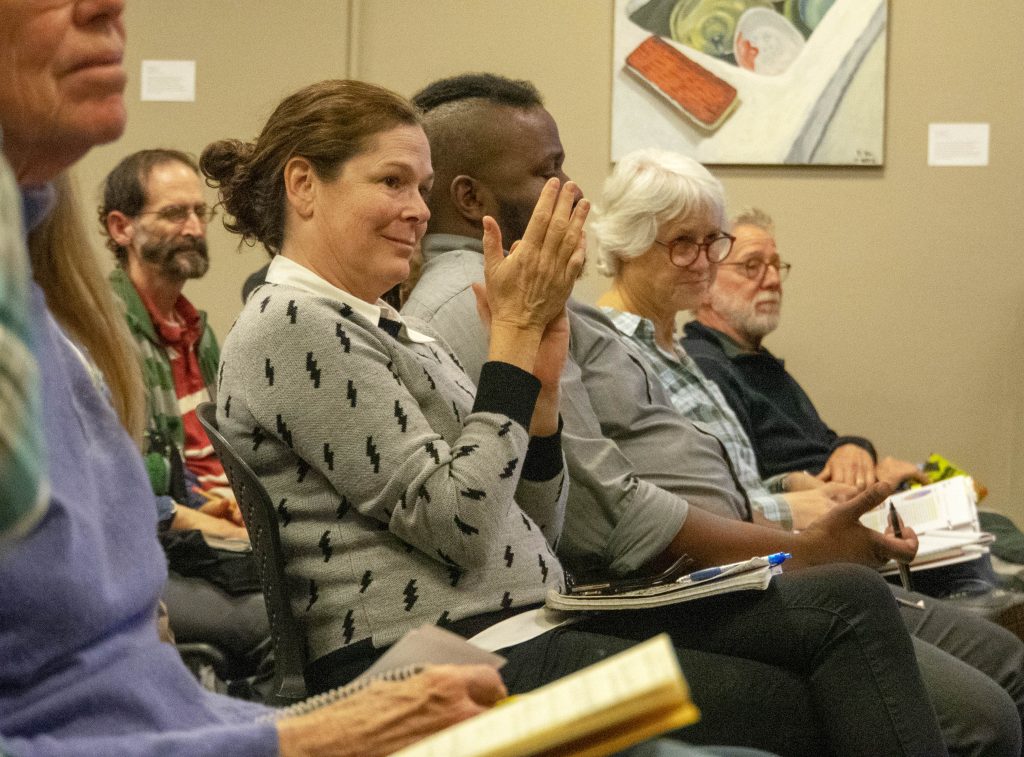 Santa Cruz City Councilmember Sandy Brown, left, questioned potential district elections in the city. (Kara Meyberg Guzman — Santa Cruz Local file)
One such variable is the City of Santa Monica's ongoing legal case. Santa Monica leaders have resisted districting efforts, claiming that the voting power of the city's Latino population would actually be diluted by such a change. California Supreme Court justices are expected to hear the case in March at the earliest.
Johnson told council members that the record of cities that have gone to court on the issue is "dismal." Most cities were left on the hook for six-figure settlements and massive legal fees. And although Santa Monica may be the first to win such a case in a lower court, its fight has come at a cost.
"They've spent somewhere around $7 million to $8 million, maybe more, on their defense," Johnson said.
Several council members including Martine Watkins said they wanted to engage residents in the creation of district maps and in future public hearings. That prospect has been made more difficult by COVID-19 restrictions.
Watkins said while there are "pros and cons" to the change, district elections may make it financially easier for candidates to mount a campaign across a smaller area.
Residents who spoke at the online meeting had mixed views on the proposed election changes. Although some callers expressed support for the new districts, others echoed the council members' concerns. 
One caller, who did not give a name, urged the council to fight the complaint. "Today's conversation should center around directing our city attorney to work with other affected cities in a legal strategy to challenge the claims for district elections," she said. Residents should vote on whether to change to district elections, she added.
Next steps on district elections
Although the city council may ultimately decide not to adopt the new districts, a schedule remains to create a new electoral system before November 2022. 
Sept. 18:

Public Hearing 2 will gather additional public input. Draft district maps and proposed election changes are expected to be posted to the

city website

before the end of the year. 

January 2022:

Public Hearing 3 for public input on draft district maps.

February 2022:

Public Hearing 4 is expected to have the city council select a preferred map of districts.

March 2022:

The city council is expected to adopt a preferred district map and  introduce a law to transition to a district-based electoral system. 

November 2022

: First district elections
To submit comments or questions on district elections to City of Santa Cruz staff, email [email protected] or call 831-420-5017.
Related story
Podcast: How might district elections reshape Santa Cruz? Sept. 5, 2019
Editor's note: This story has been updated to correct the date that the Santa Cruz City Council decided to begin a transition to district elections. 
Become a member of Santa Cruz Local, an independent, community-supported newsroom that's owned and led by local journalists. Our stories are free and always will be, but we rely on your support.
Already a member? Support Santa Cruz Local with a one-time gift.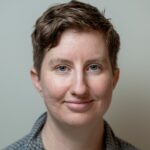 Jesse Kathan is a staff reporter for Santa Cruz Local through the California Local News Fellowship. Kathan holds a master's degree in science communications from UC Santa Cruz.