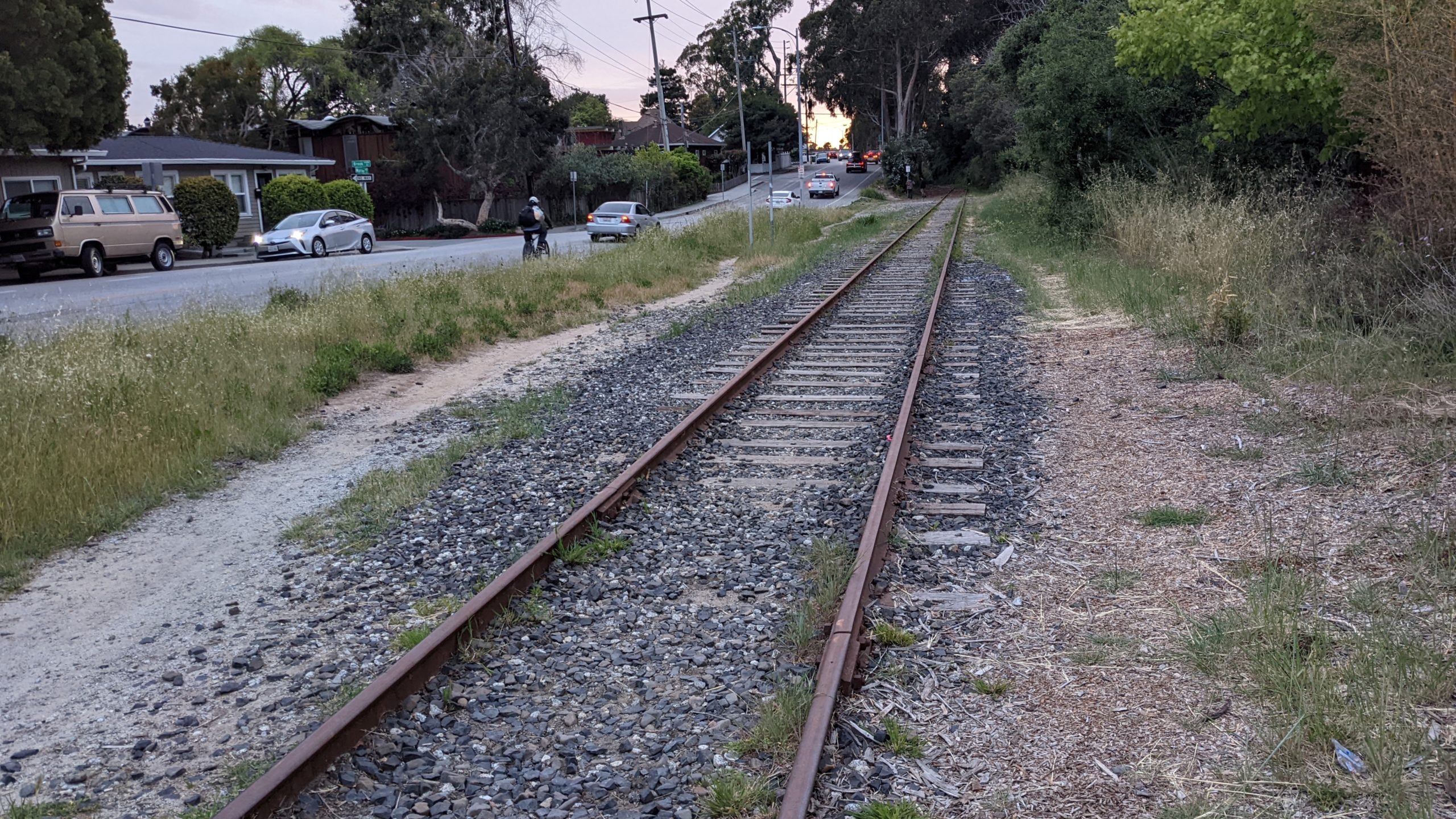 Preliminary engineering and environmental work is ahead for potential passenger rail service on the Santa Cruz Branch Rail Line. The line runs near Murray Street in Santa Cruz. (Stephen Baxter — Santa Cruz Local file)
Correction: An earlier version of this story contained an incorrect headline.
SANTA CRUZ >> The Santa Cruz County Regional Transportation Commission on Thursday approved a request for proposals for preliminary engineering and environmental work for electric passenger rail on the Santa Cruz Branch Rail Line. 
The vote to request proposals was unanimous. It included Commissioners Manu Koenig, Kristen Brown and others who said they remain skeptical of the feasibility of passenger rail. Commission staff said most of the money could come from the state and some could come from sales tax revenue from the 2016's Measure D.
The commission could consider proposals for the engineering and environmental work as soon as its November meeting, commission staff wrote in a report. 
"I can't think of anything that's been more exciting to me in all my years of public service," said Mike Rotkin, a regional transportation commissioner who became a Santa Cruz City Council member in 1979. "This is really an important project for this county," Rotkin said.
Scope of work
The plans would cover 22 miles of rail line from Natural Bridges Drive in Santa Cruz to Salinas Road in Pajaro. It would include preliminary engineering and environmental work on rail stations, bridges, signals, culverts and "sidings" where rail cars would pass each other, said Sarah Christensen, senior transportation engineer for the regional transportation commission.
The work would consider an electric commuter rail system with 11 stations and an electric light rail system with 15 stations, Christensen said.
"We've never really had a consultant lay out how this is going to look," Christensen said. "The locations of stations is going to be a very iterative process. There's many of them and it's going to be multi-jurisdictional," Christensen said. "So we anticipate those types of things being brought forward so that the community understands what the project is proposing and this commission has sufficient information."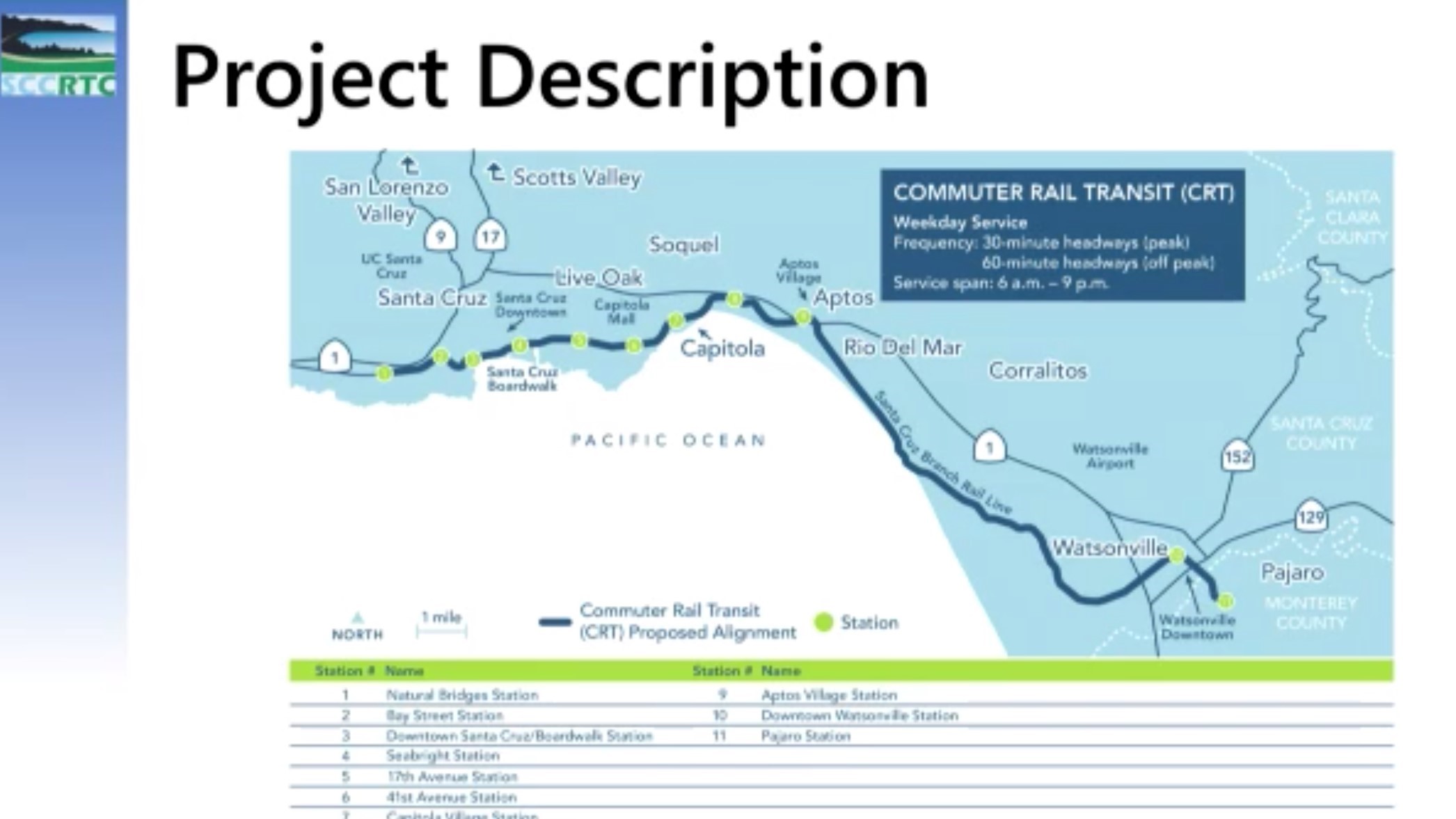 A map shows 11 potential station locations in a commuter rail system on the Santa Cruz Branch Rail Line. (Santa Cruz County Regional Transportation Commission)
The work also would cover trail plans for segments 13 to 17 of the Coastal Rail Trail from Rio del Mar to Lee Road in Watsonville. Rail-trail plans were outlined this spring from Segment 8 in Santa Cruz to Segment 11 in Capitola and Seacliff.
The plan also would examine a $15 million to $30 million replacement of the Capitola trestle bridge which would be "required for passenger rail transit," Christensen said during Thursday's meeting.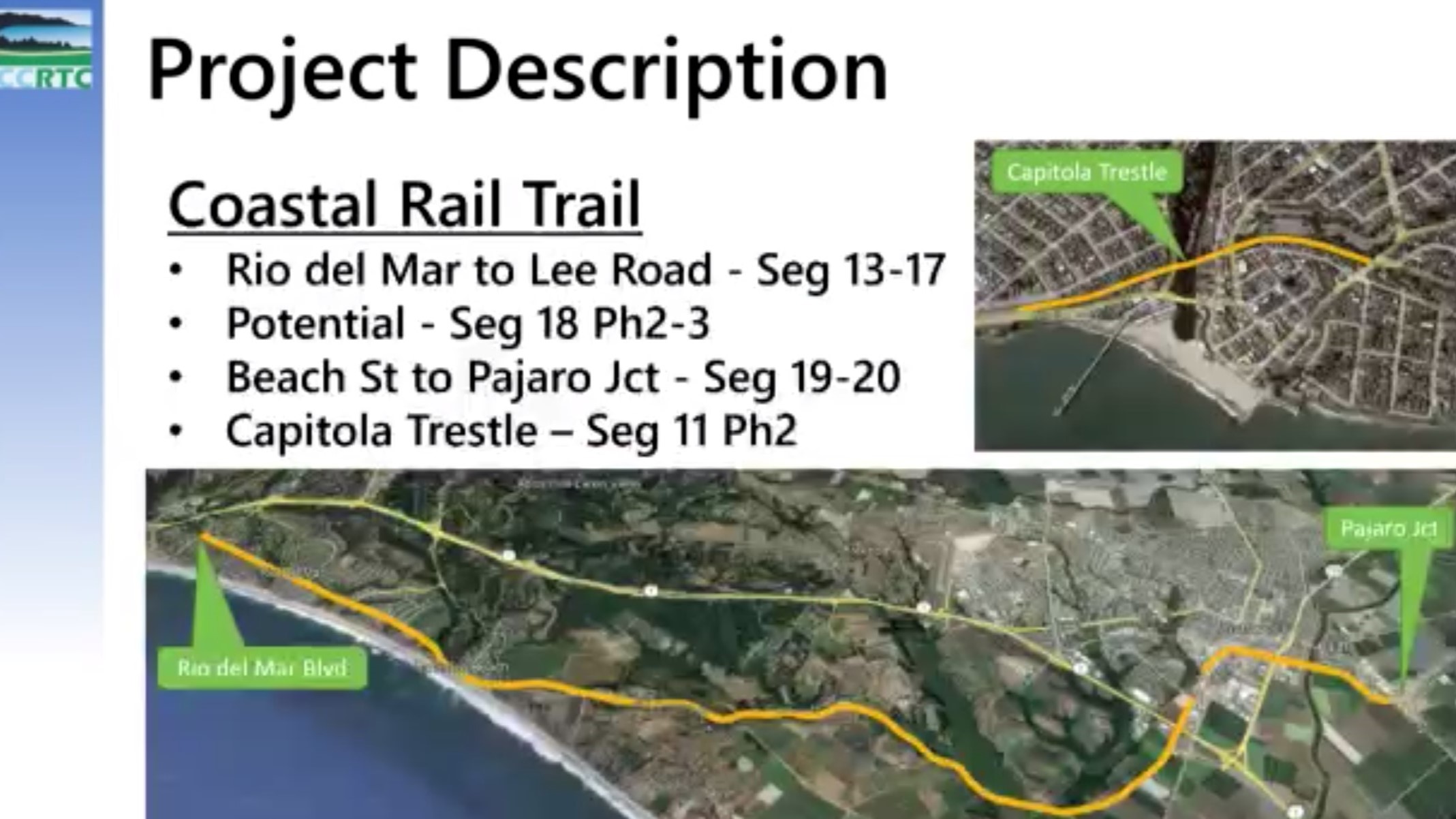 In April 2021, the Regional Transportation Commission deadlocked on whether to approve a business plan that they said was necessary to pursue passenger rail. 
A month later, Regional Transportation Commission Executive Director Guy Preston said it was uncertain whether $17 million could be found to pay for the preliminary engineering and environmental work necessary for passenger rail.
Regional Transportation Commission staff wrote this month that the State Rail Assistance Emerging Corridor category competitive funding is the "most likely outside funding source" to fund pre-construction phases of the project. State leaders expect a local money contribution that could come from the 2016 Measure D Rail and Active Transportation category funds, staff wrote.
"By moving forward now, the Regional Transportation Commission would demonstrate this commitment and provide the commission with important information by performing the initial work needed to define the project and develop conceptual engineering for the electric passenger rail transit project," commission staff wrote.
Defeat of the Greenway initiative
The approved request for proposals came at the first Regional Transportation Commission meeting since the June 7 defeat of the Greenway initiative.
Measure D, the Greenway initiative, would have amended Santa Cruz County's General Plan to eliminate planning for passenger rail and instead focus on a paved path on the rail line for walkers and cyclists. About 27% of the vote was in favor of Measure D and 73% was against it. 
"Some people may say that the (Regional Transportation Commission) staff is recommending this item now because of the outcome of the recent Measure D. But that's not true," said Commissioner Bruce McPherson, during Thursday's meeting. "The staff is bringing this forward now because they see a potential funding opportunity for an approved project on our unconstrained or unfunded list of projects. That is their job and they do it well," McPherson said.
Commissioner Manu Koenig, who once led Greenway and supported Measure D, said during Thursday's meeting that "the voters have made themselves very clear that they're not willing to leave the rail option behind."
Koenig added, "I fully support this effort to get more information for voters about the type of service we'll be able to deliver, the amount of money it will take and the amount of time it will take to deliver a project." Koenig said, "If I'm proven wrong, I would honestly be overjoyed. Because I want nothing more than to see carbon free, effective public transit in this community. In one way or another we're going to work together to get that done. And if in fact passenger rail is not feasible, then I hope it'll at least be clear that it's the facts that make it infeasible and not any individual or group being obstructionist."
Read Santa Cruz Local's related stories:
Santa Cruz Local's news is free. We believe that high-quality local news is crucial to democracy. We depend on locals like you to make a meaningful contribution so everyone can access our news. Learn about membership.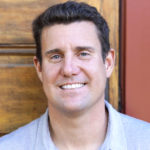 Stephen Baxter is a co-founder and editor of Santa Cruz Local. He covers Santa Cruz County government.