SANTA CRUZ>> A hotly debated plan for passenger trains on the county's rail corridor is expected to be discussed at a Santa Cruz County Regional Transportation Commission meeting Thursday — with potential implications for whether the yearslong project will continue.
To keep the train project rolling, the commission would need to break a 6-6 tie vote from April that essentially stalled the project. Part of the April vote included whether to accept a draft business plan on passenger rail that was funded with a Caltrans grant. Since then, Caltrans representatives told transportation commission staff that they are satisfied with the grant obligations without a vote of the commission. So the commissioners do not have to vote this week, but could choose to, commission staff said Monday.
The plan, as it stands, is to build a paved trail alongside either a light rail system or commuter train system on the county's rail corridor. Construction would start in 2029 at the earliest and open its doors to passengers around 2034, according to the business plan.
Opponents want to scrap the train plan and potentially build a wider paved path. Funding and detailed plans remain hurdles for that alternative.
Watsonville leaders
Aurelio Gonzalez, a Watsonville City Council member and the chairman of the commission, is expected to lead Thursday's meeting.
"It's really critical that we continue to move forward," Gonzalez said at a Watsonville council meeting Friday evening. The council called the meeting specifically to support the draft business plan and adopted a resolution 5-0 with two council members absent. "This is going to impact the whole county. It may not alleviate all the traffic woes that we have, until we figure out another way to travel besides by vehicle. Light rail's that option, right? So we need to continue to work in that direction for the future — for our children," Gonzalez said.
Gonzalez also said the train vote could have implications for Highway 1 traffic because two bridges with train tracks run over Highway 1 and need work to widen. The trestles' narrow width contribute to traffic congestion. Funding to widen them could be delayed if those projects are not funded with the train plan, Gonzalez said. "It's really critical to get that last segment of Highway 1 done," Gonzalez said.
Ticket to ride
Watsonville Councilmember Rebecca Garcia voted in favor of the resolution to support the business plan, but she questioned whether train tickets would be affordable for Watsonville residents.
"Many of our low-income residents commute to North County to clean houses, clean hotels, do gardening, do childcare, and much more," Garcia said at Friday's council meeting. "What will be the cost of the round-trip fare from Watsonville to Santa Cruz or beyond?"
One-way tickets could start at $4.50 depending on what "fare recovery" percentage leaders decide, according to the commission staff's business plan.
Typical American train systems recover 20% to 40% of their costs through ticket sales, according to the business plan. Fares typically start lower on new train systems and increase.
"Ultimately, farebox recovery goals need to consider the impacts of higher fares on ridership and affordability especially for disadvantaged and underserved communities," according to the business plan. Another factor is the amount of county money that could be generated with a sales tax hike or other local tax to help fund the proposed train system. "Other potential sources of local funds include funds from vehicle levy or registration fees, local fuel tax, property tax, income tax, transient occupancy tax, student fees, vehicle miles traveled charges and parking fees," according to the business plan. (More on funding below.)
Garcia's other two concerns: If landlords are taxed more to pay for a train system, she feared that rents would increase especially on low-income families.
Garcia also said she was concerned to what extent traffic would be reduced.
Ridership
Because of traffic, driving from Watsonville to Santa Cruz on a weekday morning takes roughly twice the time compared with other hours, according to the 2019 Unified Corridor Investment Study. Afternoon commutes headed south take roughly three times longer than during other times, the study reported.
Santa Cruz County's population is expected to rise from about 270,000 to 300,000 by 2035. More than 42% of people drove alone and at least 36% drove with others, according to the 2019 study. Data came from October 2016. Ride-hailing apps are expected to increase congestion. Ride hailing services already have reduced bus use by about 6% nationally, according to a UC Davis study.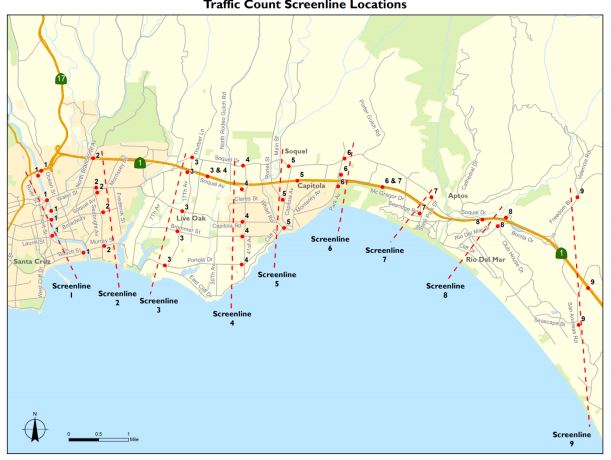 Screenlines show sections of streets and Highway 1 where traffic was studied. (Santa Cruz County Regional Transportation Commission)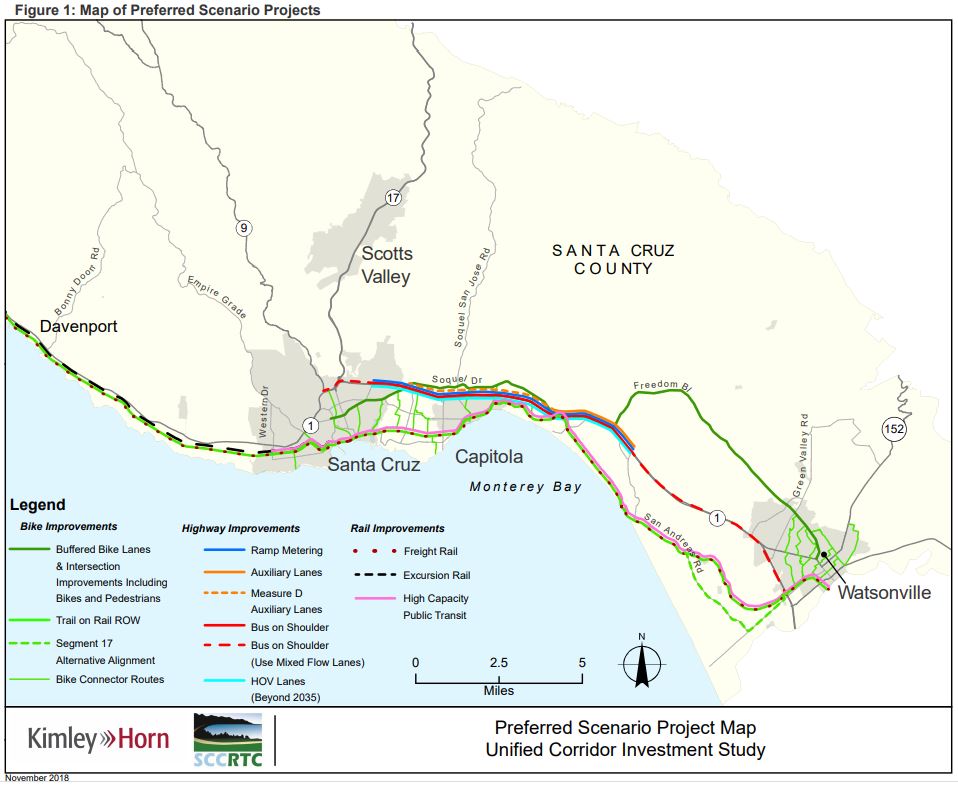 A map shows anticipated improvements and potential projects in Santa Cruz County's transportation system. (Santa Cruz County Regional Transportation Commission)
To determine what effect a passenger rail system would have on traffic, the 2019 Unified Corridor Investment Study segmented areas along Highway 1 and surrounding streets into nine sections, or "screenlines."
The section from Seabright Avenue to 41st Avenue from the ocean to north of Highway 1 is the busiest section from 4 to 6 p.m. weekdays.
The 2019 study also came up with some transit projections:
More than 100,000 people drive on Highway 1 daily.
It projects about 3,500 people per day will use passenger rail service between Santa Cruz and Watsonville, or about 7,000 boardings. Ridership is expected to increase over time.
"Excluding UCSC trips, a significant portion of transit ridership is driven by long distance trips between Santa Cruz and Watsonville, with local circulation trips making up a much smaller proportion of transit use," according to the study.
"Bicycle ridership is forecasted to increase on the Soquel/Freedom corridor to as many as 4,500 cyclists per day with implementation of buffered/protected bike lanes," according to the study. "Bicycle and pedestrian trips show the steepest decline south of State Park Drive."
The study notes that at least three of six lanes that would connect exits on Highway 1 are funded by 2016's voter-approved Measure D. Onramp metering lights are a hope after 2035, according to the study.
Paying for it
Because the transportation commission's 2021 business plan shows the likely need for a county sales tax hike or another local tax increase to help pay for the train project, Watsonville City Councilmember Rebecca Garcia questioned how Watsonville residents could pay.
Garcia noted that at least 14% of Watsonville residents live below the federal poverty line, according to census data.
If the train project continues, federal and state funding is expected to far outweigh local sources.
A light rail system would cost at least $465 million in startup costs, according to the business plan.
A faster commuter rail system with fewer stops would cost at least $478 million to start.
Commission staff has found about $280 million to pay for those startup costs from sources that include federal and state grants and programs, the plan states. That leaves at least a $185 million gap. Money is needed in stages and would be granted in stages.
"Operations and maintenance activities are expected to cost $25 million per year, based on the estimates" in the Transit Corridor Alternatives Analysis, commission staff wrote in the 2021 business plan.
"Roughly half of the construction funds and half of the operation and maintenance funds are currently unidentified," commission staff wrote in the business plan. "Funds that could fill this gap include new federal and state programs that would fund transit projects or an increased amount of funds in existing programs. While difficult to predict the potential for future funding sources, funding for transit will likely increase in the future both on the federal and state levels. At the federal level, numerous policies and programs are under development with the new Biden-Harris administration," staff wrote.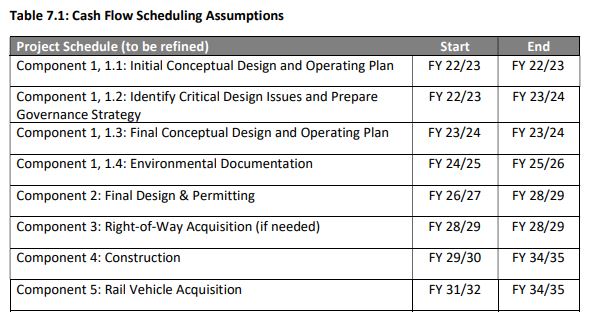 A timeline in a recent business plan shows potential milestones for a passenger rail system in Santa Cruz County. (Santa Cruz County Regional Transportation Commission)
Capital cost estimates for light rail and commuter rail anticipate replacing all of the rails themselves and about 75% of the rail ties, according to the business plan.
Residents, advocates sound off
Despite the time and hundreds of millions of dollars needed to fund passenger rail, some residents said that more transportation options would save them time and improve their lives.
Celeste Gutierrez, a Watsonville resident, said when she was young she took the bus from Watsonville to Santa Cruz and UC Santa Cruz.
"I know firsthand how a rail trail would benefit other people in our community. I think it's important for all of us to take the environment into consideration and think about the type of planet that we want to have not only for ourselves, but our children in the future," Gutierrez said at Friday's Watsonville council meeting. "And investing in a rail trail will finally get us living in the 21st century, rather than where we've been living now where we just have a huge parking lot going north to Santa Cruz every morning and then coming back down to Watsonville."
Gina Cole, a Watsonville resident and executive director of Bike Santa Cruz County, urged leaders to think in the long term. "County residents of 2031 may not have the luxury of living in a house with a yard away from the density of our city's downtown centers," Cole said at Friday's Watsonville council meeting. "They may not have space to park more than one car or even park a car at all. They may intentionally choose not to drive to work but rather take public transportation across the county."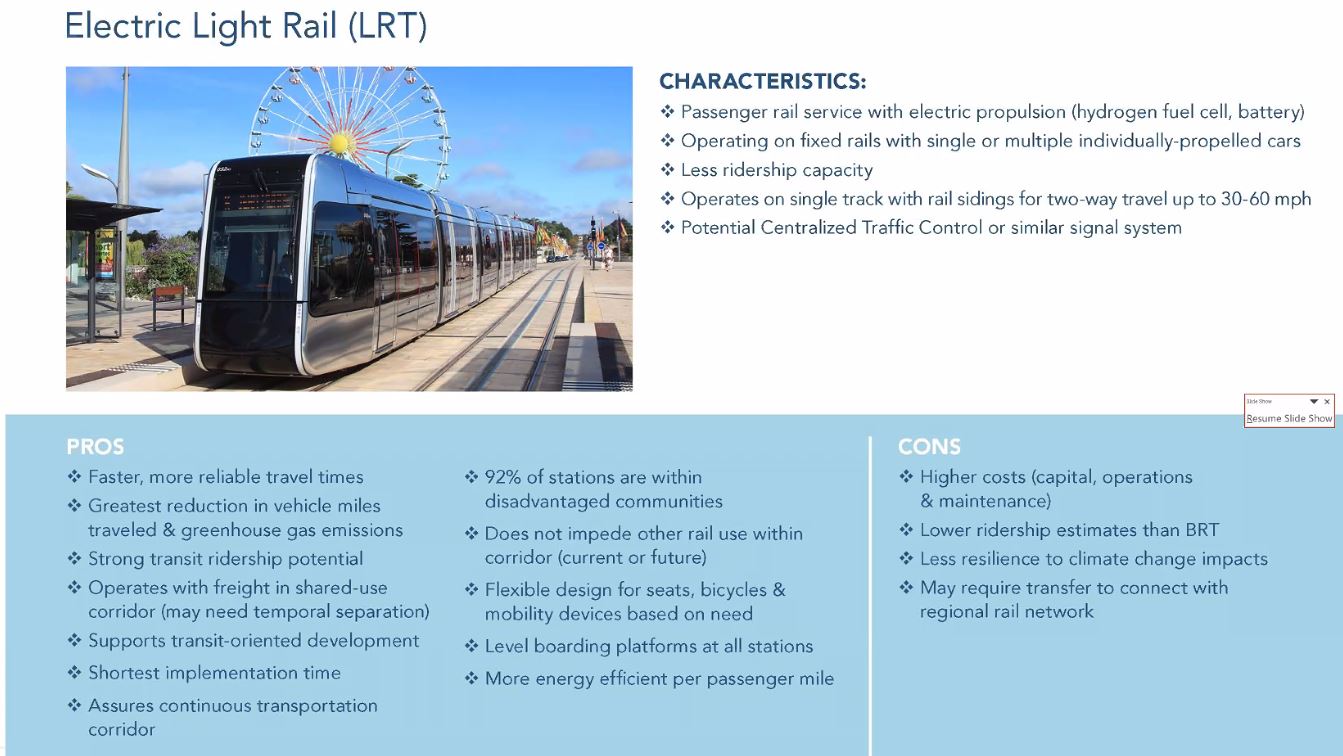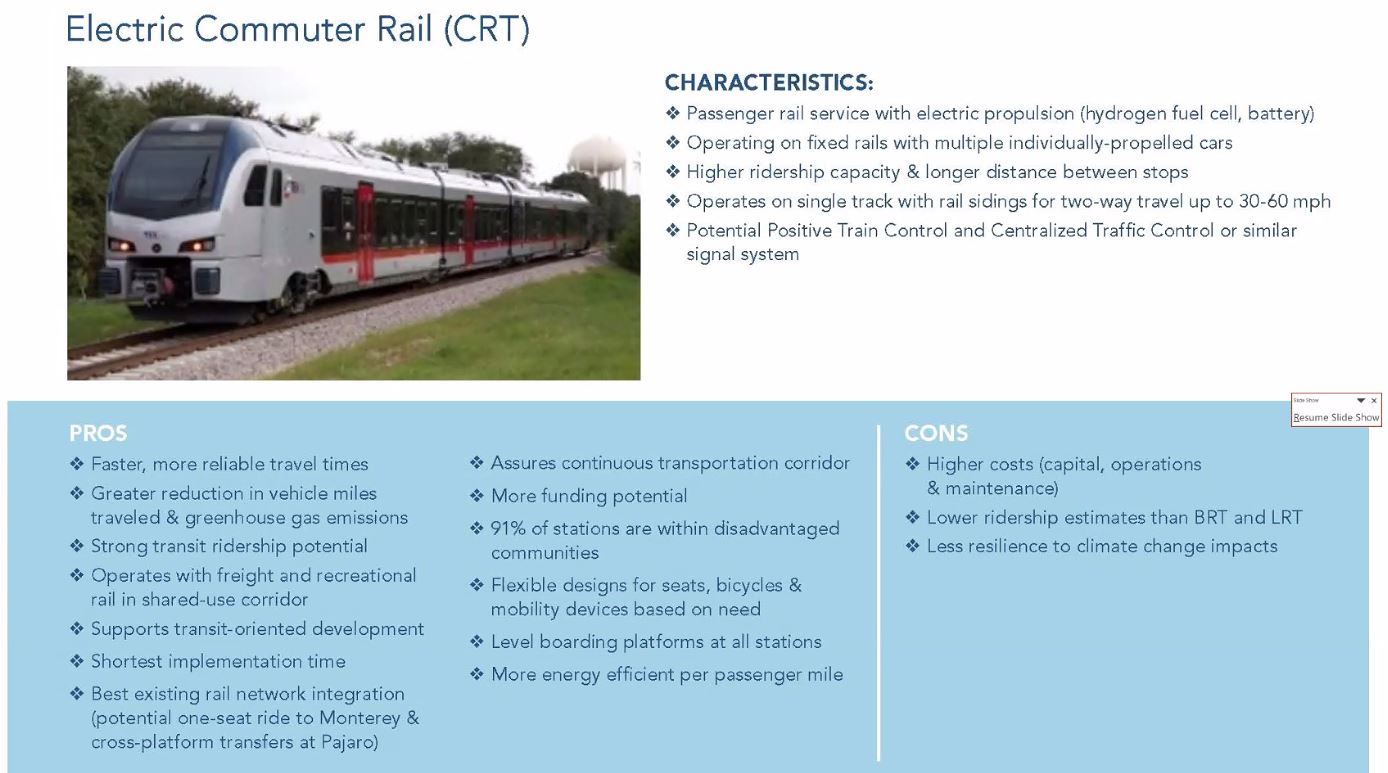 Santa Cruz County Regional Transportation Commission staff presented pros and cons of electric light rail and electric commuter rail in February. (Regional Transportation Commission)
Opponents show alternatives
Greenway, a group that has advocated against a passenger rail system, has said the costs, low ridership estimates and narrow areas of the rail line are some of the many hurdles it believes are too great to surmount.
Some areas of the trail today are too narrow for either a train and a path, the group argues. The Capitola trestle, 41st Avenue and a "tree tunnel" near Park Avenue in Capitola are three such places. The group has advocated for increased bus service, more protected bikeways on streets and only a wider, paved path on the rail line to help reduce congestion.
"Social equity in Santa Cruz County should start with a discussion around local jobs and economic development in Watsonville rather than serving the city of Santa Cruz's low-paid service sector," according to Greenway's website.
On the other side of the discussion is Friends of the Rail and Trail, an advocacy group that has supported the train plan. "Rail is the only option that is immune to traffic congestion, provides true accessibility for all users, preserves the (rail corridor) easement, and ensures the continuing construction of the trail," according to its website.
One resident who attended Friday's Watsonville city council meeting online said she was waiting at a bus stop, about to take an hour commute home.
"Electric rail in this community would absolutely change my life," she said. "It would be safer, more equitable for the many folks who, you know, can't bike 10 miles to work," she said. "I would love to live closer, but it's just with the housing situation, that's another conversation."
To participate in Thursday's meeting: Join on Zoom or call 669-900-6833, meeting ID 895 5943 5768. To comment ahead of the meeting, email

[email protected]

by noon Wednesday, May 5.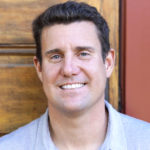 Stephen Baxter is a co-founder and editor of Santa Cruz Local. He covers Santa Cruz County government.