SANTA CRUZ >> Santa Cruz County transportation leaders delayed action on a controversial passenger-train project on Santa Cruz County's rail corridor Thursday because the Regional Transportation Commission needs $17 million for environmental and engineering reports to keep the plan on track.
Guy Preston, executive director of the Santa Cruz County Transportation Commission, pledged to continue his search for state money to fund the reports. Although the commission discussed the train project's business plan Thursday, Preston essentially said a vote on it would not matter because his work would continue. The commission would have to approve the acceptance of money for the report, Preston said after the meeting. 
"In developing the business plan, our biggest challenge was identifying a potential funding source for the next step, which would have been preliminary engineering and an environmental document," Preston said at the meeting.
"RTC staff is not authorized to accept funding or advance a project without authorization of the commission," Preston wrote in an email to Santa Cruz Local. "Only the commission can agree to accept funding and approve the advancement of a project or potential project."
Essentially, the staff is working off the last majority vote the commission made, which was the choice of a passenger train project on the rail corridor from the Transit Corridor Alternatives Analysis.
Commissioner Eduardo Montesino suggested a vote on the business plan to take place at a future meeting, but he rescinded his motion after Preston's comments and the commission did not vote.
"This, to me, is a 'timeout,'" said Commissioner Jacques Bertrand. Bertrand is also a Capitola City Council member. "This gives us time to think about what this whole project really means for the various elements in the Santa Cruz County community. And what are their needs that may or may not be met?" Bertrand asked.
"What is the efficiency of looking at bikes and getting our (traffic) signals in sync, and stuff like that? And having so many other ways that we can improve traffic flow at a much less cost," Bertrand said. 
Commissioner Bruce McPherson said the commission should let staff look for money for the environmental report and settle the train debate later. "I think it's now the time to take a rest. I hope it calms down the unproductive, and at times just disinformation, going on in our community," McPherson said.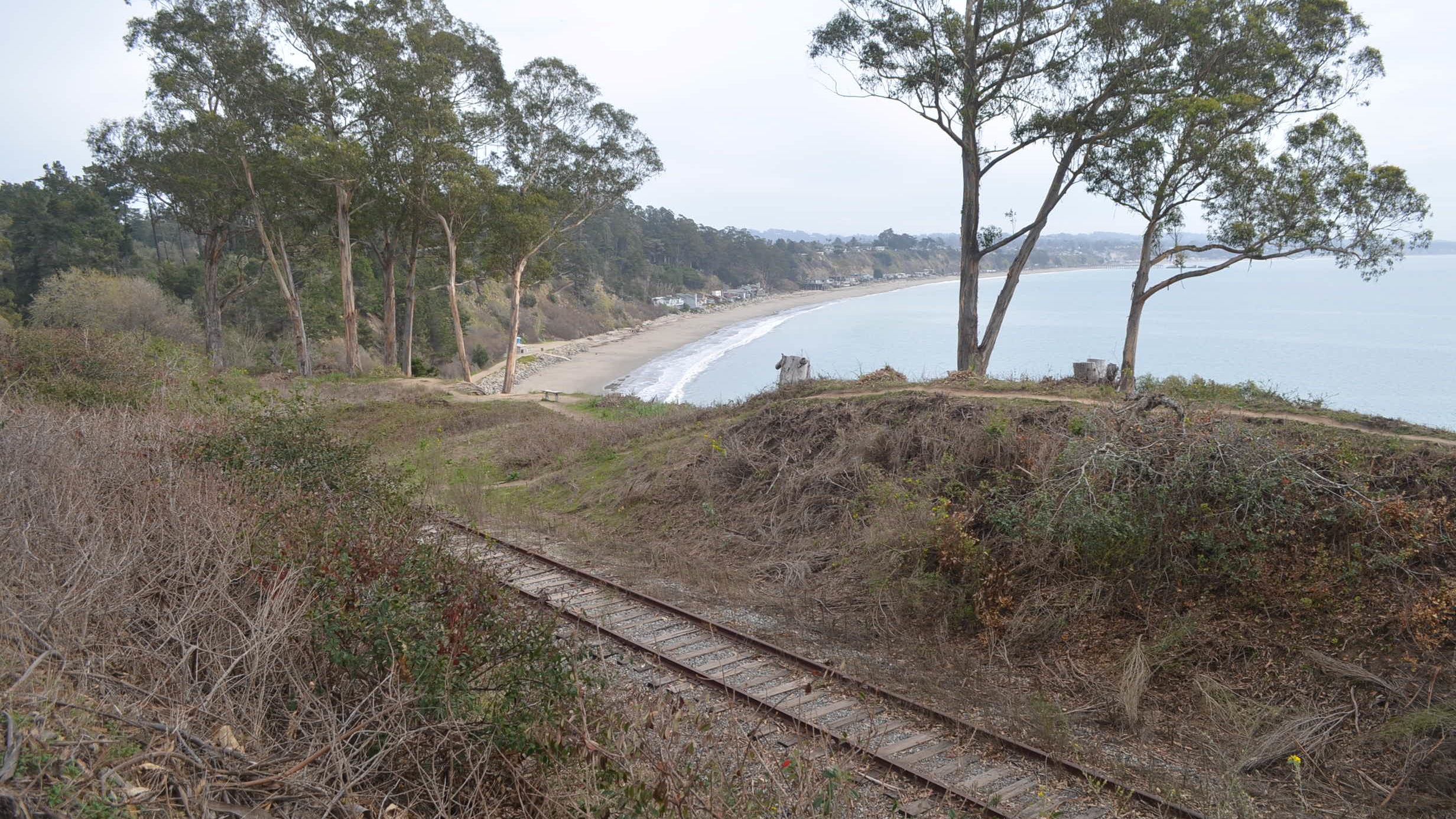 The Santa Cruz County Branch Rail Line runs parallel to Park Avenue near Wesley Street in Capitola. New Brighton State Beach is in the background. (Stephen Baxter — Santa Cruz Local)
Funding situation
Transportation commission staff said they have been working with Caltrans leaders to try to pay for the preliminary engineering and environmental document. 
"Historically, state and federal funding has not been available to fund this component of the work, and certainly not without a significant local match," said Preston, the transportation commission's executive director. 
Preston said commission staff discussed with Caltrans representatives how difficult it is for local jurisdictions to pay for preliminary engineering and environmental documents unless they have a "dedicated funding source" such as a local tax. 
"Since it is not advisable to ask citizens to tax themselves without having the knowledge of the project impact and costs, it is almost impossible to move forward with a project of this magnitude without help from the state," Preston said during Thursday's meeting. He said Caltrans representatives pledged to try to help find the money and mentioned an Emerging Corridor Fund with the state Rail Assistance Program. 
There would be no guarantee of the fund and it wouldn't amount to $17 million, Preston said. Caltrans planning money might be available to cover the remainder, Preston said. 
"RTC staff is responsible for seeking funding for RTC projects. I plan to continue to investigate the likelihood for any funding for any of our projects, and advising the commission and seeking direction moving forward," Preston said.  
Calls for calm
Longtime Commissioner Andy Schiffrin said he had never seen such a contentious issue face the commission and generate so much public input. He said he appreciated some long letters he received. 
"We're not really talking about a community when we talk about transportation. We're talking about a bunch of communities," Schiffrin said. "And those communities have different priorities. There's the rail priority, there's the highway priority, there's the trail priority, there's a bus priority, there's local nodes priority."
He said he believed that many of those groups came together to approve by a slim margin the 2016 sales tax hike Measure D. That measure brought in millions of dollars for road and bike projects, as well as planning for the rail corridor. Because of Measure D and the commission's last majority vote in favor of passenger rail as the "preferred alternative" for the rail corridor, he essentially said the commission owed it to voters to continue the project if money becomes available for the next phase of environmental reports. 
Commissioner Kristen Petersen said she had spoken to many supporters and opponents of the passenger rail plan and respected their opinions. "I also want to encourage those on both sides to consider toning down some of the incendiary rhetoric that is on both sides right now," Petersen said. "It's not productive. It's damaging to this conversation."
The online meeting was capped at 100 participants and more participants could not get into the meeting. A staff member tried to find more capacity, but several callers said they were dismayed with the lack of access. 
"I have like four people I know who can't get on to this meeting due to the capacity on it," UC Santa Cruz student Michael Wool said. "It's very frustrating to hear this considering the big things on the agenda today."
Others noted that it was difficult for working people to participate in transportation commission meetings because they run from 9 a.m. to the afternoon on Thursdays. 
Supporters and opponents spoke at the meeting, including a few students from Cabrillo College and UC Santa Cruz who described long bus rides and traffic. One woman said she had to quit her job as a nanny because her commute to Watsonville wasn't compatible with her other job across town. 
Rail opponents' views centered on the time and money they said was wasted in the planning for a train project that is at least $185 million short of its projected startup costs, according to the commission staff's business plan. Startup costs are anticipated to be at least $465 million for passenger rail and the commission has found but not secured $280 million in federal and state sources to pay for it. A local source of money such as a two-thirds voter-approved sales tax hike will be needed to help fund the project, commission staff has said. 
Veronica Elsea, a member of the transportation commission's Elderly and Disabled Advisory Committee said she was concerned about the "timeout." 
"My concern is that using words like 'timeout' means, 'Phew, we don't have to address it for a while,'" Elsea said. "It's going to be left to members of the public to continue to push you to follow through with what we thought we voted for in Measure D. So please do not drop this. Please do not be afraid of getting information."
Related stories
Become a member of Santa Cruz Local, an independent, community-supported newsroom that's owned and led by local journalists. Our stories are free and always will be, but we rely on your support.
Already a member? Support Santa Cruz Local with a one-time gift.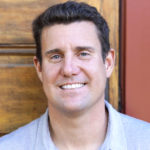 Stephen Baxter is a co-founder and editor of Santa Cruz Local. He covers Santa Cruz County government.