SANTA CRUZ >> The Santa Cruz County Regional Transportation Commission on Thursday advanced the staff's recommendation of a light rail or commuter train next to a paved trail on the county's rail corridor from Pajaro to Santa Cruz.
The vote did not necessarily ensure that a commuter train or light rail system would be built on the corridor, the commissioners said, but it would enable commission staff to present a business plan on the rail options this spring.
Santa Cruz Local offers its news stories free as a public service.
We depend on people like you — we call them our Santa Cruz Local members — to chip in $9 a month or $99 a year to make sure vital information can be available to all. Can we count on your help?
Some commissioners, including Chairman Aurelio Gonzalez, said he voted to advance the train preference so a business plan could be considered and made public.
"We do need a business plan and it's important. But that's not necessarily a vote to move forward with building this project unless we know what the money situation's going to look like," said Virginia Johnson, a staff member for Santa Cruz County Supervisor Bruce McPherson. Johnson voted as an alternate for McPherson on Thursday.
The much anticipated vote was 9-3 with Manu Koenig, Jacques Bertrand and Randy Johnson against advancing the commuter train and light rail preference. Koenig represents Santa Cruz County District 1, which includes Live Oak and the Soquel Hills. Bertrand represents the Capitola City Council and Johnson represents Scotts Valley City Council.
Sandy Brown, Eduardo Montesino, Greg Caput, Andy Schiffrin, Patrick Mulhearn, Donna Meyers, Virginia Johnson, Mike Rotkin and Aurelio Gonzales voted to pursue the rail options.
Choices
An electric commuter rail line could take passengers from Pajaro to Natural Bridges State Beach in Santa Cruz in about 40 minutes, according to the Transit Corridor Alternatives Analysis. It could have 11 stations or stops and cost $478 million to build.
An electric light rail system could take passengers along the same route in about 55 minutes, according to the analysis. It could have 15 stops or stations and cost $465 million to build.
A bus rapid transit system would use about 7 miles of the 15 mile rail corridor then use other routes. It would take 90 minutes from Pajaro to Natural Bridges, have 23 stops and cost $410 million to build, transportation commission consultants have said. All of the options would be adjacent to a paved trail already in the works.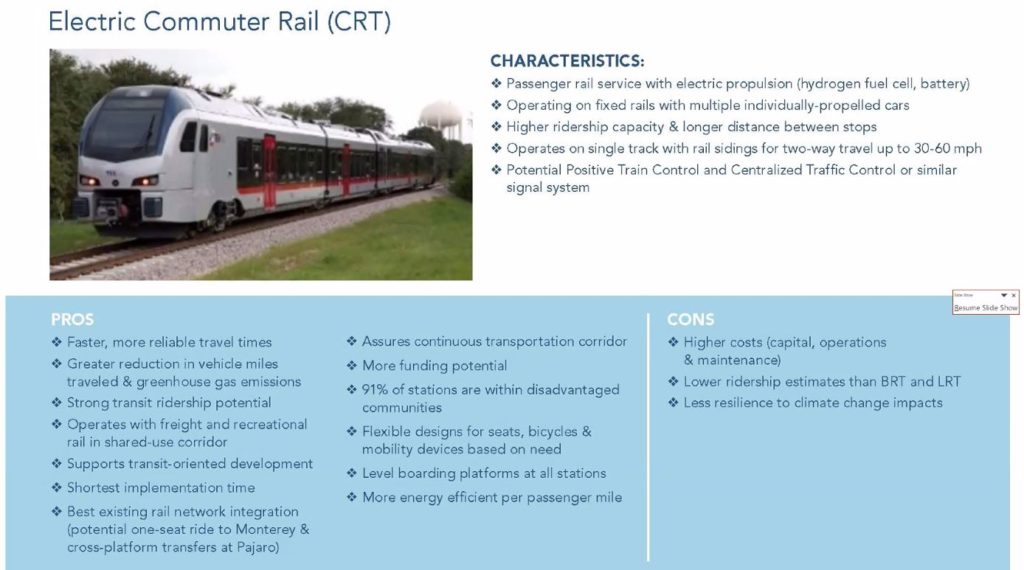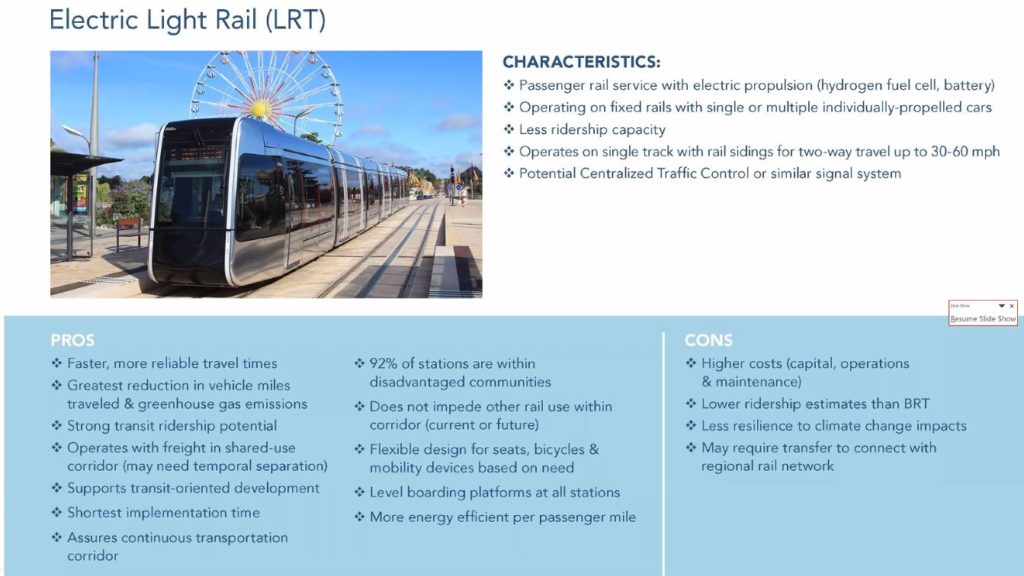 The Transit Corridor Alternatives Analysis states that additional state or local money would be needed to close a funding gap, commission alternate Patrick Mulhearn noted at Thursday's meeting.
Mulhearn wanted the commission to make the rail project's construction contingent upon voter approval of a new county tax to help pay for it. The commission voted against that motion 9-3 with Mulhearn, Randy Johnson and Virginia Johnson as the only supporters.
Mulhearn has been a long-term alternate for Santa Cruz County Supervisor Zach Friend on the rail topic because Friend lives close to the rail line in Aptos and has recused himself.
Power moves
Commission Chairman Gonzalez represents the Santa Cruz Metropolitan Transit District on the commission and is also a Watsonville City Council member.
Gonzalez on Thursday did everything in his power to limit comments on the rail proposal. Gonzalez said that participants who spoke at the commission's roughly six-hour February meeting were not allowed to speak at Thursday's meeting. This meant that comments from anti-rail and pro-rail advocates and group leaders did not participate. Gonzalez then limited the residents who spoke to two minutes each.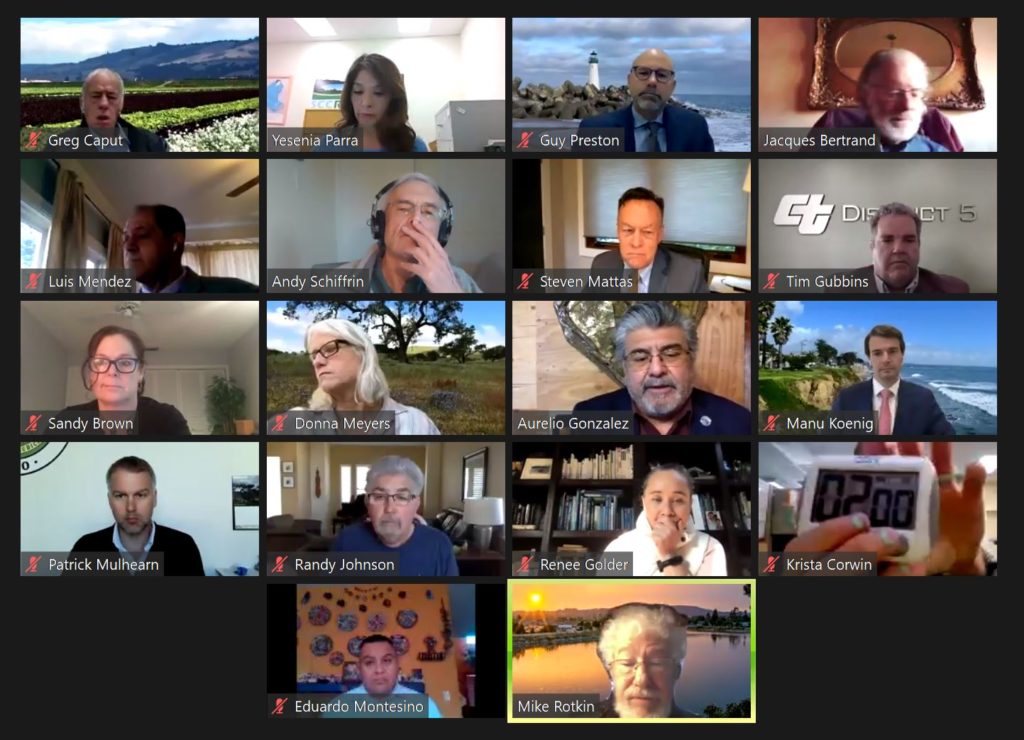 Gonzalez also limited the commissioners' comments to two minutes before commissioner Randy Johnson pushed back. "All of a sudden we're being rushed," Johnson said. "We are not the public. We are the people assigned with the responsibility of being contemplative."
Gonzalez said, "We've had enough time to comment throughout the whole studies that staff has brought to us. And if there's any more new revealing comments, they should be able to be done within the two minutes."
Public comments
About nine people spoke against the rail plan and 18 spoke in favor of it at the meeting. The meeting was held in the middle of a workday and that ratio may have no bearing on actual public sentiment. Commission staff also has said it has not done scientific polling to determine whether county residents support a rail line or would support a new county tax to help pay for it.
Many speakers in favor of rail options were from the city of Santa Cruz and Live Oak. Few people from Watsonville spoke and were split on whether to pursue rail. Others saw a new rail system as an alternative to sitting in traffic.
"Highway 1 from Santa Cruz to La Selva Beach is a parking lot every day," said Aptos resident Dave Riggs. "I think this is an economic problem, an environmental problem and frankly a social justice problem. The longer we delay addressing this issue, the more expensive it becomes," Riggs said.
Some residents said the project would be too expensive or a noisy nuisance. "Have you talked to the neighbors along the right of way about how crazy and impossible it's going to be to run light rail trains multiple times an hour past their backyards?" asked Doug Schenk of Live Oak. "Electric bikes are the commute future in sunny Santa Cruz," he said.
"I'm Veronica Elsea, a Santa Cruz resident who happens to be blind. I can assure you I will not be riding an electric bicycle to Watsonville," Elsea said.
Others said the rail corridor's width would not be sufficient in places to accommodate a rail line and paved trail. Maintenance of trestles around La Selva Beach also could be a challenge with erosion and sea level rise, commission consultants and residents have said.
Commissioner Mike Rotkin, who also represents the Santa Cruz Metropolitan Transit District with Gonzalez, said he wanted to see a business plan before making a final decision on whether to pursue a new rail system.
"You can't build a railroad without some kind of decision about how you're going to pay for it," Rotkin said at the meeting. "The public has to understand, we're not going to spend millions or billions of dollars on a train proposal without knowing where the money is coming from. That'll have to happen somewhere further down the road."
In other news
Separate from the rail vote, Commissioner Koenig suggested that commission staff prepare a delivery plan for a "wide, multi-use trail" on the rail corridor. The commissioners agreed to consider adding an agenda item at a future meeting on whether to direct staff to prepare a report.
Prior to running for office, Koenig was executive director of Santa Cruz County Greenway, a nonprofit that advocates for a wider trail and no rail along the county's rail corridor.
Related stories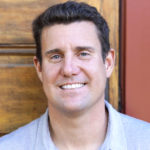 Stephen Baxter is a co-founder and editor of Santa Cruz Local. He covers Santa Cruz County government.