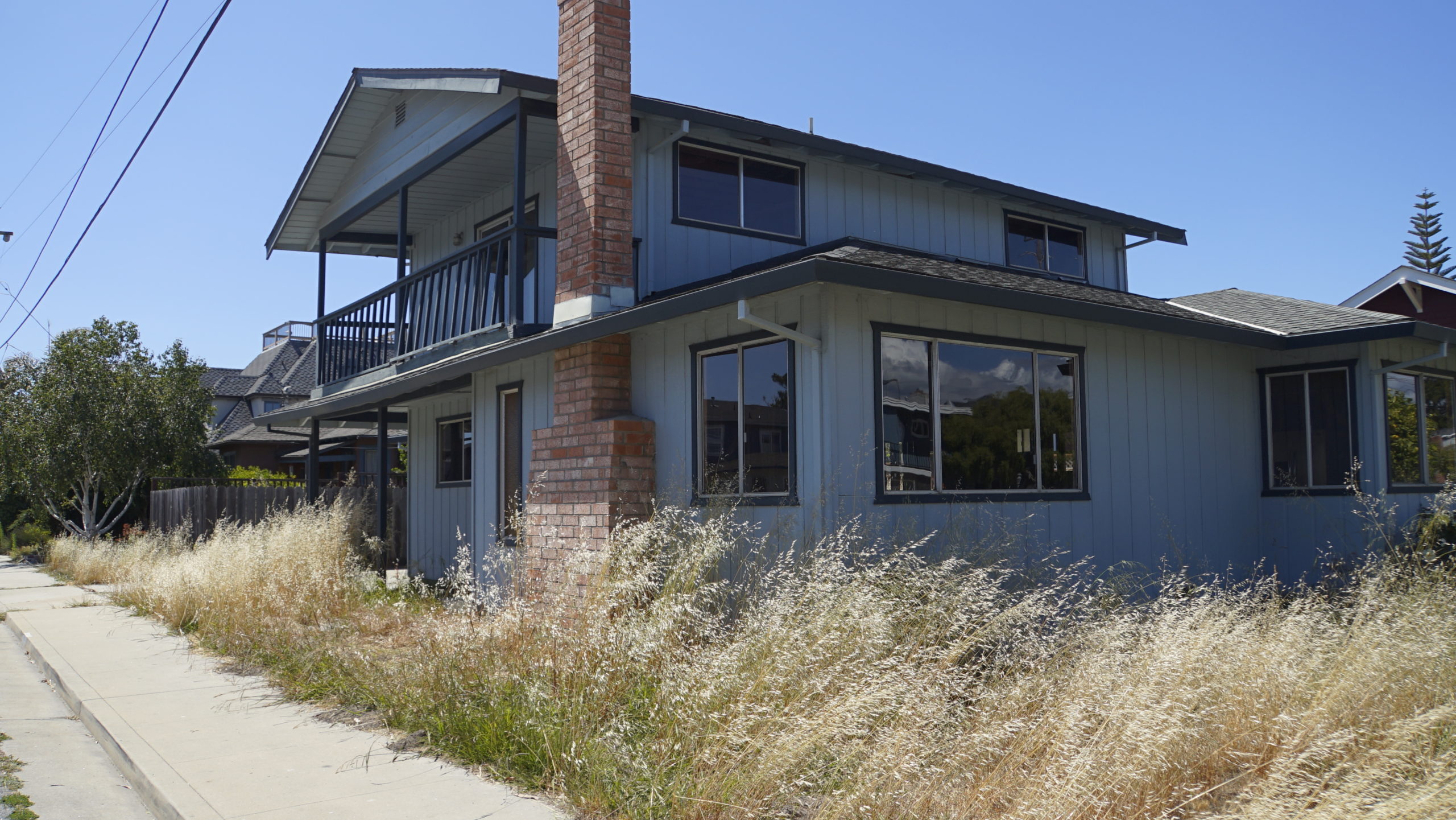 A four-bedroom home near West Cliff Drive in Santa Cruz sits empty in June after it was sold for $2.3 million in November. Homes under active construction would be exempt from a proposed tax on empty homes. (Kara Meyberg Guzman — Santa Cruz Local)
SANTA CRUZ >> A proposal to tax vacant homes and an initiative to scrap plans for a larger downtown library will head to the Nov. 8 ballot, the Santa Cruz City Council decided Tuesday.  
In a 6-0 vote, the Santa Cruz City Council added the measures to the ballot. Separate initiatives gathered thousands of signatures to make the measures eligible for the ballot.
At Tuesday's council meeting, city leaders discussed an analysis of the proposed empty home tax.
Proposed empty home tax
The proposed empty home tax could apply to 427 to 705 homes in the city, according to a City of Santa Cruz Finance Department analysis presented to the council Tuesday. 
The estimate is based on mail addresses for property tax bills, homeowner's exemptions claimed through the County of Santa Cruz and data from the city's rental programs. 
That estimate is lower than the Empty Home Tax campaign's estimate of 1,000 to 2,000 vacant homes, based on census and California Department of Finance data.
According to the finance department's report, the proposed empty home tax would have:
Estimated annual revenue of

$2.5 million to $4 million

, based on $6,000 tax per parcel for a single family home, $6,000 per vacant parcel for complexes of up to six units, and $3,000 per vacant unit for complexes of seven or more units.

One-time startup costs are estimated at $607,000.

An annual administration cost of about $420,000 for tax collection, enforcement and staff to support an empty home tax committee. However, if the committee meets frequently then associated staff costs could be "very substantial" and could involve "hundreds of hours per year and even over 1,000 hours per year," according to the report.
City Manager Matt Huffaker said Tuesday that empty home taxes are relatively new in California. Some of the costs and revenue are unknown. Huffaker called the estimates "conservative."
"These are estimates and certainly we could see those revenues come in higher than we're expecting. And we could find ways that we could administer it more efficiently, which of course could reduce costs," Huffaker said.
The proposal could raise money to create and preserve affordable housing, according to the finance department report. "However, it is unclear if the measure would result in a net positive benefit or not, as the total tax that will be collected and the total costs associated with the administration of the tax collection program and the costs associated with the staffing of and support for the committee called for in the measure are unknown," staff wrote.
Feedback from residents and council members
In roughly one hour of public comment, the council heard about 30 residents and most spoke in support of the empty home tax proposal. Several residents, including the Empty Home Tax campaign manager, said the city finance department's cost estimates were inflated.
Councilmember Sandy Brown agreed. Brown made a motion, seconded by Mayor Sonja Brunner, to direct city staff to revise the fiscal impact report with new information about the costs to administer the tax. 
Among other research, Brown wanted city staff to ask the Santa Cruz County Regional Transportation Commission staff about costs for a tax oversight committee. The proposed empty home tax committee was based on the Measure D Taxpayer Oversight Committee coordinated by the regional transportation commission.
"The reason I am asking for this now is because it is information that is going to be used in a public electoral campaign to the voters. And If the city says this is the cost, and people out in the public — we know there's going to be a group that's going to oppose this and they will use that number as the city's numbers and it is based on incomplete and I would say overestimated projections," Brown said.
The council voted 6-0 to have city staff return with a more detailed fiscal impact report that includes more sources for potential costs. Councilmember Renee Golder was absent.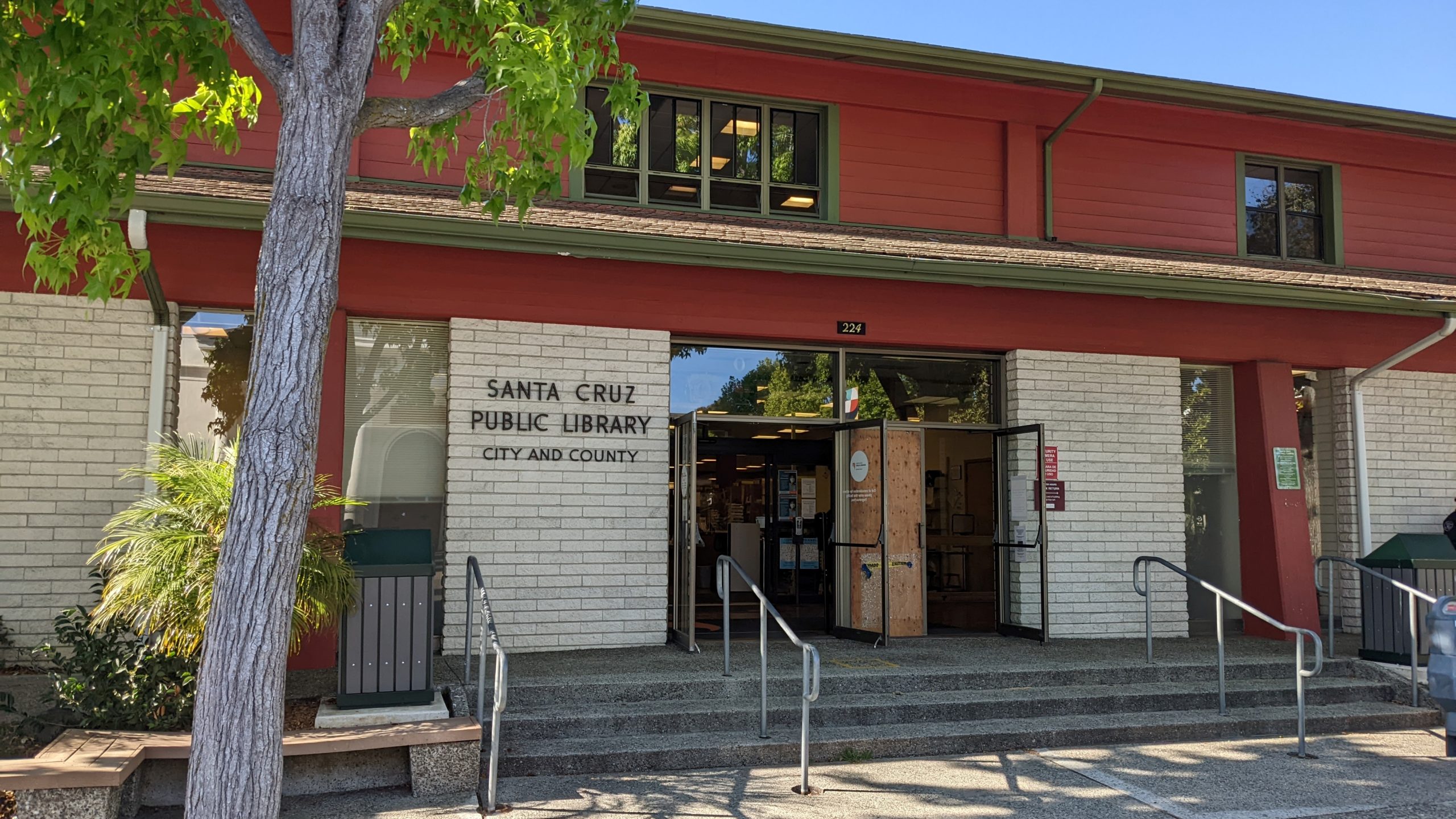 A measure on the Nov. 8 ballot aims to keep the Downtown Santa Cruz library at 224 Church St. rather than build a new library on Cathcart Street. (Stephen Baxter — Santa Cruz Local file)
Library ballot measure
A similar City of Santa Cruz report on the "Our Downtown, Our Future" library initiative is expected by late September.
The measure would change the City of Santa Cruz's General Plan to:
Prevent construction of a planned

Downtown library, garage and housing project

on Cedar Street between Lincoln and Cathcart streets. The site is City Parking Lot 4, where the Santa Cruz Farmers Market meets on Wednesdays.

Keep the Downtown library at its site on Church Street.

Prioritize City Parking Lot 4 as the permanent location of the farmers market.

Prohibit above ground-level parking on other city parking lots and prioritize them for affordable housing.

Read the proposal.
The group Our Downtown, Our Future wants to renovate the current library on Church Street. They envision a public square in City Parking Lot 4 where the farmers market meets.
Passage of the measure would derail years of community meetings, city staff time and architectural work on a larger library at Cedar and Cathcart streets. Santa Cruz County voters in 2016 approved a $67 million bond measure and parcel tax to renovate or rebuild all of the Santa Cruz Public Libraries.
Our Downtown, Our Future leader John Hall encouraged the council Tuesday to hire a consultant to create a fiscal impact report and compare costs and benefits with the city's plan to build a new library, garage and affordable housing.
"We believe that we are charting a better, more sustainable way for Santa Cruz and we believe that we all owe it to our community and future generations to choose this path," Hall said.   
The latest cost estimate in May for the planned new library was $42 million, up from an estimated $33 million in December 2021. The new estimate includes 3,000 square feet of additional space — up to 38,000 square feet total —  as well as furniture and other costs not included in the earlier number. The cost estimate does not include the attached affordable housing project or parking garage. 
Read Santa Cruz Local's related stories
Learn more about Santa Cruz Local and how we are funded. Santa Cruz Local is supported by members, major donors, sponsors and grants for the general support of our newsroom. Our news judgments are made independently and not on the basis of donor support.
Santa Cruz Local's news is free. We believe that high-quality local news is crucial to democracy. We depend on locals like you to make a meaningful contribution so everyone can access our news. Learn about membership.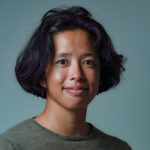 Kara Meyberg Guzman is the CEO and co-founder of Santa Cruz Local. ​Prior to Santa Cruz Local, she served as the Santa Cruz Sentinel's managing editor. She has a biology degree from Stanford University and lives in Santa Cruz.