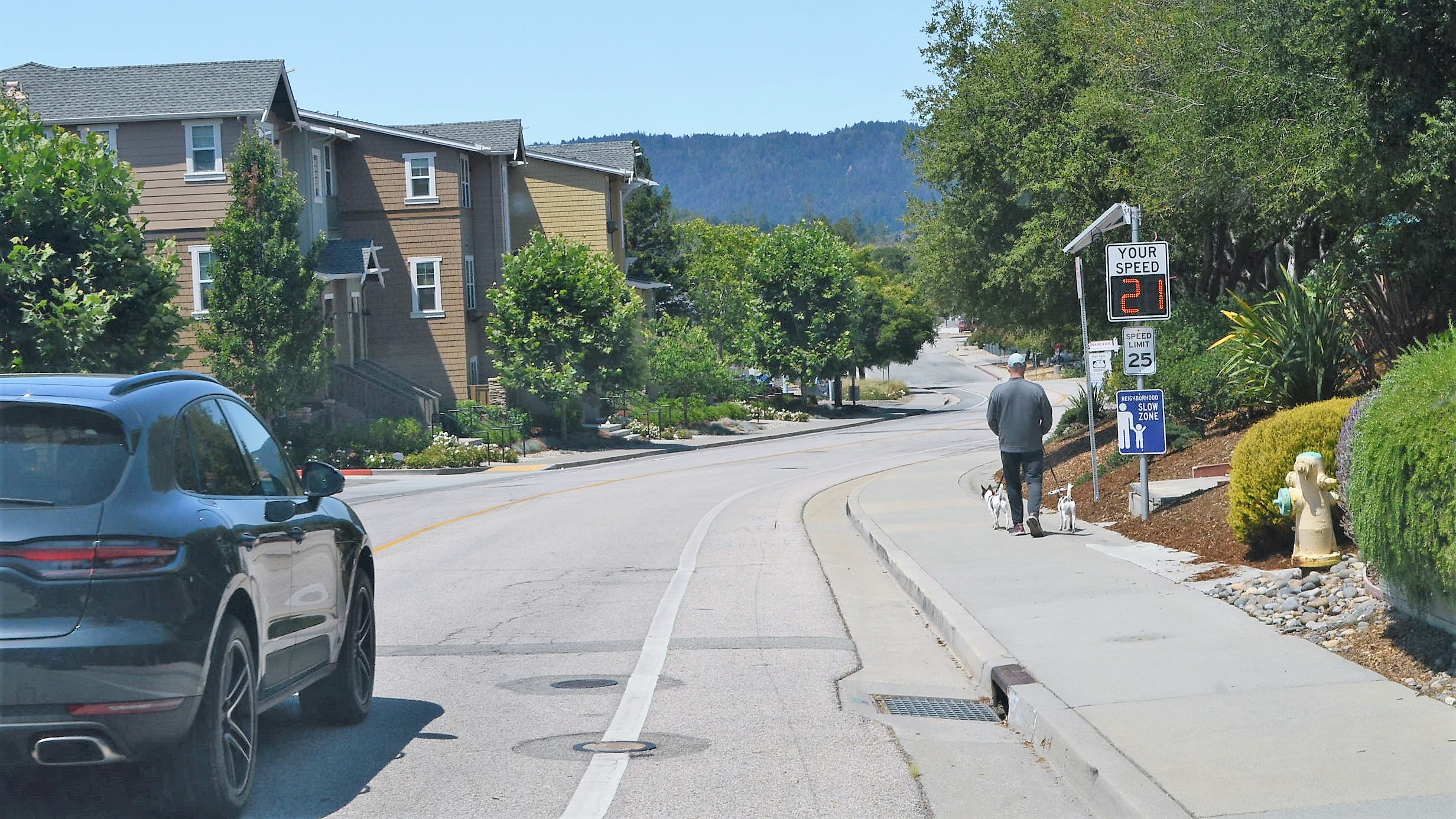 A speed radar sign was installed on Bluebonnet Lane in Scotts Valley in the past year, but it did not prevent an injury crash near Bluebonnet and Kings Village Road in September. (Stephen Baxter — Santa Cruz Local file)
SCOTTS VALLEY >> A group of Scotts Valley residents have renewed demands for road safety upgrades on Bluebonnet Lane after a mother and 6-year-old boy were struck by a driver in a crosswalk in September.
A 41-year-old woman and her son were struck by a driver just before 8 a.m. Sept. 22 at Bluebonnet Lane and Kings Village Road, said Scotts Valley Police Capt. Mike Dean and neighbors. The woman and child were taken to Santa Clara Valley Medical Center and later released with injuries that were not life threatening, police said.
The crash didn't surprise Bluebonnet Lane resident Griffon Walker. He's part of a group of residents who have advocated for traffic safety improvements on the street for more than two years. Bluebonnet Lane connects Kings Village Drive and Bean Creek Road. It is near the Scotts Valley Branch Library, the Scotts Valley Senior Center and Skypark. Drivers often speed downhill faster than the posted 25 mph speed limit, neighbors said.
The September collision was "the accumulation of hundreds" of close calls, Walker said.  "It's just people burning up the hill," he said.
Even before the crash, Walker installed a camera that points out his window toward the street. It records the flow of traffic. Drivers regularly flout the speed limit, he said.
Slow city response
In 2019, Walker and other residents advised the city's Traffic Safety Advisory Commission as they produced an Active Transportation Plan. It updated a 2012 plan to create safer roads for bicyclists and pedestrians. 
Approved in May, the plan contains several proposed improvements for Bluebonnet. It includes bollards to narrow the road, a raised bike lane and a new crosswalk across from the path to Montevalle of Scotts Valley, Inc. Those improvements were all deemed a medium or low priority and like most projects in the plan, they have not been funded. 
The city has installed a speed bump, a speed radar sign and a sidewalk across from Scotts Valley Middle School. But Walker and other residents say the improvements haven't made the road safe.  
"Eventually someone else is going to get hit," Walker said. "Risk that isn't mitigated always manifests."
Although he was disappointed by the lack of action from city leaders, Walker said he and other residents haven't given up. The group plans to return to city council meetings to "try to instill some sense of urgency" for road improvements, Walker said.
Other streets might be less safe
Bluebonnet Lane is not the most dangerous street in town for walkers and cyclists, according to city data. More bike and pedestrian crashes have happened on Mount Hermon Road and Scotts Valley Drive. From 2008 to 2017 in Scotts Valley, there were 23 reported crashes that involved walkers and 35 reported crashes that involved cyclists, according to city documents.
When asked about street safety, Scotts Valley City Councilmember Donna Lind mentioned deaths and serious crashes on Granite Creek Road, Whispering Pines Drive and Hacienda Way.
"It's tough, because you're trying to respond to all the needs and be equitable about it too," Lind said. Lind, a retired Scotts Valley police sergeant, serves on the Traffic Safety Advisory Committee and helped produce the Active Transportation Plan.
The plan's projects were prioritized according to multiple factors including their proximity to recent collisions, whether they are located on an arterial street and how complicated the improvements are. Most of the plan's high-priority projects are along Scotts Valley Drive and Mount Hermon Road.
Why city money is tight
Limited city revenue makes upgrading Scotts Valley's roads more difficult, Lind said. Most of the city's public works budget comes from sales tax revenue and hotel tax revenue. Local spending and hotel stays dropped during the pandemic. 
In March 2020, voters approved a new sales tax to fund city services. So far its impact has been limited.
Budget woes also have made it difficult to hire enough city staff and retain high-level staffers, Lind said. She said the hire of Public Works Director Chris Lamm in August is "the light at the end of the tunnel."
Lind hopes that the proposed road improvements in the Active Transportation Plan will bolster grant applications for state funds.
Related stories
Become a member of Santa Cruz Local, an independent, community-supported newsroom that's owned and led by local journalists. Our stories are free and always will be, but we rely on your support.
Already a member? Support Santa Cruz Local with a one-time gift.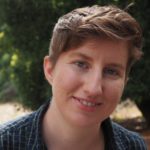 Jesse Kathan is an environmental journalist and a graduate of UC Santa Cruz's science communications program. Kathan has contributed to the Mercury News, Monterey County Weekly and KSQD-FM.