Editor's note: This resource page is part of Santa Cruz Local's Guide to Local Government. Read an introduction and view all the pages.
Case 1: Renaming a community center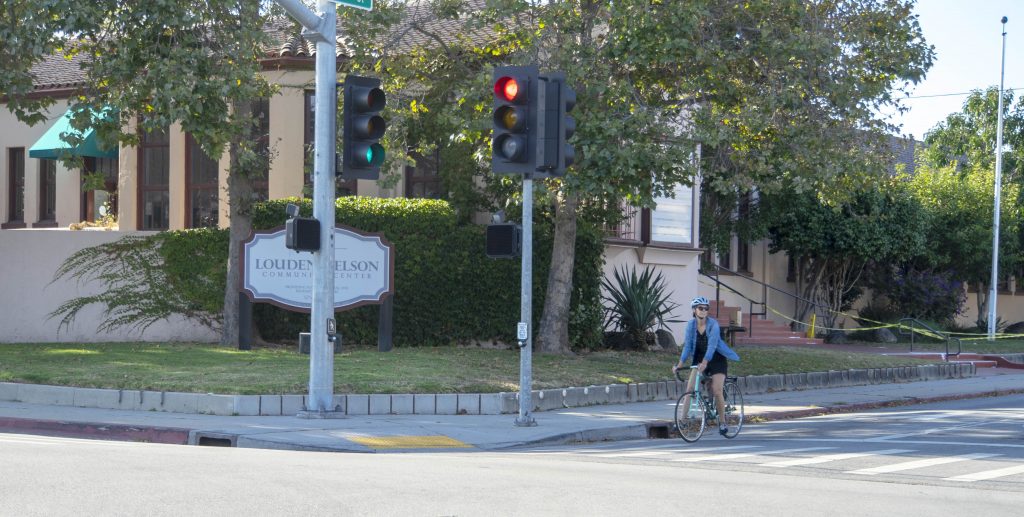 The Louden Nelson Community Center in Santa Cruz was renamed the London Nelson Community Center in June 2021. (Kara Meyberg Guzman — Santa Cruz Local file)
Speaking at city council meetings is one way to get your voice heard. Working behind the scenes with city or county staff and elected leaders can be another effective way to make change.
Brittnii Potter is a 32-year-old stay-at-home mom from Santa Cruz. She and a group of supporters successfully advocated for the Santa Cruz City Council to change the name of the Louden Nelson Community Center to the London Nelson Community Center.
Nelson was a former slave and Santa Cruz resident who bequeathed all of his belongings to Santa Cruz schools. Historical documents show that the man's name was London Nelson, not Louden. Officials sometimes misspelled his name in documents and it ended up on the center.Brittnii Potter first heard of the name discrepancy as a child when she often visited the center. It bothered her. In the summer of 2020, she started a petition on Change.org to change the name.
Through one of the hundreds of people who signed the petition, Potter was put in contact with Santa Cruz Recreation Supervisor Rachel Kaufman. Kaufman took on the cause.
An advocacy group met monthly online. It included Santa Cruz City Councilmember Justin Cummings, a local historian, a leader of the NAACP, Kaufman, Potter and others. Historical documents helped confirm their case.
Potter spoke at several online city council meetings during Oral Communications. That's the part of the meeting where you can comment on issues that are not on the agenda. In Santa Cruz, it's typically at 6 p.m.
Kaufman and Cummings made presentations to the city council about the proposed name change.
Potter's advice: "Find the closest person who could fix the problem." In her case, it was leaders at the community center and the city council. "Put yourself out there and really use the resources available to you," she said. "It was really fortunate the way everything worked out with Rachel (Kaufman) and Justin (Cummings) being able to present all these things to the council."
Case 2: Life in the fast lane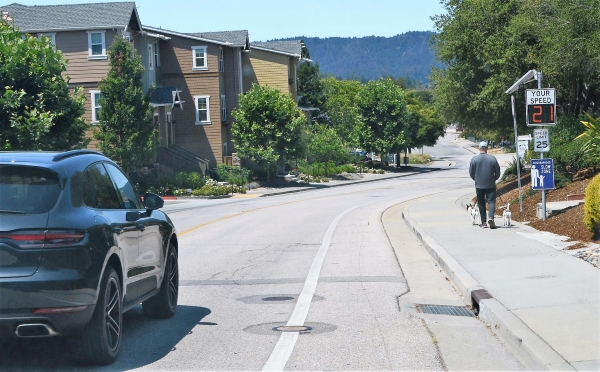 Residents of Bluebonnet Lane in Scotts Valley have been trying to get drivers to slow down. (Stephen Baxter—Santa Cruz Local)
For more than two years, residents of Bluebonnet Lane in Scotts Valley have tried to get drivers to slow down on their street.
The road is near the Scotts Valley Branch Library and Skypark. It connects Kings Village Drive and Bean Creek Road. The speed limit is 25 mph, but "people just burn up the hill," said Griffon Walker, a 49-year-old Bluebonnet Lane resident.
Walker, an operations manager for a tech company, has been part of a core group of six neighbors who have advocated for speed bumps and other slowing devices on the road. Another neighbor initially knocked on his door with a petition about trying to slow traffic. "I'm standing at my door watching cars go by at 45 mph, so it was a pretty easy sell," Walker said. Now there are more than 200 people involved by email and through his townhome complex's Facebook group.
They have spoken at Scotts Valley City Council meetings held online and in person. Walker said the switch to online-only council meetings during the pandemic might have hurt their cause because council members could not see them as a group.
They have talked with council members who seemed initially supportive, Walker said. The city's Active Transportation Plan included bollards, or short posts, and a traffic circle for Bluebonnet Lane. The council approved the plan unanimously in March 2021, but it's not funded and Bluebonnet is not its priority.
A radar speed sign was installed on the street this year, as well as a speed bump near the Santa Cruz Metro station and a sidewalk a few blocks away near Scotts Valley Middle School that was part of a separate project. Walker said he believes these changes have yet to slow traffic on Bluebonnet. So they persist.
"Mid-block crosswalks would make a difference," Walker said. "I'm on the fence about the bollards, but at this point we'll try anything."
Walker said they plan to continue talks with council members and the incoming city manager.
About 8 a.m. Sept. 22, 2021, a 41-year-old woman and her 6-year-old son were in a crosswalk on the 200 block of Bluebonnet Lane when they were struck by a driver. They were both taken to a hospital for injuries and survived, said members of the Bluebonnet Neighbors Safety Committee. Scotts Valley police and firefighters responded.
The woman and her son had discussed traffic dangers at meetings of the city council, planning commission and a traffic safety committee chaired by Scotts Valley Police.
Walker's advice: "The takeaway is that you can do everything, but it doesn't guarantee a positive result," Walker said. "You have to keep fighting."
Case 3: Rural high-speed internet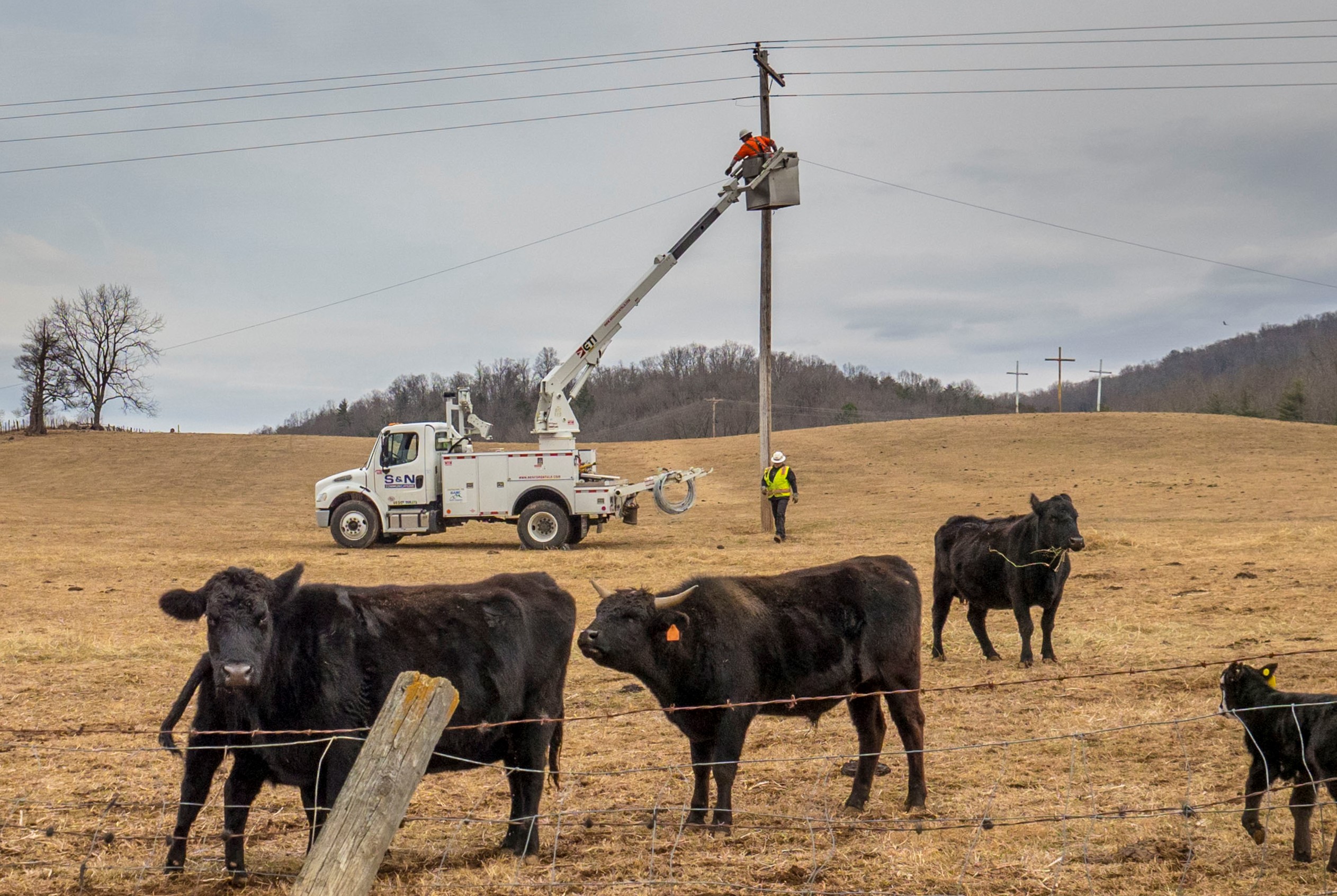 Workers install fiber optic cable on an electrical grid. (U.S. Department of Agriculture)
In the Aptos Hills, residents on White Road have been trying to get high-speed internet service for years. Because internet lines don't run to the roughly 100 homes in that area, many people rely on satellite internet service. Some homes tucked in valleys also don't have good cellphone reception.
After several residents in the area mentioned their problem to Santa Cruz County Supervisor Zach Friend, a town hall meeting was held in 2018. Residents like Craig Chatterton, who lives off White Road, attended the meeting. Since then, he said he's been advocating for broadband through meetings with Friend, his staff and internet providers.
"Hey, if you have a problem and you can get 50 of your neighbors to have a collective discussion, maybe you can make things happen," Chatterton said.
A reason the area and many homes off Freedom Boulevard do not have high-speed internet service is the high installation costs compared with the low return from new customers. State and federal laws also don't compel companies to provide rural service.
A state bill, AB156, could bring money to the county to help build some of the "last mile" of infrastructure," Friend said. Organized neighborhood pledges to sign up for new broadband gives some incentive to the internet providers, Friend said. Chatterton, the Aptos Hills resident, said he's taking the longview because he still doesn't have broadband.
"I think we need a massive statewide project, because there just isn't going to be an incentive to build out these lines — just like the old telephone lines of 100 years ago," Friend said.  "But if you remove all the costs, then you significantly increase the competition possibilities on those lines."
Learn about how local government works in Santa Cruz County and how to make your voice heard.