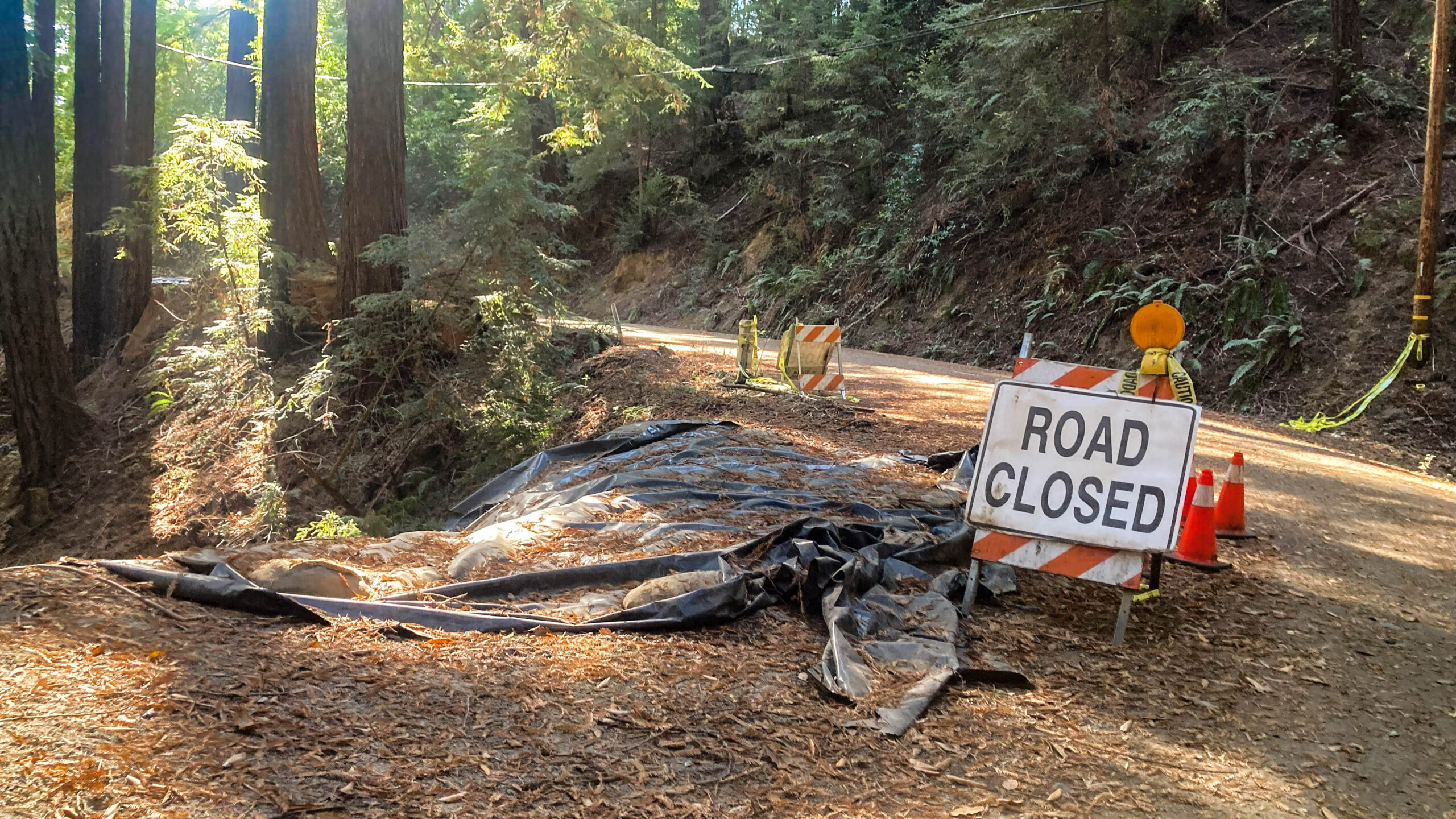 Repairs on a sinkhole on Schulties Road in the Santa Cruz Mountains are expected to start by late November. (Jesse Kathan — Santa Cruz Local)
SANTA CRUZ >> With an El Niño-driven winter expected, road crews in Santa Cruz County are trying to catch up with road repairs from heavy rain in spring. 
From this year's storm damage, about 40 county road repairs are finished and roughly 30 more repairs continued this month, said Steve Wiesner, Santa Cruz County's assistant director of Public Works.
"We're going as fast as we can," Wiesner said at a Santa Cruz County Regional Transportation Commission on Oct. 5. If storms return soon, they "could shut down a lot of projects," he said. "As we have to grapple with climate change and more intense storm systems, our mountainous region really takes a hard hit."
Major storms in 2017, 2021 and this year caused slides and "slipouts" on dozens of county roads, where part of a road has fallen and becomes narrow or impassable, authorities said. Repairs from 2017 have taken place on roads like Glenwood Drive near Scotts Valley, Kings Creek Road near Boulder Creek, Smith Grade Road in Bonny Doon and North Rodeo Gulch and Jarvis Road near Soquel. 
Repairs are expected to start in November at Schulties Road east of Highway 17 and Stetson Road south of Summit Road, authorities said. A destroyed bridge over Lauren Creek on Redwood Lodge Road is expected to be removed this year and replaced by summer 2024, county staff said.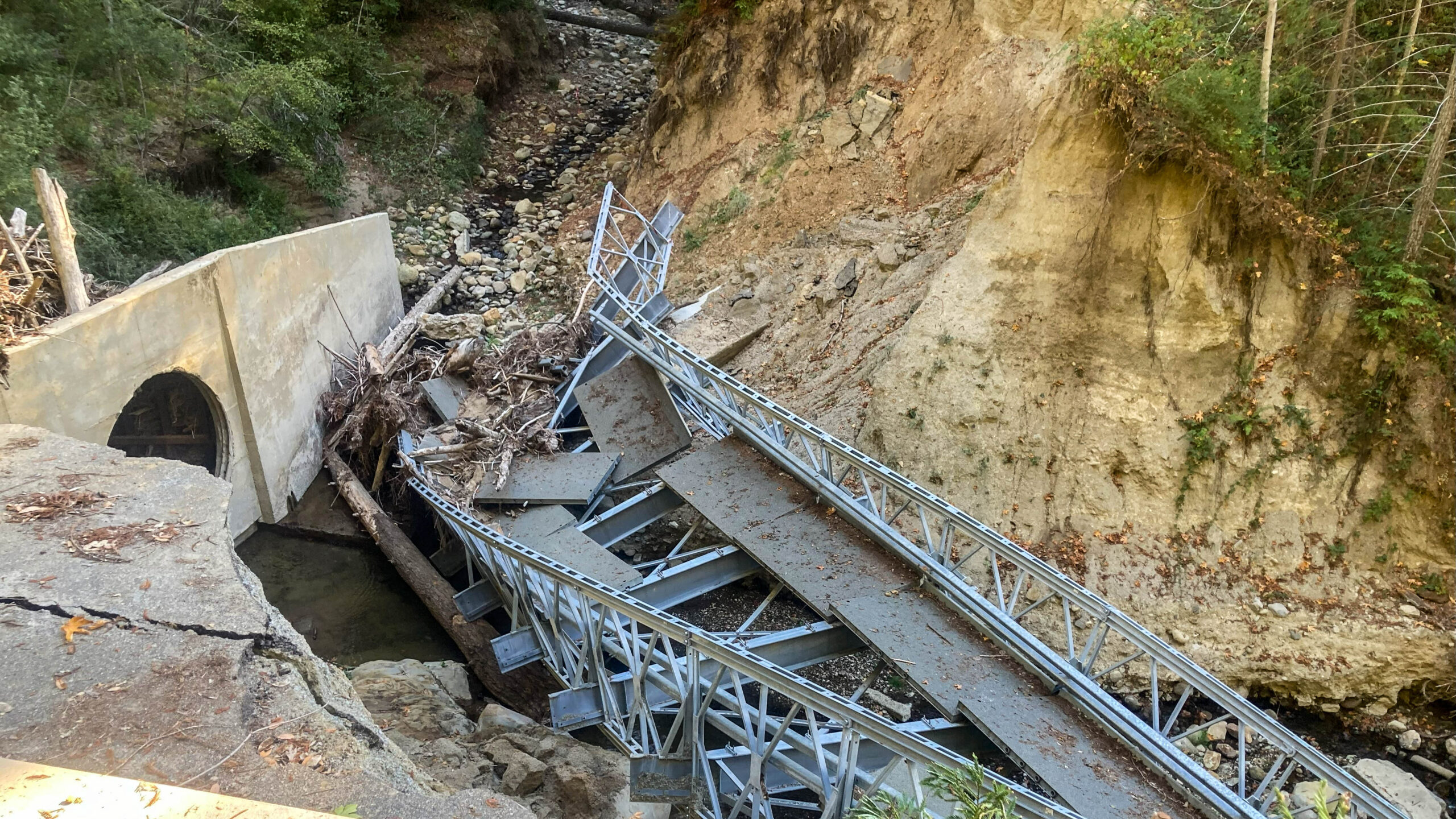 Lauren Creek Bridge on Redwood Lodge Road failed during March storms. Contractors plan to remove the failed bridge this year, and a new bridge is expected by summer 2024, county staff said. (Jesse Kathan — Santa Cruz Local)
Wiesner said that recovery from this year's atmospheric rivers has been faster than in 2017, in part because state authorities granted emergency permits. This year, contractors' lack of availability has caused delays. 
"Everyone's really busy." Wiesner said in an interview. "The industry only has so much capacity."
Contractors added that the availability of supplies has been a challenge. 
"There's so many projects going on, trying to get concrete has been impossible right now," said Joseph Segura, a construction inspector with Consor Engineers. Consor crews repaired erosion damage on Morrell Road off Summit Road this month.
Funding road repairs
Winter storms this year caused about $140 million of damage to county roads, Wiesner said.  
County leaders have spent millions of dollars on repairs in anticipation of reimbursement from FEMA and other federal and state agencies. But reimbursement can take years, Wiesner said. 
"Ultimately, the federal government will pay for most of the costs, and the state pays some too," Wiesner said in an interview. "But the county pays a portion, and has to pay the entire cost upfront." In the long run, "it's a cash flow issue for the county for sure," he said.
Even after accounting for reimbursements, the county's share of emergency repair costs "takes a tremendous amount of resources from our local road sites," Wiesner said. Although the county is trying to upgrade many roads to weather future storms, most reimbursements only cover repairs to return the road to how it was before the damage, Wiesner said. To make roads more resilient by adding new storm drains or other features, the county has to use its own money or apply for grants.
For many repairs, the county uses money from SB 1, a state gas tax for road and transit improvements. Other counties use SB 1 money "for actually improving their roadways, and not just recovery," Wiesner said.
Nearly half of Santa Cruz County residents live in unincorporated county areas outside the four cities, and the county is responsible for municipal services like roads and parks in those unincorporated areas. There are about 607 miles of county roads. 
The county struggles to pay for routine road maintenance and repairs in part because state laws that dictate how property taxes are distributed within the county, Wiesner said. The County of Santa Cruz receives about 13 cents for every dollar of property tax and the rest goes to cities, schools, libraries and other public entities in the county. Some counties receive a larger portion of property taxes for roads, parks and other county services.
In 2018, a consultant advised that the average condition of pavement on Santa Cruz County roads was subpar, and that the county would need to spend $20 million every year just to maintain roads at their condition. 
"Well, we certainly haven't done that," Wiesner said during the Oct. 5 meeting. The county has spent $5 million to $6 million annually on roads, and the road conditions have continued to decline, he said.
Regional Transportation Commissioner Andy Schiffrin said the county depends on grant money from the commission for non-emergency repairs. 
"The county's resources just aren't available to really respond to the needs of the major roads, because they have to provide access to the residents in the rural areas," he said during the Oct. 5 meeting.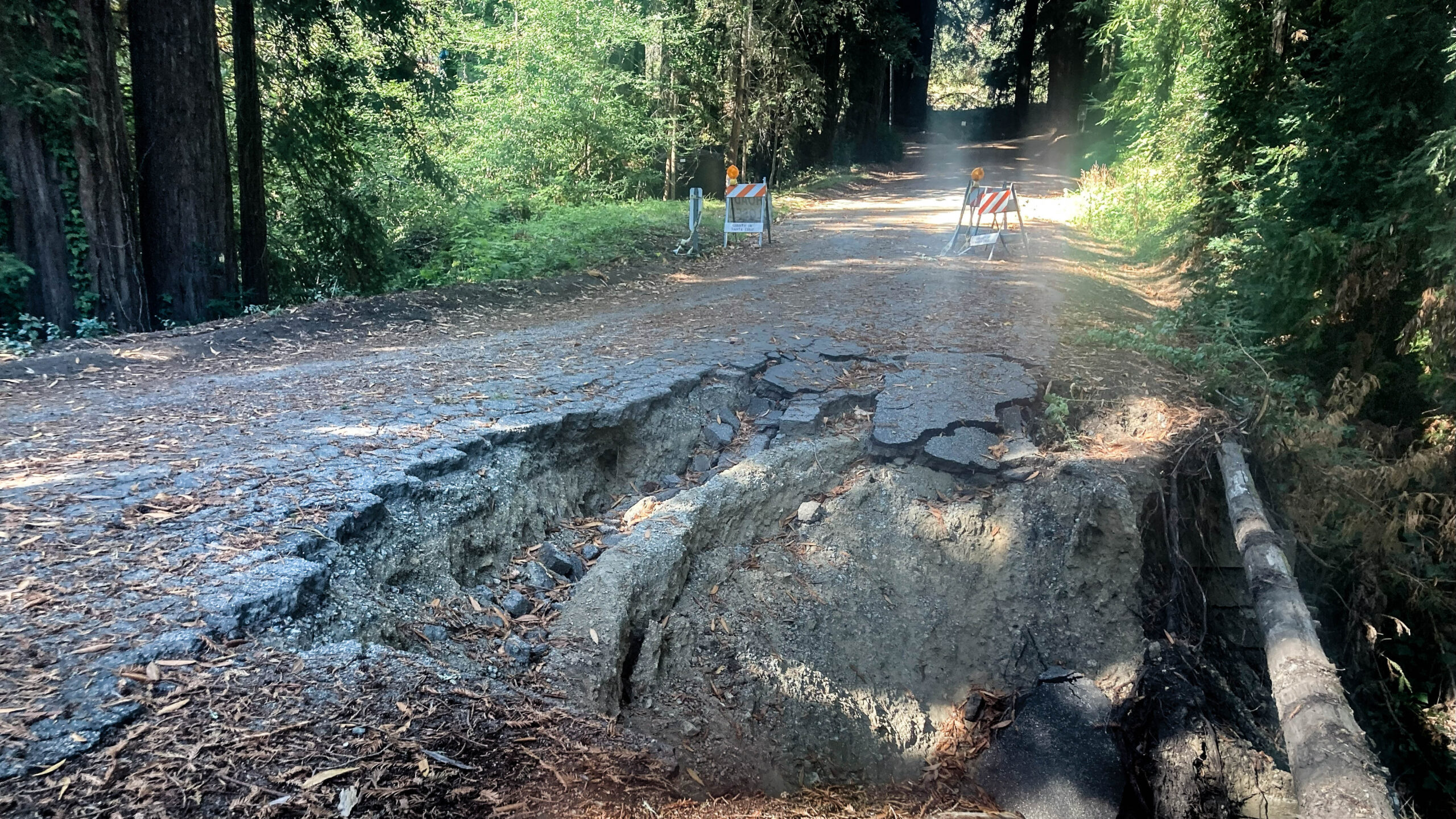 Repairs on Stetson Road are expected to start by late November and finish in spring 2024, county staff said. (Jesse Kathan — Santa Cruz Local)
Private roads in Santa Cruz County
Many roads in the Santa Cruz Mountains are privately owned, and the county isn't responsible for repairs. 
In some areas, residents have voted to create County Service Areas. The county collects a tax from residents in the CSA which residents can then use to pay for road repairs or other infrastructure within its boundaries.
Virginia Wright lives in CSA 56 in Felton Grove, a neighborhood in the San Lorenzo Valley on a bank of the San Lorenzo River. Last winter, her yard flooded four times, she said. 
Circle Drive, a road near her house, was already in poor condition before the January storms, she said. Neighbors voted in 2021 to use money to repair the road, but the county took a long time to respond to emails and approve the proposed repairs, she said. 
"By the time that the county responded, [contractors] were no longer available. We had to start all over again," said Howard Berman, another Felton Grove resident. "It was almost a two-year process to get the work done." Berman said he plans to give the county a proposal to streamline the county system for CSA repair approvals.
When storms hit in January 2023, the road still hadn't been repaired. After the storms, the road worsened. "You can't drive without going into a pothole," said Wright. Many neighbors started to avoid it, she said.
Rebekah Uccellini-Kuby said she and her neighbors would like to form a County Service Area, but they can't afford the work to bring the road in line with county standards. She said she and about 30 other families depend on Harmon Gulch Road, a private road.
After a portion of the road collapsed in the January storms, neighbors worked together to raise money for repairs. They raised about $180,000 from individual FEMA claims, crowdfunding donations, and Uccellini-Kuby's disaster relief nonprofit Coongie, Uccellini-Kuby said. A permanent bridge was installed in September.
The neighborhood is continuing to collect contributions to fund future road improvements. 
"We are having everybody on the road that lives there and accesses the road put in their part to keep that road passable going forward as much as we possibly can," Uccellini-Kuby said.
County road repair updates
Correction: Harmon Gulch Road was spelled incorrectly in a previous version of this story. 
Read more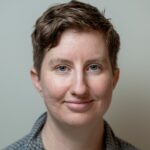 Jesse Kathan is a staff reporter for Santa Cruz Local through the California Local News Fellowship. Kathan holds a master's degree in science communications from UC Santa Cruz.