Santa Cruz Local offers its wildfire-related work free as a public service. But our journalism takes time and money to produce.
We depend on memberships from people like you to make sure vital information can be available to all. Can we count on your help?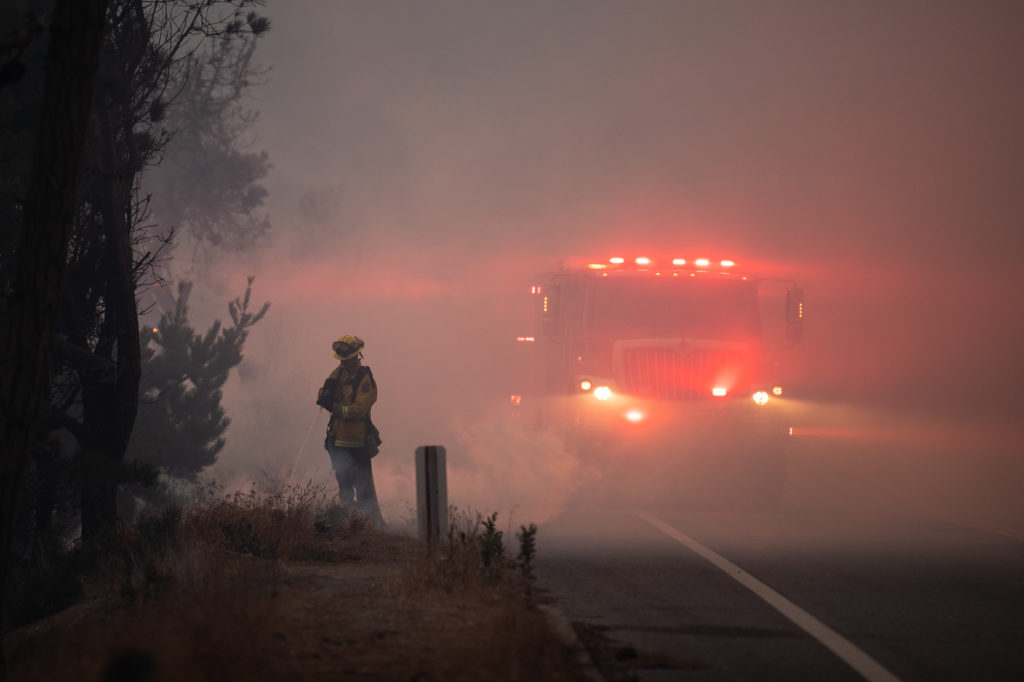 SANTA CRUZ >> Chain saws buzzed throughout the CZU Lightning Complex Fire burn zone Thursday as crews cleared roads, repaired utility lines and replaced water pipes across miles of scorched land. The fire was 24% contained with 516 homes reported destroyed Thursday evening in the 127-square-mile fire zone.
Scotts Valley and Paradise Park opened to residents Thursday. With more areas expected to reopen in the coming weeks, authorities said residents should familiarize themselves with a Cal Fire online map that will update with more reopened areas. A magnifying glass icon in the top left corner allows residents to type an address to find its zone and status.
"Know the zone in which you live," said Santa Cruz County sheriff's Chief Deputy Chris Clark. "If it's green, that means it's repopulated, you can go back home. If it's red, it's still under that same (evacuation) order."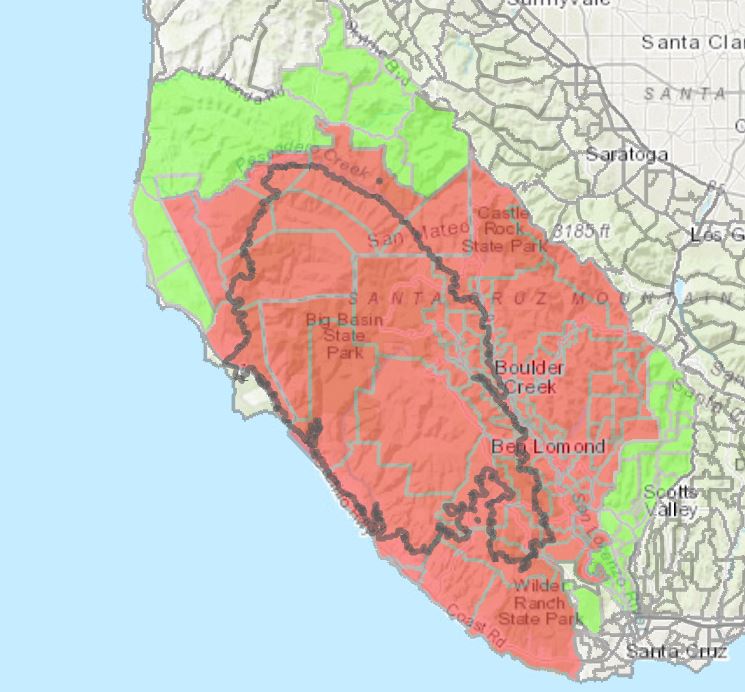 Clark said the Sheriff's Office Facebook page also will have reopening updates. No login is required.
Wednesday, Clark said he would "estimate days or potentially a week" before Felton residents could return. Clark also summarized the following rough timeline for reopening:
Felton: Days or a week
Areas north of Felton such as Ben Lomond: One week to several weeks
Boulder Creek: Weeks
Bonny Doon: Weeks
North Coast such as Swanton, Last Chance: Weeks possible
"Just bear with us, please let us get out there and get that work done with our cooperators between law enforcement, fire, PG&E and all the other communications," said Ian Larkin, unit chief of Cal Fire's San Mateo-Santa Cruz Unit. "There's a massive effort going forth right now to get the infrastructure back in place and get people back into their homes as quickly as possible."
Many areas of San Mateo County such as Pescadero and La Honda also were reopened Thursday near the north flank of the blaze.
At least 1,000 PG&E customers in the fire zone remained without electricity Thursday, according to its outage map.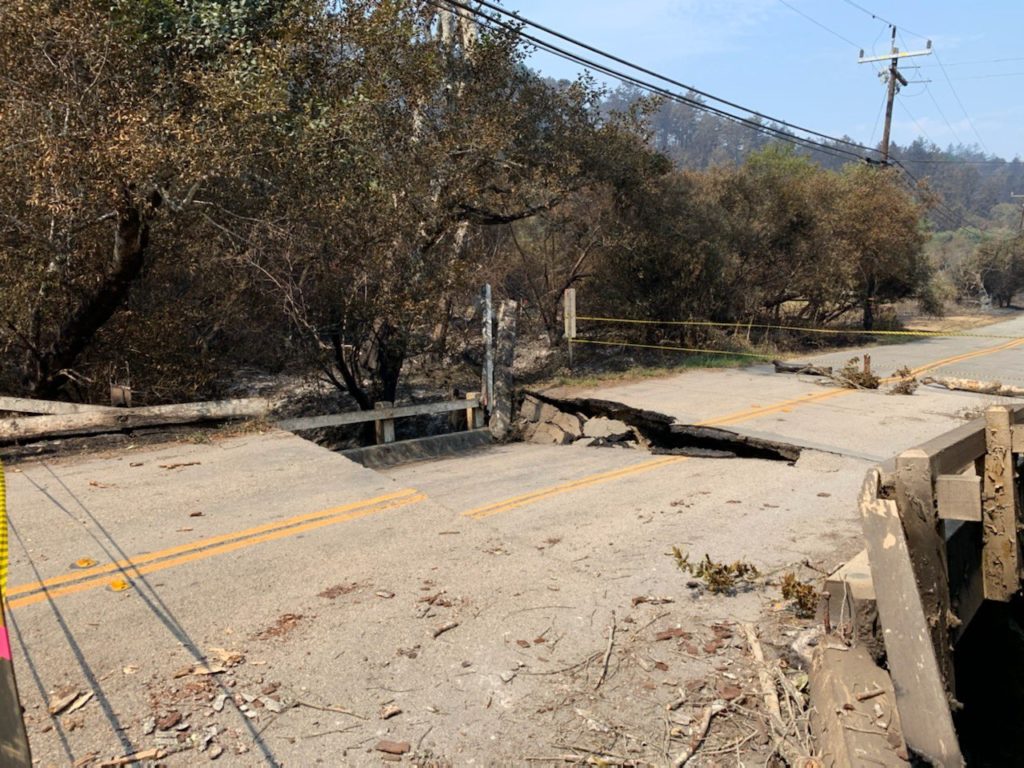 Authorities said trucks and heavy equipment operators will be all over the fire zone in the coming weeks. In areas such as Scotts Valley that are open, "If you don't live here, we don't want you coming here," Clark said. "It just provides more traffic and provides more congestion."
The three men who were missing Wednesday were located Thursday, Clark said.
Explosive material found
Clark said firefighters found a suspected pipe bomb in an open tool box near a home on the 100 block of Lake Drive in Boulder Creek on Thursday. A Sheriff's Office bomb squad was called to the scene near the Boulder Creek Golf and Country Club.
"There was also some other explosive type materials," Clark said.
Thursday evening, authorities worked to secure the area, determine if the device required removal or detonation and execute a search warrant on the home, Clark said. No one was reported injured.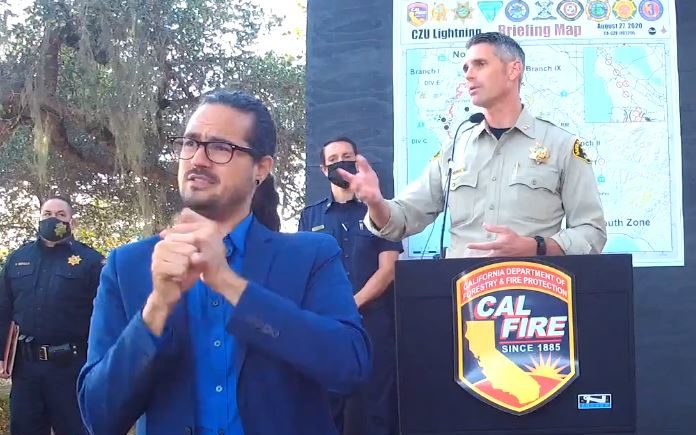 Theft arrest
A 37-year-old Live Oak man, Brian Lee Johnson, was arrested on suspicion of theft, fraud and a probation violation after a firefighter's wallet was stolen from a vehicle. Johnson is accused of using cards at at least two stores.
Deputies said they received "dozens of tips" in recent days that led to Johnson's arrest. "The firefighter and his family have expressed extreme gratitude for the outpouring of support but are not interested in any donations," according to a statement from the Sheriff's Office.
Fire, damage updates
A marine layer hampered helicopter crews from dropping any water on the blaze Thursday morning but they resumed Thursday afternoon, said Mark Brunton, a Cal Fire operations chief. "They've been dropping water continuously, especially in the Butano (State) Park area," Brunton said.
More than 2,000 firefighters have responded including the National Guard.
At least 516 homes and 52 non-residential buildings have been destroyed, Cal Fire said.
Twelve helicopters, 198 fire engines, 23 bull dozers and 32 water tenders have been assigned.
Fire control lines have been installed further in Boulder Creek and many other areas.
Fire-damaged and weakened trees are everywhere. One tree fell on a structure near Butano State Park on Thursday, Brunton said. "We started putting some of our specialists in there to assess and start mitigating that issue. It's going to be a challenge, it's going to be a lot of work," Brunton said.
Santa Cruz County's preliminary damage map was 65% complete Thursday, authorities said. As tree crews helped clear roads, damage inspection teams penetrated deeper into the Highway 236 corridor Thursday.
Check out these #CZULightningComplex progression maps, with lightning strike starts and fire progression dates. pic.twitter.com/ZjVqL43mOO

— CAL FIRE CZU (@CALFIRECZU) August 27, 2020
Fire victim resources
Santa Cruz Local's Wildfire Resources page has been updated this week to include many new programs including Small Business Administration disaster loans for homeowners and renters. SBA claims also can be made using disaster code CA-00325 at 800-659-2955.
FEMA registration starts at DisasterAssistance.gov.
Mail-in ballots: Fire victims who plan to vote in the Nov. 3 election can register to vote with a new address or change their address by visiting Santa Cruz County's elections website. The deadline to change addresses is Sept. 14 because ballots will be mailed the first week of October. Voters who do not receive ballots can still vote at the polls Oct. 31 to Nov. 3.
Volunteers
Volunteers are asked to sign up at Santa Cruz Volunteer Center. Volunteers who worked but didn't register are asked to do so because the county is expected to receive disaster-related funding for in-kind volunteer work.
More federal and state money flows to Santa Cruz County if residents fill out the Census.
Mutual Aid
The following agencies responded to the CZU Lightning Complex Fire, according to Cal Fire. More law enforcement agencies will be added to this list as information becomes available.
Albuquerque Area Office – U.S. Bureau of Reclamation
Amador Fire Protection District
Anaheim Fire Department
Aptos-La Selva Beach Fire Protection District
Arcadia Fire Department
Atascadero City Fire Department
Atascadero State Hospital Fire Department
Ben Lomond Fire Protection District
Benicia Fire Department
Boulder Creek Fire Protection District
Brea Fire Department
Bureau of Land Management
California Department of Corrections and Rehabilitation
California Conservation Corps
California Highway Patrol
California Office of Emergency Services
California State Parks
Camp Roberts Fire Department
Central California District – Bureau of Land Management
Central County Fire Department
Central Fire Protection District of Santa Cruz County
Chester Fire Protection District
Coastside Fire Protection District
Corona Fire Department
Culver City Fire Department
Downey Fire Department
Felton Fire Protection District
Five Cities Fire Authority
Hemet Fire Department
Kentfield Fire Protection District
Kern County Fire Department
La Habra Heights Fire Department
Lakeside Fire Department
Long Beach Fire Department
Los Alamos National Laboratory
Los Angeles City Fire Department
Los Angeles County Operational Area "C"
Los Angeles County Operational Area "E"
Los Angeles County Fire Department
Marin County Fire Department
Marina Department of Public Service
Mendocino County Operational Area
Menlo Park Fire Protection District
Merced Fire Department
Mid-Peninsula Open Space District Fire Department
Minnesota Private
Monterey County Operational Area
Monterey Park Fire Department
Morongo Indian Reservation Fire Department
Morro Bay Fire Department
Mountain View Fire Department
Mountains Recreation and Conservative Authority
National City Fire Department
National Weather Service (Hanford)
New Jersey Forest Fire Service
Newport Beach Fire & Medical Department
North Central Fire Department
North County Fire Department
Orange County Fire Department
Orange Cove Fire Department
Oxnard Fire Department
Paso Robles Fire Department
Redwood City Fire Department
Riverside County Fire Department
Riverside County Operational Area
Sacramento Metropolitan Fire Department
San Bernardino County Operational Area
San Bruno Fire Department
San Diego County Fire Authority
San Gabriel Fire Department
San Jose Fire Department
San Luis Obispo County Fire Department
San Luis Obispo Operational Area
San Mateo County Fire
San Mateo County Operational Area
San Mateo County Sheriff's Office
San Mateo Fire Department
San Miguel Consolidated Fire Department
Sanger Fire Department
Santa Barbara County Fire Department
Santa Clara County Fire Department
Santa Clara County Operational Area
Santa Clara Fire Department
Santa Cruz County Fire Department
Santa Cruz County Operational Area
Santa Cruz Fire Department
Santa Cruz County Sheriff's Office
Santa Fe Springs Fire Department
Santa Maria Fire Department
Scotts Valley Fire Protection District (XCZ)
Shasta County Fire Department
Shasta County Operational Area
Sierra Madre Fire Department
Soboba Volunteer Fire Department
Solano County Operational Area
South Pasadena Fire Department
South San Francisco Fire Department
Sutter County Fire Department
Tahoe-Douglas Fire Protection District
Tulare County Fire Department
Tulare County Operational Area
Tule River Indian Agency
Visalia Fire Department
Watsonville Fire Department
Western Region Headquarters – National Weather Service
Woodside Fire Protection District
Zayante Fire Protection District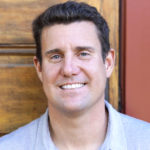 Stephen Baxter is a co-founder and editor of Santa Cruz Local. He covers Santa Cruz County government.