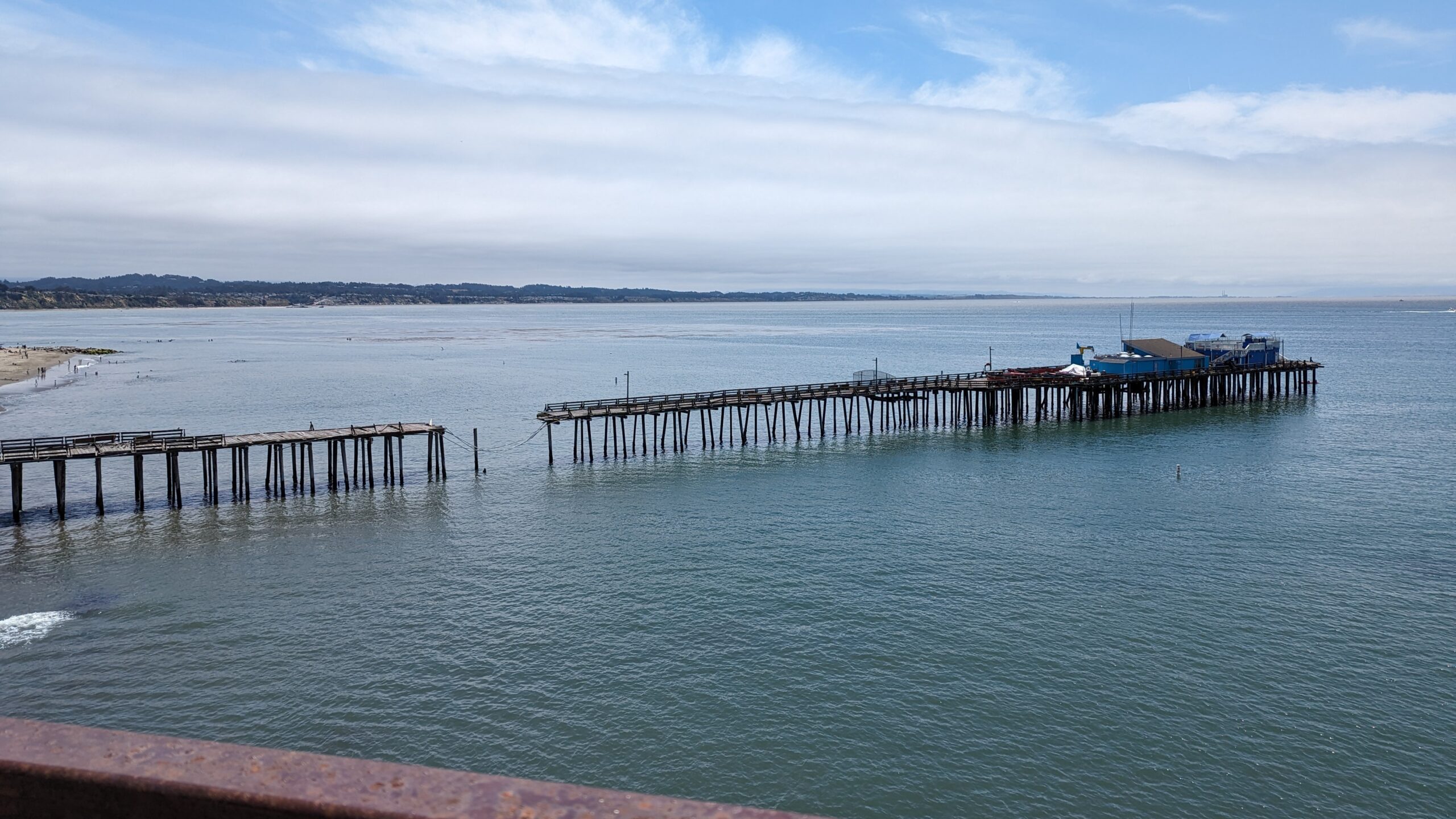 Capitola Wharf remains closed in late July after storm damage from early January. (Stephen Baxter – Santa Cruz Local) 
CAPITOLA >>  After storm surf in January ripped the Capitola Wharf in two and prompted its closure, a project to reconnect and repair the wharf is expected to start in September and end next summer, Capitola city leaders said.
Separately, fundraising has started for a Capitola Wharf Enhancement Project for potential improvements like shade structures, benches, lamps, art and a new fish-cleaning station on the wharf. On July 27, the Capitola City Council told city staff to return to the council's Aug. 24 meeting with more detailed plans for those additions.
"People want to fish, people want to take their family, they want to go out to the Wharf House and listen to music in the summer," said Kristen Brown, Capitola's vice mayor. "Those things are missing right now from our community, so I think we're all really eager to get it back." 
A $7.4 million contract was recently signed with Goleta-based Cushman Contracting Corp. to repair and strengthen the wharf, Capitola City Manager Jamie Goldstein said.

City leaders have secured more than $10 million for the project through Measure F, money from the federal and state government, insurance payouts and money from Capitola's General Fund. Measure F was a sales tax extension approved by Capitola voters in 2016 to benefit the city's General Fund. 
Although the repairs are expected to finish in June  2024, Goldstein said they could be delayed. 
"If you end up in a situation like we had last winter where there's just really significant swells, it would definitely impact the project timeline," Goldstein said.
A plan to strengthen and repair the wharf had been in the works even before waves and debris caused heavy damage on Jan. 4 and 5.  
Wharf improvements
In addition to structural repairs, a $225,000 goal has been set to improve amenities on the wharf deck. A Capitola Wharf Enhancement Project for that effort has raised $75,000, said Gerry Jensen, a fundraising organizer. 
In the wake of January's storms, Jensen and other organizers saw the wharf rebuilding effort as "a generational opportunity" to improve the wharf's public amenities.
In a July 27 Capitola City Council meeting, staff presented a conceptual plan for the potential wharf enhancements. They include:
A shade structure. 

A raised base for the arch at the wharf entrance.

Another archway or new signs at Wharf Road and Cliff Drive.

A new fish cleaning station.

Public art.

New lampposts and benches.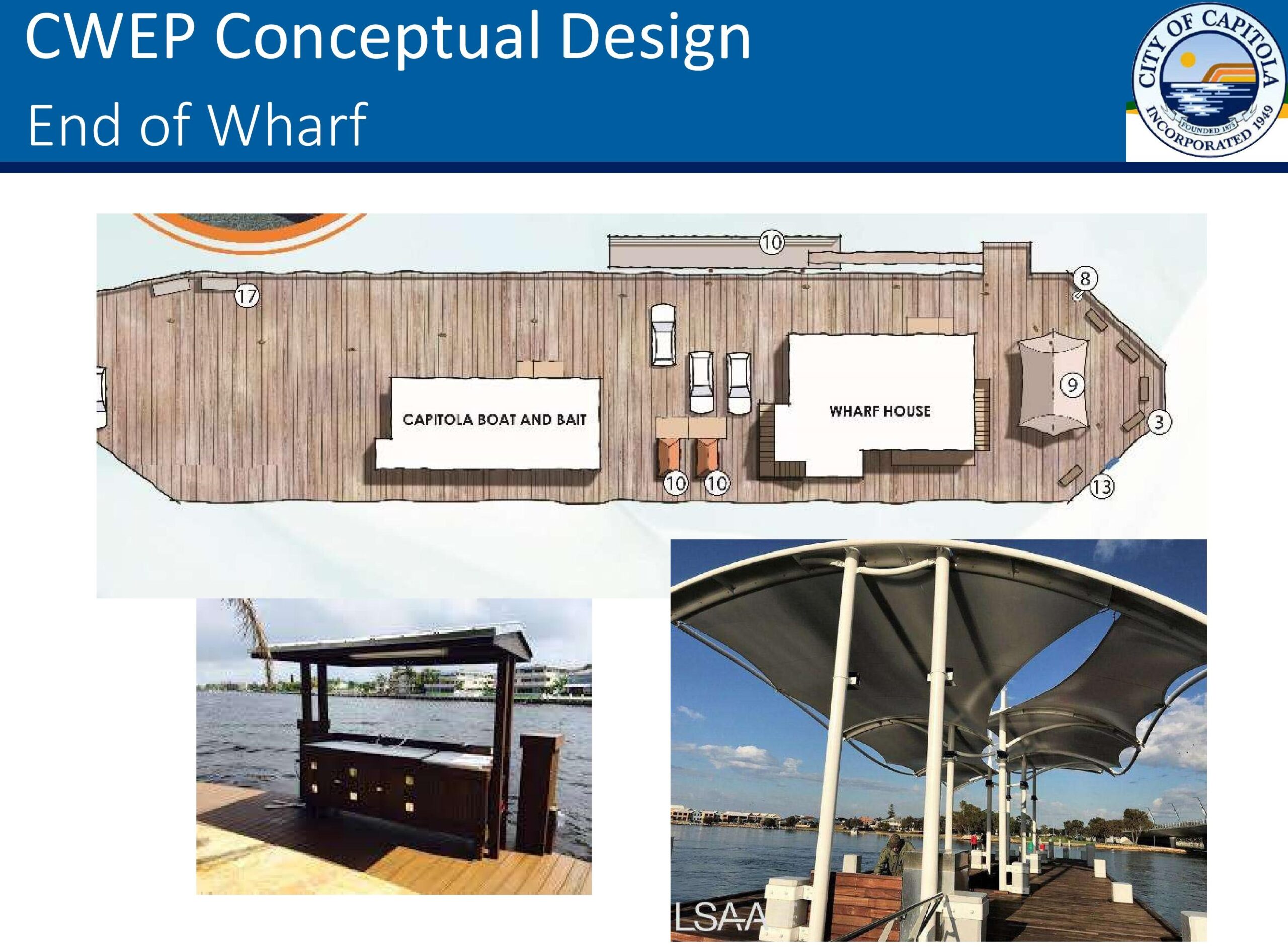 A conceptual plan for the end of the Capitola wharf included a new fish cleaning station and shade structures. (City of Capitola)
The conceptual designs also included a beach shower requested by residents during outreach efforts. A shower will most likely not be included in the plans because of cost limitations, a city staff report stated.
The council on July 27 also voted to include plans for an informational kiosk with educational signs. Councilmember Yvette Brooks said she is working with local staff of the National Oceanic and Atmospheric Administration to secure grant money for the kiosk.
Construction for the enhancement project is planned to be done alongside efforts to repair the wharf's structural damage. The enhancement project may not require separate Coastal Commission approval or environmental review if it can be included under existing permits for the rebuilding project, Goldstein said.
The group fundraising the enhancement project has partnered with the Wharf to Wharf nonprofit group that organizes the annual run from Santa Cruz to Capitola. The group continues to collect donations online and by mail.
Fundraisers for the effort are looking for volunteers to collect donations and sell merchandise. Email [email protected] for more information.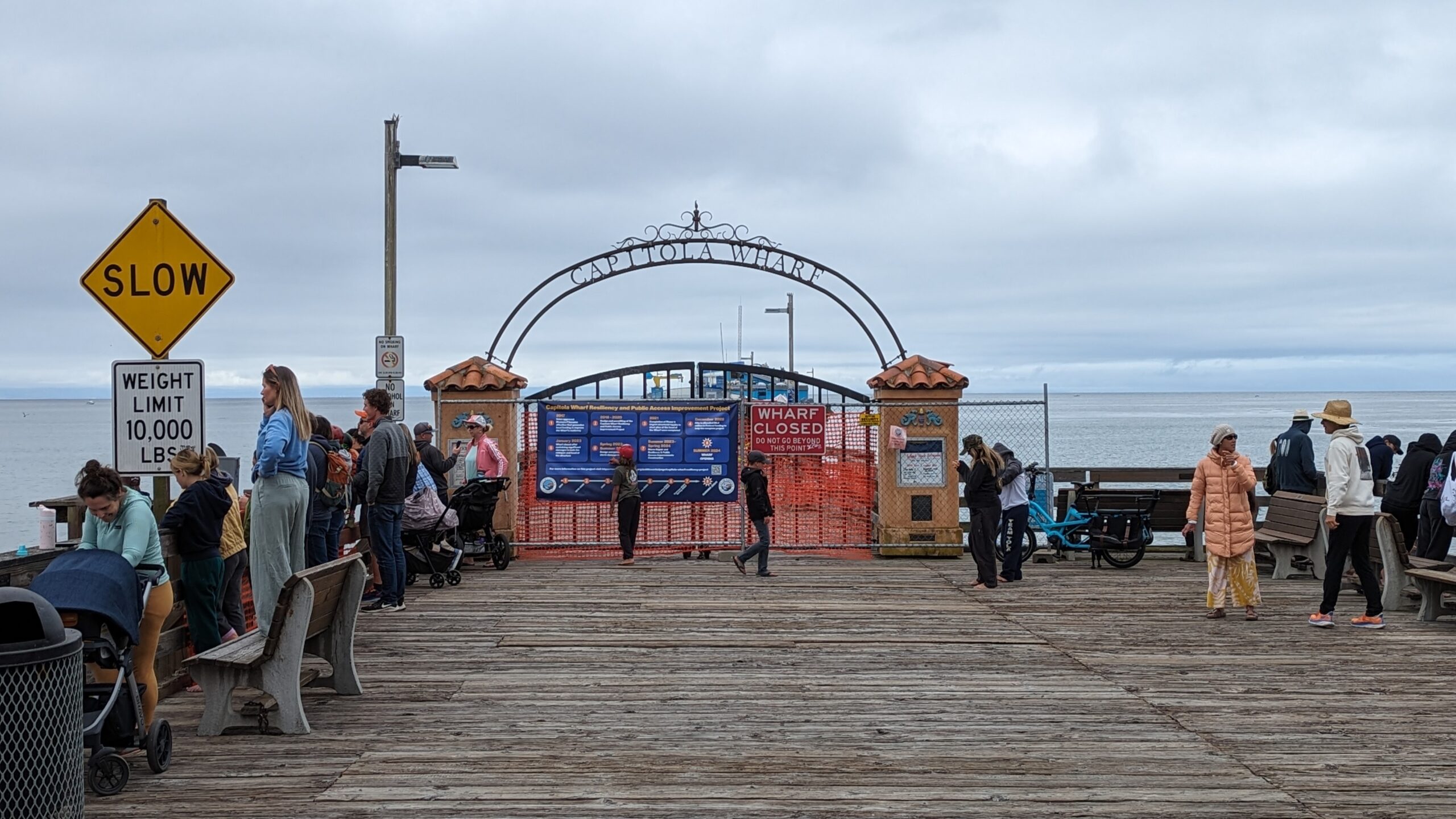 The entrance to Capitola Wharf remains closed this summer. (Stephen Baxter – Santa Cruz Local)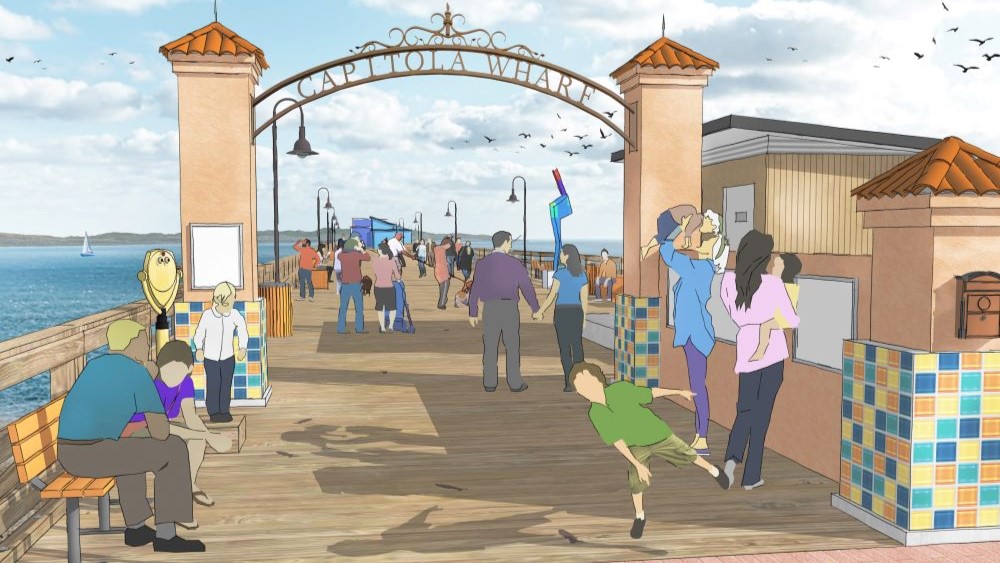 A conceptual rendering of potential Capitola Wharf improvements. (City of Capitola, RRM Design Group)
Reconstruction details
Throughout its history, the Capitola Wharf has required frequent emergency repairs, Goldstein said. 
For most of its length, the structure is supported by five rows of wooden pillars called pilings. Damage to just a few pilings can make the wharf unsafe for driving. The most vulnerable section, and the part most damaged in January's storms, is the narrowest — just three pilings wide. The redesigned wharf includes plans to widen that section.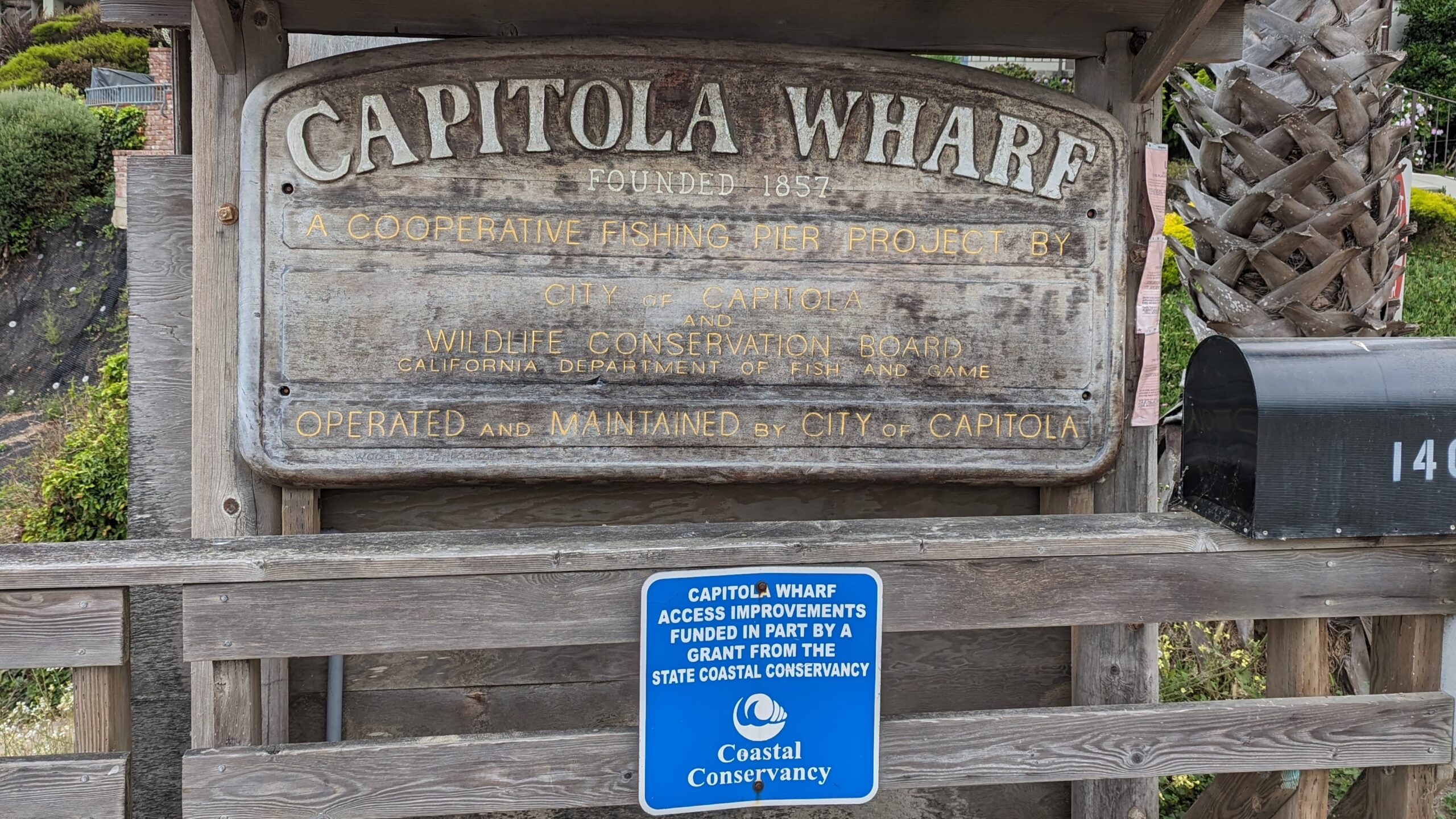 Capitola Wharf opened in 1857. (Stephen Baxter – Santa Cruz Local) 
It also includes some pieces, like planks on the wharf's surface, that are designed to blow off during heavy storms. These pieces will allow the waves to move through the wharf in a way that protects the more important/integral parts of the structure.
The construction is also slated to replace existing wooden pilings supporting the wharf with  concrete-reinforced fiberglass, a much stronger material. Besides faring better in storms, the new design could make any future efforts to adapt to sea-level rise more feasible. The new pilings will be able to support a raised platform for the wharf, something that wouldn't be possible with wooden piles.
The damage to the wharf was "an additional reminder that these storms are getting worse over the years and that climate change is right here at our doorstep," said Capitola Vice Mayor Kristen Brown. "In terms of the resiliency of the wharf itself, I think part of the design has really taken that into consideration."
A recent study found that climate change has made waves on the California coast taller and more powerful. NASA scientists expect California to experience more intense atmospheric river storms like the ones that pummeled Capitola in January.
Capitola Village businesses are also eager to see the wharf restored, said Devon Salter, owner of boutique Capitola Reef and treasurer of the Capitola Village and Wharf Business Improvement Area. 
Traffic at local restaurants and shops was "pretty slow" through early summer, he said. Business has recently picked up, but the loss of foot traffic from wharf visitors continues to affect local businesses, he said. 
"It's had more of an impact for sure than I thought it would," said Salter. "We're all super anxious for it to open back up." 
Read more: 
Learn about membership
Santa Cruz Local's news is free. We believe that high-quality local news is crucial to democracy. We depend on locals like you to make a meaningful contribution so everyone can access our news.
Learn about membership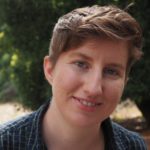 Jesse Kathan is an environmental journalist and a graduate of UC Santa Cruz's science communications program. Kathan has contributed to the Mercury News, Monterey County Weekly and KSQD-FM.