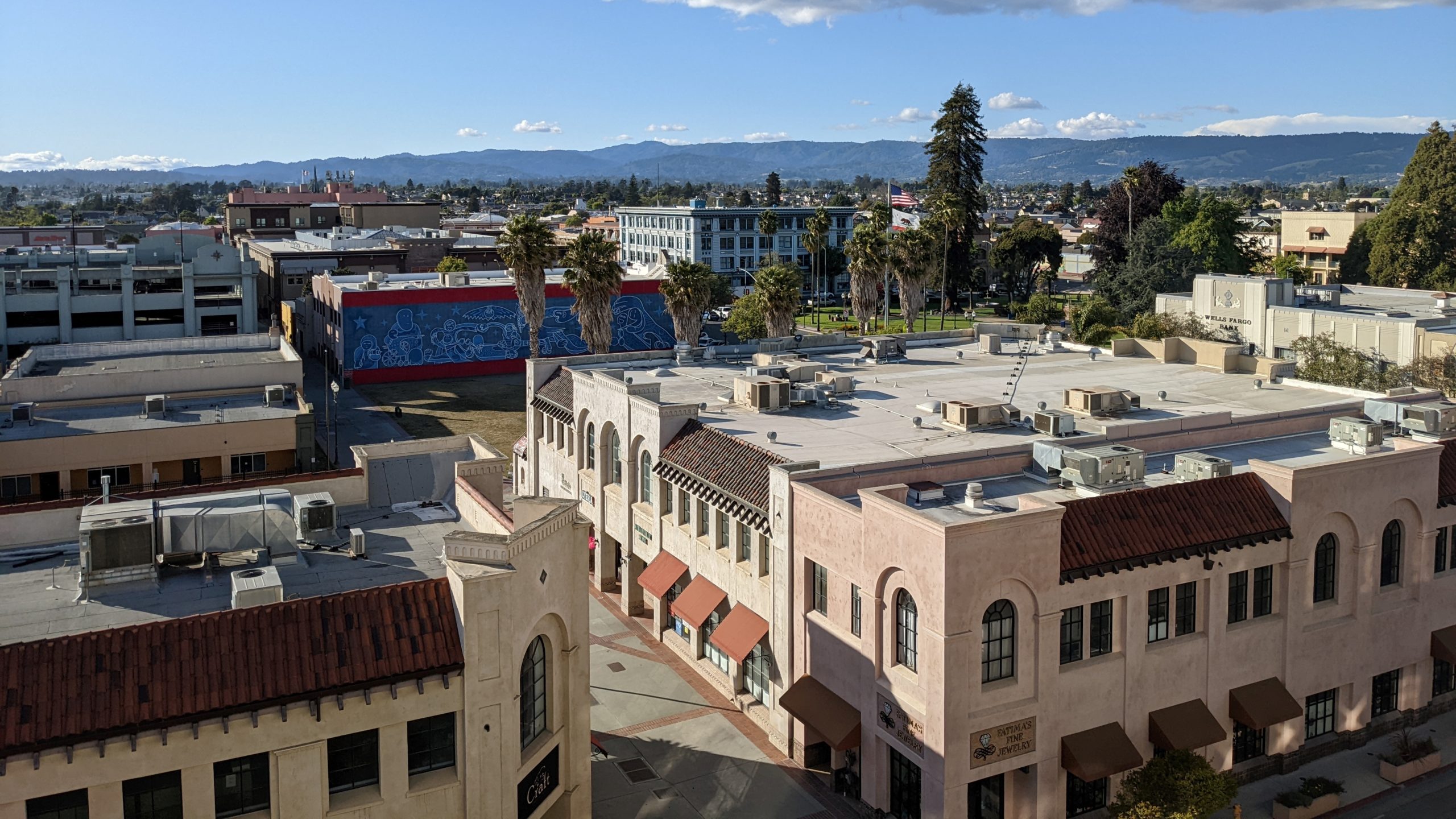 Watsonville city leaders are seeking residents' input on how the city should change over the next few decades, including where to build more than 2,000 homes in the city in the next nine years. (Stephen Baxter — Santa Cruz Local file)
WATSONVILLE >> Watsonville city leaders are seeking residents' input on how the city should change over the next few decades, including where to build more than 2,000 homes in the city in the next nine years.
As part of Watsonville's General Plan update, a May 3 online meeting is expected to outline areas for potential new housing and changes in land use, transportation, infrastructure and city services such as parks, fire and police. 
"The General Plan establishes the community's vision of what it wants to become and how it will be achieved through policy goals and objectives," said Justin Meeks, the city's principal planner for the update.
The update, called Watsonville General Plan 2050, is expected to be formed in the next three years. One of the main tasks of the update this spring will be to identify sites for possible housing development.  The update will be written as the city also completes its 6th Housing Element cycle — another part of the General Plan in which it must plan for 2,053 new homes by 2032, including 469 affordable units. 
The city's engagement efforts include public workshops, stakeholder interviews, pop-up events in areas such as Ramsay Park and the Watsonville farmers market and online surveys in Spanish and English. An online workshop will take place on Zoom 5:30-7:30 p.m. May 3. 
General Plan background
State law for decades has required cities to update their General Plan to guide growth and development. There are several "elements" of the plan, according to city documents: 
Housing.

Climate action and adaptation.

Land use and community design.

Economic development.

Transportation, connectivity and access.

Public services and infrastructure.

Airport land use.

Public safety.

Environmental resource management.

Environmental justice.

Recreation, parks and open space.

Historic resources.
The 2050 plan is expected to be built from the skeleton of the Watsonville Vista 2030 plan that was adopted in 2006. The 2030 plan was rescinded in 2014 after lawsuits led by the Watsonville Pilots Association and Friends of Buena Vista challenged potential building heights near the Watsonville Municipal Airport and other development-related concerns.
The Watsonville General Plan 2050 is expected to exclude consideration of housing in the Buena Vista area near the Watsonville airport, according to the city webpage.
Watsonville in recent years has built many homes but like many cities has not met state targets outlined by the Regional Housing Needs Allocation. In 2022, Watsonville issued permits for 155 affordable housing units including 125 deed-restricted "very-low income" affordable units, according to the city's Housing Element annual progress report. The total includes 30 permits for in-law units.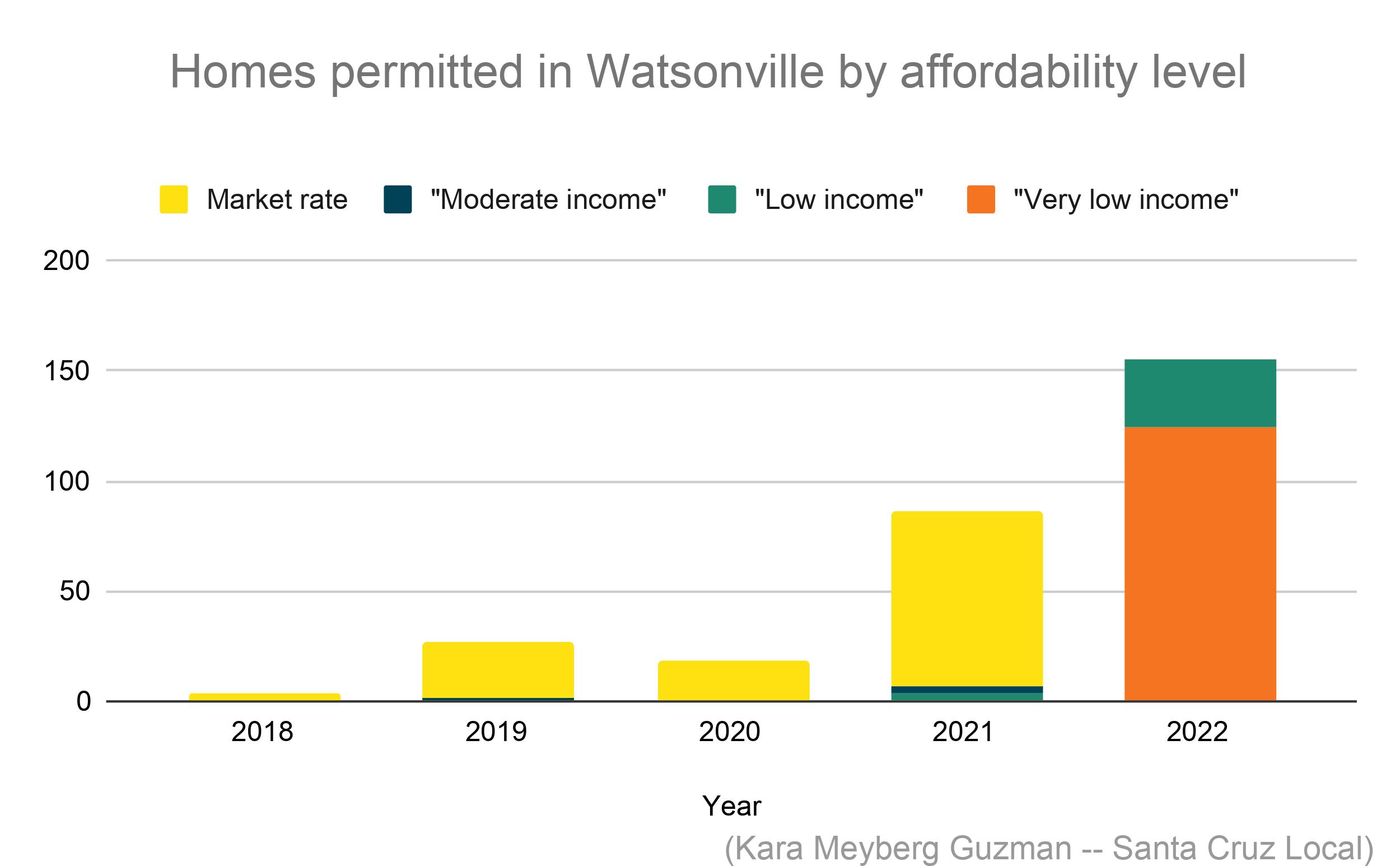 Watsonville needs to issue 243 more housing permits by the end of this year to meet state targets for housing production.
New housing potential
On March 29, a community advisory committee on the General Plan met to develop strategies to get residents' input on future development in Watsonville. The committee included residents and leaders from the city, nonprofit groups and businesses. Committee meetings are open to the public.
City staff said they wanted to prioritize "infill first" within the city limits for the next housing cycle. Infill development essentially means redevelopment of existing properties, rather than building on raw land. 
City staff highlighted some potential areas for infill development in Downtown, south of Downtown, around the airport and along Freedom Boulevard and East and West Lake avenues.
"What you look at housing sites, the low-hanging fruit is existing lots zoned for residential," Meeks said in an interview.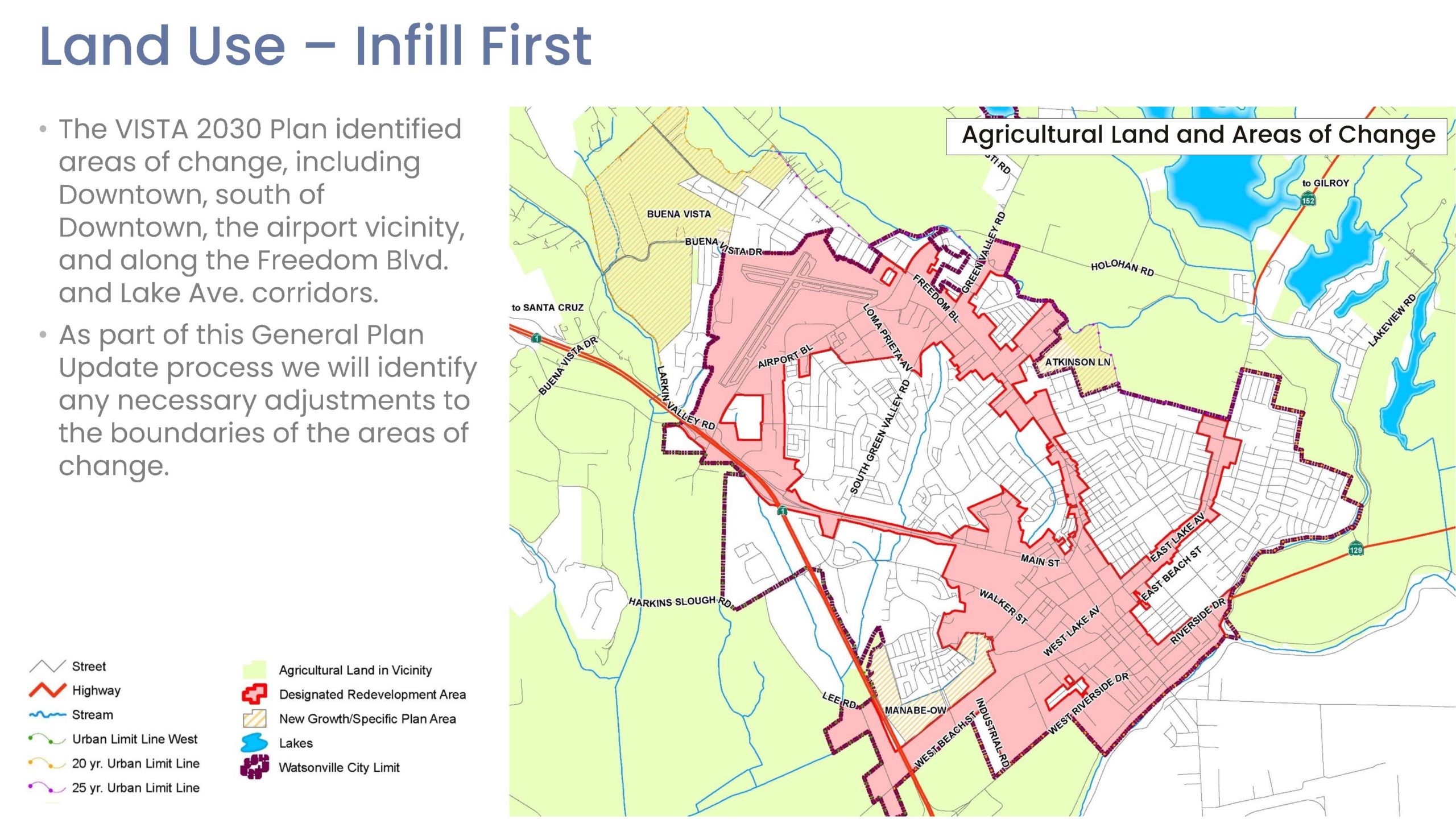 A slide from a March 29 city meeting shows areas of potential "infill" development of built areas in Watsonville. (City of Watsonville)
Downtown redevelopment
Areas identified as "opportunity sites" in Watsonville's draft Downtown Specific Plan from June 2022 could accommodate nearly 4,000 new housing units. If adopted, the Downtown Specific Plan would guide future development Downtown in line with broad vision and goals in the General Plan.
These include many sites Downtown, two of which are city controlled including "Mansion House Block" at East Lake Avenue and Main Street and "Gottschalks Block" at East Lake Avenue and Rodriguez Street, according to the draft Downtown Specific Plan. An environmental impact report is being drafted for the the Downtown Specific Plan, and the plan has not yet been approved, city staff said.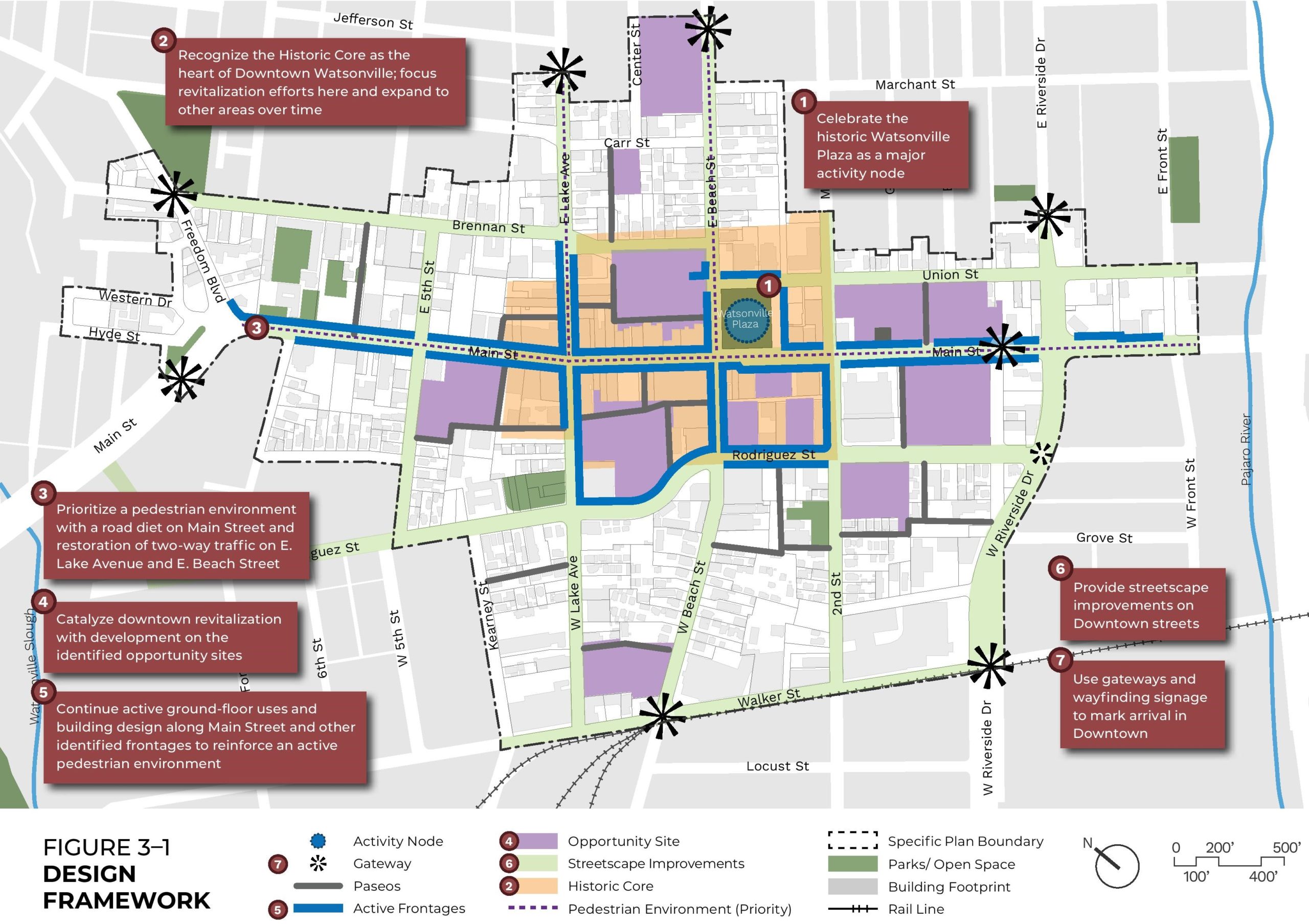 In Watsonville's draft Downtown Specific Plan from June 2022, Opportunity Zones in purple represent "vacant and underutilized sites" where public and private owners have expressed interest in redevelopment. (City of Watsonville)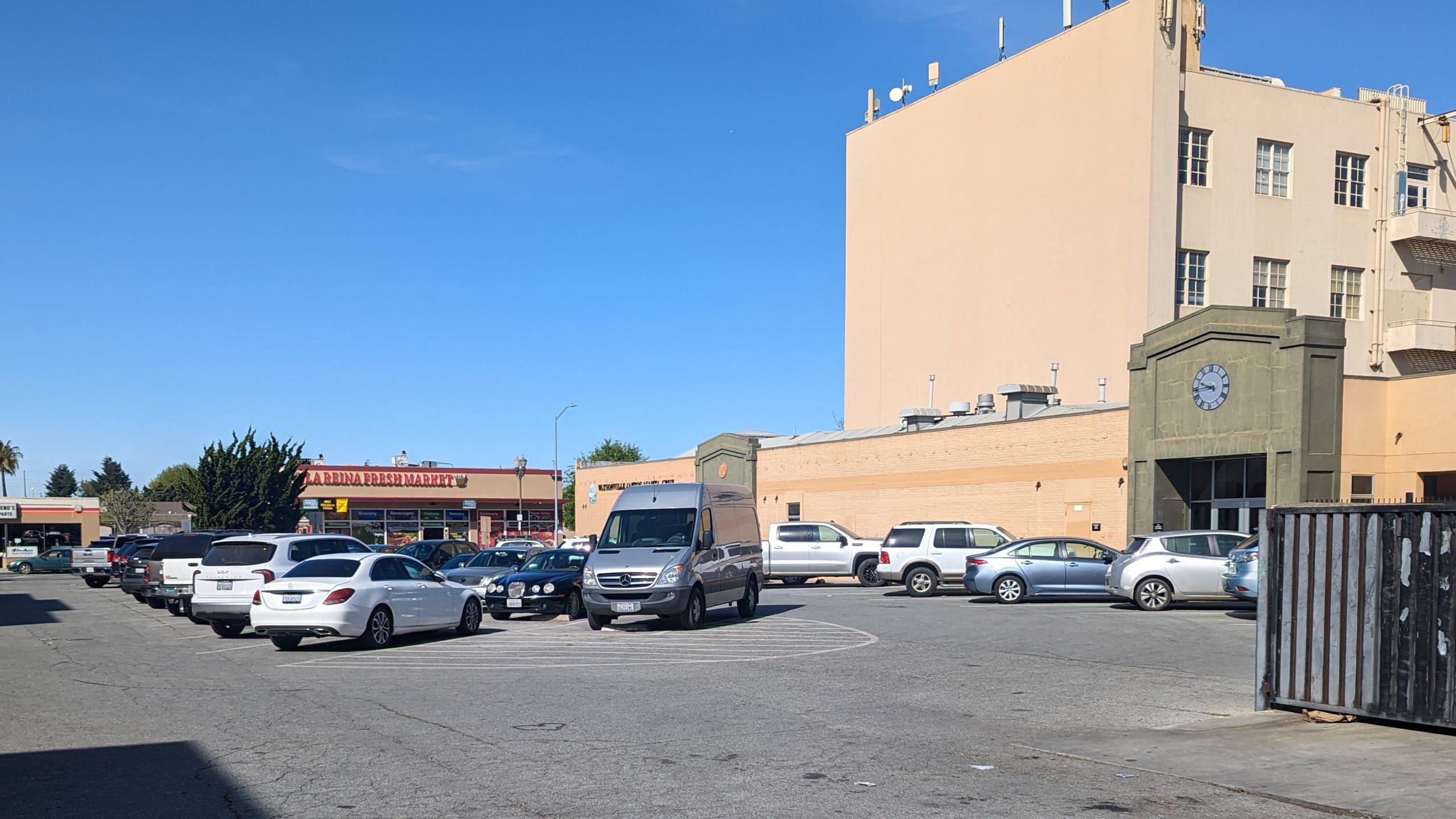 Watsonville Parking Lot 14 near Second and Rodriguez streets in Downtown Watsonville has been identified as an "opportunity zone" for potential development, according to a draft Downtown Specific Plan. (Tyler Maldonado — Santa Cruz Local)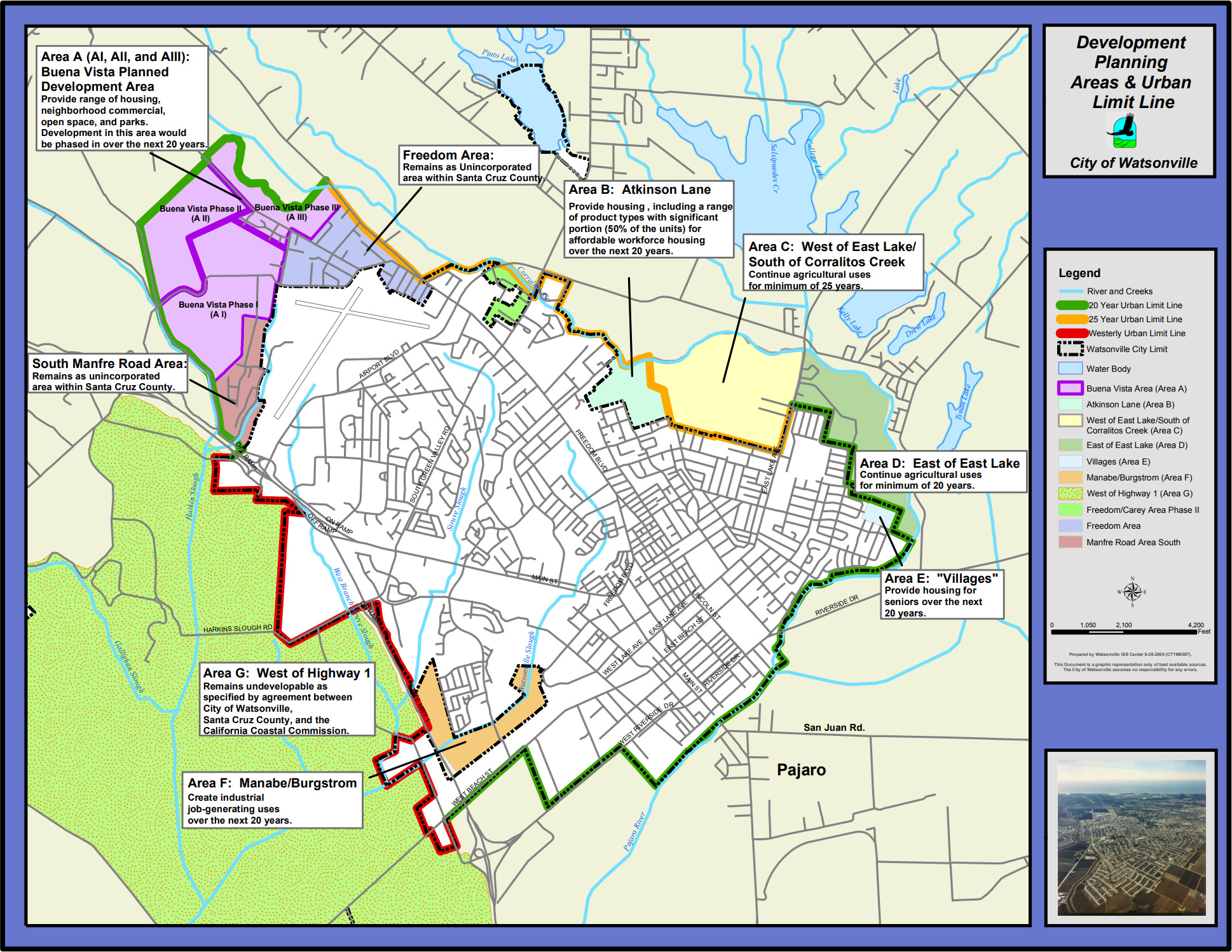 A map shows areas of potential development in Watsonville. (City of Watsonville)
Measure Q's adoption in 2022 also opened growth areas for housing inside or near Watsonville, including Buena Vista, southeast of Atkinson Lane and "Villages", an area set aside for senior housing. Of these, only Atkinson Lane will be considered in this Housing Element.
The area primarily identified and zoned for new housing development near the city limits in the upcoming housing cycle is southeast of Atkinson Lane. 
If the city can't meet its current housing goals within the city limits, the community could decide in a referendum to expand into the area west of the East Lake area south of Corralitos Creek. 
How to get involved
A May 3 workshop will take place on Zoom from 5:30 to 7:30 p.m. It is expected to be led by Meeks with consultants Sargent Town Planning and Circlepoint. 
"Feedback provided during this process will help shape what Watsonville becomes in the future," Meeks said.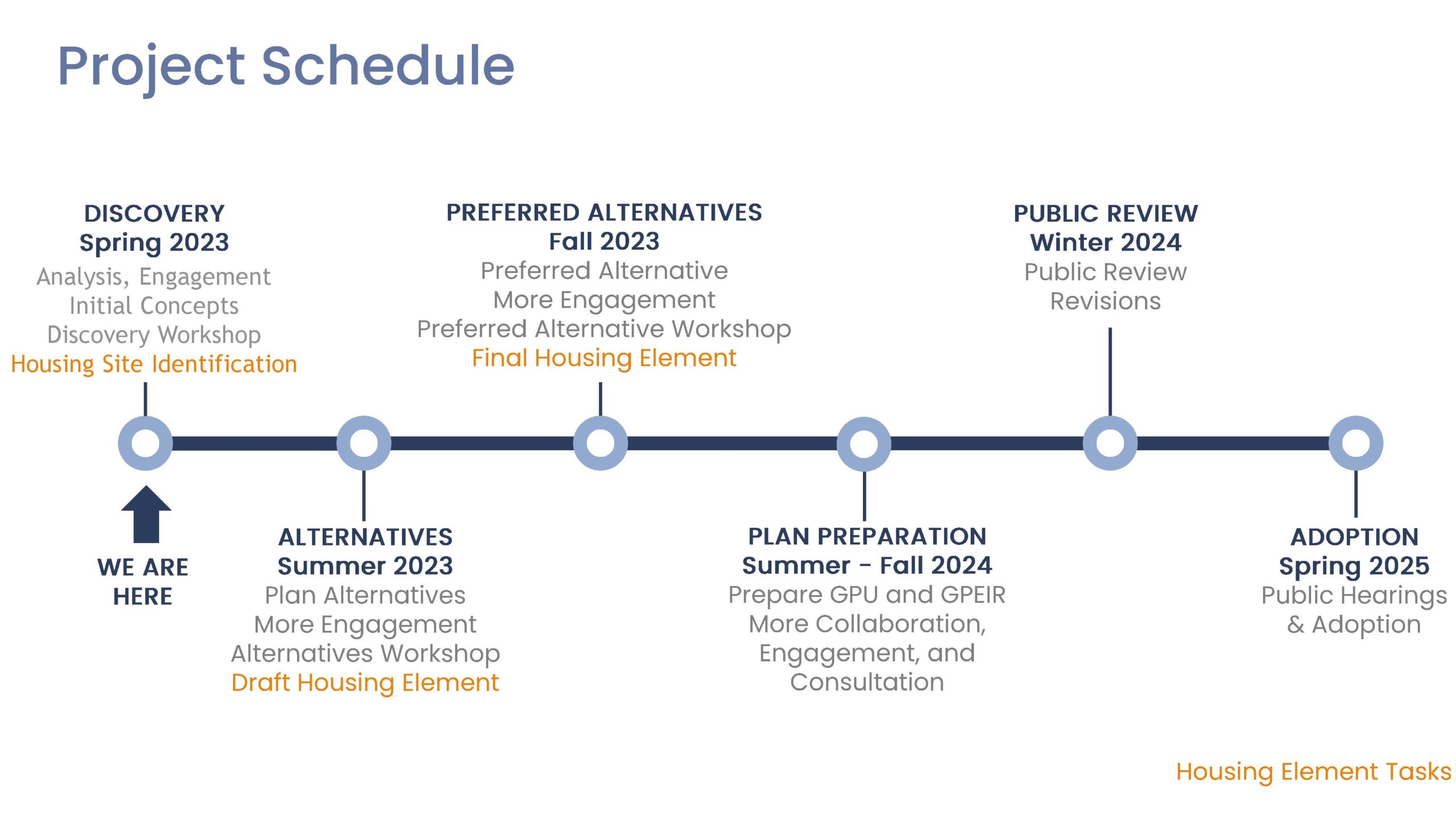 Public workshops in summer and fall are expected to lead to a Housing Element plan in 2024 with potential adoption in spring 2025. (City of Watsonville)
Learn about membership
Santa Cruz Local's news is free. We believe that high-quality local news is crucial to democracy. We depend on locals like you to make a meaningful contribution so everyone can access our news.
Learn about membership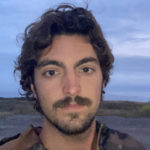 Tyler Maldonado holds a degree in English from the University of California, Berkeley. He writes about housing, homelessness and the environment. He lives in Santa Cruz County.