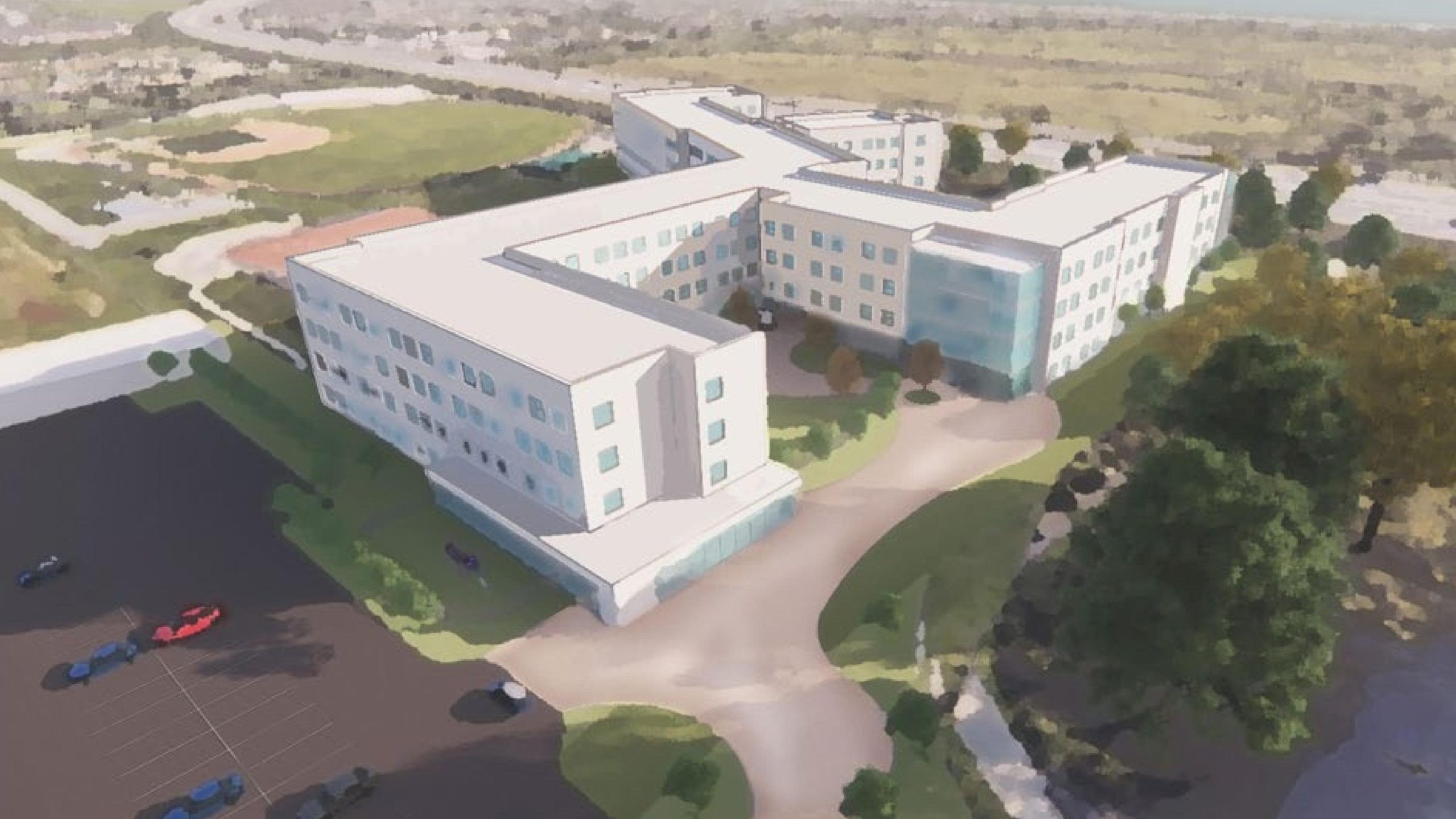 A sketch shows a four-story student housing complex proposed near the athletic fields at Cabrillo College. (Cabrillo College/Jones Lang LaSalle IP)
APTOS >> To help college students find affordable housing in Santa Cruz County, Cabrillo College leaders this month submitted a $181.7 million proposal to state leaders to build dormitories and apartments for more than 620 students near Cabrillo's sports fields.
The proposed complex also would house some UC Santa Cruz students. It would be among the first projects in California to combine housing for community college and UC students. 
The proposal follows an effort to build dorms and apartments for 300 Cabrillo students that state leaders rejected in 2022.
"We know from studies that students who live in residence halls are more likely to finish on time because they're full-time students and they're committed to their course of study," said Cabrillo College President Matt Wetstein. "So you're going to get more completion, faster, by students in the dorms."
Some details of the proposal include:
A four-story building with three wings would include 271 housing units with 624 beds. There would be 115 dormitories, 96 apartments and 60 apartments for families.

Roughly 383 beds would be for Cabrillo students. Those units would have affordable rents as defined by the state.

UCSC would fill its roughly 241 beds as part of its student housing system. 

A day care center in the complex. 

No new parking spaces are proposed.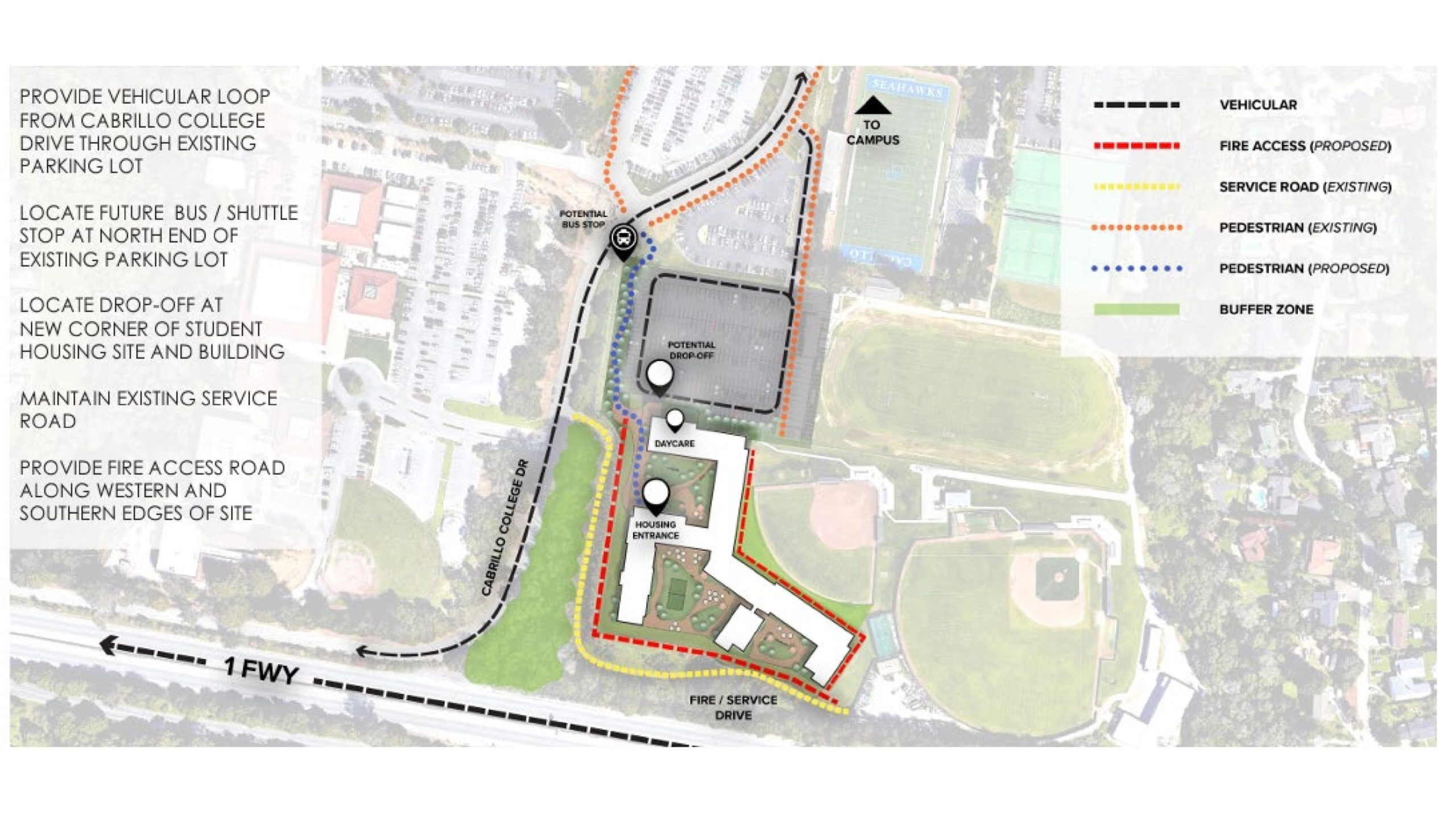 A Cabrillo College housing proposal near Cabrillo College Drive would include a child care center. (Cabrillo College/Jones Lang LaSalle IP Inc.)
Cabrillo does not currently offer campus housing for its roughly 11,000 students, though its staff helps students find places to live and offers some grants for move-in costs. Eleven of the state's 116 community colleges offer campus housing in places like Eureka, Costa Mesa and Redding.
Many Cabrillo students have trouble finding affordable places to live. An October 2021 study by the consultant Jones Lang LaSalle IP Inc. found a demand for about 300 beds among Cabrillo students — including some students with spouses and children.
"When I got here (in 2018), the college hadn't had any conversations about student housing," Wetstein said. "It kind of struck me that there was a gap in not addressing that."
Housing problems
It's not clear how many Cabrillo students live in crowded units, move multiple times per year or have trouble paying for rent or utility increases. Statewide, about 6 in 10 community college students experience housing insecurity, according to a 2019 survey by The Hope Center. 
In Cabrillo College's region, about 20% of community college students surveyed said they were homeless. Most of those students temporarily stayed with a relative or friend.
Santa Cruz County's average asking rent per unit was estimated at $2,241 and growing at 5% yearly, according to the 2021 Cabrillo consultant study. It suggested a demand for monthly rents of less than $1,000, Wetstein said. He said he hoped the average monthly rent in the project would be less than $900. 
"For us to use the state money, we have to promise to give the slots for our beds to students who are most needy. So that does include homeless students and includes people that have zero estimated family contribution to their education," Wetstein said.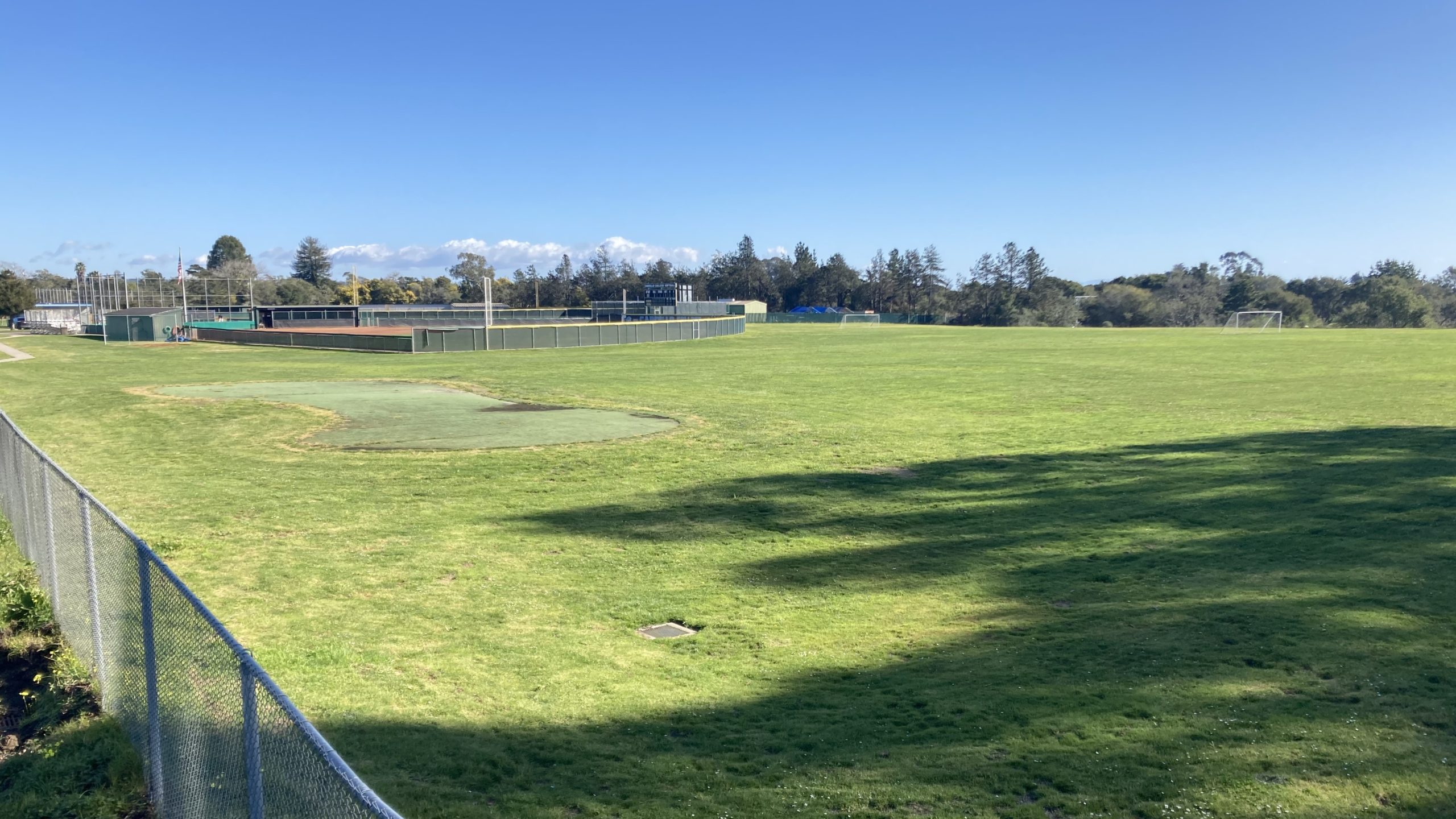 A student housing complex has been proposed near the athletic fields at Cabrillo College. (Tyler Maldonado — Santa Cruz Local)
The rents could have been lower, but Cabrillo leaders included a day care center for residents. "We could have built something without a child care center, but that's just perpetuating the problem of lack of child care facilities in our county," Wetstein said.
Steps to funding
A newly created department within the California Community College Chancellor's office called the Affordable Student Housing Unit is expected to review the grant application this summer along with other campus housing proposals across the state. Part of the criteria includes the area's housing need, the cost per bed and proposed rent. 

The proposals are expected to be ranked and sent to the California Department of Finance for final review. The state legislature's Joint Legislative Budget Committee will make the final decision.

The Cabrillo grant could be awarded in the 2023-2024 state budget.
Cabrillo College and UCSC leaders combined their grant proposal to be more appealing to the Chancellor's Office. "We're competing against colleges in our region. If you think about the math (of the total budget), they might build seven projects statewide," Wetstein said.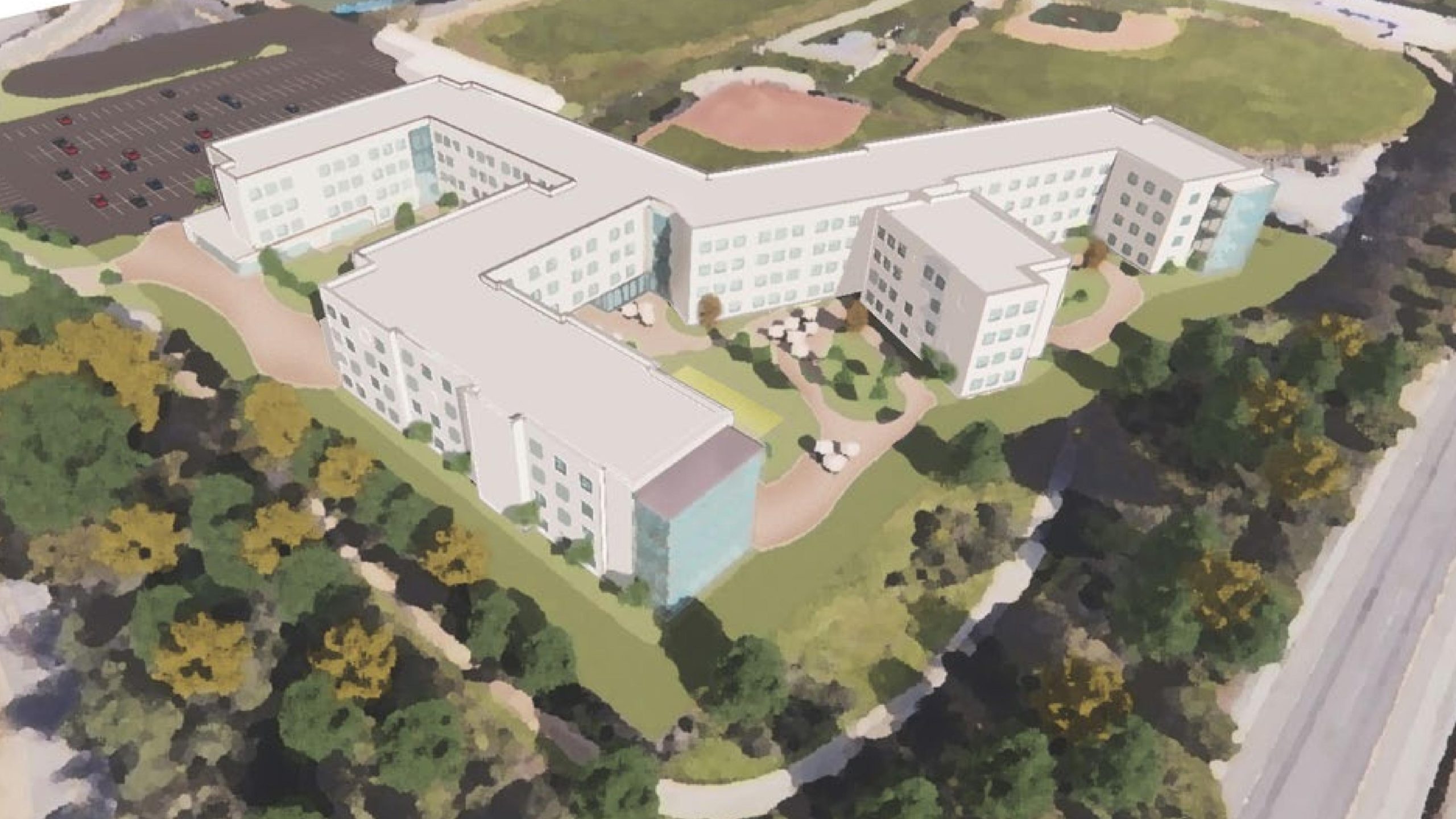 A student housing complex could be built between Highway 1 and Cabrillo College's athletic fields. (Cabrillo College/Jones Lang LaSalle IP)
Some students said the proposed housing would help some and leave out others.
"It could provide support for the insecurely housed," says Page Stein, a 28-year-old Cabrillo student on campus this week. "Compared to the situation currently, it's affordable. For someone just out of high school, it isn't affordable," Stein said.
Students discuss options
Heidi Dyer, 19, is a full-time UCSC sophomore. She also works 30 hours a week as a barista on the Cabrillo campus. She said she drives between the campuses because riding the bus requires a transfer and takes about an hour or longer with traffic. The 91X direct bus line between Cabrillo College and UCSC was suspended in November. She said she wouldn't live at Cabrillo without a car. 
Dyer said she lives in a single dorm room at UCSC and pays nearly $1,600 per month for her room and meal plan. She can only afford it with her student loans, she said. She said she could afford the proposed Cabrillo rent.
If the Cabrillo housing project is constructed, some students could attend Cabrillo and UCSC and live at Cabrillo for four years, Wetstein said.
UCSC has not determined what it will charge for its share of proposed housing on Cabrillo's campus, but it is not limited by the state's mandated rent cap.
"Beyond housing, this project would strengthen the transfer pathway for Cabrillo students to finish their four-year degree at UC Santa Cruz," said UCSC spokesman Scott Hernandez-Jason.
Lisa Loretz, 33, is a mother of two, a veteran and formerly incarcerated. She said that even with the rents projected for the family wing at just under $1,000 per month, she wouldn't be able to afford it without her GI Bill of Rights entitlement. 
"With kids, I don't think so," Loretz said of trying to afford the proposed student housing. "Especially while they're trying to get through school."
Loretz said she lives in a sober living environment that charges her 30% of her income, regardless of what she earns. She said that rent level allows her to attend Cabrillo's nursing program and pay for her children's expenses.
Wetstein, the Cabrillo president, said there are tradeoffs to campus housing and increased collaboration with UCSC.
"We're going to have the ability to do cross-programming between the two colleges. Resume workshops, speeches, mentor meetings with faculty and business professionals," Wetstein said. 
"The downsides are that the culture changes," he said. "Going from a commuter campus that closes at night to one that's more 24/7. The problems that come from having people here all the time, there's some issues with that. For example, weekends, parties, disciplinary issues that come up with students. Having the staff to do that means you're adding costs to the college, and the culture changes a little bit because of that," Wetstein said. 
Increasing the housing stock also could have upsides for Santa Cruz County families who are trying to pay rent or buy a home. Wetstein said ordinary Santa Cruz County residents have a part to play in bringing state money to Cabrillo for housing.
"To the extent that people can be vocal and continue to voice the need, it's really important to keep the legislature and governor focused on building these kinds of projects," Wetstein said. 
"Universities and colleges have land. If they're public agencies like Cabrillo, or UCSC or CSU Monterey Bay, the taxpayers already own the land. You do not have to pay for land, so you can build these things at less cost, more efficiently, faster, because the land exists. It's a solution to the problem that's easy to advance because of that affordability part of it," Wetstein said.
Editor's note: Cabrillo College President Matt Wetstein said some students could live at the proposed Cabrillo housing project while they attend Cabrillo and UC Santa Cruz. The information was attributed to another person in an earlier version of this story.
Questions or comments? Email [email protected]. Learn more about Santa Cruz Local and how we are funded. Santa Cruz Local is supported by members, major donors, sponsors and grants for the general support of our newsroom. Our news judgments are made independently and not on the basis of donor support.
Learn about membership
Santa Cruz Local's news is free. We believe that high-quality local news is crucial to democracy. We depend on locals like you to make a meaningful contribution so everyone can access our news.
Learn about membership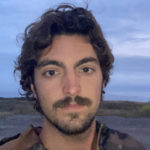 Tyler Maldonado holds a degree in English from the University of California, Berkeley. He writes about housing, homelessness and the environment. He lives in Santa Cruz County.