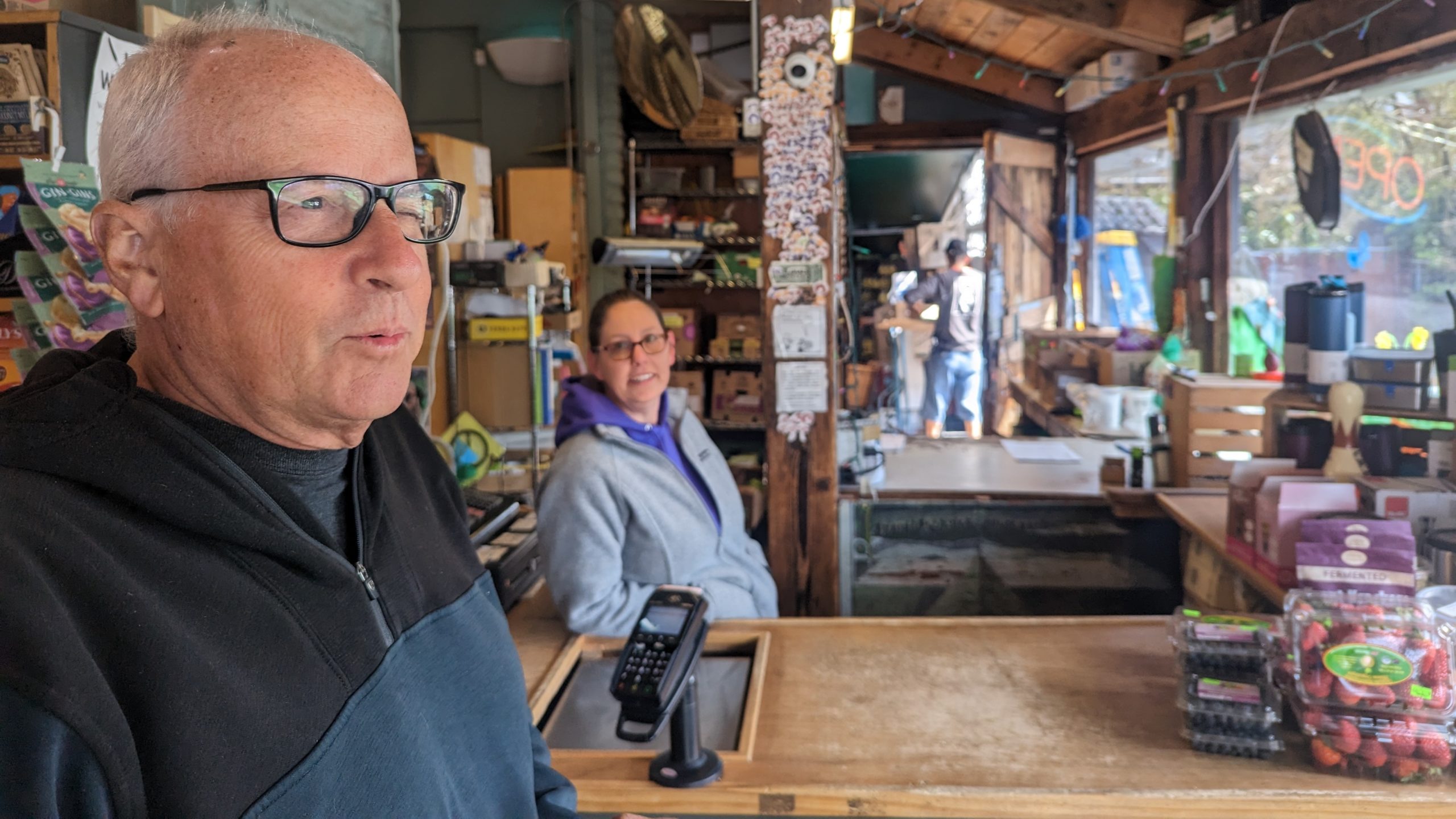 Food Bin and Herb Room co-owner Doug Wallace, left, said the property at Mission and Laurel streets could be redeveloped with a new space for his stores and housing in a five-story complex. (Tyler Maldonado — Santa Cruz Local)
SANTA CRUZ >> A proposal to build a five-story, 59-unit housing complex at the Food Bin on Mission Street was met this week with some residents' concerns about parking, traffic and a potential gap in service at the grocery. 
Santa Cruz city planners and Santa Cruz-based developer Workbench hosted an online meeting about the proposal Tuesday. The aim was to hear concerns from the community before the developer submits a formal application to the city in the next few weeks.
Several residents criticized a plan to construct eight parking spaces for the 59 proposed studios. Workbench staff said they hoped the lack of parking would mean fewer cars in Santa Cruz. Elizabeth Gordon, creative director at Workbench and the meeting's facilitator, said they hope to "prioritize renters that do not own a vehicle" for the apartments.
"The way we're thinking about this, by not providing parking for every single unit, we are lessening the impact of traffic on the community," Gordon said. The developers said the apartments mainly would be marketed toward students and single professionals younger than 30.
Margaret Brown, 72, said she walks to the Food Bin weekly from her home on King Street. She said her main concern was the possibility of losing a local natural foods store — even temporarily.
"I know we have our farmers markets and everything, but having a community store builds your community. Having something local that you support — that's not Safeway — builds your community," Brown said.
She said she found the staff there knowledgeable, and wondered what will happen to them if the store is gone for a year or more.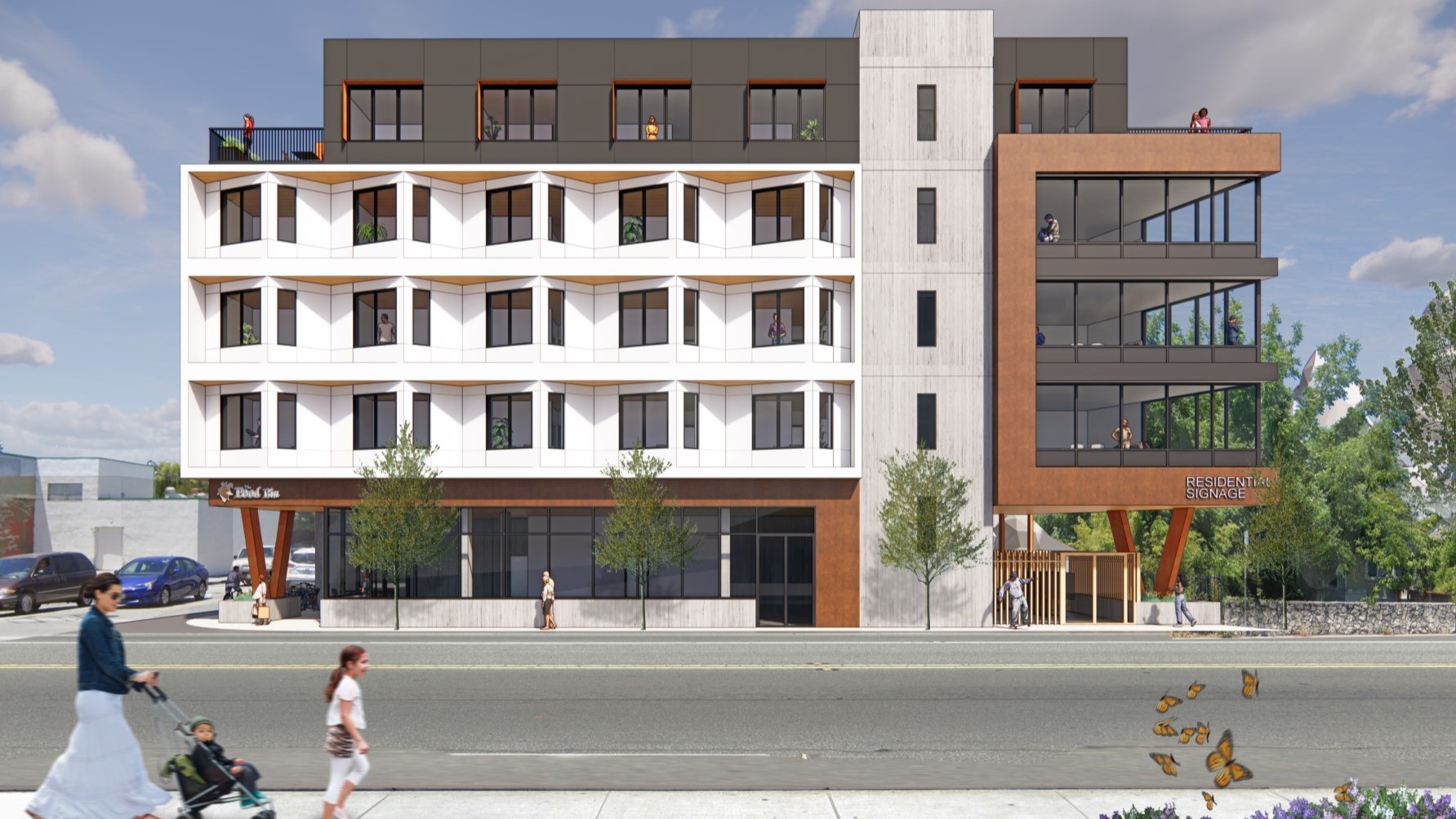 A pre-application was submitted in January for a five-story building with retail space where the Food Bin and Herb Room stand on Mission and Laurel streets in Santa Cruz. (Workbench)
A few residents also expressed concern about the project's height, which was increased from an initial three stories to five stories. The original plan called for 40 units at three stories, but developers pursued a density bonus under state law. A density bonus allows developers to plan for taller and denser projects than allowed by city rules in exchange for building a certain percentage of affordable homes. 
The plan now calls for eight affordable units for people with "very low" incomes.  Income limits are set by the state. 
Mimi DiBartolomeo lives three blocks from The Food Bin on Trescony Street and walks to the store three to four times a week. She grew up on the Westside, and said she had a knee-jerk reaction to the idea of anything happening to the Food Bin.
DiBartolomeo said that as a renter, she saw that Santa Cruz needed new housing, though she also thought that the affordable housing ratios in most of the new developments in Santa Cruz were "not that great". City rules generally require 20% of units in new multifamily developments to be affordable for people with lower incomes.
State density bonus law allows a "maximum density bonus" for projects that make 16% of units affordable to people with lower incomes. The bonus allows those projects to include 50% more units than city rules would allow. 
The proposed eight affordable units meet the city's 20% affordability requirement and the state density bonus law's 16% requirement. Those calculations are based on the 40 "base" units, and do not include the density bonus units.  
Omar Hason, designer and project manager for Workbench, said a complex with three stories "would be infeasible to the owner of the property, a potential investor of the property, a financier, a bank — even if the city were to own it and propose a project, they would probably fall back on this same reason."
The plan now has five stories "because right now, people in our position are trying to provide impactful amount of housing for communities," Hason said.
It is unclear where the money will come from to build the project. Workbench staff said its total cost and potential rents are not yet known.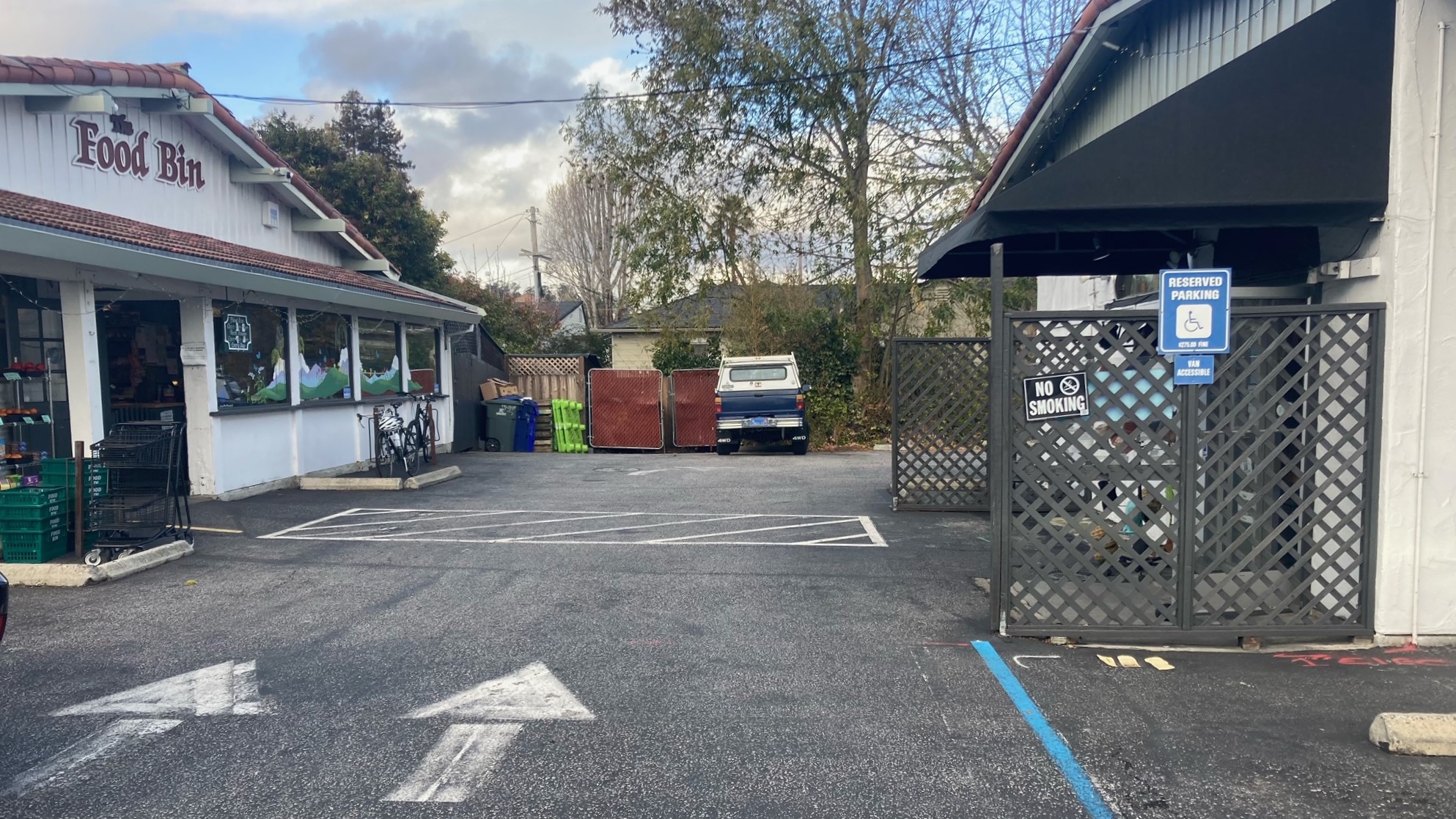 The Food Bin is at 1130 Mission St. at Laurel Street in Santa Cruz. (Stephen Baxter — Santa Cruz Local file)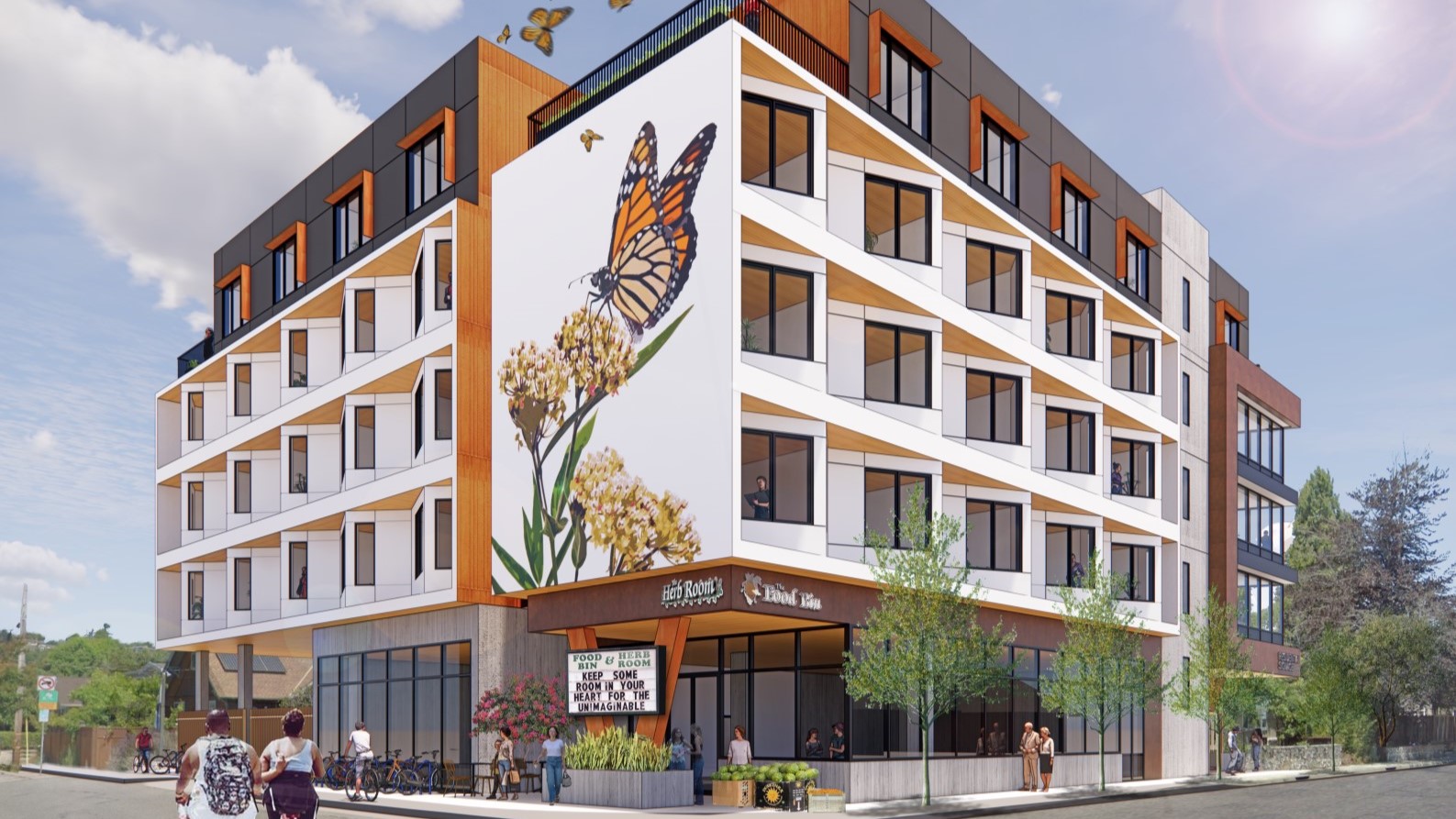 The Food Bin and Herb Room could operate as pop-up shops on Mission Street if construction starts at its current location at 1130 Mission St. The plan is to return the shops to the ground floor of the development. (Workbench)
The owners' goals
Doug Wallace is co-owner of the Food Bin and Herb Room with his wife, Peggy Eulensen. Wallace said at the meeting that their goal with the proposed project was to find a "long-term home" for the stores. In an interview with Santa Cruz Local, Wallace said the buildings were already "pretty dilapidated" when they bought the property in 2018.
The Food Bin moved to its current location at the corner of Mission and Laurel streets in 1975, according to its website. Wallace said that they've invested tens of thousands of dollars in upgrades and repairs to the building, and at this point the building is in dire need of an update.
Given the guidelines set forth in the Mission Street Urban Design Plan which favors mixed-use developments in the area that the buildings are located and Santa Cruz's general need for housing, he said he was motivated to reach out to the developers about the possibility of a large development at the site.
The city's General Plan 2030 and recently-adopted objective design standards also call for "medium-density" housing and a mix of residential and commercial uses on Mission Street, including the Food Bin and Herb Room parcels.
"Currently, it's a store and it's a shop, but it's also a place where people hang out, get information, and get educated." Wallace said at the meeting. "So it really is, 'How do we keep that going in a new space?'" he asked.
To create that new space, Wallace said the stores would likely have to shut down for around 14 to 16 months while the construction began. Afterward, due to the modular design of the building, they would be able to move back in while construction continued.
"The intent is for the stores to stay," said Gordon, of Workbench. Wallace suggested the stores possibly could operate as a pop-up on Mission Street or somewhere else.
Residents asked the owners to share their feelings on the idea of changing the Mission Street community with their proposed development.
"Mission Street is going to be built up. We keep hearing it and seeing it," said Eulensen. "We need a new space. We're trying to make it look good, and to fit in with the design standards and Santa Cruz values," Eulensen said. "We don't want to be a giant Santa Monica, but some of that is going to happen and Mission Street is one of the best places for that to happen."
Euelensen said, "It is going to happen, either by us or by someone else."
Learn about membership
Santa Cruz Local's news is free. We believe that high-quality local news is crucial to democracy. We depend on locals like you to make a meaningful contribution so everyone can access our news.
Learn about membership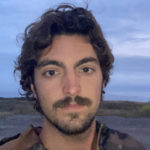 Tyler Maldonado holds a degree in English from the University of California, Berkeley. He writes about housing, homelessness and the environment. He lives in Santa Cruz County.